12 dead in California bar shooting
6:51 a.m. ET, November 8, 2018
Sheriff describes "horrific scene" with "blood everywhere"
Ventura County Sheriff Geoff Dean has described the scene of the bar shooting in Thousand Oaks, California as "horrific."
"It's a horrific scene in there, there is blood everywhere and the suspect is part of that, and I didn't want to get that close and disturb the scene and possibly disturb the investigation," he said, adding that the motive is still unclear.
Dean said investigators had not found any type of assault rifle within the bar.
"Right now as far as we know there was only one handgun, but that could certainly change as we do a more thorough search of the building."
6:41 a.m. ET, November 8, 2018
Police: suspected gunman yet to be identified
The suspected gunman in the fatal Thousand Oaks bar shooting has not been identified yet, Ventura County Sheriff Geoff Dean said, who added that the FBI are assisting. The suspect was dead when police arrived on the scene.
Dean said, "It's well too early to know if he took his own life."
Authorities are investigating initial reports that a smoke bomb was used but continued that they had not found anything to support this yet.
"We have called in our bomb team to go through and a couple of bomb dogs here that are checking the area. But we haven't found any other explosive device or confirmation there that there was a smoke device."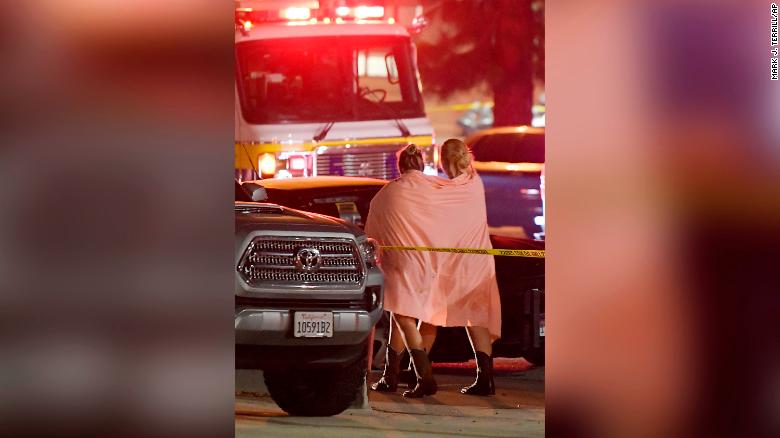 7:17 a.m. ET, November 8, 2018
Sheriff's deputy among the dead
A Ventura County sheriff's deputy is among those killed in the Borderline Bar & Grill shooting.
Sgt. Ron Helus had been on the force for 29 years and was one of the first officers on the scene in response to 911 calls of shots fired. He was looking to retire in the "next year or so," Sheriff Geoff Dean told reporters.
The sergeant died in hospital, Dean added.
"Ron was a hardworking dedicated sheriff's sergeant. He was totally committed, he gave his all and tonight, as I told his wife, he died a hero; he went into save lives, to save other people," Dean said, his voice breaking with emotion.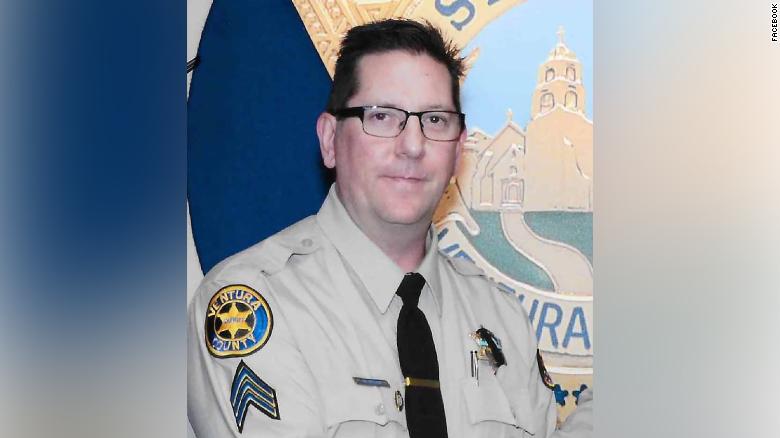 6:52 a.m. ET, November 8, 2018
Breaking: 12 dead in California Bar shooting
Twelve people, including a police officer, were killed after a gunman forced his way into the Borderline Bar & Grill and opened fire on Wednesday night, Sheriff Geoff Dean told reporters moments ago. The suspected gunman was also found dead at the scene. Up to 12 other people are injured.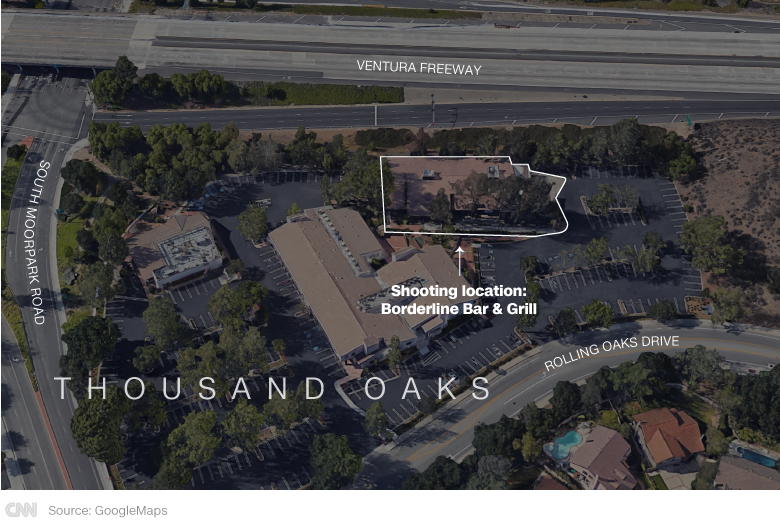 5:48 a.m. ET, November 8, 2018
Thousand Oaks "one of the safest cities in the country," mayor says
Thousand Oaks mayor Andy Fox told CNN he was informed of the shooting at the Borderline Bar & Grill around midnight, adding law enforcement responded quickly.
"It's my understanding they went in and neutralized the shooter (and) they identified a number of causalities. I don't know the condition of the victims but my understanding is there are a number (of) wounded included a local deputy … all of the victims have been transported to hospitals," Fox told CNN on the phone.
He added that Thousand Oaks "is considered one of the safest cities in the country."
"We are consistently ranked one of the highest with respect to the lowest crime rate per capita, we're proud of that," Fox said.
"The reality is that these types of incidents can happen really at any place, at any time, even in communities that are considered extremely safe," he added.
5:35 a.m. ET, November 8, 2018
Breaking: Fatalities at California bar shooting, officials say
Fatalities have been reported at the Borderline Bar & Grill shooting, a Ventura County Sheriff's department public information officer told CNN affiliate KABC.
The shooter is believed to be among the dead.
5:45 a.m. ET, November 8, 2018
Borderline Bar & Grill a popular spot with students
Borderline Bar & Grill in Thousand Oaks is a western-themed establishment known to regularly host country, salsa and swing dancing nights.
According to its website, the venue was hosting a college country night between 9 p.m. and 2 a.m. on Wednesday night when the shooting occurred.
The bar is a few miles from California Lutheran University and is a popular spot for students. Some students from both California Lutheran University and nearby Pepperdine University are thought to have been present at the event on Wednesday night.
Madeleine Carr, news editor at student newspaper the Pepperdine Graphic, told CNN on the phone, that she was aware of freshman students who had planned outings.
"I was going to go with them tonight but decided not to because of homework but it is a popular place to go because it's local and we do have a lot of people from the south -- it's line dancing it attracts them," she said.
"We've been texting as much as we can -- it's hard. We are still trying to reach most of the girls but the people we know got out. A lot of them do live nearby in Thousand Oaks so a lot of them did get to a students house," she added.
5:23 a.m. ET, November 8, 2018
Eyewitnesses recounts moment gunman opened fire in California bar
Holden Harrah, who witnessed the shooting at the Borderline Bar & Grill, said he was inside the bar with friends, something he does every week.
"I've been coming there for about six months. (It's) just a place you go to hang out with friends, just have fun as young adults," he told CNN by phone.
"A gentleman, who walked in through the front door, shot the girl that was right behind the counter," he added.
Watch below:
4:54 a.m. ET, November 8, 2018
ATF responding to shooting at Borderline Bar
"Multiple assets from the ATF Los Angeles Field Division have responded to the mass shooting at the Borderline Bar and Grill in Thousand Oaks," California, according to the Bureau of Alcohol, Tobacco, Firearms and Explosives, via Twitter.
Ventura County Star reporter Jeremy Childs arrived at the scene shortly after a shooter opened fire on Wednesday night.
Childs told CNN: "When I arrived at the scene I saw lots of sheriff vehicles and a few paramedics. Helicopters could be heard overhead. I saw some tearful reunions among those presumably at Borderline or who knew them at Borderline. Then I joined the press area. It was a mix of press and bleary-eyed loved ones."