Hurricane Dorian's aftermath in the Bahamas
2:32 p.m. ET, September 7, 2019
Dorian regains strength as a Category 2 storm
Dorian has once again strengthened into a Category 2 storm, with maximum sustained winds of 100 mph, according to a special advisory from the National Hurricane Center.
The storm had been expected to maintain Category 1 strength as it moved through the Canadian Maritimes and then finally weaken when it crossed into the Gulf of St. Lawrence, according to CNN meteorologist Allison Chinchar.
If Dorian maintains Category 2 strength when it makes "official" landfall over Halifax, Nova Scotia, it will be the strongest storm to hit the provincial capital since Hurricane Juan in 2003.
It's expected to make landfall in Nova Scotia on Saturday evening, CNN meteorologist Robert Shackelford said. A hurricane warning remains in effect for eastern Nova Scotia and western Newfoundland.
A quick refresher on storm categories: Meteorologists use the Saffir Simpson Hurricane Wind Scale to measure a hurricane's strength.
The system divides storms into five categories:
Category 1: Winds 74 to 95 mph (Minor damage)
Category 2: Winds 96 to 110 mph (Extensive damage — Can uproot trees and break windows)
Category 3: Winds 111 to 129 mph (Devastating — Can break windows and doors)
Category 4: Winds 130 to 156 mph (Catastrophic damage — Can tear off roofs)
Category 5: Winds 157 mph or higher (The absolute worst and can level houses and destroy buildings)
2:37 p.m. ET, September 7, 2019
She left the devastation to stay with her sister, but it hurts her heart that not everyone can leave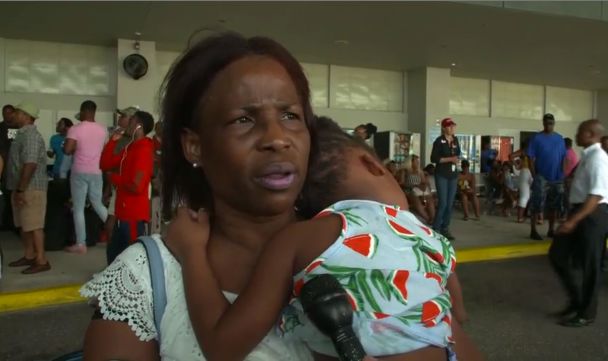 Ceva Seymour, 56, evacuated from Freeport with about 16 family members, including two three-year-old twins named Paris and London.
Seymour described how the roof of her home on Grand Bahama Island began to lift up due to the high winds at the height of Hurricane Dorian. She said she and her husband used basic tools like ropes, nails and hammers to cinch the roof of their home to the floor.
"It was very intense. You couldn't sleep," Seymour said. "I prayed a lot and asked God to calm the storm."
Though her roof managed to stay on, others weren't as fortunate, she said. Some of her relatives who live on the north side of Grand Bahama Island lost their homes entirely due to flooding.
Now, Seymour said she and her family are headed to her sister's house in Port St. Lucie, Florida, until Grand Bahama Island has water and electricity again. And though the past week has been incredibly stressful, she said she's grateful. Not everyone in the Bahamas has family members in Florida who they can stay with temporarily. Others aren't able to leave because they don't have passports.
"Having to travel here is a burden eased off us," Seymour said. "Because at least we have an opportunity to relax, whereas some others in the Bahamas can't even have this privilege."
"It hurts my heart," she added.
1:07 p.m. ET, September 7, 2019
They're waiting at a port in Florida to reunite with family
More than 1,550 hurricane evacuees are aboard a cruise ship from Freeport in the Bahamas that's heading to West Palm Beach in Florida, according to a Facebook post from the Bahamas Paradise Cruise Line.
People are already waiting at the Port of Palm Beach in hopes of reuniting with their family members.
Garrise Newbold, who lives in Georgia, is there with her four-year-old son. She's hoping to reunite with about six relatives, including her grandmother and her great-grandmother. Her family had been without water and electricity for a while, Newbold said, so when she heard there would be a cruise ship helping to evacuate people from the Bahamas, she made sure the word got to her family members.
Newbold said her family members joined a long line of people early in the morning to board the ship in Freeport. Luckily, they managed to get on.
Weak phone connections have made it tough to communicate, Newbold said, so she's only managed to speak to her relatives every two days or so.
"It's been very stressful," she said. "We just didn't know. The thought of not knowing anything is the most difficult part."
Daisy Rolle is at the port in search of her sister Loretta Rahming.
Rolle said her sister had been staying at an assisted living center on the island of Bimini ever since she suffered a stroke about two years ago and was being tended to by a caretaker. Rolle said she spoke to her sister's caretaker on Monday, a day after the storm hit, but hasn't been able to make contact since then.
"I'm worried because I desperately need to hear if she is okay," Rolle said. "I need to get her over there because she had a stroke two years ago and she cannot do anything for herself. If she can get around family members, we can take better care of her."
Rolle said she has been reaching out to people from the island of Bimini, where she is from, to see if they can check on her sister, but that they've had difficulty accessing the home due to the damage and debris from the storm. So now, all Rolle can do is wait.
"I was hoping that maybe she'd be here but that hasn't happened," Rolle said. "I'm hoping that maybe in the next few days that somewhere, I can get to her or she can get to me."
10:51 a.m. ET, September 7, 2019
Hundreds of people are lining up at this port to evacuate
Hundreds of people have lined up at a port on the devastated island of Abaco in the Bahamas to take a ferry back to Nassau.
Some people at the port have been waiting there since early morning after hearing that there would be boats for them to leave today.
Many of them recounted horrific stories of survival by breaking through rooftops or swimming onto boats to try and ride out the storm.
Some said that they had family members still missing and that they witnessed friends and neighbors drown in the storm surge.
9:21 a.m. ET, September 7, 2019
Parts of Marsh Harbour seem like a "ghost town" after evacuations
A CNN team that has just arrived on Marsh Harbour, Abaco say parts of it now resemble a ghost town as people have been evacuated.
In the last 48 hours, private boats, choppers and some passenger planes arrived at the town's ports, airports and small marinas, according to sources on the ground, and cell phone service was also restored on Saturday.
Along with the scattered debris, garbage is starting to pile up throughout Grand Abaco.
Heavy equipment will be needed to remove the tons of wreckage and debris that now cover the island like a thick carpet, after recovery efforts are complete.
9:22 a.m. ET, September 7, 2019
All evacuees are properly documented to enter the US: CBP
All the evacuees arriving at the Port of Palm Beach early Saturday morning are properly documented to enter the US, according to Customs and Border Protection.
CBP Public Affairs Liaison Michael Silva confirmed that all evacuees were either US Citizens, US residents, non-US Citizens with visas or had other proper documentation to enter the US.
In total, CBP said there were 1,437 evacuees arriving, which included 516 US citizens, 897 non-US citizens, 23 green card holders and one Medivac.
7:34 a.m. ET, September 7, 2019
Bahamas resident spent more than 18 hours in her bathtub as violent winds ripped through her home
Germaine Smith was one of thousands of residents trapped in Hurricane Dorian's path in the northern Bahamas.
Smith, who's lived almost all her life on the Abaco Islands, had everything ready as the storm neared the island: "food prepared, water, everything."
But nothing could have prepared her for what came next.
"I was sitting down in my bedroom looking out the window, watching the breeze. My neighbor across the street has double doors and then... the breeze opened the doors, broke (them) off," Smith said. "Next thing I know I see his roof just flying off and it came toward my room."
Moments later a large tree smashed through the window she was sitting next to, forcing her to run for the bathroom where she spent the next hours crunched in her bathtub, praying to stay alive.
"That's what saved me," she said of the bathroom, a place she always hears being referred to as a "safe haven" during storms.
She got inside the small room's tub, listening to the wind pound and push against the walls. The island was rattled by hurricane-force winds for more than 48 hours as Dorian lingered over the islands, pounding the same battered places again and again.
"I was just praying to God just to save my life cause I was scared," Smith said. "I didn't think I was going to make it."
7:56 a.m. ET, September 7, 2019
Hurricane evacuees on cruise ship to Florida
More than 1,550 Hurricane Dorian evacuees from the Bahamas are on board the Grand Celebration Humanitarian Cruise ship sailing back to West Palm Beach, Florida, according to the Bahamas Paradise Cruise Line Facebook page.
"Bahamas, we're still with you," the cruise line said on Facebook.
"Every donation we've received so far has significantly helped in our mission to bring relief and aid to our brothers and sisters on Grand Bahama Island -- our beloved second home. Together with first responders and volunteers, we were able to provide Bahamian residents with food, water, personal hygiene products, medical equipment, generators, and other desperately-needed supplies."
US Customs and Border Protection is working with the cruise line and will be processing the arrival of passengers.
The ship is expected to dock at the Port of Palm Beach early Saturday morning.
5:14 a.m. ET, September 7, 2019
At least 70,000 people are homeless on Grand Bahama and the Abaco Islands: UN
The United Nations believes at least 70,000 people are homeless on Abaco and Grand Bahamas, according to a statement Friday. 
It is working to provide 1,000 tarpaulins to replace roofs stripped from homes by Hurricane Dorian.
"The Bahamas faces a long road to recovery," said Jan-Willem Wegdam, who led a UN Emergency Response Team which arrived in Nassau on Wednesday.
"Building back the destroyed infrastructure, with increased resistance in the face of extreme weather, will be critical to increase the resilience of the communities."