Reactions to Anthony Bourdain's death
5:40 p.m. ET, June 8, 2018
Remembering Anthony Bourdain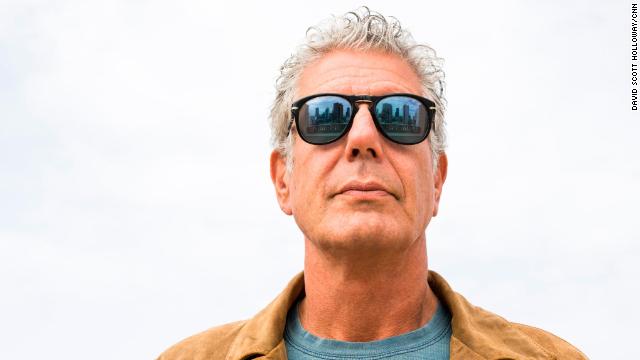 Anthony Bourdain, the gifted chef, storyteller and writer who took TV viewers around the world to explore culture, cuisine and the human condition for nearly two decades, died today at the age of 61.
And while we're ending our live coverage of the world's reaction to the loss of an icon here, CNN continues to cover his impact and the lives he touched.
Tonight, CNN will air "Remembering Anthony Bourdain," a special report on the life and legacy of the chef, storyteller and writer, tonight at 10 p.m. ET.
Until then:
5:11 p.m. ET, June 8, 2018
Your memories: Bourdain's show made moving to a new country exciting, not scary
His episode on South Korea was the first thing I watched after learning that I was being moved there for my dad's work. It gave me confidence that I would be fine when I moved there (I was in high school) and that it would truly be an adventure like his.
His willingness to adventure into Korea and try the food and meet the people where the exact way myself and my family decided to approach our move there. Thank you, Anthony!
Note: We are welcoming here any memories, moments or inspiration "Tony" gave to you. Please share.
4:42 p.m. ET, June 8, 2018
Bourdain's production company: Today's loss is "deep & extraordinarily profound"
The production company that worked with Anthony Bourdain for two decades say they feel a "deep & extraordinarily profound" loss today.
"We'll remember him for his immense talent & more importantly for his friendship," according to a tweet from the company," Zero Point Zero Production said in a statement.
The company worked with Bourdain on several shows, including "The Layover," "No Reservations" and "Anthony Bourdain: Parts Unknown."
4:35 p.m. ET, June 8, 2018
Your memories: His books helped prepare me for a career in the kitchen
I was in Culinary School and about to enter an industry that, even as Anthony put it, chews up and spits out the weak. His book "Kitchen Confidential" just hit the shelves. He unknowingly helped prepare me for the reality of the commercial kitchen and all the pain, sweat, heartache, joy, excitement and passion that it brings.
I brought his books with me as I traveled Europe working and learning as a chef and saw everyday reminders of him in almost every kitchen I worked in. It continues to this day.
He will continue to be seen and present, in my mind, in every kitchen I will find myself in.
Note: We are welcoming here any memories, moments or inspiration "Tony" gave to you. Please share.
4:29 p.m. ET, June 8, 2018
This New York noodle shop is donating its revenue to suicide prevention today
Xi'an Famous Foods, a popular New York City restaurant chain that specializes in northwestern Chinese cuisine, announced that it's donating its net sales to the National Suicide Prevention Lifeline today in honor of Anthony Bourdain.
They credit Bourdain with much of their success.
Jason Wang, the company's CEO, told the story of how his family's Queens food stall grew into a New York empire after Bourdain visited in 2007.
Years later, Wang said he tried to thank Bourdain for the business boost — but the chef wouldn't take the credit.
"I remember years later in 2015 after interviewing together for an article, I approached Tony and told him, while he may have no idea what he has done for our family and business by simply saying he enjoyed the food, I wanted him to know it helped bring our family out from living in one room in Flushing to living the American dream. We were able to grow our business and provide great food for our guests, and opportunities for our employees. I looked at him in the eyes and said, this is something we will always be thankful for, Tony. And he simply replied, "I'm just calling out good food like it is, that's all."
Wang sales that 100% of net sales today at all Xi'an Famous Foods locations will go to the lifeline.
You can read Wang's full tribune to Bourdain in this Twitter thread:
3:45 p.m. ET, June 8, 2018
Thomas Keller: "The kitchen lights are dim today"
American chef Thomas Keller remembered Anthony Bourdain as as a "cool & irreverent" chef who showed the world the power of cooking.
His life & work are a testament to the power of cooking to make the world a kinder, more connected place," Keller tweeted.
3:29 p.m. ET, June 8, 2018
Your memories: His show gave me a way to travel the world without leaving my dorm
In 2008 I was a young cadet at the US Air Force Academy. I was rarely allowed to leave the Academy grounds. Anthony's shows became a way for me to travel the world without leaving my dorm room.
Later, as an Air Force Officer, I was stationed in remote places and had few opportunities to get out of my little isolated world. Anthony's shows continually became my escape.
Because of this man, no matter how small or isolated my world could get, I always felt like I could escape with a friend to some remote culture and breath for at least an hour or two.
Note: We are welcoming here any memories, moments or inspiration "Tony" gave to you. Please share.