Alabama reels in aftermath of deadly tornadoes
7:58 p.m. ET, March 4, 2019
Here's what you need to know about the deadly tornadoes
We're wrapping up our live coverage, but if you're looking for more on the aftermath of Sunday's deadly tornadoes, you can...
6:07 p.m. ET, March 4, 2019
EF-4 tornado left a track almost a mile wide
One of the deadly tornadoes that ripped through Lee County, Alabama, left a track almost a mile wide.
The EF-4 tornado also brought 170 mph winds.
The path of destruction from the EF-4 is at least 24 miles long, said Chris Darden, meteorologist in charge at the National Weather Service's Birmingham office.
The path was likely longer, because the twister crossed into Georgia. Officials there are still assessing the damage, Darden said. He estimated the track was .87 miles wide. 
4:21 p.m. ET, March 4, 2019
"She always had a smile on her face"
Taylor Thornton, a fourth grader in Alabama, was killed by a tornado on Sunday, Dr. Stan Cox, head of school for Lee-Scott Academy, told CNN.
Taylor was in the middle of her first year as a student at the private school in Auburn, Alabama. Cox met with her parents Monday, who confirmed the news of her death. Her age was not immediately reported.
"She is an extremely happy child, she always had a smile on her face," Cox told CNN. "She greeted each day with a big smile like, what's going to happen today, because I'm looking forward to whatever life holds. This was her first year with us, she quickly made close friends. She jumped right in with our art program and won honorable mention with one of the school contests. Very inquisitive, she loved learning and always contributed in a positive way. Just a sweet precious child who was constantly happy. She was always pleasant to be around. People were better because they were with her and now our school feels empty without her."
Classes were canceled today due to the significant amount of damage surrounding the school, Cox said. Other students lost homes or suffered property damage.
Here's a statement about Taylor's death on the school's Facebook page:
3:22 p.m. ET, March 4, 2019
Drone footage shows destruction of tornadoes in Alabama
CNN shot this drone footage of the destruction left after tornadoes swept through parts of Alabama.
See the aftermath:
Here are a few more photos of the damage: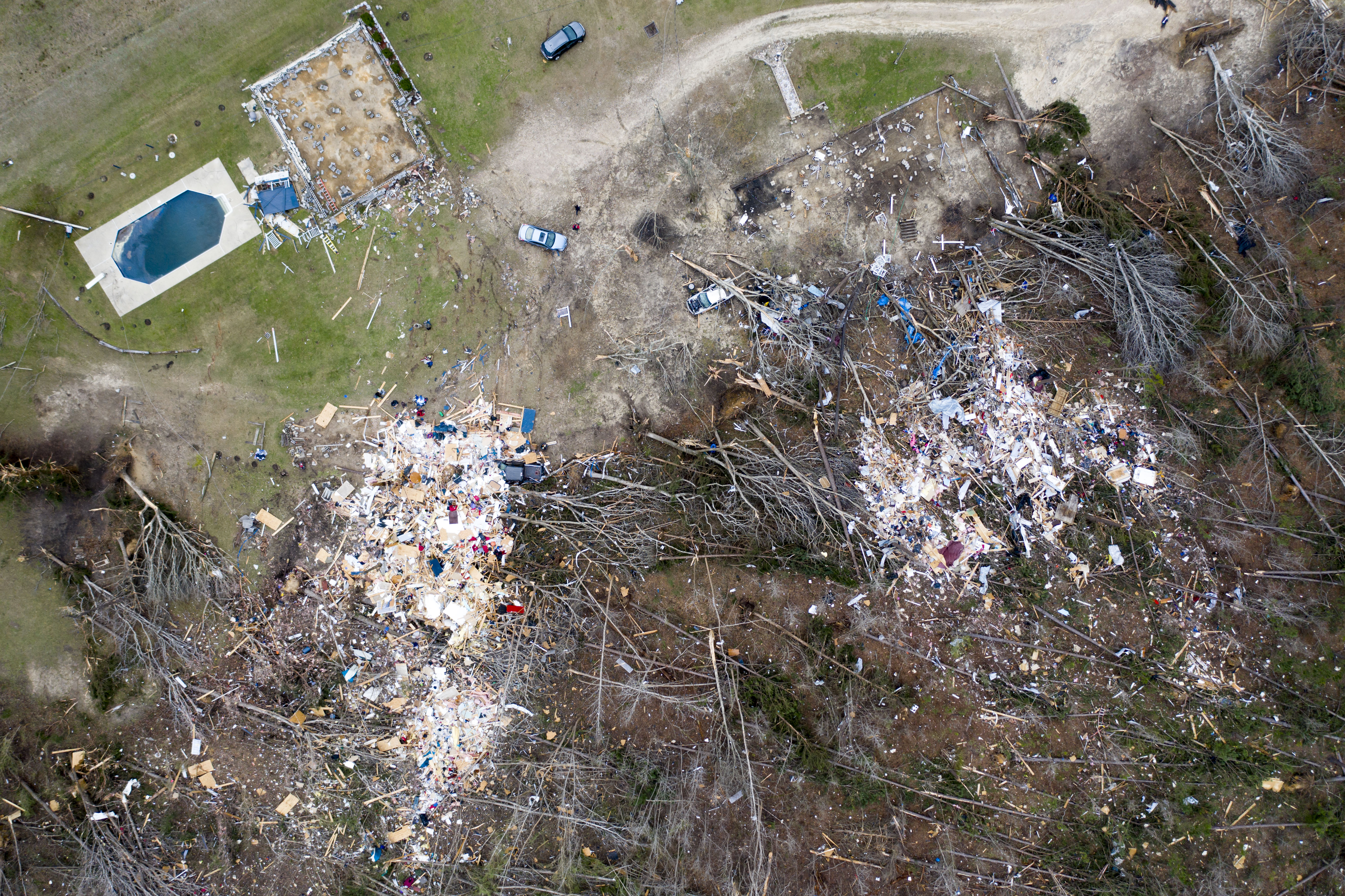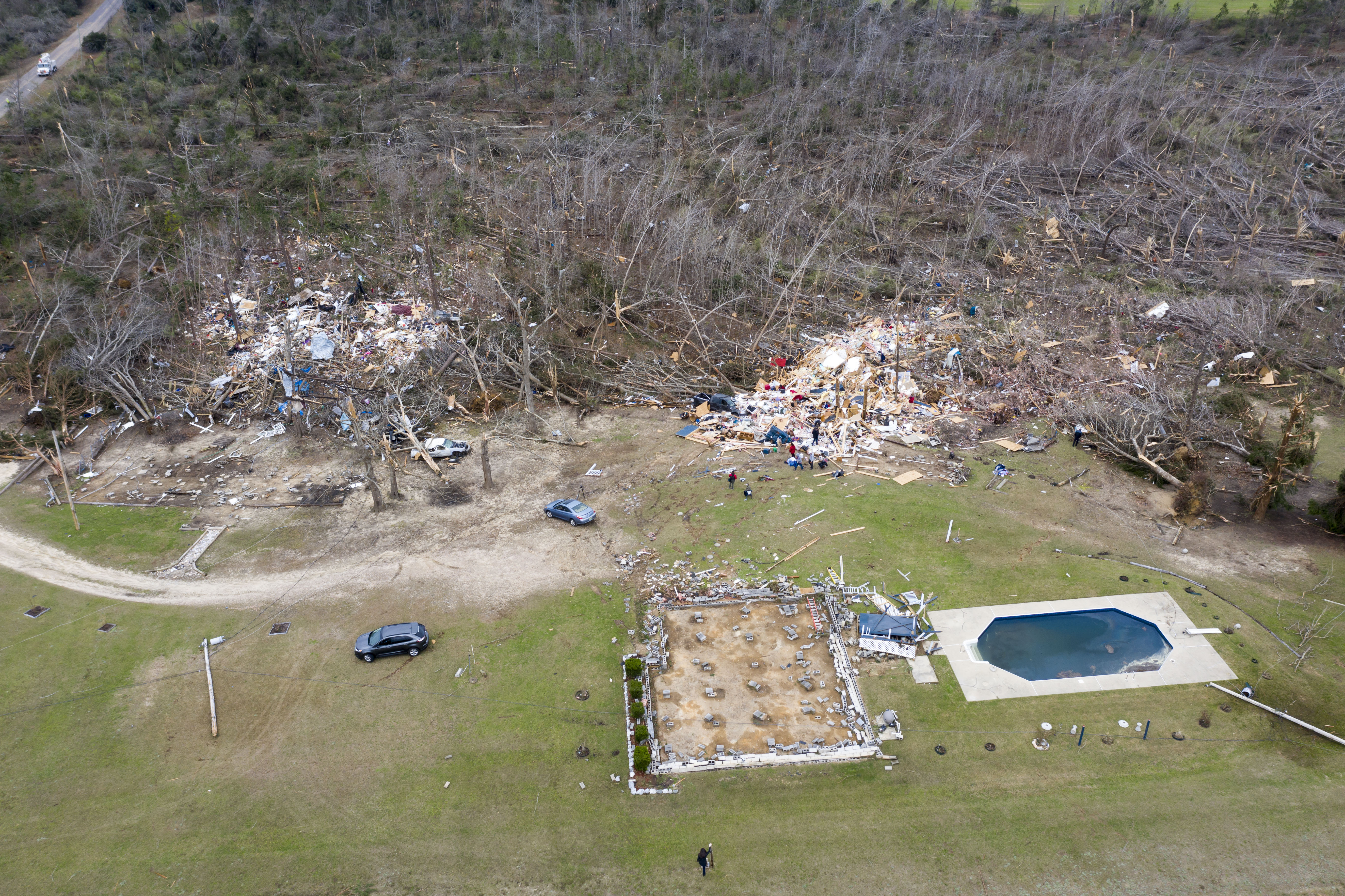 2:44 p.m. ET, March 4, 2019
At least 3 children killed in tornado-ravaged Lee County
At least three children were killed in Lee County on Sunday as tornadoes swept through the area, county coroner Bill Harris said at a news conference this afternoon.
They were 6, 9 and 10 years old, he said.
The youngest victim was identified as 6-year-old Armando Hernandez, family member Sara Crisp told CNN.
2:48 p.m. ET, March 4, 2019
The deadly Alabama tornado had 170 mph winds
The National Weather Service in Birmingham gave the deadly tornado that hit Lee County a preliminary EF4 rating on the scale that measures tornado intensities.
The Enhanced Fujita scale uses the physical damage caused by the storm to estimate how fast the wind was blowing. The scale runs from 0 to 5.
Winds in the Lee County tornado were estimated to be 170 mph.
"Preliminary EF-4 Tornado Damage has been found along County Road 39 just east of Cave Mill Road in southwestern Lee County," the NWS tweeted Monday afternoon. 
2:30 p.m. ET, March 4, 2019
The youngest tornado victim has been identified
The youngest victim of Sunday's deadly streak of tornadoes that hit Lee County was identified as 6-year-old Armando Hernandez, his family member Sara Crisp told CNN.
Armando, who was known to his family as AJ, was described as "a precious little man that was loved by everyone" who "was always eager to give hugs and loved his family," his aunt Tina Melton said in a Facebook post.
Armando's family also lost their home in the tornado.
2:00 p.m. ET, March 4, 2019
SOON: Lee County officials give tornado recovery update
Lee County Emergency Management Agency officials are set to hold a news conference in Opelika, Alabama, at 2 p.m. ET. They'll give an update on recovery efforts following yesterday's devastating storms and tornadoes.
Gov. Kay Ivey is expected to attend.
1:43 p.m. ET, March 4, 2019
Officials identify 17 victims in Lee County
Lee County Coroner Bill Harris said all but six of the confirmed 23 dead have been identified.
Officials were working to confirm identifications of the remaining six through fingerprints, and, if necessary, DNA, Harris told CNN.
Officials are now working with two to three people who are unaccounted for, however Harris said it was difficult to provide an accurate count of those missing. (An earlier count had at least 26 people missing).
Here's how Harris explained it:
"So it's hard to give you an accurate account how many is missing because we really don't know how many were at home at the time and if they've been able to get in touch with any family or not. There's areas where there are five or six cars in the driveway and there's no home there. And so they had to have been at home when this storm hit. Those are the ones who we're going back and researching and trying to find somebody that knows where they are."