Shutdown causes delays at airports
2:01 p.m. ET, January 25, 2019
The airport delays played a key role in Trump backing down on shutdown, source says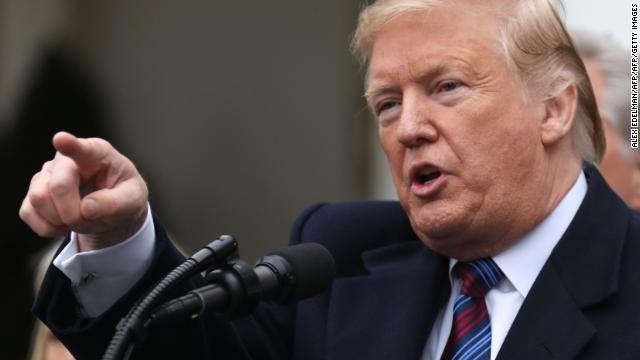 A White House official tells CNN today's airport delays played an important role in President Trump's decision to back down on his insistence for border wall funding -- even if it's just temporary.
"Planes have to keep flying. This is getting worse and worse," a White House official says. "He knows this has to end."
Trump is expected to make an announcement about the shutdown at any moment in the Rose Garden. A senior White House official told CNN the President would announce a "way forward" on ending the shutdown.
1:19 p.m. ET, January 25, 2019
The flight attendants union called out lawmakers for the shutdown
The flight attendants' union stood up for air traffic controllers in a statement Friday and demanded an end to the shutdown.
Association of Flight Attendants-CWA President Sara Nelson said the AFA and other aviation unions saw these delays and staffing shortages coming.
Nelson said safety professionals "have been doing unbelievably heroic work even as they are betrayed by the government that employs them."
She continued:
"Do we have your attention now, Leader (Mitch) McConnell? All lawmakers? Open the government and then get back to the business of democracy to discuss whatever issue you so choose. This shutdown must end immediately. Our country's entire economy is on the line." 
2:03 p.m. ET, January 25, 2019
American Airlines says it hasn't "experienced significant impacts"
Like other major airlines, American addressed the airport delays in a statement it released Friday afternoon.
Here it is:
"We haven't experienced significant impacts to our operation or schedule at this point, but continue to monitor and are working closely with the FAA. Our goal is to minimize disruptions for our customers and our team members taking care of our customers. In this spirit, we urge that the federal government be re-opened before shutdown impacts begin to escalate."
12:36 p.m. ET, January 25, 2019
Philadelphia airport operations are returning to normal
Things are getting back to normal at the Philadelphia International Airport, according to its Twitter page. Most flights are back on schedule.
Earlier, the airport had said departures were delayed 1 hour and 14 minutes.
Here's the airport's latest tweet:
12:24 p.m. ET, January 25, 2019
Staffing issues have been fixed, but residual delays continue, FAA says
The air traffic control staffing issues that led to a ground stop at New York's LaGuardia and flight delays at other airports has been resolved, according to an Federal Aviation Administration spokesman.  
The current delays, the spokesman said, are residual.  
Here's the latest delay info from the FAA status website:  
Flights arriving into LaGuardia and Newark continue to be delayed by 1 hour and 26 minutes.  
Departures from Atlanta are delayed by between an hour and 1 hour and 15 minutes.
12:24 p.m. ET, January 25, 2019
This is Delta's response to the airport delays
Staffing shortages at a crucial air traffic control center continue to cause delays at major airports.
Here's a statement from Delta:
"As of Friday morning, Delta is experiencing about 200 flight delays at New York's LaGuardia Airport as well as other airports in the Northeast region due to the FAA's Ground Delay Program. Delta is working to reacommodate customers to their destinations and encourages customers traveling on Friday to check delta.com or the Fly Delta App for their current flight status." 
12:10 p.m. ET, January 25, 2019
New York governor: "Look at the level of madness"
New York Gov. Andrew Cuomo addressed the airport delays at an unrelated event Friday morning, blasting President Trump for shutting down the government over his insistence that Congress fund a border wall.
"I mean, look at the level of madness that we have going on in this nation right now. Where a purely political shutdown, when the President talks about the wall, this is just a campaign symbol to him," Cuomo said.
New York City Mayor Bill de Blasio also weighed in: He placed the blame squarely on Trump's shoulders, tweeting, "This is horrendous."
Here's that tweet:
12:01 p.m. ET, January 25, 2019
Union president: Air traffic controllers are exhausted from "working around the clock"
Paul Rinaldi, president of the National Air Traffic Controllers Association, explained in a press conference Thursday that many air traffic controllers are turning to side gigs to pay their bills on top of their regular job. And they're exhausted.
At the maximum, air traffic controllers only allowed to work 10-hour shifts for 6 days, Rinaldi said. Many have met that ceiling.
"And then they're figuring out, 'I have to go drive Lyft or Uber, before work and after work.' They're not mitigating their fatigue," he said. "They're coming to work stressed that they can't pay the bills, and at the same time, fatigued, because they're working around the clock to try to make ends meet."
11:54 a.m. ET, January 25, 2019
How US airlines are responding to the delays
There's a slew of flight delays at major airports today in New York, New Jersey and Philadelphia due to staffing shortages at a critical air traffic control center. 
So far, at least two airlines have issued statements on the delays.
United Airlines:
"We're working closely with FAA and airport officials to try to minimize the impact on our operations and, most importantly, on our customers. At this point, we don't anticipate significant schedule disruptions, but it is another good illustration of the escalating impact of the government shutdown and the need for the federal government to promptly re-open."
 Southwest Airlines:
"Southwest is currently monitoring the ATC Ground Stop at LGA, and we are experiencing some flight delays (no cancellations yet). We encourage customers to check their flight status at Southwest.com for the most up-to-date information on today's operations."