10:28 a.m. ET, April 1, 2019
8:41 a.m. ET, April 1, 2019
The outage was short lived and delays should be minimal, FAA says
The Federal Aviation Administration said the technical outage this morning was "short lived" and that delays because of it should be "minimal."
"The service is back on line a few minutes ago and delays should be minimal," FAA spokesman Greg Martin told CNN
About the outage: Martin says the third-party vendor in question provides weight and balance software which airlines use to determine flight plans and make fuel calculations, among other purposes. 
8:41 a.m. ET, April 1, 2019
JetBlue is experiencing delays
From CNN's Richard Davis
JetBlue said it is experiencing delays following a problem with AeroData.
Earlier today, American Airlines also said AeroData was experiencing a technical issue.
Here's the full statement from JetBlue Corporate Communications:
We are experiencing delays following an Aerodata issue impacting multiple airlines' ability to release flights. 
Customers can check their flight status at www.jetblue.com or by downloading the JetBlue Mobile App. 
We are working with these partners to address the issue and apologize for the inconvenience.
8:26 a.m. ET, April 1, 2019
Nearly 1,800 flights have been delayed today
So far today, 1,798 flights within, into, or out of the US have been delayed, according to data from FlightAware.
It's not clear if the technical outages are responsible for all of those delays.
Here's a look at which airports are most affected: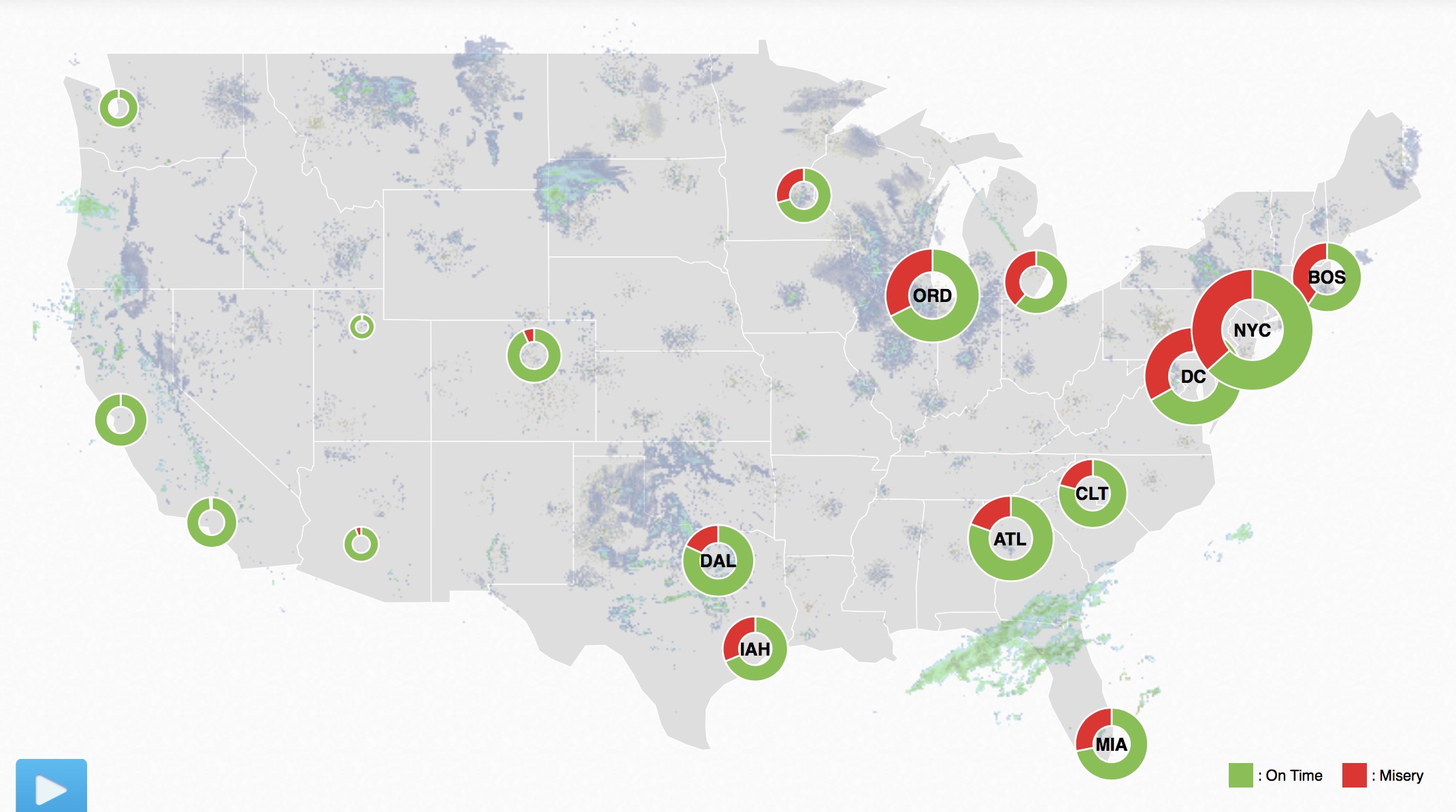 8:19 a.m. ET, April 1, 2019
These Southwest pilots "got comfy" during the ground stop
Kate Bentley tweeted a photo of a couple of Southwest Airlines employees taking seats in wheelchairs at the Columbus, Ohio, airport.
"Our @SouthwestAir pilots got comfy... we're not going anywhere," she tweeted.
Southwest issued a ground stop this morning for about 40 minutes citing "a technology outage involving a vendor."
Here's Bentley's tweet:
8:15 a.m. ET, April 1, 2019
American Airlines says AeroData experiencing technical issue impacting multiple carriers
 American Airlines in a tweet to a passenger said AeroData is experiencing a technical issue that is impacting multiple carriers including a few of AA's regional carriers
CNN has reached out to AeroData for comment.
8:11 a.m. ET, April 1, 2019
Southwest flights were grounded for 40 minutes this morning
Southwest Airlines has issued a ground stop this morning citing "a technology outage involving a vendor that provides aircraft weight and balance data."
"We appreciate our Customers patience as we work with our partner to resolve the issue as quickly as possible," the company said in a statement.
Southwest lifted the ground stop about 40 minutes later, and said the outage was because of an issue with a "vendor that services multiple carriers with data used in flight planning."
8:03 a.m. ET, April 1, 2019
Delta cites issue with third-party vendor as reason for flight delays
Delta says that an issue with a third-party vendor that "prevented some Delta Connection flights from being dispatched on time this morning."
They add that no cancellations are expected due to the issue
Here's their statement:
"A brief third-party technology issue prevented some Delta Connection flights from being dispatched on time this morning has been resolved. No cancellations are expected due to the issue and our teams are working to resolve some resulting delays."