Shooting at Illinois business
7:00 p.m. ET, February 15, 2019
Five have been confirmed dead in shooting
Five people have been confirmed dead in the Aurora, Illinois, shooting, Chief of Police Kristen Ziman said at a news conference.
Ziman confirmed that the shooter was also killed.
6:26 p.m. ET, February 15, 2019
Suspect in Illinois shooting is dead, officials say
The suspect in the Friday shooting at a manufacturing plant in Aurora is dead, two federal law enforcement officials tell CNN.
Social media posts from the city previously said the shooter had been apprehended.
6:17 p.m. ET, February 15, 2019
President Donald Trump offers sympathy to shooting victims
President Trump tweeted about the shooting in Aurora on Friday evening, thanking law enforcement for their work and offering a message of solidarity to those affected.
"Great job by law enforcement in Aurora, Illinois," Trump wrote. "Heartfelt condolences to all of the victims and their families. America is with you!"
Here's the President's tweet:
5:30 p.m. ET, February 15, 2019
Gabby Giffords on shooting at Illinois business: "This must stop"
Former Rep. Gabby Giffords, herself a survivor of a horrific mass shooting, criticized President Trump for refusing to "acknowledge a real crisis when he sees one" and said, "Americans should be able to go to work without fear of being shot. This must stop."
See the tweet:
5:30 p.m. ET, February 15, 2019
One person has been confirmed dead in Aurora shooting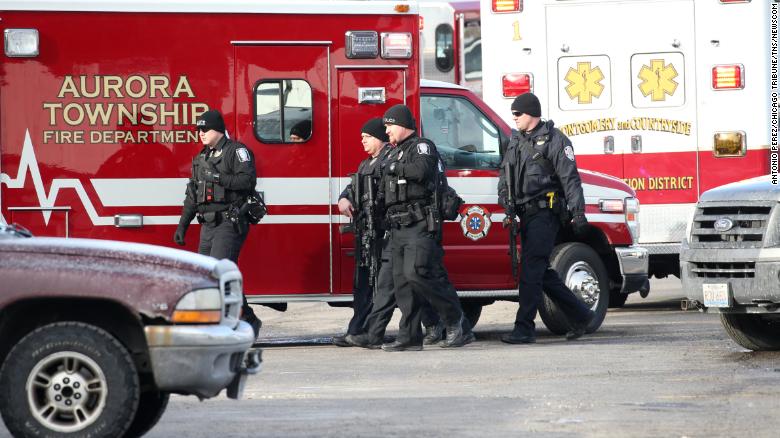 There's been at least one confirmed fatality in this afternoon's shooting at the business in Aurora, Illinois, according to Chris Nelson of the Kane County State's Attorney's Office.
5:14 p.m. ET, February 15, 2019
Employees at a nearby pallet company didn't hear the gunfire over the sound of nail guns
A secretary at a pallet company near the site of the shooting in Aurora said about 8 people found themselves trapped inside as the situation unfolded.
"It's scary," Fanny Cano, a secretary at Diaz Pallets, told CNN earlier. "A police officer came and told us not to go out because it's dangerous," she said. "And a person who was coming to drop off some pallets called us to say to stay inside, there's a shooting outside."
"The police are right outside our door," Cano said. "We use a lot of nail guns here so we didn't notice any gunfire."
Cano said she also got a call from her daughter's school, West Aurora High School, which was on lockdown.
5:01 p.m. ET, February 15, 2019
Today's shooting comes one day after the first anniversary of the Parkland massacre
Illinois Lt. Gov. Juliana Stratton noted that today's shooting in Aurora comes just one day after the first anniversary of the deadly shooting at Marjory Stoneman Douglas in Parkland, Florida.
"Yesterday, we paused for a moment of silence in honor of victims in Parkland (2/4/18) and Northern Illinois University (2/14/08). Today, it's Aurora, IL," she tweeted.
"Gun violence is a #NationalEmergency," she said in a second tweet.