UK election results 2019: Boris Johnson storms to victory
10:57 a.m. ET, December 13, 2019
Historic victory but UK future still uncertain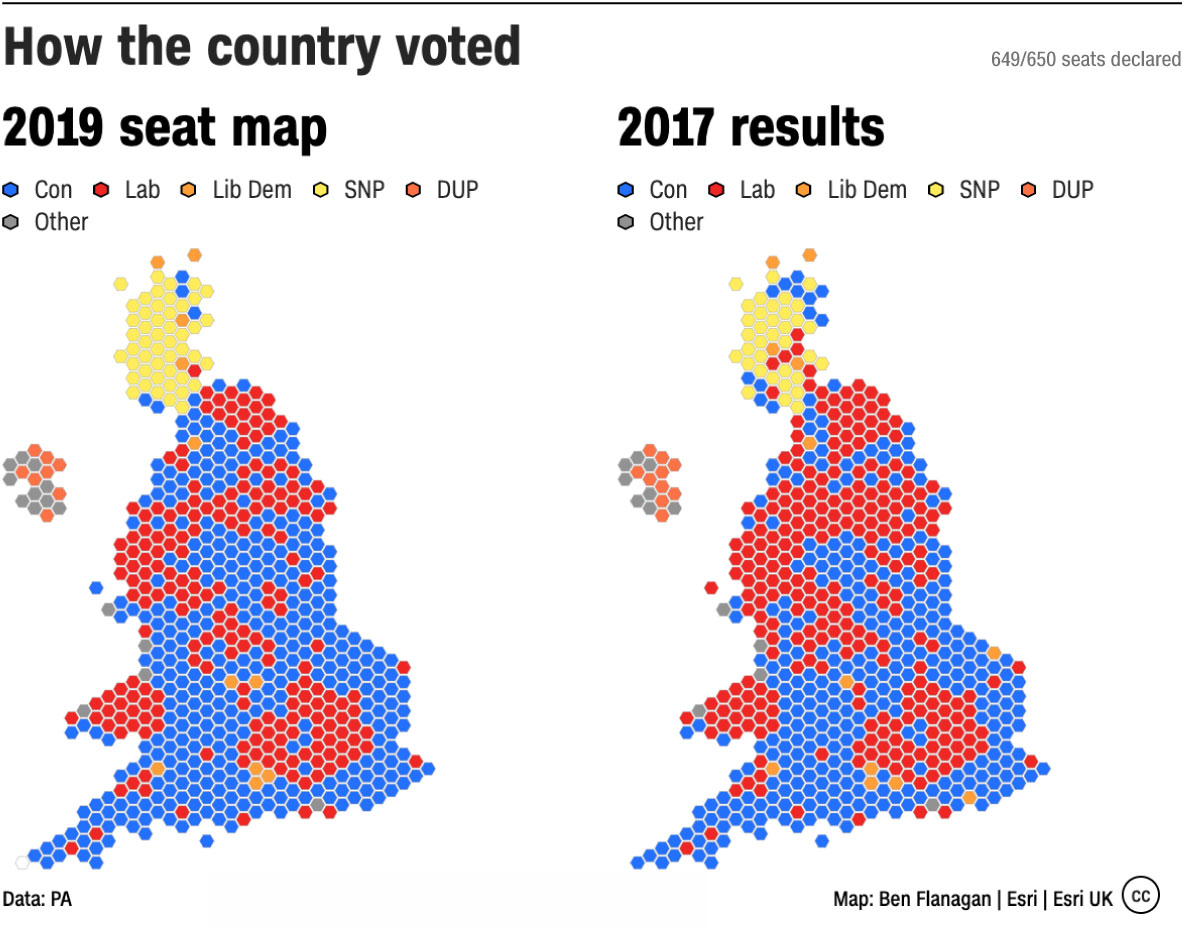 That's a wrap after an astonishing 24 hours in British politics. Boris Johnson delivered a Margaret Thatcher-like win, crushing the opposition in the biggest general election victory for the Conservative Party since 1987. To review the results, click here.
Brexit is now unstoppable, says CNN's Eliza Mackintosh, but the UK must face up to how long it will take, while in analysing the impact of this election on the UK, CNN's Stephen Collinson says Johnson may struggle to keep the union together. There is plenty to dissect, and much has already been said and written, which can be read here.
Thanks for joining us.
10:35 a.m. ET, December 13, 2019
Tasked with uniting a divided nation
It seems that Boris Johnson has clocked off for the day. Speaking on the steps of Downing Street, he said his first priority was to unite a nation that has been divided since the Brexit vote in 2016. 
He thanked the people who voted for him, with their hand "quivering" as they voted. He is referring to the people who historically had never voted for his Conservative Party, but sick of three-and-a-half years of "arid" debate about Brexit. 
He urged those who still wished to remain in the EU to "find closure" in order to "let the healing begin." 
And he spoke of strengthening the union between the four nations of the UK. 
But he has a hell of a job ahead of him if he's going to unite the country he now has the mandate to lead.
Many Labour voters did indeed lend Johnson their votes. But more than half of the electorate didn't vote for his Conservative Party. And while that is totally normal in the UK's electoral system, it must still be viewed in the context of the Brexit vote -- and the fact that Johnson is seen as the man responsible for it. 
The campaign for a second referendum is as good as dead, and many voters will be in a period of mourning rather than feeling ready to embrace Johnson. 
And the divisions between the four nations of the United Kingdom are set to get even worse as the Brexit project gets underway. Scotland made a very clear statement by voting emphatically for a party that wants to remain in the EU.
And Northern Irish voters across the political spectrum think that any form of Brexit is likely to make unity with the Republic of Ireland inevitable. 
So, when the Prime Minister turned on his heels after wishing the nation a Merry Christmas, he will have done so knowing that millions of people will have no such thing as a direct result of his victory. 
10:32 a.m. ET, December 13, 2019
Johnson reaches out to opponents
Emphasizing that this was the "people's government," Boris Johnson also spoke to those who did not vote for his party.
He said his "One Nation" Conservative Party would focus on the National Health Service. "That simple and beautiful idea that represents the best of our country," he said.
Before wishing everyone a Merry Christmas, the Prime Minister also promised to unite the UK, bringing together all four countries that make up the union by "unleashing the potential of the whole country."
10:10 a.m. ET, December 13, 2019
Happening now: Johnson addresses the nation
UK Prime Minster Boris Johnson is outside Downing Street speaking after his election victory.
Johnson said he wants to "deliver a parliament that works for you" and urged everyone "to find closure and let the healing begin."
10:26 a.m. ET, December 13, 2019
The final seat in the election has been declared
The final seat to declare in the election has gone to the Conservative Party, with Derek Thomas winning in St. Ives. That means Boris Johnson's Conservative Party has won 365 seats, giving his party a majority of 80 (the largest Conservative majority since Margaret Thatcher's 1987 win).
10:33 a.m. ET, December 13, 2019
The last week before Christmas
Boris Johnson can carry on smiling for now. However, next week he needs to get back to running the country. 
His majority is a huge success, no doubt. But one of his first acts will be to appoint a new Cabinet. Brexit observers will watch every movement with keen interest, as it will tell us what we can expect in the next few months. 
During the election campaign, high-profile Brexiteer Jacob Rees-Mogg was hidden from the public. This might have been because of a mess of an interview he gave in which implied that people died in the Grenfell Tower disaster because they were not intelligent enough to run away. It might also be because Johnson is pulling away from that wing of his party. 
The deal he struck with Brussels was full of concessions that Johnson was frankly lucky to get away with given the views of the party he runs. Many believed that hugging the hardline Brexiteers close -- even giving them jobs -- was more about party management than anything else. 
However, with a large majority, he might no longer need these people. 
Or at least he might be tempted to think that. The Conservative Party has been good at flipping over tables for the past three years. And while it's unlikely we will see any rebellion this soon after an election, Johnson will be aware that until very recently, he was a man suffering loss after loss in parliament and hanging onto his leadership. 
10:29 a.m. ET, December 13, 2019
Swinson doesn't regret anti-Brexit campaign
The former leader of the UK Liberal Democrats, Jo Swinson, says she's proud that her party was the "unapologetic voice" against Brexit in the election campaign -- even though it didn't work.
"I, like you, am devastated about that. But I don't regret trying," she told supporters Friday.
Swinson described the election as "dark -- in more ways than one," saying that racism had now become mainstream in British politics.
She also paid tribute to her colleagues who lost their seats. "I'm so sorry I couldn't get them elected," Swinson said.
9:52 a.m. ET, December 13, 2019
What the papers say
The front pages of the UK's national newspapers reflects their political leanings. "Rejoice!" proclaimed UK newspaper Daily Mail on its front page. "Boris surges to landslide."Nightmare," proclaimed the Daily Mirror's front page.
"Labour in meltdown as Johnson seizes majority," opines the Guardian, while The Sun says "Carrie on Boris" - a pun on the christian name of Boris Johnson's girlfriend.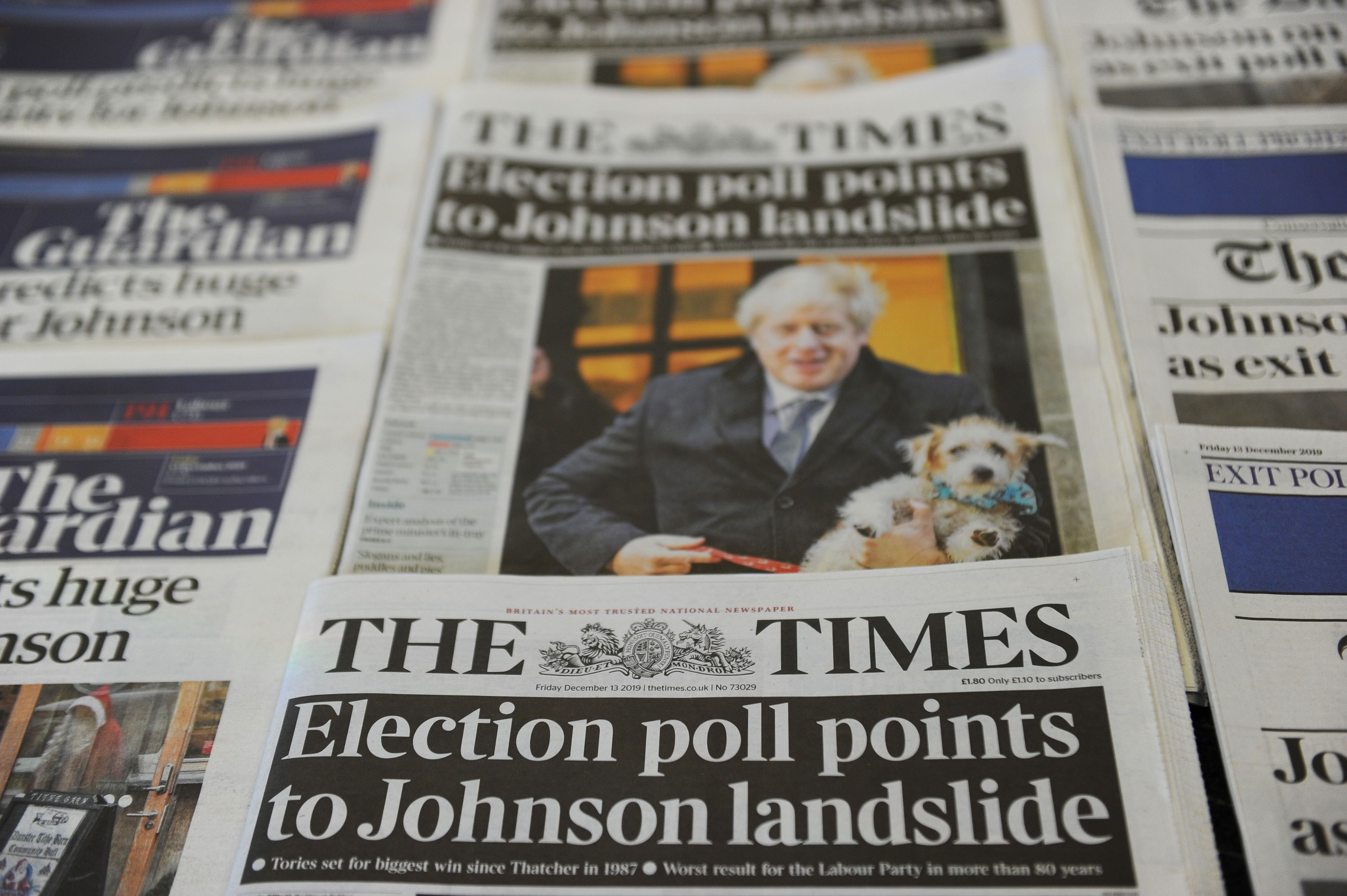 9:33 a.m. ET, December 13, 2019
Warm welcome for Johnson
As you'd expect, Boris Johnson was welcomed warmly inside Downing Street when he returned from Buckingham Palace having received her permission from the Queen to form a government.
The newly elected Prime Minister received a guard of honor and was applauded as he walked through the halls where he and his government will likely spend the next five years.
The government's most immediate task will be to negotiate the UK's departure from the European Union.