UK election results 2019: Boris Johnson storms to victory
5:29 a.m. ET, December 13, 2019
What happens next?
If you're just joining us, then welcome! It was a historic victory for the Conservative Party in the UK general election.
Boris Johnson gambled and it paid off. He is the UK Prime Minister, has a handsome majority and the main opposition party has been decimated.
But what happens next on results day? Johnson is expected to make the traditional post-election journey to Buckingham Palace for an audience with the Queen. A re-elected prime minister is not required to see the Queen in person, but there has been no suggestion that Johnson will miss the opportunity to meet Her Majesty.
Labour leader Jeremy Corbyn is likely to speak in the wake of his pledge to resign following his party's disastrous showing. A happier SNP leader Nicola Sturgeon, whose party won 48 seats -- 13 more than in 2017 -- is also expected to speak at an event in the Scottish capital Edinburgh.
4:40 a.m. ET, December 13, 2019
No government appointments today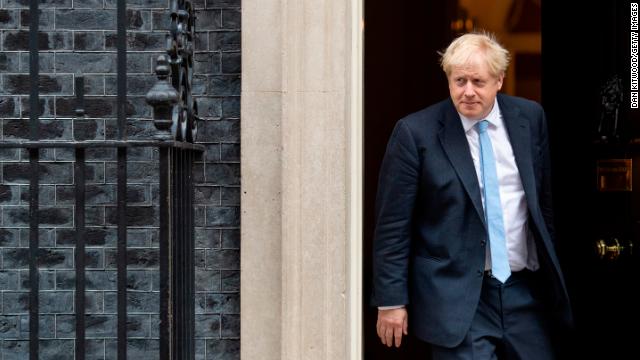 No government appointments will be made today, a Number 10 spokesperson told CNN.
The public will have to wait until Monday to see how Johnson stacks his new team.
4:39 a.m. ET, December 13, 2019
Why have not all the seats been declared yet?
There is just one more seat to call, but bad weather on an archipelago in Britain's south west means the count has been postponed to this afternoon.
The St. Ives constituency count had been held back until 2.30 p.m. local (9.30 a.m. ET) because boats were unable to carry ballot boxes from the outer islands of the Isles of Scilly to the main island, St. Mary's, PA News reports.
Even a helicopter struggled to make the transfer.
Once the ballots are counted on St. Mary's, the outcome will be relayed to the count on the mainland before declaration is made, PA News reports.
3:58 a.m. ET, December 13, 2019
World leaders congratulate Johnson's win
From Narendra Modi in India to Scott Morrison in Australia, world leaders have been sending their well wishes to Britain's Prime Minister Boris Johnson.
Here's what they had to say:
"Say g'day to the quiet Britons for us," write Australian Prime Minister Morrison to Johnson on Twitter.
Fun fact, some of the people who worked on Morrison's election campaign reportedly helped Johnson in the run-up to this year's vote.
India's Prime Minister Modi congratulated Johnson for his "thumping majority."
As did Bulgaria's PM Boyko Borissov and Prime Minister of Latvia Krisjanis Karins.
Netherlands Prime Minister Mark Rutte said the British electorate had given Johnson a "clear mandate."
3:13 a.m. ET, December 13, 2019
Gains in UK shares after election results
UK shares are trading higher as investors respond to Boris Johnson's UK general election victory.
The main FTSE 100 index is around 0.5% higher in the opening minutes of trade.
The more domestically focused FTSE 250, which is made up of smaller firms, is also trading higher. It climbed 2% in early trade.
3:12 a.m. ET, December 13, 2019
December's poll may represent a return to a fragmented electorate
While Boris Johnson will understandably claim December 12 as a victory for himself and the Conservatives, the numbers show the real story is the electorate's rejection of Jeremy Corbyn's Labour Party.
Johnson did increase the Conservatives' vote share over what they got in 2017, but Labour fell much further than the Conservatives rose.
The SNP, Brexit Party, Greens and Liberal Democrats all ate into Labour's vote -- and in this first-past-the-post system, the smaller parties nibbling away at Labour gave the Conservatives a chance to gobble up a huge swathe of seats.
One big surprise of the 2017 election was how much of the country voted for one or the other of the two big parties, Labour or the Conservatives.
That election may turn out to have been a blip -- and 2019 may signal the return to a more fragmented electorate.
3:02 a.m. ET, December 13, 2019
Watch: Boris Johnson's victory speech
Watch a clip from Boris Johnson's victory speech, which he ended with, "You may only have lent us your vote and you may not think of yourself as a natural Tory ... I am humbled that you have put your trust in me and that you have put your trust in us."
2:39 a.m. ET, December 13, 2019
Boris Johnson says second referendum is dead in the water
Prime Minister Boris Johnson reiterated his campaign pledge to "get Brexit done" during a victory rally in central London on Friday, where he made digs at Labour leader Jeremy Corbyn and remain voters in the country.
"With this election we have put to end all those miserable threats of a second referendum."
"And I say respectfully to our friend in the blue twelve star hat that's it time to put a sock in the megaphone and give everybody some peace," he said.
He reiterated the pledge to get the country out of the European Union by January 31 and deliver "the democratic mandate of the people" and celebrated what he said was the biggest majority for the Conservatives since the 1980s.
Johnson added that he was humbled that voters in longstanding Labour constituencies "have put your trust in me and that you have put your trust in us and we will never take your support for granted."
2:23 a.m. ET, December 13, 2019
Happening now: Boris Johnson speaks after Conservative Party win
The Prime Minister is speaking to campaigners and supporters in London.