The dawning reality of a general election has created a problem for the man who Brexit might never have happened without.
Nigel Farage's Brexit Party finished in first place in what was effectively the UK's last national elections -- the European parliamentary elections. The conditions were perfect, as the vote took place back in May, two months after the UK had missed its first Brexit deadline.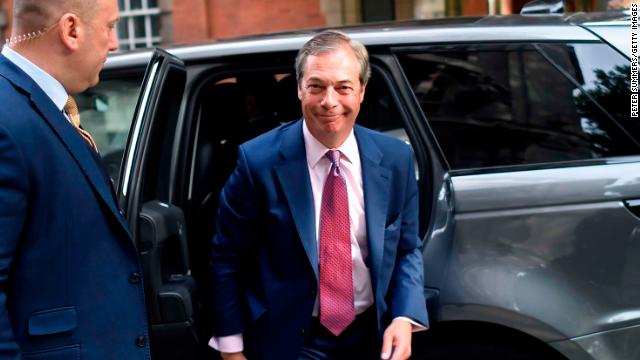 When he launched the Brexit Party, Farage said he wanted to "change politics for good," and that his party would stand on a single issue: to take the UK out of the EU without a deal. Labour and the rest of the opposition were blocking Brexit, and the Conservatives, then run by Theresa May, were hopeless.
In the wake of Farage's huge victory in the European elections, he almost immediately announced plans to contest near enough every seat at the next UK general election. Candidates were regularly announced as the Brexit Party repeatedly told the public, "We are ready for a Brexit general election."
Things have changed since May. Boris Johnson, the man who led the successful Vote Leave campaign in 2016, is now the Prime Minister. He has taken a hard line on Brexit that ultimately forced the EU to renegotiate May's doomed withdrawal deal. If polls are to be believed, he is riding high and in a very strong position.
The UK's political system structurally punishes smaller parties. It is not uncommon for parties to pick up a decent chunk of the national vote but end up with no seats in Parliament.
Rumors are now circulating that the Brexit Party will switch its focus from standing in every seat to concentrating on a handful of seats that they have a decent chance on winning.
On Wednesday morning, party campaigners were sent the following message, which has been seen by CNN. "Message from HQ... IMPORTANT. Please go DARK on social media. DO NOT respond to any questions about where we are standing, what the strategy or plan is from now. Things will be made clear to all PPCs very soon. #changepoliticsforgood."
Focusing on a small selection of seats might be a sensible strategy, but it could look to be a humiliating turnaround for a party that has talked a huge game since the spring.