Boris Johnson becomes UK Prime Minister
8:04 a.m. ET, July 24, 2019
May asked if she will speak out against a no-deal Brexit
May is asked by Labour backbencher Yvette Cooper if she feels Boris Johnson will take into account the dangers of a no-deal Brexit -- and whether she'll speak out if he pursues such an outcome.
The Prime Minister responds that Johnson will take into account all warnings about no- deal.
She adds that she put forward a Brexit deal three times, and it was voted down every time. Cooper "should have voted for the deal" if she were so concerned about no deal, May says.
8:00 a.m. ET, July 24, 2019
May heralds female leaders in Parliament -- and takes a dig at Labour
Tory backbencher and longtime May critic Jacob Rees-Mogg thanks May for her "remarkable public service" and for "being willing to deal with people who must on occasions been annoying to her with enormous courtesy."
That's a self-deprecating nod to himself and his ERG backbench group, which has been a thorn in May's side throughout her tenure.
"The point of this place is about debate and argument and discussion," she says, adding that such debates are best made with courtesy. She says she expects to continue debating Rees-Mogg when she returns to the backbenches.
Jo Swinson, the newly elected Liberal Democrat leader, then rises to ask her first question in her new role.
"My advice to all women is actually to be true to yourself," she says, before congratulating Swinson on her election.
"As I stand down I'm pleased to be able to hand the baton on" to another female leader, May adds. She notes that most major parties have or have had a female leader -- even Change UK, "or whatever they're calling themselves this week." The newly formed group has already burned through a number of name changes and rebrands.
May notes that the only group "letting down" Parliament is Labour, which has never had a female leader.
7:52 a.m. ET, July 24, 2019
Ministers thank May for her service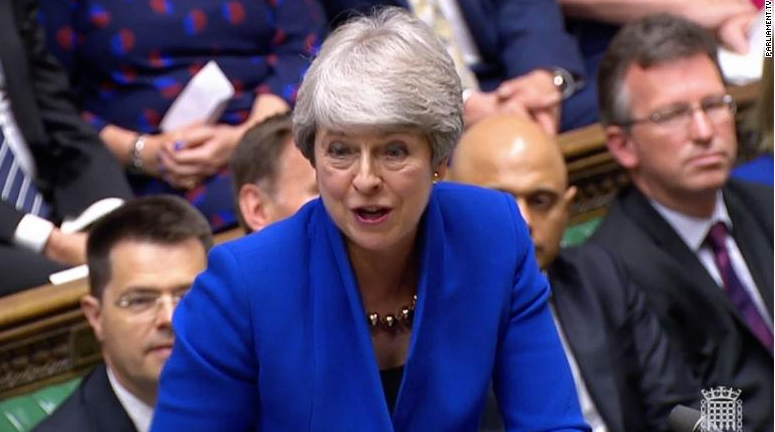 Backbenchers are now asking May questions, and most are being fairly charitable towards the outgoing leader.
But a number of politicians on opposite sides, while thanking May for her service, are using the opportunity to take a dig at the incoming Johnson.
A Labour backbencher notes President Donald Trump's penchant for pardoning people, and asks if May will pardon Boris Johnson for sabotaging her government for his own means. Johnson quit May's Cabinet over Brexit and then repeatedly slammed her strategy.
Predictably, May doesn't go anywhere near that one.
"My successor will continue to deliver the policies that have improved the lives of people up and down this country," she says.
May is then asked for a piece of advice she'd like to give Johnson on being prime minister.
She jokes that Johnson should prepare a "summer reading list."
7:28 a.m. ET, July 24, 2019
SNP leader asks May to sign motion to block suspension of Parliament
Ian Blackford, the SNP Westminster leader, is now up to ask questions.
"The time for holding the prime minister to account has passed," he says, taking a far kinder tone than Corbyn did.
"I wish you all the best for the future," he says.
Boring!
Blackford then asks if May is confident Boris Johnson is up to the task. May thanks Blackford for his words and pays tribute to her chief of staff.
"Yes, I congratulate my right honorable friend," Boris Johnson, for winning the leadership election, she says, adding he will deliver for the "whole United Kingdom."
But Blackford responds that "Scotland deserves better" than Boris Johnson. He reveals the SNP have tabled a motion in Parliament to prevent Johnson from proroguing, or suspending, Parliament to force through his Brexit plan, and asks if May is interested in signing it.
She isn't.
7:20 a.m. ET, July 24, 2019
May: Corbyn should realize his time is up too
Theresa May accuses Corbyn of using "fake news" and disinformation at the despatch box.
Corbyn then says he'll conclude by listing some of May's U-turns, naming unpopular policies such as a so-called "dementia tax" and a scrapped attempt to bring back fox hunting.
In case you haven't been following British politics for long, these two don't like each other very much.
Corbyn adds that Boris Johnson should call a general election when he gets into power, and May hits back with some of Corbyn's own U-turns on abolishing student debt and his commitment to Britain's Trident nuclear program.
May then says it is the strength of British politics that the two leaders can go head to head in the Commons. "But he and I are very different people," she says, in what could be considered the understatement of the year.
"But what I think we both have in common is a commitment to our constituencies," she says.
What a lovely way to end proceedings.
Oh wait, there's more. May ends: "As a party leader who has accepted when her time is up, perhaps it is now time for him to do the same."
Mic drop.
7:14 a.m. ET, July 24, 2019
May: Corbyn should be ashamed of himself
Corbyn takes a softer tone, saying he appreciates a handful of May's policies and asks which she is most proud of.
May responds that she's proud of all of her policies.
Corbyn then says all of the policies he'd mentioned were actually Labour pledges first. It's like watching an extremely awkward Christmas dinner where everyone is desperately trying to be civil but can't resist a backhanded compliment here and there.
Then things get flat-out nasty, as May gets up to blast Corbyn's Brexit strategy. "At every stage his only interest has been playing party politics and frankly, he should be ashamed of himself."
So much for that friendly farewell PMQs we all expected.
7:11 a.m. ET, July 24, 2019
May defends her record to Corbyn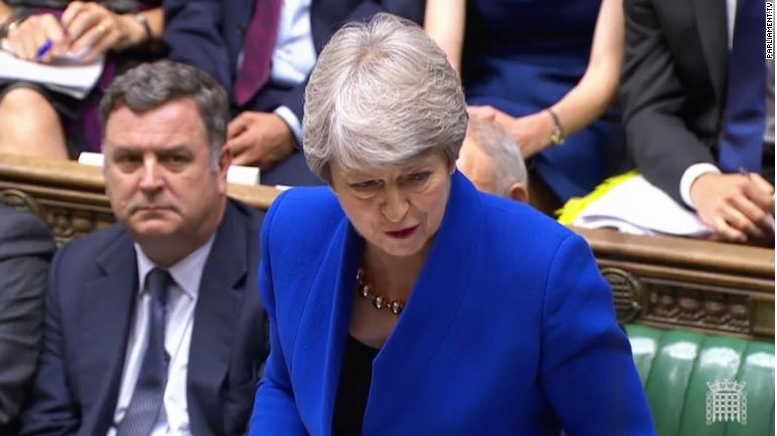 Opposition Labour leader Jeremy Corbyn pays tribute to May's "sense of public duty," which he says should always be recognized.
He says he hopes her time on the backbenches is "marginally more relaxing" and that she will help him oppose the "reckless plans" of her successor -- like the outgoing Chancellor, Philip Hammond. Hammond has been a critic of no deal but didn't look too pleased with the joke.
Corbyn then moves onto more traditional subject matter for him, noting that poverty and homelessness has risen. He asks if May has any regrets about her legacy on those issues.
May defends her record, saying she's boosted jobs and allowed more people to go to university and buy a home.
It's an unexpectedly political back-and-forth, until May makes a wider point.
She says politics is "about the difference we make every day to the lives of people up and down this country."
7:04 a.m. ET, July 24, 2019
May says she's "pleased" to hand over to Johnson
May has begun taking questions.
"Following my duties in the House this afternoon, I shall have an audience with Her Majesty the Queen. I shall then continue with my duties in the House, from the backbenches," she says in response to the traditional first question about the leader's agenda that day.
Her first question is fairly loaded for what's normally a cordial occasion -- an opposition MP asks how she feels handing over to a man who will "sell our country out to Donald Trump and his friends."
May says she's "pleased" to hand over to Johnson, whom she worked with when he was in her Cabinet. There's a few chuckles at that point -- Johnson quit May's Cabinet in protest over her Brexit strategy.
7:00 a.m. ET, July 24, 2019
HAPPENING NOW: Theresa May begins her final PMQs
Theresa May has entered the House of Commons and is preparing to hold her last Prime Minister's Questions as leader.