Boris Johnson dealt blow as Brexit rebels vote to seize control
6:28 p.m. ET, September 3, 2019
We're done for the night
6:21 p.m. ET, September 3, 2019
Call for an early election likely to be debated Wednesday
Prime Minister Boris Johnson has said he intends to seek an early election if MPs pass a bill outlawing a no-deal Brexit tomorrow. According to the House of Commons, his proposal is likely to be debated on Wednesday.
6:14 p.m. ET, September 3, 2019
Watch the moment Johnson gets defeated
Prime Minister Boris Johnson suffered an embarrassing defeat in Parliament on Tuesday. Here is the moment the result of the vote was announced:
6:14 p.m. ET, September 3, 2019
Winston Churchill's grandson, one of the rebels, says he won't stand in the next election
Nicholas Soames -- the grandson of Winston Churchill -- was one of the Conservative MPs who defied the government's threat to withdraw the whip and voted with the opposition tonight to seize control of the parliamentary agenda.
In the wake of the vote, he said he would not stand in the next general election.
"I actually won't stand. I'm not going to stand," he told BBC's Newsnight, according to the Press Association.
6:07 p.m. ET, September 3, 2019
The 21 Conservatives who voted against Johnson have been sacked, one of the rebel MPs says
Boris Johnson's defeat is all the more embarrassing considering many of the 21 rebels who voted against the government are senior members of the Conservative Party and former high-profile ministers.
They defied the government despite a pre-emptive threat that any Conservatives who did so would have the whip withdrawn -- meaning they'll effectively be kicked out of the party.
The rebels included former Cabinet ministers including Philip Hammond, Rory Stewart and David Gauke — and Winston Churchill's grandson, Nicholas Soames. 
Kenneth Clarke, the longest serving member of the Commons, also voted against the government.
Downing Street made good on its threat shortly after the vote, according to one of the rebels.
"Today I voted against the government in order to a stop no deal Brexit. I along with 20 colleagues have had the Conservative Whip removed," Sam Gyimah said on Twitter.
A Downing Street spokesperson declined to comment.
Having the whip removed means the 21 Conservative MPs will no longer be able to sit with the government in the House of Commons and will be barred from standing in a future election.
This also means that Johnson's working majority -- which had dropped from one to zero after an MP defected several hours ago -- is technically non-existent.
Here is a full list of the Tory rebels as published by the House of Commons: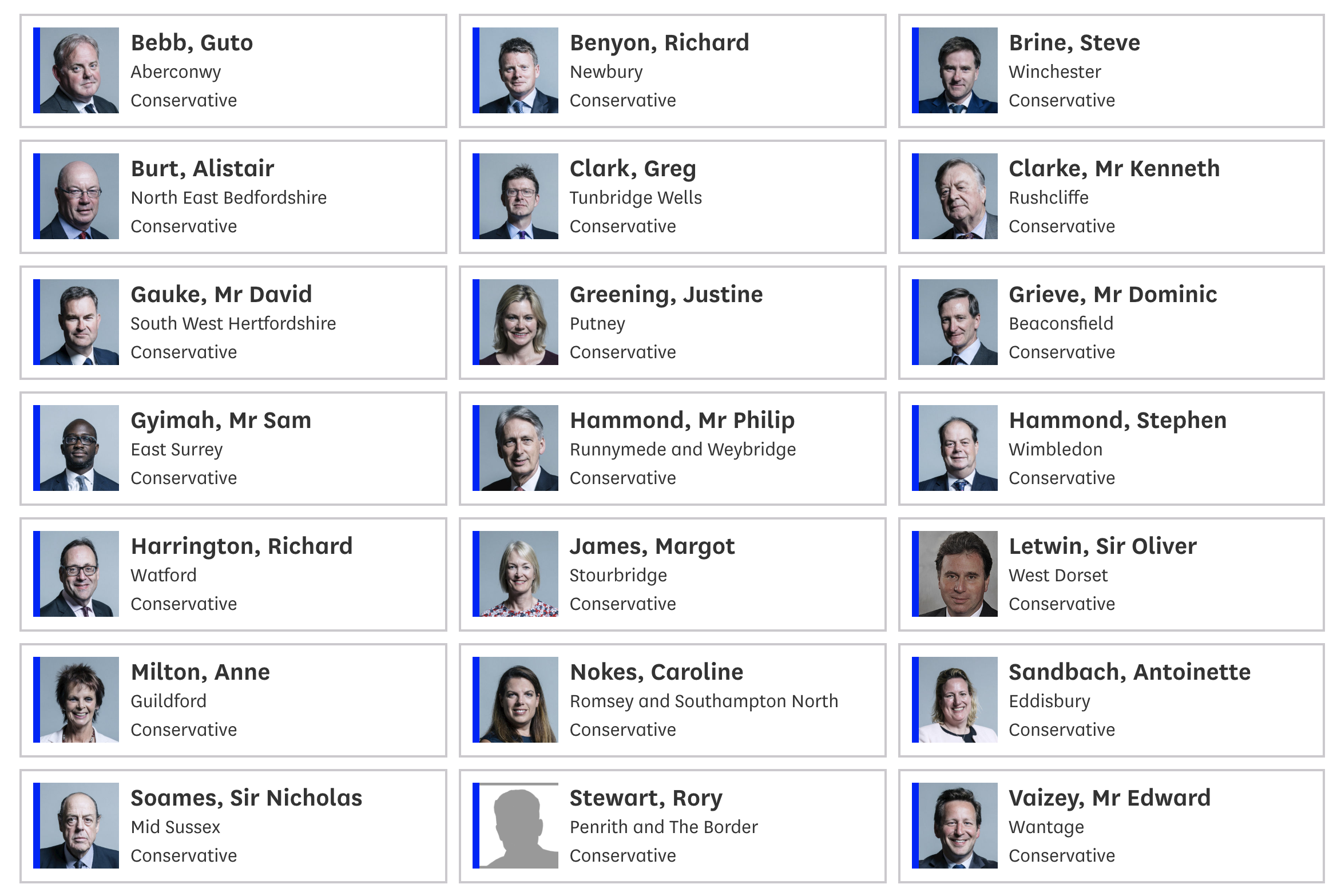 5:47 p.m. ET, September 3, 2019
Here is Johnson's full post-defeat statement
Here is the full statement that Boris Johnson delivered to the House in the wake of his government's defeat tonight:
"Let there be no doubt about the consequences of this vote tonight. It means that Parliament is on the brink of wrecking any deal we might be able to strike in Brussels. 
"Because tomorrow's bill would hand control of the negotiations to the EU. And that would mean more dither, more delay, more confusion.
"And it would mean that the EU themselves would be able decide how long to keep this country In the EU.
"And since I refuse to go along with that plan ... we are going to have to make a choice, Mr Speaker. I don't want an election. The public don't want an election.
"But if the House votes for this bill tomorrow, the public will have to choose who goes to Brussels on October 17 to sort this out and take this country forward.
"Everyone will know if the Rt Hon Gentleman is the prime minister [a reference to Jeremy Corbyn], he will go to Brussels, he will beg for an extension, you will accept whatever Brussels demands and we'll have years more arguments over Brexit. 
"And by contrast, everyone will know that if I am prime minister, I will go to Brussels, I will go for a deal and get a deal but if they won't do a deal we will leave anyway on 31 October. 
"The people of this country will have to choose.
"The leader of the opposition has been begging for an election for two years. 
"I don't want an election, but if MPs vote tomorrow to stop the negotiations and to compel another pointless delay of Brexit, potentially for years, then that will be the only way to resolve this.
"I can confirm that tonight we will are tabling a motion under the Fixed Term Parliament Act."
5:37 p.m. ET, September 3, 2019
Other oposition parties agree with Corbyn
Other opposition parties appeared to back Corbyn on the idea of allowing an early election only after a no-deal Brexit was blocked.
Jo Swinson, the leader of the Liberal Democrats, called on MPs to act "responsibly" and said her party would back an early election, but only after the risk of a no-deal Brexit is removed.
Green MP Caroline Lucas said Johnson "must be stopped from getting his election plan" until legislation was passed to prevent Britain from crashing out of Europe without a deal.
5:30 p.m. ET, September 3, 2019
Huge cheers from protesters outside Parliament
Crowds that have gathered outside Parliament on Tuesday have welcomed the result of the vote.
CNN's Bianca Nobilo captured this scene:
5:28 p.m. ET, September 3, 2019
BREAKING: Corbyn says he won't back an election unless no-deal Brexit is ruled out first
The Labour Party leader Jeremy Corbyn responded by saying he would not vote for early elections unless a bill ruling out a no-deal Brexit is passed first.
Corbyn said that if the Prime Minister wants an election he must first get the bill passed.