Think of the Florida Keys and the tried-and-true destinations of Key West, Key Largo, and maybe, if you've been before, Islamorada, quickly come to mind.
But in between all that, in an area known as the "Middle Keys," a destination known as Marathon is emerging as the new place to be.
"Marathon used to be this sleepy little town with not a whole lot to do, so people blasted by it on their way down to Key West," said Kelly McKinnon, executive director of the Pigeon Key Foundation and a Marathon resident. "But it's a really great destination now, and there's no shortage of things to do here anymore."
Once a local fishing community, Marathon, which is spread across more than a dozen small islands, has seen its stock rise rapidly in recent years thanks to a flurry of openings and investments that include fresh full-service resorts, revived recreational opportunities and revamped historical sites.
New resorts welcoming a new era
For a long time, a large portion of Marathon's prized, westernmost real estate was occupied by an RV park. But when it was destroyed by Hurricane Irma in 2017, it was built back as a luxury waterfront resort.
Opened in 2019, Isla Bella Beach Resort isn't the resort that began the change in Marathon. There are several other lovely beach resorts in the area, such as Hawks Cay Resort and Tranquility Bay Resort, which preceded it and are owed that honor.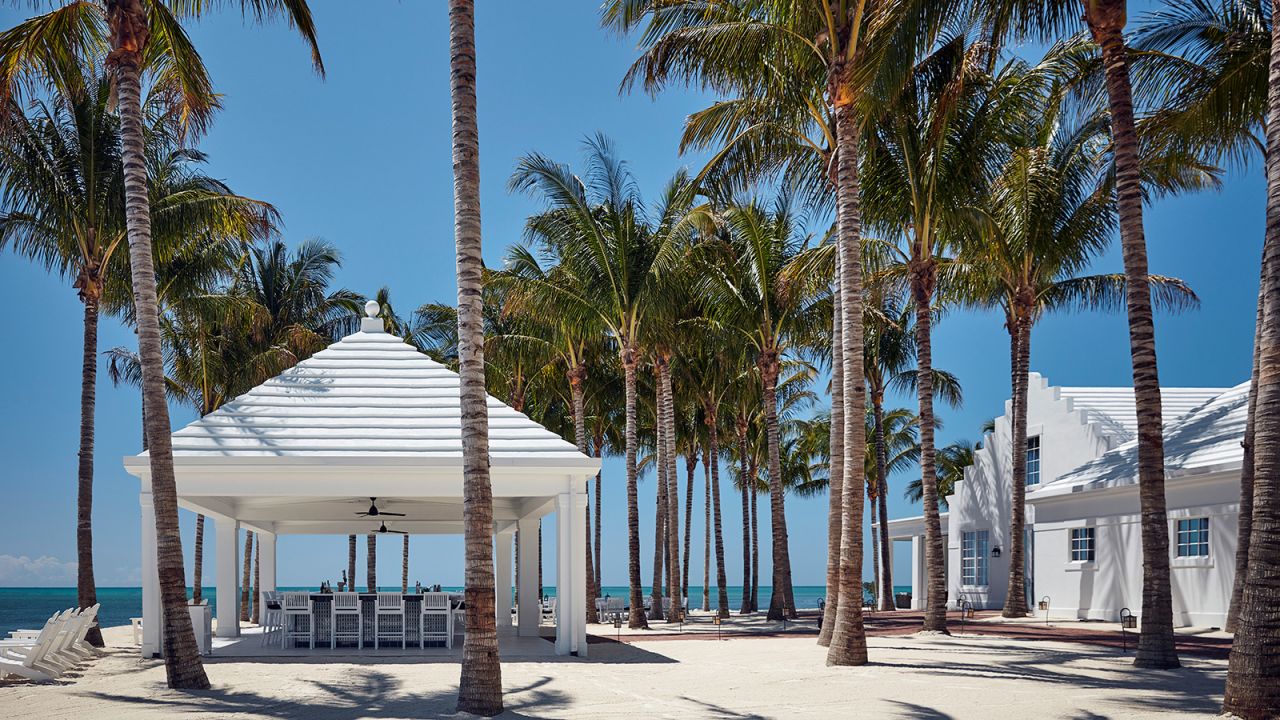 Isla Bella is, however, the one that points to the destination's future, alongside Valhalla Island Resort, a 66-acre complex being built by Bass Pro Shops Founder Johnny Morris.
There are still plenty of affordable lodging options in Marathon – cottages, inns and small hotels that can be had for less than $200 a night. But the above resorts, all with peak-season winter room rates around $500 or more, signal that Marathon, a destination that would have laughed at fetching such prices in the past, is ready to welcome a new kind of traveler.
The AAA four-diamond Isla Bella has 199 guest rooms spanning 24 waterfront acres with a private beach, five oceanfront pools, a spa, and an on-site marina where fishing charters, sunset tours, jet skis, scuba diving, and kayak rentals can all be arranged just steps from the room.
But the best perk of Isla Bella is its location. Not only its southwest-facing sunset views, but the ability to walk to the Old Seven Mile Bridge, a must-visit recreation area steeped in Keys history.
Saving 'Old Seven'
Changes in Marathon have not been limited to private investments. Public spaces are in play, too, and one of its most compelling accomplishments was the result of intense community collaboration.
After being condemned and sitting lifeless for more than five years, the old Seven Mile Bridge on the west end of Marathon reopened last year looking better than ever.
Originally constructed in the early 1900s by Henry Flagler, "Old Seven" was part of the railroad that connected Miami and Key West. It was converted for automobiles in the 1930s, and then was replaced in the early 1980s by the overseas highway we use today (constructed adjacent to the old bridge).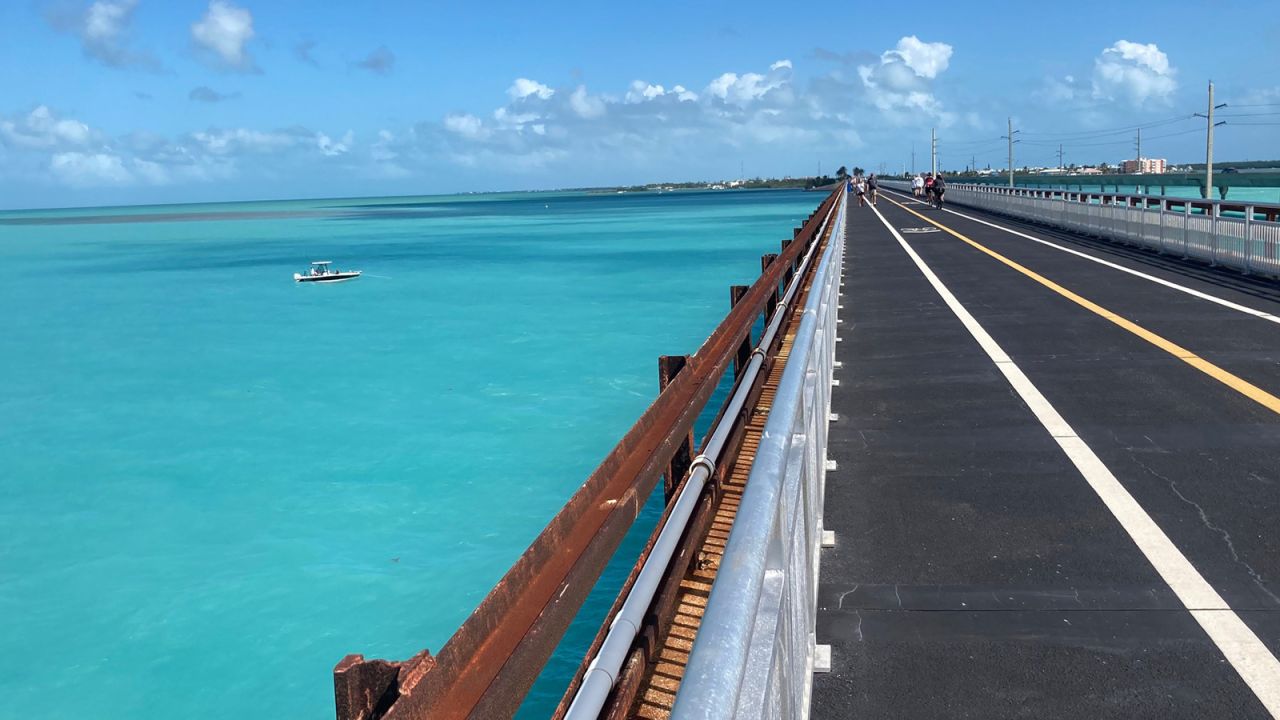 Once vehicular traffic was gone, Old Seven became a place of recreation – fishing, biking and walking. But, in need of major repairs, it closed in 2016. It took more than five years, help from multiple nonprofits, and the coordination of three levels of government to restore it.
Old Seven finally reopened last year, sporting a brand-new, 2.2-mile recreational path that leaves from Marathon and takes visitors on a journey out over the clear, bright blue water, with limitless views of the ocean and offshore islands. The bridge is a haven for scenic walking, wildlife viewing (birds, manta rays, turtles, fish), exercise, and catching the sunset.
The local team of nonprofit organizations working on the cause drew inspiration and guidance from the creators of the Highline Project in New York City. In fact, the Highline team came down to Marathon and gave a presentation to help the Seven Mile Bridge supporters organize and fundraise.
Flagler himself was from New York, and tributes to him remain. Historical signage offers context where the path begins, and there's another reminder of its history out on the bridge: The guardrails are made from the old railway tracks.
Visiting the new Old Seven today, you're likely to see locals using it as an exercise or walking path, running out to the end and turning around. But don't be fooled. There is indeed a destination at the end of the bridge, and a very historical one at that.
A walk (or bike ride) back in time
Walk or bike out to the end of Old Seven and you'll notice a ramp leading down to a small, five-acre island that, with small shacks and palm trees, looks something like a castaway's haven.
This is Pigeon Key, where from 1908 to 1912 about 400 men lived on this tiny little island while building the overseas railway between Miami and Key West. Accessible only via boat while the Old Seven was being restored, you can once again access it "via land."
McKinnon said it's a blessing to have the island accessible via the bridge again (for the first time since 2016), which should be a boon to visitation, preservation and raising awareness.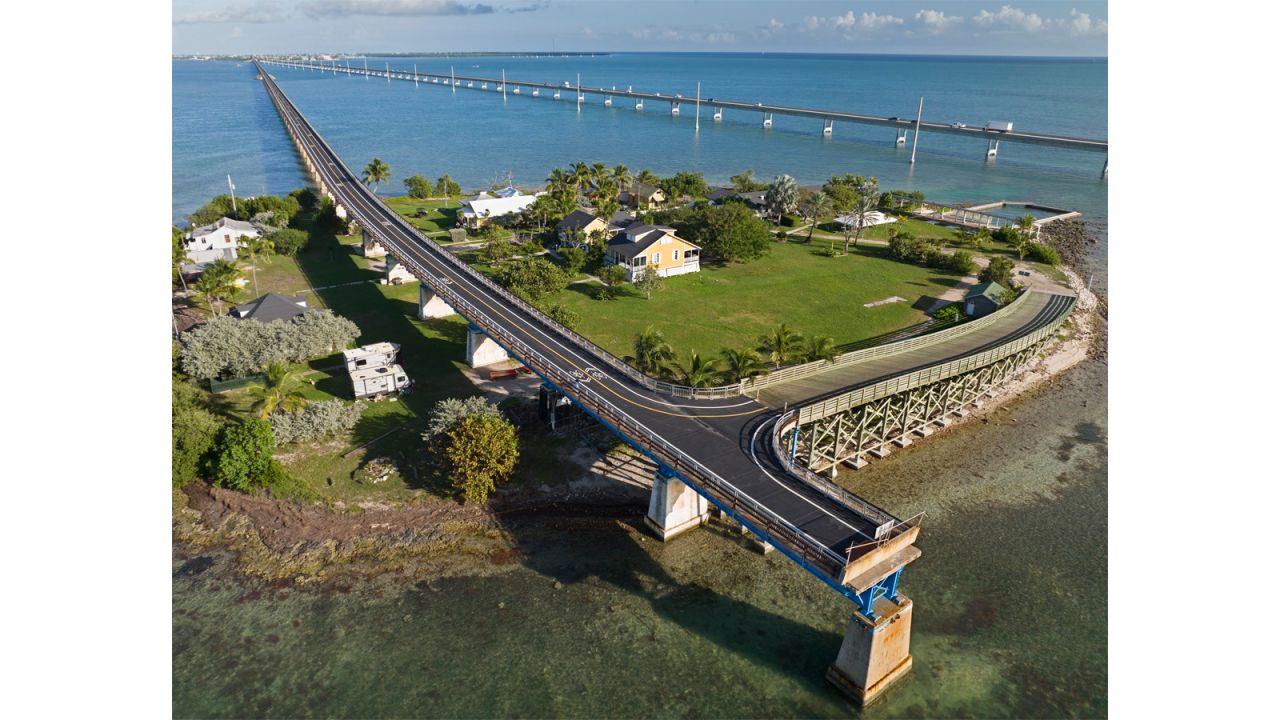 "Pigeon Island is one of the most historically significant places anywhere in the Keys," said McKinnon. "The Keys wouldn't exist today if those guys didn't do what they did back then, and it has that Old Florida charm, not to mention the last bastion of Flagler-era buildings that you can't see anywhere else."
Pigeon Key recently completed an award-winning restoration project, and now offers three historical tours a day of the old encampment and accompanying museum (book online). After the tour, you can hang out on the island, relaxing at its beaches or snorkeling its coral reefs. Those needing extra accessibility can take the new Pigeon Key Express tram, which follows the same recreation path on Old Seven and departs twice daily.
The restoration of Seven Mile Bridge and preservation of Pigeon Key are perhaps the best examples of community accomplishment in Marathon. But start hanging out at the local watering holes, and you'll see there's much more to the story.
King of the jungle
As it tends to go with "newly discovered" destinations, the bigger headlines give way to local gems that were there all along.
If it's the sunset you're after, Sunset Grille & Raw Bar is an institution for island drinks and the most direct views looking west. At Keys Fisheries, discounted dockside prices on the region's famous stone crabs are available during happy hour at the upstairs bar overlooking the harbor, or try the lobster reuben at the picnic table restaurant. There's live music at Dockside Bar & Grill and great views of Boot Key at the tiki-inspired Burdine's Waterfront.
For a unique and feel-good seafood experience, pencil in a meal at Castaway Waterfront Restaurant & Sushi Bar.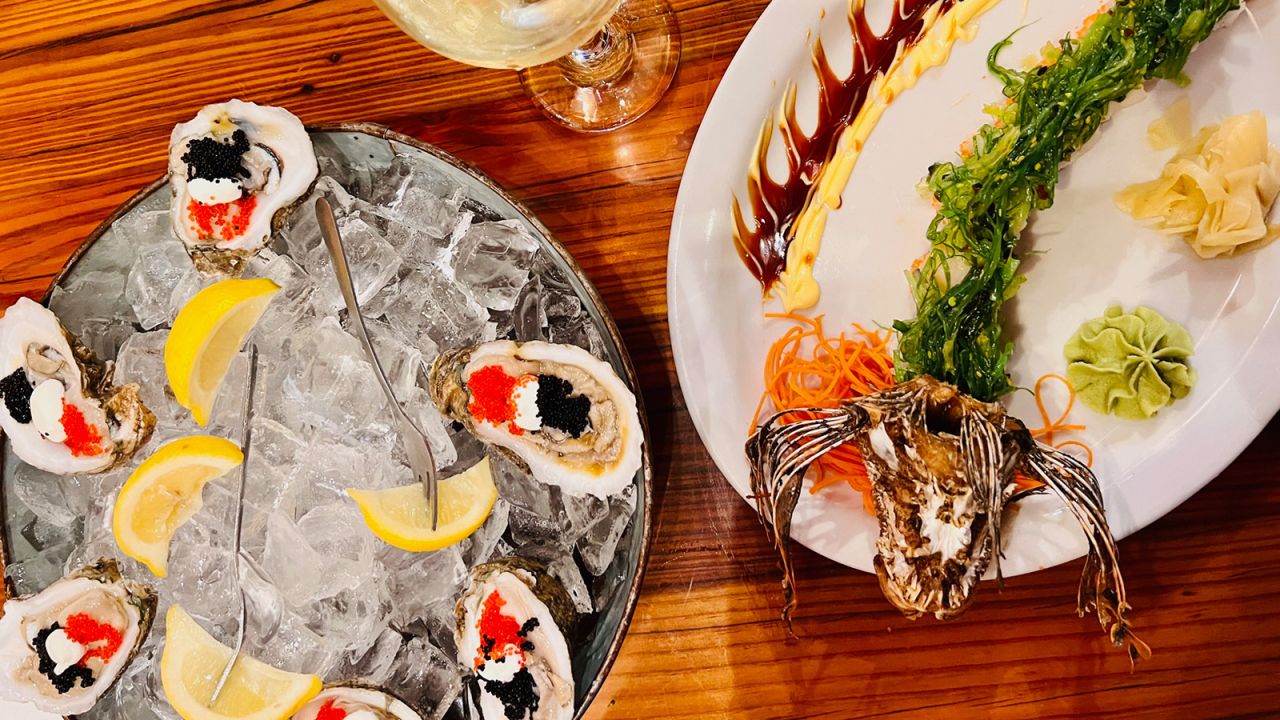 Owned by ex-Navy man John Mirabella, the restaurant prides itself on catching and preparing invasive lionfish. An active waterman, Mirabella can be seen spearfishing for lionfish in videos on the restaurant's televisions. Initially, all the lionfish were sourced locally, some of it by Mirabella himself; now, due to demand, Mirabella sources from other destinations struggling with lionfish, like the Caribbean.
The tasty and picture-worthy lionfish King of the Jungle sushi roll is presented with the head and tail of the fish. If the restaurant doesn't look too busy, you might ask if they have time to make a secret menu item: the Spicy Tuna Stuffed Avocado. Once a menu staple, its methodical creation process now restricts it to those in the know.
Hang around the bar at Castaway long enough and you may get tipped off about the local sand volleyball games at Sombrero Beach, one of the longest public beaches in the Keys, where the endangered loggerhead turtles lay their eggs April through October. Sombrero Beach was recently named as one of the top 25 best beaches in the US for 2023 by Tripadvisor. For a chill picnic sunset, head to the locally-beloved Sunset Park.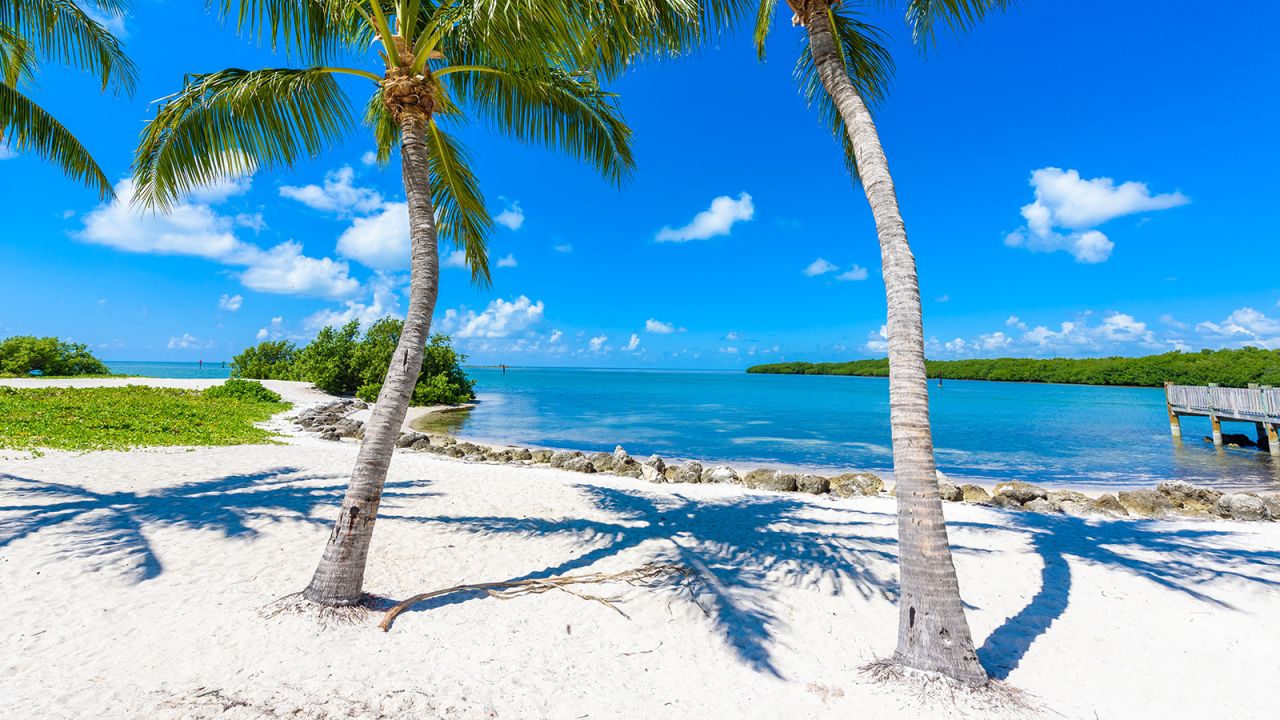 Pop into the Turtle Hospital to meet local endangered sea turtles, or the Dolphin Research Center, which balances education, research, and visitor engagements, like swimming with dolphins. The Florida Keys Aquarium Encounters offers snorkeling within the aquarium's own coral reef, perfect for families to get up close and personal with tropical fish, sharks, and stingrays in a safe environment.
Once educated about the local marine environment, you're ready for the real thing. One can snorkel, fish, kayak, camp, and lounge at Curry Hammock State Park, or take a kayaking tour out to Boot Key - a small island once connected to Marathon until a hurricane knocked out the bridge (you can see the old bridge from Burdine's).
More to come
All signs say that Marathon will continue its momentum far into the future.
Marathon Airport, which hasn't had commercial flights for about 15 years, may be on the path to bringing commercial service back, and the Valhalla Island Resort is expected to open as soon as 2024.
Mirabella said he thinks Marathon is primed to welcome a wide range of visitors like never before.
"Marathon has always been a place for fishing and diving and low-key family vacations in the Keys," he said. "But now we have so many new hotels and such a wider range of activities that it's becoming a destination for everyone."