The first time Jasmijn van Waalwijk van Doorn accompanied her pilot father, Jorrit van Waalwijk van Doorn, to work was a day to remember.
It was 2006. Eight-year-old Jasmijn joined Jorrit on a KLM flight traveling from their home country of the Netherlands to Uganda.
Pilot Jorrit flew the Boeing 767 there and back. Jasmijn and her mother Ellen were passengers.  Before the flight to Uganda took off, Ellen took a picture of her husband and daughter in the cockpit.
In the photo, Jorrit's clutching the controls, Jasmijn is clutching a beloved lion toy. She's got one arm around her father. Both are smiling widely.
Cut to 2019. Jorrit and Jasmijn once again found themselves in an airplane cockpit together. It was another day to remember. This time round, Jasmijn wasn't a passenger – she was a qualified KLM pilot, flying alongside her dad for the first time.
When Jasmijn packed her suitcase that morning, she'd made sure to include the beloved lion toy among her belongings. Then, before the flight took off, Jasmijn and Jorrit recreated the photo from over a decade previously.
Once again, Jorrit clutched the controls and Jasmijn clutched the lion toy. Both smiled proudly. The main difference between the photos? The now adult Jasmijn is wearing a KLM pilot uniform. And right after the photo was taken, Jasmijn got behind the controls, ready to fly the Boeing 777 to Hong Kong.
It was Jasmijn's mother Ellen who suggested her husband and daughter recreate the 2006 photo.
"She said, 'We have that picture of the two of you in the cockpit. Why not take the toy again, and take the same picture again?'" Jasmijn tells CNN Travel. "I was happy that I still had the toy because it's so special to have that picture."
"It started off as a fun thing," Jorrit tells CNN Travel. "But it was nice to see the two pictures together, then and now."
Growing up with aviation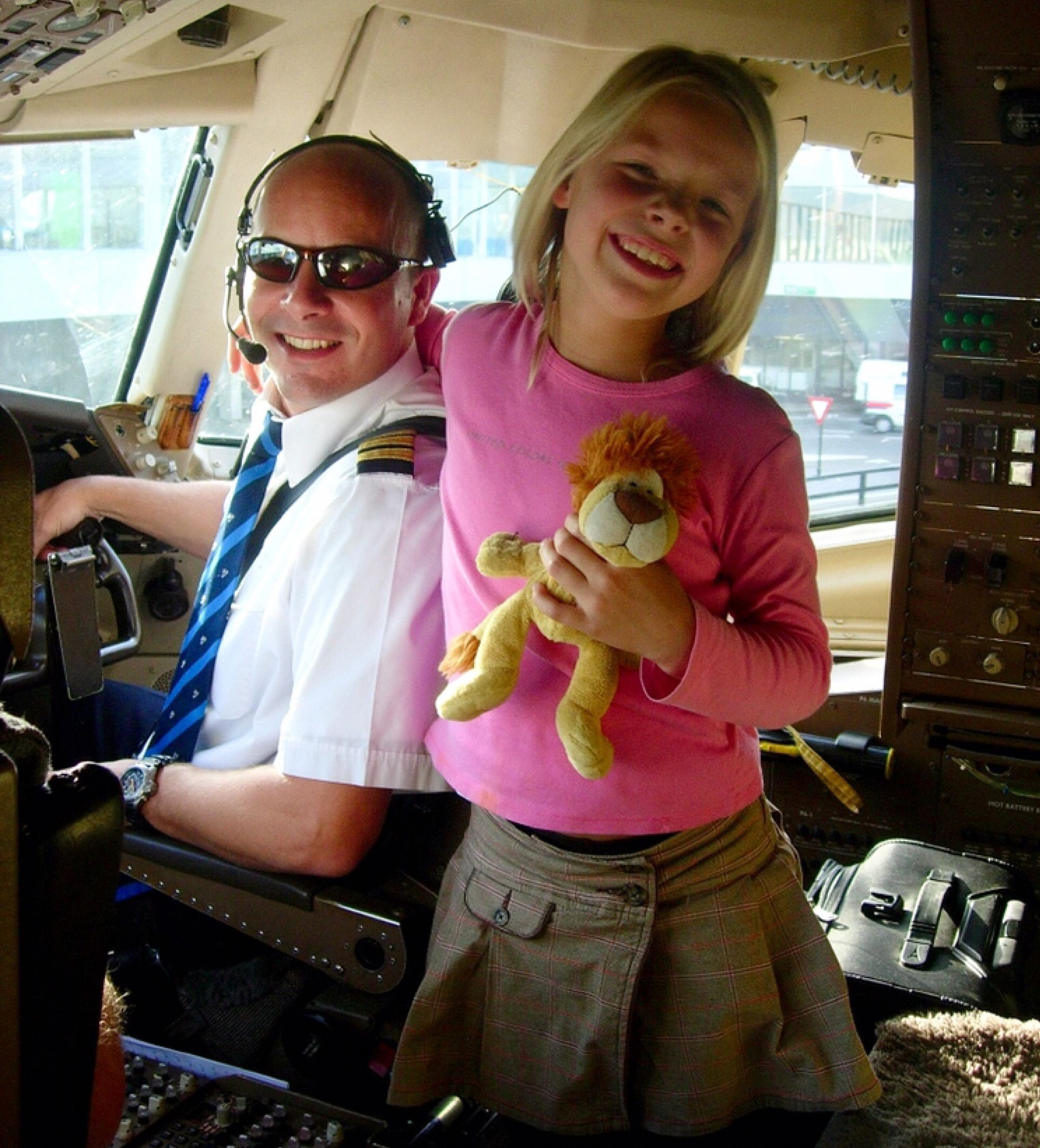 The 2006 flight to Uganda was the first of many times young Jasmijn accompanied Jorrit on flights. Jasmijn remembers how exciting it was going on a safari and spotting lions that resembled her beloved cuddly toy. Eight-year-old Jasmijn fell in love with traveling – and then, over time, she fell in love with flying.
"That's how I got to know the job – and where it started," says Jasmijn.
When Jasmijn was growing up, Jorrit flew intercontinental flights for KLM. He was often gone for several days. If he could bring Jasmijn and her siblings with him, he would.
"You can invest in your relationship with your kid, and she can see what you're doing. And then it's more normal for her," he says. "We'd always do nice things on routes."
Jasmijn's mother Ellen is a flight attendant, so flying for a living was "normal" to Jasmijn growing up.
"It's not only because of my dad that I'm interested in aviation," she says.