For couples with an ultra high net worth, a wedding on the banks of Italy's Lake Como, in the surrounds of a turreted French château or on a sun-kissed Mexican beach is de rigueur.
But these actors, sports stars and tech billionaires don't spend their evenings on Google, searching for the perfect location, researching suppliers or scrolling through endless online reviews.
They enlist the world's top destination wedding planners to make, as planner Jung Lee of Fête New York puts it, "the impossible, possible."
Take the brief provided by a recent bride-to-be to wedding planner Colin Cowie:
"I want to go somewhere that's not easy to get to, I want it to be so remote that they'll never go back there again. And I want it to be extraordinarily memorable."
For Cowie, this is standard fare. The South African-born New Yorker has made a career of planning parties for the rich and famous – including, in August 2022, Jennifer Lopez and Ben Affleck's three-day wedding extravaganza.
"If the request is in good taste, there's nothing I wouldn't do," Cowie tells CNN Travel.
For this recent client, Cowie pinpointed Lake Wānaka in New Zealand: gorgeous, peaceful and – for the American wedding party – pretty far-flung.
The whole thing, says Cowie, was "exorbitantly expensive." The wedding party, the guests and Cowie's multiperson team flew business class across the world to spend days celebrating in style. Cowie pulled it off without a glitch.
"We were working in the New Zealand landscape, which was just so beautiful, such extraordinary foods, extraordinary wines – an amazing experience," says Cowie.
A mutual relationship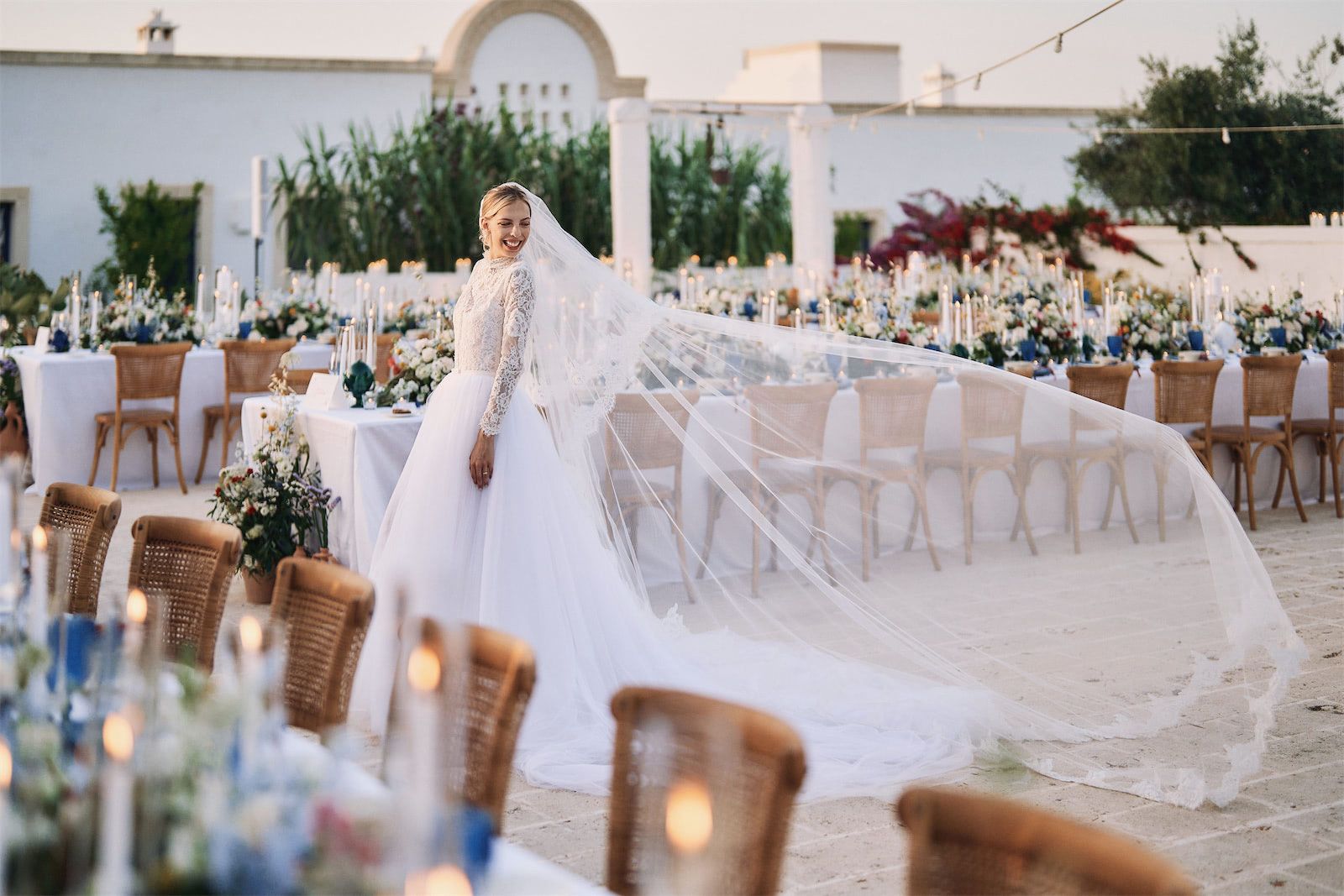 Wealthy couples planning blowout destination weddings trust their planners with thousands, maybe millions, of dollars – and one of the most special days of their lives.
They pick their planner carefully, but elite wedding planners say they're equally judicious when choosing the couples with whom they work.
"While you're interviewing me, I'm interviewing you – it's a two way street," says Cowie. "There are people out there that are Bridezillas and Groomzillas. I run for the hills when I see them."
Josiah Carr of the event planning business Samkoma echoes this. Carr says he and his husband and co-founder Justin McGregor will pay close attention to prospective clients interactions during introductory conversations:
"Just watching a couple communicate about their wedding, we get a good sense of how they treat each other on the call. And that in turn, helps us get a good sense of how they would also treat us," he says.
Carr planned the much-buzzed about November 2022 wedding of "Twilight" actor Taylor Lautner and his wife – also called Taylor – at a California vineyard. Carr says he and his husband often become close with their clients over the months they spend working together.
"Most of the time after the wedding, we remain very close with those couples, we consider them friends, they consider us friends," he says.
Having a good relationship with the clients' families is often equally crucial. "I have more moms on speed dial than I ever thought I would," says Carr.
It's part of the wedding planner's job to smooth over any familial disagreements.
"I tell people all the time that I have not had cable TV in my entire adult life because I have enough reality shows going on between my eight brides and their families," says Carr. "I don't need cable to keep myself entertained. It's definitely an entertaining career for sure."
Some couples prefer to work with companies based in their home countries, but others will choose a wedding planner based in the destination where they're intending to get married.
Wedding planner Giorgia Fantin Borghi thinks being an Italian who is based in Italy is one of her big selling points.
"To be honest with you, many ultra high net worth, ultra rich people are a bit afraid of Italians," she says, suggesting Americans view Italians as blunt. Fantin Borghi says she's able to be a bridge between Italian vendors and the English-speaking couples with whom she works.
Once a destination wedding planner and ultra high net worth client relationship is nailed down, a non-disclosure agreement often follows.
Lee – who has planned events for Katy Perry, Ronan Farrow and President Joe Biden – says over half of her jobs involve signing NDAs. Whether or not she's signed a formal agreement, she and her team are "fiercely protective of our clients."
"The vendors that we bring on also make sure they do the same," she adds.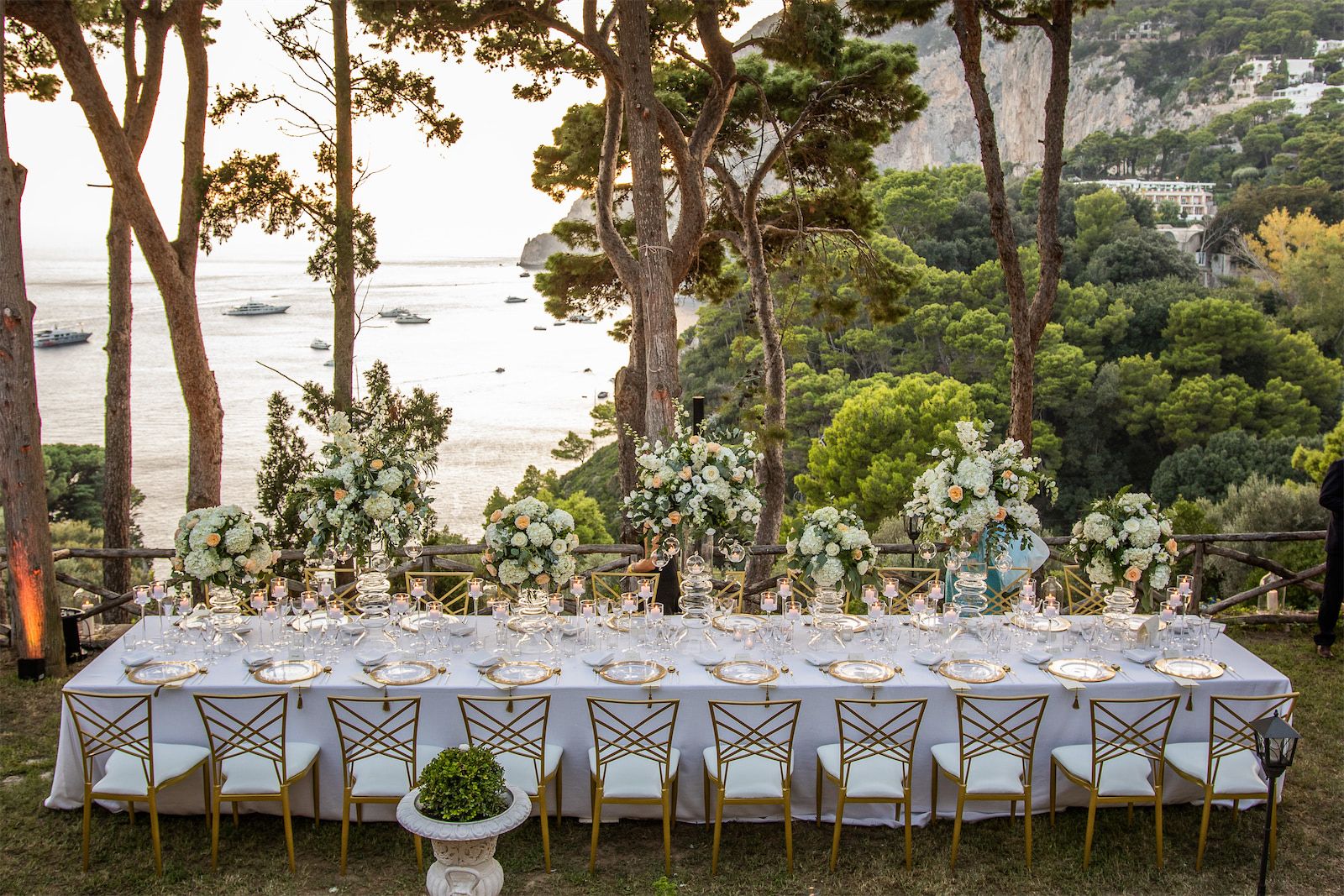 Early conversations between a destination wedding planner and prospective clients will also include discussions of budget – yes, even the richest couples generally set a budget for their nuptials.
"I have very, very wealthy clients," says Lee. "And I've never, ever encountered where somebody was willing to give me a blank check."
Still, these budgets have the potential to be astronomical. And the more mammoth the budget, the bigger the affair – think more attendees, more days of celebrating, bigger venue.
"Essentially take whatever original wedding budget was for one day, we would just do that four times over the course of four days," as Carr puts it.
This could take the form of "an over-the-top welcome party, maybe a beautiful romantic candlelit dinner on the first night," he says. "And then an over-the-top welcome party with live entertainment on the second night, and then their wedding. And then we have a send off brunch on a boat."
Guests attending swanky destination weddings usually pay for their own airfare, with an understanding that if they can make their way to the venue, they'll be looked after from there on in.
There are exceptions. Cowie says that "in certain circumstances, the client will say 'I want to fly everyone, I'm going to charter a big jet.'"
While many destination wedding planners welcome a boundless budget, UK-born, French-based wedding planner Sarah Thomas, of Sarah Thomas Events consciously caps her weddings at 500,000 euros (around $548,000).
"Purely because after that point, people are asking for things that I don't ethically agree with," Thomas tells CNN Travel. "With the amount of hardship in the world, I don't really agree with having, let's say, a million red rose petals falling out of a helicopter, that kind of thing."
Thomas still plans some extremely fancy events – think French château-based weddings inspired by her years working for the British Royal Family. She just felt the need to introduce a limit "after doing a wedding for a trust fund kid."
"It just broke me," she says. "And I just said to my partner, 'I can't work with these people.' "
In-demand destinations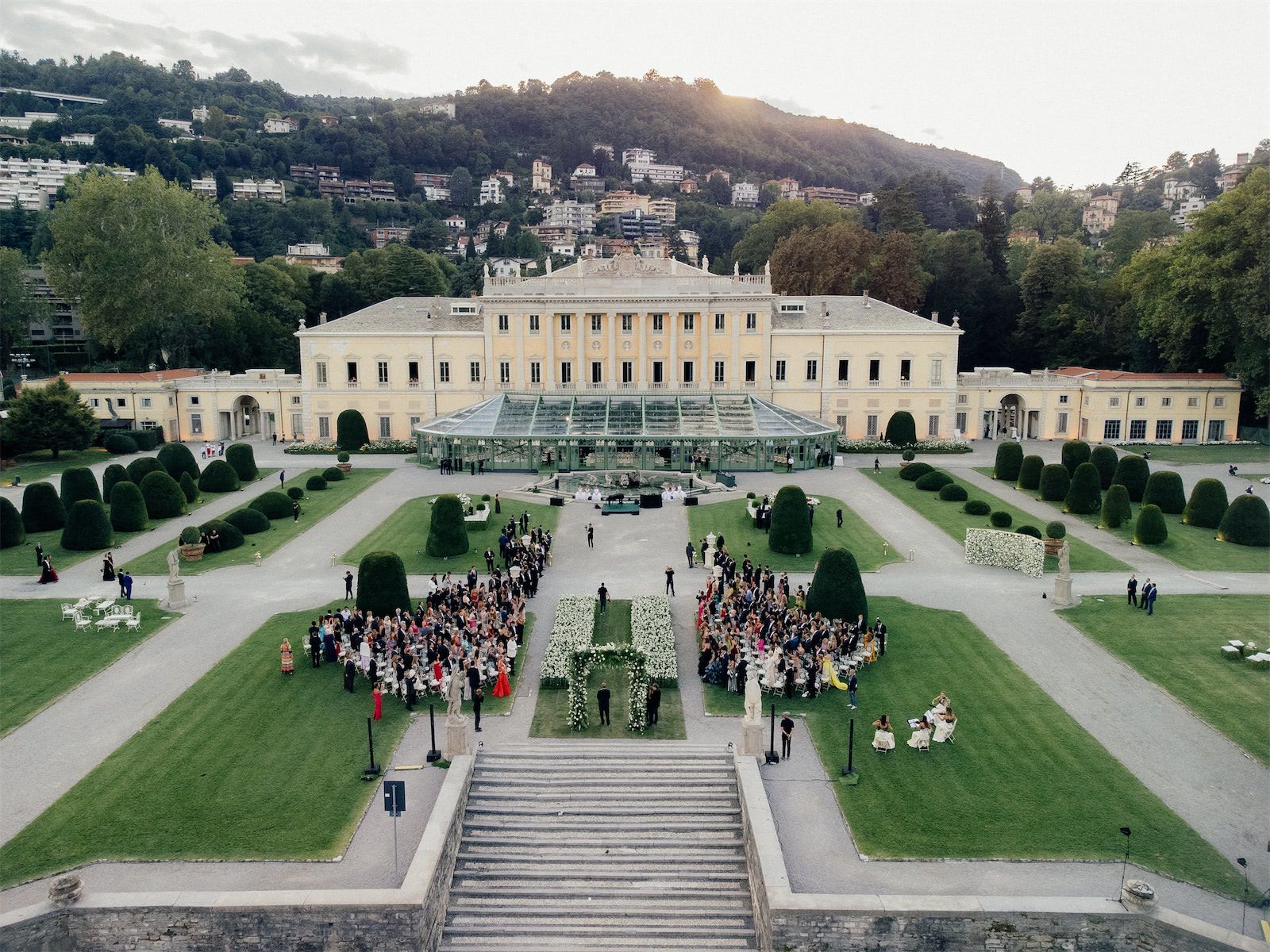 Elite destination wedding planners are not only top notch event planners – skilled in everything from table arranging and floral displays to in-law management – they're also walking guidebooks of the world's most beautiful destinations and potential wedding venues.
Sometimes, says Carr, couples will come to his company Samkoma with an idea of where in the world they want to host their nuptials, but just as often they'll look to him for inspiration.
Carr will ask prospective couples: "Are there certain landscapes that you gravitate most towards? Are you more drawn to the ocean? Are you more drawn to the countryside, the mountains?"
The goal, he says, is "to try and get a sense of what the couple's looking for geographically."
"And then from there, a lot of times I'm able to recommend just from my own travels."
Certain countries – namely Italy and France – remain perennially popular. And within those countries, certain spots are at the top of many couples' lists.
Fantin Borghi says Lake Como is the premier Italian location, in part, she thinks, due to name recognition. Not only do American couples know the region from movies like "Casino Royale," celebrity couples like John Legend and Chrissy Teigen famously wed there.
Fantin Borghi suggests Lake Como is also popular because of the plethora of five-star hotels that popped up around the lake in the past couple of decades. If the 1% are coming, they have certain expectations of service and accommodation – in the surroundings of Lake Como, they know they can get it.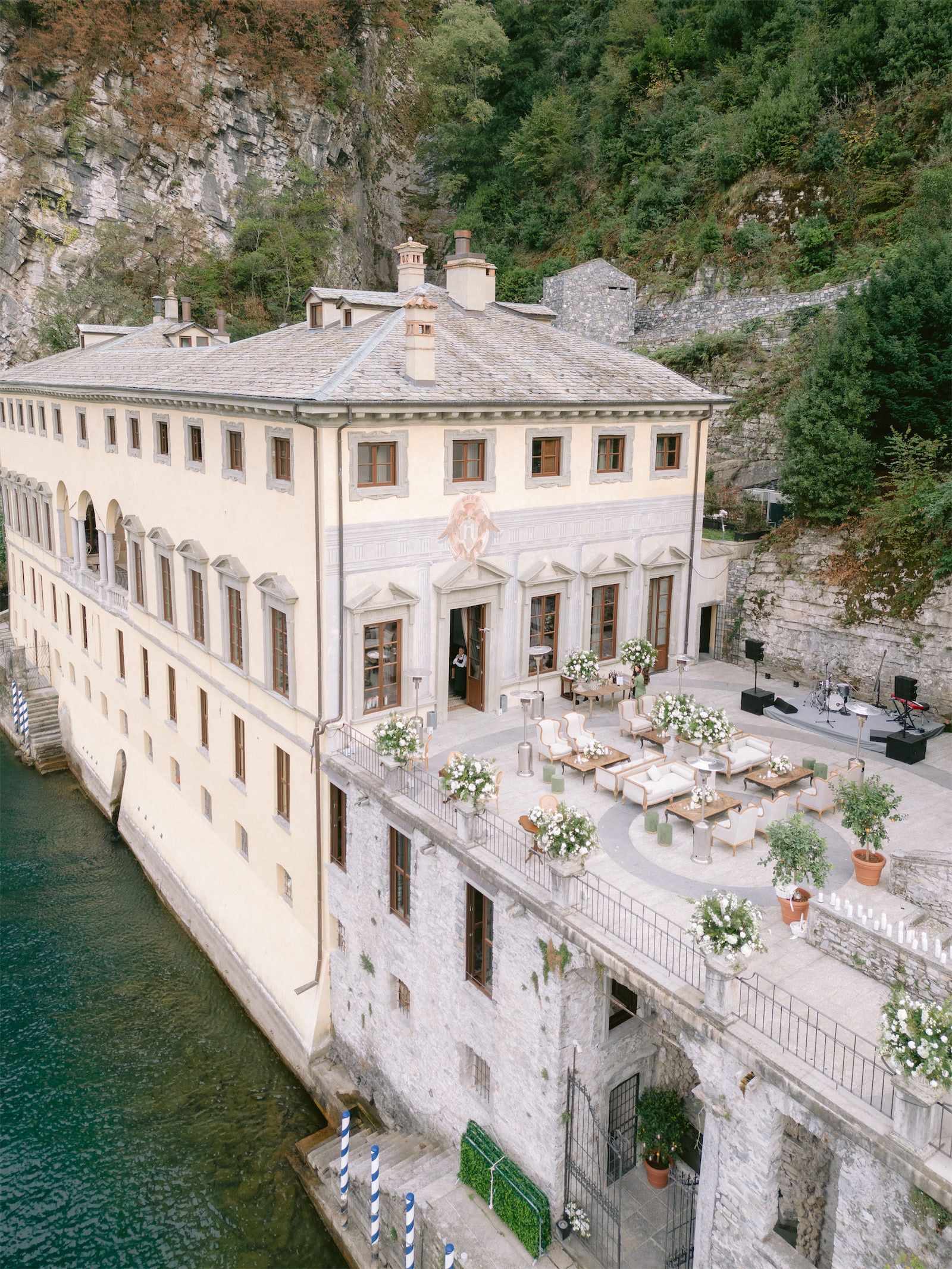 Cowie says ensuring a venue is able to provide a super-luxurious, super-seamless experience is absolutely crucial. His clients have what he calls "the Four Seasons mentality." Even when he's planning a wedding at a five-star venue, he never puts anything down to chance and always brings in his own people who work with those already on site.
"We bring in a whole layer of management," he explains. "We bring in our own concierge that dovetails with the hotel's concierge, we bring in our own food and beverage manager to second guess and to work with the hotel."
Cowie says he was recently asked to "salvage" a wedding that had been planned by someone else. The issue, says Cowie, was there weren't enough people on the ground able to deliver the high service needed.
"I literally went to the island with a SWAT team," he says. "I went and did an analysis, and then I brought in the rest of the team to create the support that should have been there at the very beginning."
All this said, Cowie stresses that local planners are also integral to the process. In his experience, it's the local team who'll step in if there are any day-of issues.
"We were just doing a wedding, six weeks ago, in Cannes, in the south of France," he recalls. "Out of nowhere, we had a thunderstorm and the party was outdoors on a beautiful gravel area – and before we knew it, we were deep in water. But because we had local people with us, they brought in four trailers of pea gravel, and covered the floor completely. The water disappeared."
This all happened right before the first guests were due to arrive. When the attendees pulled up at the beautiful spot moments later, they were none the wiser.
High level entertainment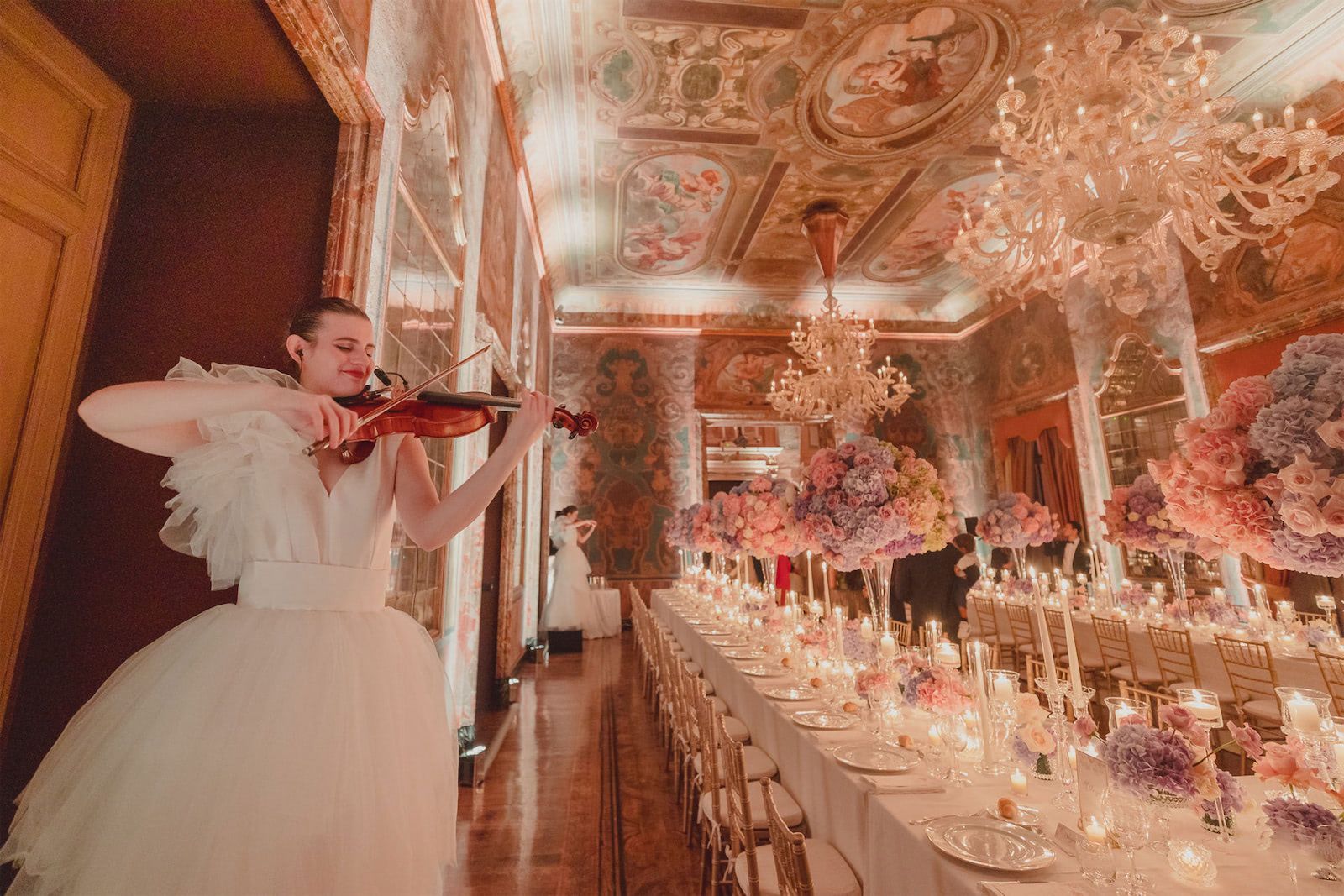 Once the venue is locked in, the planners and clients move on to discussing what's often the next most expensive component – wedding day entertainment.
This could be a multi person orchestra playing as the couple walk down the aisle, a drone light show, a personalized ballet performance or a surprise appearance from a world famous musical artist.
While Cowie is open to any requests, he says he usually discourages superstars perfroming at his nuptials. World-renowned musicians come with their own demands – think a 36-foot stage, a lighting plan, a time limitation.