For the last half-decade, the ultimate innovation in business class has been privacy. Passengers overwhelmingly tell airlines they want it, and airlines — working with the designers and seatmakers who create their seats — are delivering it in the form of sliding doors that create the latest kind of business class seat: the doored mini-suite.
If you haven't flown in one, the basic idea is that a small door (or sometimes two) slides forward or backward to block off your own little suite seat in its sleeping pod from the rest of the cabin. In most cases, the crew can still see you when they're walking past, but when seated you aren't making eye contact with anyone else, and you can get some work done or just relax in privacy.
Only a very few airlines have eschewed doors, and even those that were initially opposed to the concept have changed course. Virgin Atlantic is a case in point: the 2019 launch of its no-door Airbus A350 cabin emphasized that the designers thought doors didn't fit with Virgin's concept of a "social airline," but fast-forward to 2022, and the latest Airbus A330neo cabin has, you guessed it, doors.
Here's the thing, though: doors are heavy and they're complex — both in terms of manufacturing and in terms of the crew serving you food and beverages. They have some serious crash safety certification requirements, and they take up a relatively large amount of cabin space at a point where every inch matters.
When CNN Travel asked Matt Round, chief creative officer at aviation design firm Tangerine, about how airlines could innovate, his first response was, "No doors! Doors surrender personal space. The extra space will give designers a wider canvas to design on — more space for people and less space for hardware."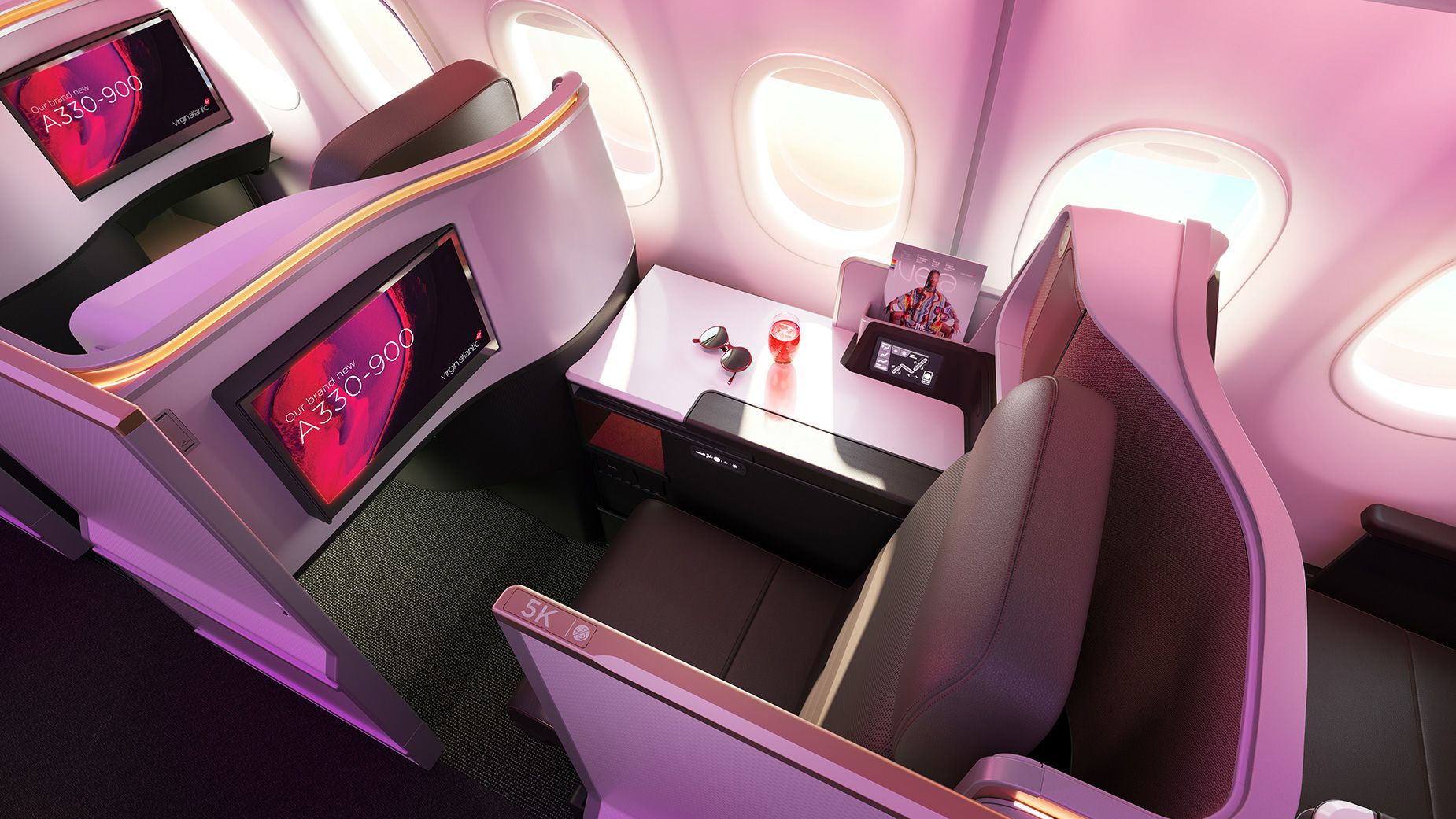 So what's next for business class?
Chris Brady, founder and chief executive officer of seatmaker Unum, concurs.
"Overall, it seems like we're due a kind of 'less is more' pendulum swing, moving away from inelegant prescriptive features, allowing us to minimize weight and meet sustainability targets."
Minimizing the weight of an intricate door mechanism with extensive safety regulations is a big ask. Airplane safety rules mean that each business class mini-suite must have two ways to get out in the event that the door itself can't open after an incident. Normally, one of those is a fairly complicated mechanism that will either allow the escaping passenger to remove the interior door panel or to take the door off entirely. The other is usually the much simpler option of climbing over the seat ahead or behind.
At the end of the day, Brady says, "where airlines and their passengers really do want doors, we're going to have to create 'Doors 2.0,' answering the question of how to solve the door issue that has been created where we have complicated mechanisms that can be challenging to certify."
This might include exchanging heavy doors for another privacy option.
KLM's most recent business class seat, manufactured by Japanese seatmaker Jamco, includes a retractable privacy screen in a semi-rigid material. Imagine a rolling window blind, turned on its side, that you pull forward and attach using a magnetic section.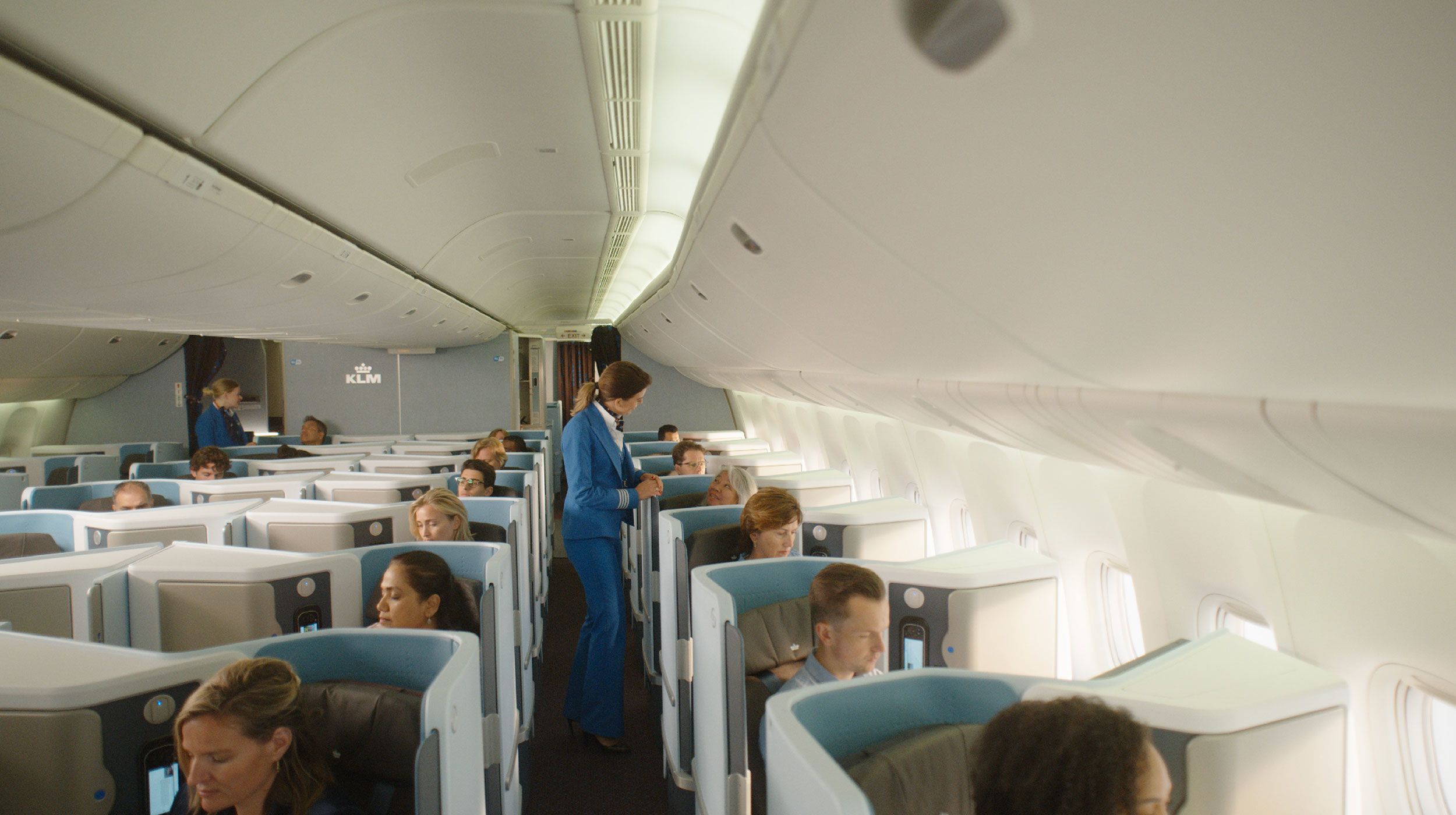 With or without doors — and most seatmakers are offering the option to airlines at this point — there are many new and exciting things coming down the line for business class passengers in the near future, some of which are also coming for premium economy and economy.
Daniel Baron, managing director of LIFT Aero Design in Tokyo, explains that "the physical spaces in business class are delivering much higher levels of comfort and control than the generation before them. Airlines have reached certain limits in seat geometry and real estate usage. The next phase of enhancements will be more sensory in nature, such as personal mood lighting and scents within the 'cocoon zone,' headrests with integrated audio, and innovative textures on materials."
This cocooning concept is a big trend outside the cabin, and many designers are emphasizing it as something that travelers will expect inside their business class seat or suite as well. Comforting natural materials, soft surfaces and textures — eclipsing the usual hard-wearing seat fabric and beige plastic structures — are a strong part of the design of the next generation of seats.
Integrated audio is a big deal, with the early part of this technology toolkit being the ability to connect your own wireless headsets to the seat control using Bluetooth.
Unum's Chris Brady predicts that "we'll see more widespread integration of passengers' personal electronic devices, potentially enabling more human-centric controls, as well as improved user interfaces on seat control. The end goal might well be something like Apple CarPlay or Android Auto in the Air."
Invisible improvements will make your future seat more comfortable
More advancements will occur in how the seats themselves make you feel, both mentally and physically. With seats having more and more ambient light around them thanks to side lamps and LED feature lighting strips, airlines have the option to adjust the ambient lighting in your seat area to subconsciously help you adjust to the phase of flight.
It's beyond the old-school lighter-is-morning and darker-is-bedtime options: now they're able to change the warmth of the light, sort of like how your phone or tablet switches almost imperceptibly from blue light in the daytime to a warmer beige light after sunset. On the plane, that can help you adjust to your new time zone and reduce jetlag.
Within the seat itself, says Unum's Brady, "I think we'll see more sophistication in seat mechanisms, with a focus on comfort experience rather than features — for example, allowing micro-adjustments to relieve fatigue."
Zero-gravity seats, where there's an option to cradle yourself a bit like an astronaut, are on the way, spreading from first class suites to business class seats. These seats change the comfort game — it's the difference between sitting in an armchair with a legrest and sitting in a La-Z-Boy style recliner where you can lie back with all the pressure taken off your body.
"Also coming to business class seats," suggests Lift's Daniel Baron, "is temperature control that matches what is now available in some luxury cars. In an age where every premium traveler is flying flat, airlines are hoping that such sensory bells and whistles will help them increase brand affinity."
That temperature control, with either heating or cooling delivered to the foot area and through the seat cushioning, will be ideal for anyone who gets chilly in the air — or indeed who finds that crews, whose workstations are right next to draughty doors, tend to keep the thermostat a few degrees higher than they might prefer.
More choices and unique offerings
More widely in the passenger experience, Matt Round from Tangerine also highlights that airlines are attempting to make your time on board more personal and customizable, but that there are inherent constraints since premium cabins are growing larger and the crew-to-passenger ratio can't economically be like that of a very personalized first class service.
Here, he notes, airlines have been focusing on delivering choices and unique options to passengers — in meals, entertainment, and other amenities.
That will increase as business class seating options become more numerous: Lufthansa hopes to be able to sell passengers seven different types of seat in business class when it installs its forthcoming Allegris seats, with the ones offering more privacy or suite doors more expensive.
Yet people often want to make the choice based on how they're feeling on the day in their seat, rather than choosing things like in-flight meals days or weeks in advance.
Inherently, that's a tricky problem to solve. It's a human social psychology challenge rather than a technical seat manufacturing issue.
As seats become more complex, and as our wants and needs as passengers change, airlines will have to focus more and more on passenger psychology in addition to the technology.