Story highlights
American filmmakers Jesse and Jeremy Veverka spent five years traveling the world to research the world's most dangerous fireworks displays.
The journey culminated in "Passfire" -- a 2016 documentary that chronicles eyebrow-singeing festivals across six continents.
With technical names like "mines," "barrages" and "Z-firing fan cakes," public fireworks displays tend to promise much more than they deliver in the way of life-threatening thrills.
Laws in most Western countries govern almost every aspect of the pyrotechnician's art – from size, shape and relative loudness to training, insurance, and safety drills.
But some communities still take these measures with a cavalier pinch of saltpeter.
It's the latter that captivated American brothers Jesse and Jeremy Veverka.
The filmmakers spent five years traveling the world to document places where homemade fireworks are still sent screeching into excited crowds of onlookers, drums of high-explosives are playfully directed down village streets and sky rockets fly so high they present a threat to commercial aviation.
The journey culminated in "Passfire" – a 2016 documentary that chronicles ear-ringing and eyebrow-singeing fireworks displays across six continents.
As one Indian pyrotechnician told the documentary makers: "A fireworks master is an artist! Anyone can be a cameraman, but to become a fireworker you need five elements: the talent of an artist, the hand of a sculptor, the heart of a poet, the eye of a painter, the courage of a warrior."
Filmmaker Jesse Veverka walks us through this incendiary – and sometimes deadly – pyrotechnic world.
Yasothon, Thailand
Thailand's Rocket Festival (Prapheni Bun Bang Fai) in Yasothon takes the humble skyrocket and blasts it into a zone that would be the envy of Cape Canaveral.
Forget about the time-honored Coke bottle launcher, this fireworks festival – usually held between April and June in the northeastern town of Yasothon – features 65-foot-high bamboo launch racks, armed with bamboo or PVC rockets.
They are serious business, weighing more than a ton and reaching altitudes of more than 20,000 feet.
"We strapped a GoPro (and an iPhone) to a rocket to get footage, but the iPhone's GPS tracker didn't function, so we couldn't find it again," Veverka explains.
"The rocket must have landed a good 10 miles away and the best we could do was put out a message on local radio offering a reward for its return.
"The GoPro came back in pretty short order thanks to the reward – with the added bonus of footage of the farmers who found it playing with it and taking pictures of each other."
Diwali, India
Diwali – the five-day "festival of lights" celebrated by millions as part of the Hindu New Year – doubles as a fireworks extravaganza.
The celebration is so intense that the government of New Delhi cracked down on pyrotechnics, banning the sale of firecrackers to prevent the cloud of sulphurous smog that settles on the city for days after the festival.
Elsewhere in India it's business as usual as Hindu temples across the country load up with explosives to usher in the Hindu New Year each fall.
The effect is literally earth shattering.
"What's unique (in India) is that they shoot fireworks out of holes in the ground," says Veverka.
"In any other place, you'd use a mortar tube and put your shell down the tube. These fireworks are what we call 'salutes' or 'maroons' and they just go bang … but they're really big ones."
Tultepec, Mexico
About an hour's drive outside of Mexico City, Tultepec city is renowned for a fireworks fiesta that's as spectacular as it is dangerous.
Taking place in March, the colorful National Pyrotechnic Festival involves a series of unique fireworks towers.
Aptly named "Torito" frames take the form of papier-mâché bulls – albeit stuffed with thousands of fireworks – while larger "castillos" (meaning "castles") form a framework for massive pinwheel-like fireworks known as Catherine wheels.
"It's actually considered a blessing if you get a small burn during the festival," says Veverka.
But lack of regulation and professional training has led to accidents.
Last year, 36 people were killed in a major fireworks explosion in the city's San Pablito market.
Chios, Greece
The festival of Rouketopolemos, on the Greek island of Chios, brings a fiery frisson to inter-parish rivalries that date back to the Ottoman era.
In April each year, two churches 1,300 feet apart usher in the Easter festivities – and show exactly what they think of the rival congregation – by firing some 50,000 rockets at each other's bell towers.
Stuck in the middle, residents protect windows with wire mesh.
"The rockets are powerful and can kill," says Veverka. "There was a death there while we were filming."
Despite local efforts to end the annual spectacle, the skyrocket battle has become a popular tourist draw.
China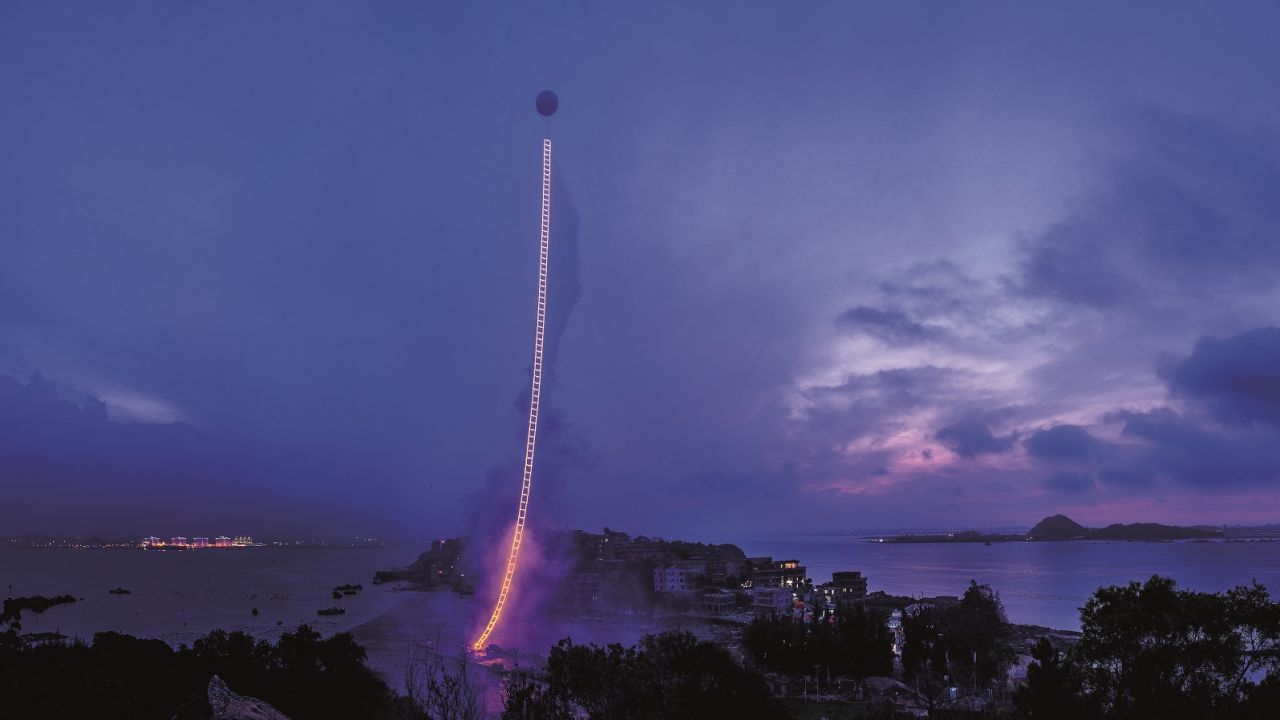 More than 1,000 years ago, China developed "black powder" – the main ingredient in fireworks – to power small bamboo skyrockets.
As with many technical innovations, knowledge of black powder traveled to Europe via the Silk Road to Europe, resulting in majestic displays, such as the royal court fireworks of the 17th and 18th centuries.
Sadly, the tradition was almost lost to China in the 20th century when the upheaval of the Mao era saw fireworks manufacture lumped in with counter-revolutionary "old" thinking.
In modern China, fireworks remain a celebratory practice – both major cities and rural villages organize explosive shows during national festivals, such as Chinese New Year.
"China produces more fireworks now than anywhere else in the world," Veverka says.
"Culturally it's not as interesting as other places, but (Chinese) artists are doing amazing things with fireworks," he adds, pointing to "Sky Ladder" – a 1,650-foot sky ladder made of fire – as an example.
Yanshui, Taiwan
No one turns up to the Yanshui Beehive Fireworks Festival without a motorbike helmet – or at the very least – a kitchen towel wrapped around their head.
The festival is believed to celebrate the port town's miraculous delivery from the plague in the 19th century.
Each February, fireworks are crammed onto wooden frames for the festival.
Come showtime, they splutter to life like thousands of angry bees before hurtling into the crowd.
Instead of running for cover, joyful spectators dance and stomp around, letting their backs take hits from the flaming hail storm.
After all, it's considered lucky to be struck by a rocket.
With 600,000 miniature skyrockets flying off the frames in the two or three seconds it takes for the assemblage to burn itself out, there are always plenty of fortunate people walking around with cardboard boxes on their heads.
Puglia, Italy
Italy has developed its own version of Spain's annual "Running of the Bulls" festival … but with fireworks.
Every May, the otherwise sleepy town of San Severo in Puglia – in the heel of the Italian peninsula – comes alive during the Festa del Soccorso.
The event sees young men and women run across the town under a canopy of exploding firecrackers.
Veverka says the firecrackers might be small but they definitely pack a punch.
"Risk and risk tolerance is highly cultural," he says.
"Even though these firecrackers are powerful enough to take off fingers and hands, people in San Severo seem to know what they're doing – they're used to it in some respects.
"If you did the same in, say, Times Square in New York, it would be a disaster."
Toyohashi, Japan
Known as "Tezutsu Hanabi," Japan's traditional hand-held fireworks were invented more than 400 years ago.
Every July, these handmade explosives – typically bamboo tubes filled with black powder – make a spectacular appearance at the Gion Festival in Toyohashi city.
"Hanabishu" fireworks masters anchor the sparkling cylinders under their arms, standing in a circle as they shoot pillars of light 15 feet into the air to create a dramatic fire storm.
At the climax of this spectacle the tubes simultaneously explode.
"There's nothing commercial about this event," says Veverka. "They have clubs that practice this throughout the year."
Taunggyi, Myanmar
For those who prefer their fireworks of a gentler nature, Myanmar's balloon festival uses candle-powered rice paper balloons that loft slowly into the sky.
Unlike hand-held Thai and Chinese lanterns, these balloons can be upwards of 25 feet tall.
Racks of firecrackers are sometimes attached to the balloons to spice up the show – held in central Taunggyi city around October or November.
"Sometimes the balloons crash and there have been some accidents there," adds Veverka.
Firework balloons, Brazil
Brazil adopted a similar fire-balloon tradition that made its way from Asia to South America, thanks to Portuguese explorers.
In cities like São Paulo and Rio de Janeiro, fireworks are carried into the sky by paper balloons covered in elaborate folk art.
In Brazil, these "festas juninas" – or "June festivals" – have the added thrill of being illegal.
"The government outlawed these festivals in 1996 but there are still clubs that practice it – it's a bit of an underground thing," Veverka says.
"What happens is that people meet in a field, they set off their balloon fireworks and then leave."