Story highlights
These top 10 ski lodges from around the world take luxury above the tree line
From wood-burning stoves to deep-soak tubs, we take a look at the top winter getaways
From the Swiss Alps to the Canadian Rockies, there's no shortage of beautiful ski lodges to choose from on your next winter getaway.
But some are, quite simply, more beautiful than others.
From cozy mountain hideaways in the Dolomites to opulent French chalets, we've handpicked the 10 most beautiful ski lodges in the world.
El Lodge, Sierra Nevada, Spain
Set 7,000 feet above the main Sierra Nevada ski resort village – and just 90 minutes from the Malaga coast – this picturesque lodge is worth visiting for the views alone.
From every angle, you can enjoy sweeping panoramas of the Sierra Nevada mountains and on a clear day, you can see Africa in the distance.
The lodge itself is equally beautiful, built with Finnish timber logs and tricked out with stylish, alpine-chic decor – think antler chandeliers, leather Chesterfields and cowhide rugs.
Other hotel highlights include a ski-in, ski-out rental shop that makes hitting the slopes easy, and a scenic hot tub perfect for enjoying a mug of mulled wine après–ski.
El Lodge, C/ Maribel, 8, 18196 Sierra Nevada, Granada, Spain; +34 958 480 600
Amangani, Jackson Hole, Wyoming
With its remote location at the foot of the Teton mountain range in Jackson Hole, this upscale ski lodge makes for the perfect winter getaway.
Guests have easy access to more than 2,500 acres of powder via a courtesy shuttle that departs from the lobby every 30 minutes.
Not that they'll ever want to venture outside: each of Amangani's 40 suites has stunning mountain views, wood-burning fireplaces and big, deep-soak tubs.
A library, cocktail bar and heated outdoor pool and Jacuzzi also make for tempting diversions.
Amangani, 1535 NE Butte Rd, Jackson, WY 83001, USA; +1 307 734 7333
Ski destinations where the food's as good as the snow
The Lodge, Verbier, Switzerland
Don't be fooled by its straightforward name and classic log cabin exteriors: The Lodge is one of the most lavish mountain hideaways in Switzerland.
Owned by Virgin boss Richard Branson, The Lodge is equipped with an indoor pool, indoor and outdoor hot tubs, two bars, and even a mini ice-skating rink.
All nine rooms are uniquely designed and decorated – a pleasing mix of traditional chalet-style and contemporary – and are luxurious to boot.
Though individual rooms can be booked from $700 a night, the entire lodge can also be rented exclusively, currently starting at $100,000 a week (15-person staff included).
The Lodge, Chemin de Plénadzeu 3, 1936 Bagnes, Switzerland, +41 27 771 66 66
L'Apogée, Courchevel, France
Perched atop a former Olympic ski jump, L'Apogée has the most prestigious address in the ritzy winter playground of Courchevel.
With its ski-in, ski-out facilities, the lodge offers access to some of Courchevel's highest slopes right at its doorstep.
Unlike the flashy, over-the-top hotels Courchevel is known for, L'Apogée is refreshingly discreet with its timbered interiors, muted modern furnishings and intimate boutique feel (there are just 53 rooms).
Not that it's any less luxurious – opened in 2013, the hotel cost a whopping $100 million and is kitted out with a Sisley spa, two restaurants and a cigar lounge.
L'Apogée, Rue du Jardin Alpin, 73120 Saint-Bon-Tarentaise, France; +33 479 040 104
Stunning geometric shapes appear in snow on frozen, isolated lakes
The Gant, a Destination Hotel, Aspen, Colorado
Though there are newer and fancier hotels in Aspen, this rustic-chic lodge, opened in 1973, remains a classic.
It's located in a secluded, five-acre enclave at the foot of Aspen Mountain, giving guests easy access to the slopes via a gondola.
Its 120 rooms are luxurious yet cozy, each outfitted with wood-burning stone fireplaces and spacious private balconies.
In addition to five tennis courts, there are two heated outdoor swimming pools and three jetted hot tubs, open year-round.
Added bonus: the property recently opened a rooftop terrace with sweeping alpine views.
The Gant, 610 S W End St, Aspen, CO 81611, USA; +1 970-925-5000
Puma Lodge, Andes Mountains, Chile
If Puma Lodge appears to be built in the middle of nowhere, that's precisely the point – it was made especially for heli-skiers.
Its main draw is its exclusive access to nearly 2,000 square miles of untracked, virgin powder in the Andes.
The lodge itself is sleek and Nordic-inspired, with plenty of fireplaces and al fresco hot tubs to enjoy after a day on the slopes.
There are just 24 rooms, decorated with Chilean art and textiles, and fitted with large windows overlooking the Andes Mountains, Cachapoal River and surrounding cypress forests.
Puma Lodge, Km 22 Fundo Sierra Nevada, Machali, Chile; +56 2 2432 6800
The world's coolest alpine retreat?
The Chedi Andermatt, Andermatt, Switzerland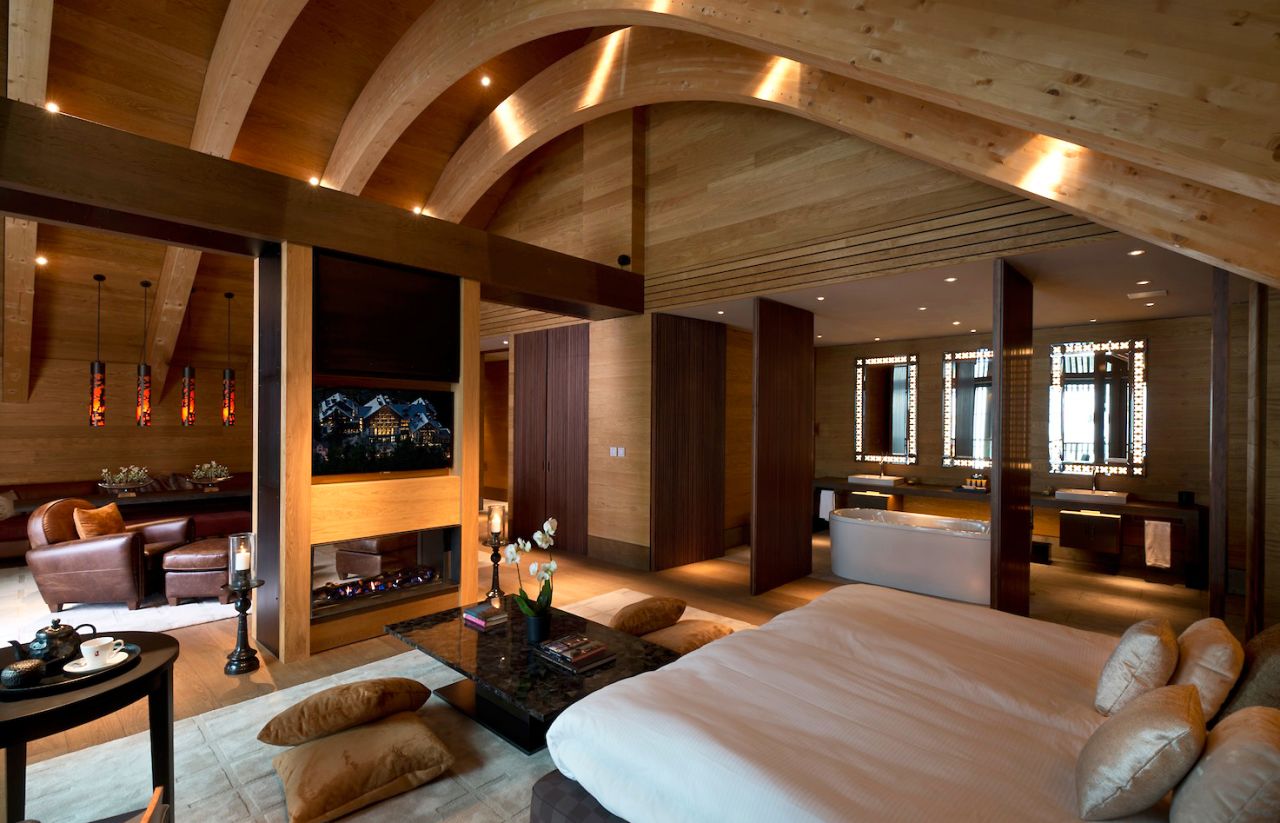 Designed by Malaysia-based designer Jean-Michel Gathy, the Chedi blends the classic Swiss chalet style with a subtle Asian twist.
Warm woods and natural stone are paired with clean lines, asymmetry and a dark, earthy palette.
There are 105 rooms, including the prized Furka suite: a 3,552-square-foot space with its own steam bath, sauna and Jacuzzi.
Other highlights include a wine and cigar library, a walk-in cheese room and an ice-skating rink for the kids.
The Chedi, Gotthardstrasse 4, 6490 Andermatt, Switzerland; +41 41 888 74 88
Post Hotel, Lake Louise, Canada
Situated at the heart of Banff National Park and surrounded by the Canadian Rocky Mountains, the red-roofed Post Hotel is a Lake Louise landmark.
With its chalet-style beamed ceilings, slate stone accents and river stone fireplaces, the lodge is alpine chic at its best.
All 94 rooms are rustic but deluxe, decorated with Canadian pine furnishings and plush goose down duvets.
Guests can choose from suites outfitted with whirlpool tubs to sprawling cabins with fireplaces and multiple bedrooms.
Post Hotel, 200 Pipestone Rd, Lake Louise, AB T0L 1E0, Canada; +1 (403) 522-3989
10 most beautiful alpine ski resorts
Matakauri Lodge, Queenstown, New Zealand
Matakauri Lodge is beautiful in its own right, with its sleek, dark wood paneling, modern architecture and minimalist design.
But its scenic backdrop simply steals the show; it's positioned on Lake Wakatipu, with jaw-dropping views of Cecil Peak, Walter Peak and the Remarkables ski area.
The lodge maximizes its dramatic surroundings with a number of viewing platforms: the infinity pool, the courtyard, the restaurant deck, even the gym.
But the rooms themselves, built upon the shoreline, have the best views of all; their deep-soak tubs, which sit by floor-to-ceiling windows, offer an incredible panorama over the lake and surrounding snow-capped peaks.
Matakauri Lodge, 569 Glenorchy-Queenstown Rd, Queenstown 9371, New Zealand; +64 3 441 1008
Hotel La Perla, Corvara in Badia, Italy
This ski-in, ski-out lodge in the Dolomites is the most convenient place to stay in Corvara.
Situated at the top of the village, you can literally ski down to the Col Alto gondola and then ski back to the door when you're done.
It's also arguably the most charming place to stay in Corvara.
The wood-paneled lodge, a member of The Leading Hotels of the World, is decorated with Tyrolean antiques and colorful original art.
All 54 guest rooms have a country house feel and feature alpine furniture, chandeliers and rich, bright fabrics.
La Perla, Str. Col Alt, 105, 39033 Corvara In Badia BZ, Italy; +39 0471 831 000
Krisanne Fordham has written for Conde Nast Traveler, Fodor's Travel, Departures and Travel + Leisure. She grew up in Sydney and now splits time between Umbria, Italy and New York.