Veteran road warriors know that the best way to beat jet lag and energy-zapping meeting is by working up a serious sweat.
That schedule of constantly changing time zones, back-to-back meetings and intense pressure can wreak havoc on your mind and body. But studies show that exercising regularly can help to regulate your circadian rhythm – also known as your internal clock – which is affected every time you travel.
"Frequent travelers are prone to headaches, joint pain, muscle soreness and general fatigue – not to mention the disrupted and inconsistent sleep patterns that come with changing time zones when jetlagged," Liam Gallaher, sports manager at Kerry Hotel in Hong Kong, tells CNN Travel. "Exercising promotes blood flow and increases your metabolic rate, which serves to minimize the effects of flying."
If you need a little inspiration to hit the treadmill or swim some laps, these 11 amazing hotel gyms have awe-inspiring views, top-notch equipment and special classes to help you to go that extra mile:
1. Kerry Hotel, Hong Kong
Located on the banks of iconic Victoria Harbor, Kerry Hotel opened in April 2017. On the hotel's fourth floor, a tech-savvy health club, Base Camp Kerry Sports, overlooks the water and the neon-lit skyline of Hong Kong.
Inside, guests will find one of the city's most comprehensive fitness centers with all the usual weight-training and cardio machines, plus a harbor-view corner room for spinning, yoga and pilates. But the jewel in the crown is the 25-meter (82 feet) heated pool that seems to hover above Victoria Harbor. More of a runner? There's also an outdoor jogging track along the promenade of Tsim Sha Tsui and running clubs organized by the hotel.
Kerry Hotel, 38 Hung Luen Road, Hung Hom Bay, Hung Hom, Kowloon, Hong Kong; +852 2252 5888
2. Park Hyatt Chicago
A fixture on the Chicago skyline, the Park Hyatt Chicago has focused on making its gym a superlative experience. From the seventh-floor location inside the Nomi Spa, gym rats can soak up city views of the Magnificent Mile while they run or cross-train on Life Fitness equipment.
Swimmers will appreciate a three-lane, 22-meter (75 feet) indoor lap pool. For everyone else, there's a convenient bike rental program, GPS watch rentals, and all kinds of fitness gear. But the coolest service is the Shred in the Park program. The hotel has paired up with local trainers from the Shred415 workout program, who lead guests on a calorie-blasting interval-training session atop the spa's garden terrace.
And if that doesn't do it for you, the jogging paths along the Lake Michigan shore reward travelers with beautiful architecture, green parks and views of the Chicago skyline.
Park Hyatt Chicago, 800 N Michigan Ave, Chicago, IL, 60611, US; +1 312 335 1234
3. Shangri-La Dubai
The recently renovated Shangri-La Dubai is not only conveniently located in the business district along Sheikh Zayed Road in Dubai, but it also has one of the most diverse gym facilities in the city.
There are squash and tennis courts, jacuzzis, steam rooms, a dedicated "movement" studio to work on mobility and a rooftop swimming pool where you can swim laps in the shadow of the Burj Khalifa – the highest tower in the world. A comprehensive group fitness schedule covers everything from spinning to yoga to belly dancing, while personal trainers can maximize your workout.
At CHI, The Spa on the 4th floor a tome of a menu covers Arabic coffee scrubs, vegan treatments and massages to target tight muscles and release tension. In addition, the hotel has also introduced a new Rooted in Nature dining menu to help travelers stick to healthy habits.
Shangri-La Dubai, Sheikh Zayed Road, P.O. Box 75880, United Arab Emirates; +971 4 343 8888
4. Anantara Al Jabal Akhdar Resort, Oman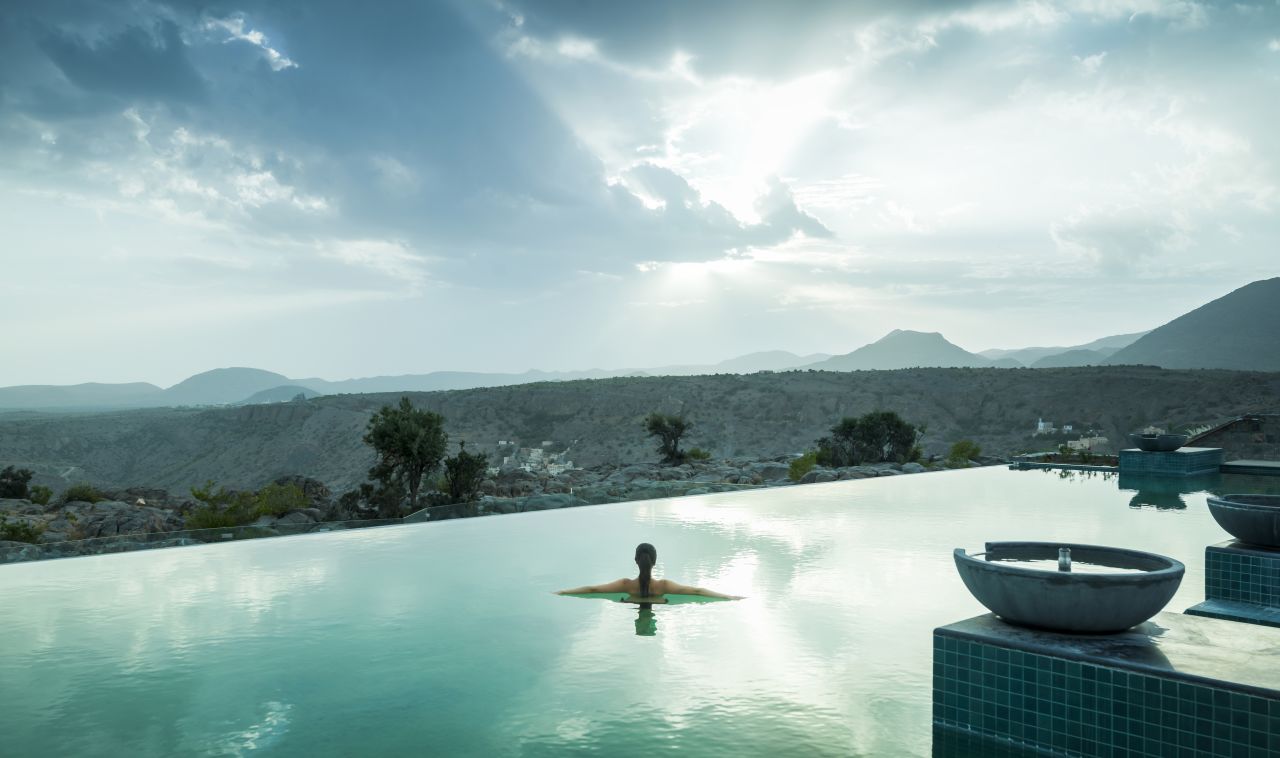 Opened in 2016 in the mountains of Oman about two hours south of Muscat, the Anantara Al Jabal Akhdar Resort has a pretty impressive set-up.
At 2,000 meters (6,561 feet) above sea level, the hotel is built on the edge of Oman's Green Mountain where travelers can limber up with some sunrise yoga atop the highest platform in the Middle East.
The rocky terrain makes for a challenging place to go biking or jogging, but if the views don't motivate you, there's always a personal trainer. There's also ping pong, bikes to rent, hiking nearby, mountain-climbing courses and one of the highest tennis courts in the world. For swimmers, one of the highlights of the property is the cliffside infinity pool. Wake up early enough, and it will be just you and Oman's Grand Canyon.
Anantara Al Jabal Akhdar Resort, 110, Postal Code 621, Al Jabal Al Akhdar, Nizwa, Sultanate of Oman; (+968) 25 218 000
5. Park Hyatt Tokyo
The Park Hyatt Tokyo isn't just home to the famous "Lost in Translation" cocktail bar – officially known as New York Bar.
The hotel also houses an impressive gym on the 47th floor, where skyline views will distract while travelers break a sweat on one of the dozens of Life Fitness machines. In addition, the gym offers a packed schedule of aerobics, dancercise, pilates, tai chi and yoga, as well as a sky-high lap pool, whirlpools and saunas.
And did we mention the dramatic views? An exercise routine at the Park Hyatt rewards you with views of the expansive Tokyo cityscape and Mount Fuji.
Park Hyatt Tokyo, 3-7-1-2 Nishi Shinjuku, Shinjuku-Ku, Tokyo, Japan, 163-1055; +81 3 5322 1234
6. Four Seasons Seoul
In the heart of Seoul's business district, Four Seasons Seoul is a sleek urban address with a modern fitness center.
Inside the 8,772-square-foot space, rows of Technogym equipment face a wall of windows – as does a yoga and pilates studio. There's also a cross-training area, free weights, lifting racks and a stretch center.