Discerning readers have once again ranked their favorite island oases in Travel + Leisure's World's Best Awards, and this year's results prove that no destination is too remote when pristine, white-sand beaches and exotic fauna await.
For the third time in the World's Best Awards' two-decade history, the wild islands of the Galapagos secured the No. 1 spot. Despite being 600 miles west of South America, it continues to lure travelers with the promise of encounters with playful sea lions and flamboyant blue-footed boobies.
With untamed Tasmania, the jagged mountains peaks of Moorea and Australia's vibrant Great Barrier Reef islands rounding out the list, this year's selection is a clear departure from 2014, which reflected a certain national pride (Hawaiian islands filled four of the top 10 overall spots).
Now, distant and unusual shores are back on travelers' minds. Not that there's anything wrong with fulfilling fantasies of coconut palms and luaus. And for that reason, Maui and Kauai are back again, marking 20 consecutive years on the Top 10 overall list.
For more of Travel + Leisure's 2015 World's Best Awards, which cover everything from hotels to airports, click here: www.travelandleisure.com.
1. Galapagos Islands (Ecuador)
This wildlife-filled archipelago, hundreds of miles off Ecuador's shores, has long tempted thrill-seekers and photography enthusiasts with its pods of sea lions, flightless cormorants, the world's only seafaring lizards and short-feathered penguins that dart casually across the equator. Volcanic landscapes and beaches relatively untouched by tourism are best seen by sea, and cruise ships, such as the 100-passenger Silversea Galapagos, pair travelers with naturalists for a truly educational experience.
Luxury in this isolated ecosystem took an evolutionary leap with the debut of Pikaia Lodge, a carbon-neutral, five-star resort with its own giant tortoise reserve, which lets you explore the islands at your own pace – with the help of a private yacht, of course.
2. Bali (Indonesia)
Of all the tropical islands that comprise Indonesia (17,508 to be exact), Bali outshines them all. With its rice paddies, ornate Hindu temples and rocky headlands, it's the country's crown jewel. We recommend heading to Sanur to watch the watch the sun bleed over the horizon in the mornings, or to Besaki, the holiest and most mystical temple at the slopes of Mount Agung.
The island's scenery may be silver screen-worthy, but Bali is making cultural relevance a prominent part of any journey. Visitors can join cooking classes (think duck curry and black-rice porridge with papaya soup), peruse contemporary Balinese art and participate in a traditional blessing ceremony for complete immersion in Indonesia's heritage.
3. Maldives
The world's lowest-lying nation has no land more than six feet above sea level, meaning a trip to the Maldives is truly about communing with the warm, ebbing tides. Many hotels are built directly over the sparkling azure waters, and the best take full advantage of the otherworldly real estate. Coral nurseries, underwater nightclubs and feasts enjoyed on floating pontoons are just a few of the luxury trappings travelers might encounter here.
Snorkeling and scuba diving appeal to both romance-seeking couples and adventurous families. Feeling fatigued? You can unwind on any one of the white-sand beaches or sand bars scattered throughout the reefs and atolls.
4. Tasmania (Australia)
Readers raved about this Australia state, calling it a little known treasure that's unmatched by any other island destination. Its diverse and stunning landscape is nearly hallucinatory: rolling dunes covered in psychedelic banksia wildflowers, granite formations that erupt from the beaches and the wonder of the tessellated pavement at Eaglehawk Neck.
Those who trek the 600,000 acres of pristine coastal wilderness might meet up with the island's hyena-like Tasmanian devils, wallabies and the duckbill platypus. Despite its remote location, Tasmania has a freestyle culinary scene, thanks to local ingredients like handpicked sea lettuce, local game like opossum and organic Tassie wine. Best of all? The air is as clean as it is in Antarctica, making it the ideal place to take a breather.
5. Santorini (Greece)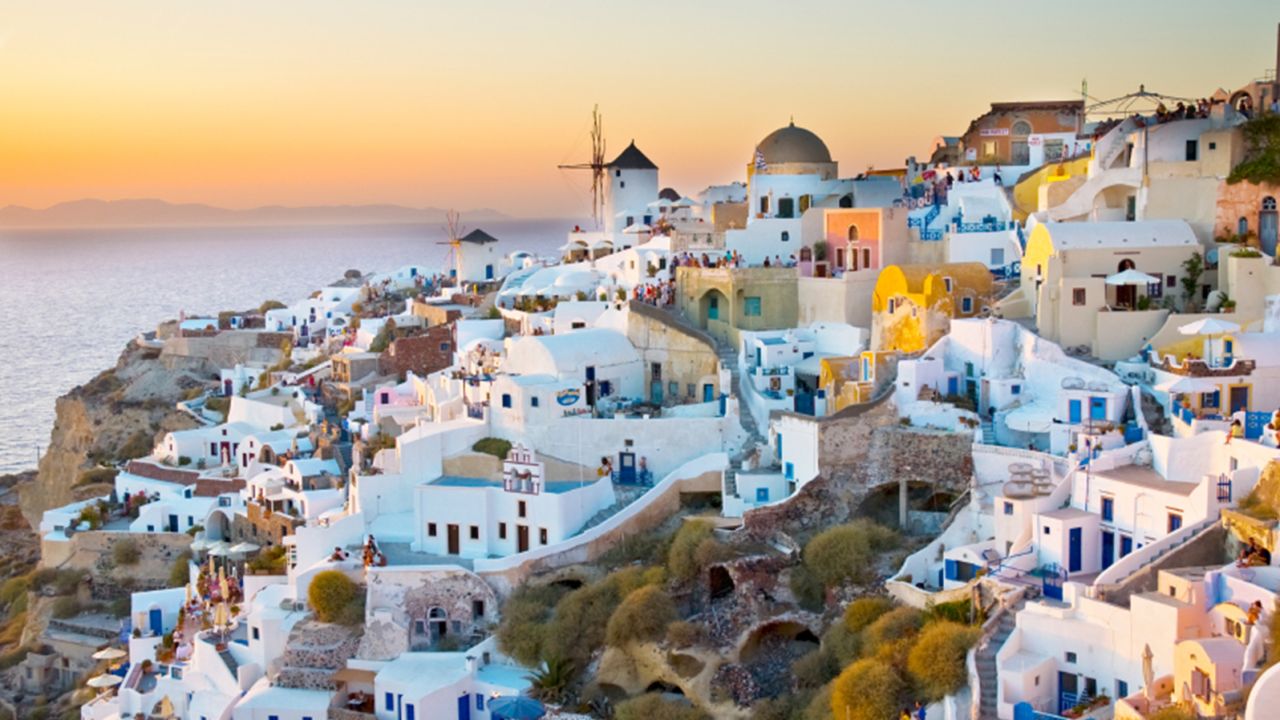 Everything is brighter on Santorini, where blanched-white houses and blue-domed churches erupt down the sides of an ancient caldera. Highlights include the black sands of Perissa Beach, the richly preserved, prehistoric Akrotíri settlement, best known as the "Minoan Pompeii," and the postcard-worthy sunsets over Oia, the cliff-top village that's one of the most photographed spots in the world. Perivolas, an adults-only resort housed in 300-year-old cave-carved dwellings that feel anything but primeval, has a selection of honey and herb-scented Apivita toiletries and an infinity pool that seems to pour into the Aegean Sea.
6. Moorea (French Polynesia)
This heart-shaped island levitating on the South Seas has convinced even the most selective travelers that there is such a thing as paradise on Earth, thanks to impossibly blue lagoons and rugged, rainforest-blanketed mountains. The less-trafficked sister island of Bora Bora offers coconut-strewn beaches and an intoxicating aroma of vanilla, grapefruit and Tahitian gardenia, as well as thatched bungalows at luxe properties such as the InterContinental and views of Tahiti, only 11 miles away, at The Sofitel Moorea la Ora Beach Resort.
Friendly Tahitians are full of local lore. It's believed that the beaches along Cook and Opunohu Bays were formed by the tail of a giant yellow lizard, and that – perhaps more believably– James Michener's novel, "Tales of the South Pacific," was inspired by this otherworldly land.
7. Maui (Hawaii)
Hawaii's golden child appeals to everyone from gilded Hollywood celebrities to barefooted surfers. These days, it comes complete with buzzy cosmopolitan neighborhoods and ultra-chic resorts (enter the new Andaz Maui at Wailea with three infinity pools and an open-air lobby) as well as the usual breathtaking natural sights that put it on the map in the first place.
We recommend beginning your trip with the quintessential sunrise bike ride to the 10,023-foot volcanic crater of Haleakala, or the white-knuckle scenic drive to Hana. You can then stop at Oheo Gulch, a string of waterfalls and ponds in Hana, for an obligatory dip.
8. Kauai (Hawaii)
Kauai, the oldest Hawaiian Island, formed when lava bubbled up from the ocean floor 5 million years ago. It's definitely more low-key than its glamorous sibling to the east, though no less dramatic. Sights include Pali Ke Kua, or Hideaways beach, kept secret by towering black lava walls, as well as the Waimea Canyon and Na Pali Coast, both banded by scenic hiking trails and switchbacks.
Development isn't unheard of here; Kauai has its famed golf courses and high-profile resorts. But nature still asserts itself in the form of the spiked Anahola Mountains and the bluffs above Hanelai Bay. From here, you get what may arguably be the most impressive vista in the state: clouds evaporating over a perfect crescent moon of beach.
9. Great Barrier Reef Islands (Australia)
A vast, 1,600-mile sweep of coral reef unfurls from the northeastern tip of Australia, teeming with more than 400 species of marine life spanning from the great baleen whales to thorny urchins. Divers can be found year-round in this labyrinth of 3,000 plus individual reefs, one of the Seven Wonders of the Natural World and the largest living feature on Earth, made from billions of coral polyps.
Of all the region's castaway islands (approximately 900) it's the Whitesundays, at the threshold of this coral paradise, that we love most, thanks in large part to the blinding-white strip of sand known as Whitehaven Beach. The spectacular biodiversity is reflected in the incredible melange of resorts scattered amongst the Great Barrier Reef. While the enormous, 244-room Hayman Island has acres of marble flooring and a swimming pool seven-times the Olympic standard, modest Qualia has 60 intimate bungalows outfitted with private terraces and kwila hardwood.
10. Malta
History aficionados have long loved this Mediterranean nation, evidence that you don't need palm trees or daiquiris to be one of the world's most tantalizing islands. Malta has been overrun by every major empire in the region, from the Phoenicians to the Byzantines, the British to the 1.5 million tourists who flock to the island's colorful shores every year. Limestone cliffs are dotted with baroque churches, crumbling castle walls and fortresses.
The capital, Valletta, squeezes half a millennium of history into half a square mile, with forts and stairways that crest in unparalleled harbor views. With the debut of a new Renzo Piano-designed open-air theater, visitors can now marvel at the contrast of 21st and 16th century architecture. Nearby Gozo offers a reprieve from Valletta's frenetic energy – it's here that Odysseus is rumored to have spent seven years after the Trojan War. Take one look at this handsome Bronze Age island, set between Sicily and the North African coast, and you won't blame him.
Planning a getaway? Don't miss Travel + Leisure's guide to the World's Best Hotels
Copyright 2015 American Express Publishing Corporation. All rights reserved.