"Anthony Bourdain Parts Unknown" visits Minas Gerais on Sunday at 9 p.m. ET/PT
When most people think of Brazil, it goes something like this: Toes in the sands of Copacabana Beach in Rio, sipping on caipirinhas – the national cocktail crafted with a rum-like spirit distilled from sugar cane called cachaça – all set to a sun-drenched samba soundtrack.
That's nice and all, but Brazil's beauty extends way beyond sun, sand and samba.
In the interior state of Minas Gerais, Brazil's heartland beckons. This landlocked wonderland of rolling pastoral hills and postcard-perfect mountains is steeped in colonial history and boasts a culinary pedigree that counts itself among the South American giant's heartiest and richest.
This is Brazilian God's country.
Deep culinary credibility
When Brazilians talk food, they'll usually tell you the gaúchos in the South are the best at beef and Paulistanos are the best at pizza and everything gourmet. But the Mineiros – as the people of Minas Gerais are known – are the best at pretty much everything they do in a kitchen.
It's impossible to have a bad meal here, but if you are a serious foodie and want to get straight to the heart of this heavy, pork-dependent country cuisine, head straight to the cinematic colonial village of Tiradentes, a place of holy worship for gourmands in the know.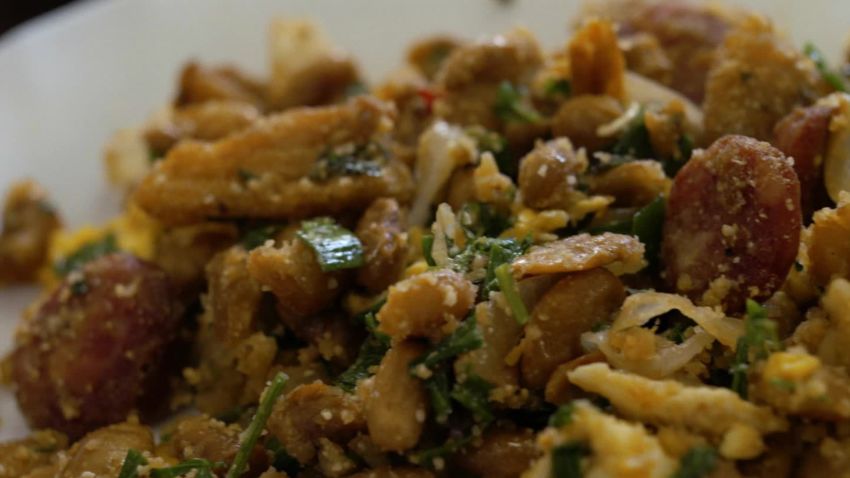 This is what Brazilian comfort food looks like
Just 7,000 people share six starred restaurants – the highest per capita in Brazil – according to Guia4Rodas, Brazil's most respected culinary bible and a soulmate to France's Michelin guides.
Your menu? Suckling pig at Leitão do Luiz Ney (Rua do Chafariz s/n), chicken with saffron and ora-pro-nóbis served in a soapstone pot at Virada's do Largo (Rua do Moinho 11), Manuel sem Jaleco ("Manuel without a Jacket") at Estralegam do Sabor (Gabriel Passos 280), a comfort-food scramble of sorts with rice, beans, eggs, kale, house-smoked bacon, bananas and a succulent semi-smoked pork loin that spends days maturing in a rudimentary backyard closet.
And dessert? Dried guava fruit rolled in cashew nuts and fried, served over a bed of Brazilian cream cheese with guava ice cream at Tragaluz (Rua Direita 52).
That cachaça in those caipirinhas we discussed earlier? All of the good ones come from Minas, too. Chase it all down with a top-end artisanal sipping cachaça like Anísio Santiago/Havana.
Brazil's bar capital
Belo Horizonte, the state capital, is Brazil's third-largest metropolis (population: 1.4 million), but it is the country's undisputed capital of botecos – cozy neighborhood bars, a sort of tropical pub, if you will.
Known nationally as the "City of Bars" (there are about 12,000 botecos, more bars per capita than any other city in the world), Beagá (as it is affectionately nicknamed for the pronunciation of the abbreviated letters "BH" in Portuguese) is a very good city for a tipple.
The annual Comida di Buteco championship results are a good place to narrow down your bar-hopping list.
Secret home of great chefs in Brazil
Colonial history
Minas Gerais is home to some of the most fiercely preserved colonial towns in Brazil.
Built on the takings of gold and coffee, cobblestoned living museums like the UNESCO World Heritage-designated old towns of Ouro Preto and Diamantina and the sleepy foodie haven of Tiradentes harbor many of the country's most photogenic streets, flush with whitewashed villas doused in colorful trim and staunchly committed to their centuries-old ways.
There is a palpable stuck-in-time feel as you wander these stunning villages a world away from the Atlantic Ocean.
The Michelangelo of Brazil
For art and architecture buffs, Minas Gerais is the promised land, mainly due to the presence of works by Brazil's most lauded sculptor, Aleijadinho, often touted as Brazil's Michelangelo.
Can 'real' Brazilian food go mainstream?
Nothing quite prepares you for the first time you lay eyes on his masterwork and Brazil's single most important piece of colonial art, "Twelve Prophets," at the sanctuary of Bom Jesus de Matosinhos in Congonhas.
Old, sick and crippled, Aleijadinho spent five years between 1800 and 1805 toiling away on 12 Old Testament figures carved from soapstone that pepper the church's courtyard and stairway. It's one of Brazil's surefire 'Wow!' moments.
Churches bathed in glamor and gold
In the UNESCO World Heritage old town of Ouro Preto, São Francisco de Assis Church (Largo de Coimbra s/n) boasts a staggering exterior carved by Aleijadinho and is considered his second most important work after Congonhas.
Nearby, Basílica Nossa Senhora do Pilar (Praça Monsenhor Castilho Barbosa) is second only to Salvador's São Francisco Church and Convent in sheer opulence: Housing just under half a ton of gold and silver in its nave, it is one of Brazil's most stunning – and valuable - colonial art treasures.
A priest and his maned wolves
A bit off the beaten path even for Brazilians, Parque Natural do Caraça protects some 38-square-miles of transition zone between the Mata Atlântica (Atlantic rainforest) and cerrado (tropical savannah) ecosystems.
The park itself is a bounty of blissful nature, but most remarkable for one of Brazil's true oddities: The nightly feeding of the lobo guará (maned wolves), South America's largest wild canine, at Pousada Santuário do Caraça.
In true Saint Francis style, the priest at the Catholic-run pousada (inn) worked a tireless two years befriending the wolves and feeding them nightly.
Today, after dinner in the monastery's old stone refectory, guests gather on the back porch and wait, speaking in hushed tones and sipping on cachaça, waiting for the wolves to come.
When they do, it's a miraculous sight as they slowly saunter up the steps – lanky, wild and on constant guard – to gobble up the night's leftovers. Only in Minas.
Kevin Raub is a Lisbon-based travel journalist and well-known Brazilianist who has contributed to the last four editions of Lonely Planet's Brazil guide.