Heading to the airport on a tight schedule?
Getting an accurate read on wait times at Transportation Security Administration checkpoints is no easy feat.
The best bet? Arrive at the airport with plenty of time to spare, fly at off-peak times and enroll in TSA PreCheck.
1. Enroll in TSA PreCheck
For $85 (for five years), approved PreCheck members go through specially designated lines at U.S. airports where they are allowed to skip removing their shoes, belts and light jackets and taking laptops and liquids out of bags.
The application process involves a visit to an enrollment center to get fingerprinted and provide documentation and payment. The program is open to U.S. citizens, U.S. nationals and lawful permanent residents.
Enrolling in U.S. Customs and Border Protection's Global Entry program for international travel provides TSA PreCheck eligibility in addition to easing entry into the United States.
Global Entry is used at U.S. Customs checkpoints and is open to Mexican nationals, citizens of the United Kingdom, Germany, the Netherlands, Panama and South Korea, in addition to U.S. citizens, U.S. nationals and lawful permanent residents.
DHS has 'aggressive' plan to decrease wait times
2. Fly off-peak
Like highways, airports tend to get especially busy on weekdays in the early morning and later in the afternoon and early evening.
"Usually Tuesday and Wednesday are the slowest days, and midday is the slowest time any day of the week," says George Hobica, founder of Airfarewatchdog.com.
"There are spot times and certain airports known for mad rushes, however – Saturdays in Miami when all the cruise ships dock at the same time, so midday at MIA on a Saturday would be an exception," Hobica says.
3. Arrive very early
The TSA's standard advice is to arrive two hours early for domestic flights or three hours early for international flights.
You might want to make that three hours for domestic flights and allow for extra time for international flights, too, given reports of lines topping two hours at some U.S. airports at peak times.
4. Follow airports on Twitter
Airports are tweeting about security checkpoint wait times and advising travelers to arrive early.
On Tuesday, Chicago's O'Hare International Airport urged travelers to get to the airport three hours early, instead of the usual recommended two hours.
On Monday afternoon, Hartsfield-Jackson International Airport in Atlanta tweeted a refreshing photo of passengers sailing through security, with wait times of less than 15 minutes.
5. Be ready for screening
It sounds obvious, but we've all been behind someone struggling with lace-up hiking boots when they should be walking through the screening machine. Wear shoes that are easy to slip on and off, take your laptops and liquids out of your bags, make sure the liquids comply with the TSA's 3-1-1 rule, empty your pockets and otherwise get ready to slide right through the line at game time.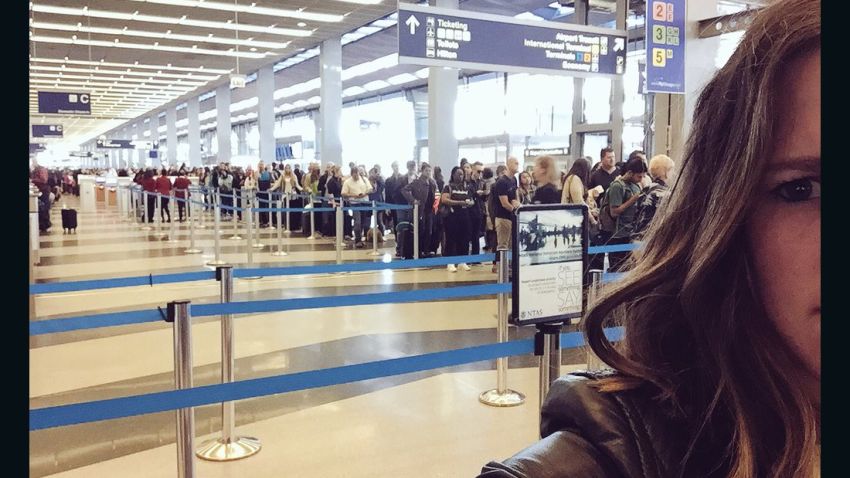 TSA security lines frustrate travelers
6. Gauge wait times with caution
A TSA app, called My TSA, provides information about checkpoint wait times, but there are no guarantees that the information is accurate.
A disclaimer reads, "The TSA makes no claims, promises or guarantees about the accuracy, completeness, or adequacy of the contents of My TSA and expressly disclaims liability for errors and omissions in the contents."
The app's wait time information comes from passengers and is not verified by the TSA.
Some airports and independent websites offer similar estimates online but are careful to add disclaimers.
Denver International Airport cautions on its website that estimates are "not intended to be a substitute for proper preparation and timely arrival."