The hardest thing about listing 50 reasons why Shanghai is the greatest city in the world is trimming it down. After a lot of sieving, here's what we're left with:
1. Direct to your door
Everything delivers in Shanghai, and we're not just talking Chinese food. Even the woman pushing around the metal cart full of fresh flowers will give you her cell phone number. Airline tickets … groceries … that heavy potted plant you bought at the market – all of it can magically appear at your door, often much faster than expected.
2. Muslim noodle shops
We love the way the waiters create noodles right in front of you at Shanghai's local Muslim soup joints. As soon as you order a bowl of the savory la mian, the magical process begins. The dough starts in a thick ball, which is stretched, twisted and wrung out by hand, effortlessly resulting in perfectly thin, fresh noodles. Where else can you get a live performance and a delicious bowl of noodle soup for less than $5?
3. Wallet-friendly grooming
Having a blah hair day? In Shanghai, there's no need for a pricey cut. For around $5, you can stop into any one of the city's many local salons and get a hair wash. The relaxing scalp (and shoulder, if you're lucky) massage is worth the price tag alone, but you'll also end up with shiny tresses straight out of a fashion mag. The best part: most salons are open until midnight.
4. Anything and everything is possible
Shanghai's energy is what makes it one of the greatest cities around – it's the American Dream "a la Chinoise" where everything and anything is still possible, according to Jonathan L. Hasson, co-director, Luxury Concierge China.
5. Convenience store ladies
There's nothing like stopping by the local convenience store for a late-night ice cream (or one last bottle of Qingdao) and a hard time from the shopkeepers.
As they lounge back on their stools, perhaps puffing a cigarette, they'll entertain themselves at your expense. Where did you go tonight? Was it expensive? You look like a nun in that outfit!
The women behind the counters are like your mom, but funnier. If they're having a good night, they'll even sprinkle some broken English in – which sends them into contagious gales of laughter.
6. Community karaoke
Chinese parks are known for having everything, from backward power walkers to kite-flying grandpas. But Fuxing Park takes park-side entertainment to a new level. A group of retired folks frequently gathers in the park for mid-afternoon karaoke, belting out Chinese tunes on a microphone as they scan a laptop for the lyrics. If they see an interested audience, they'll even swish their hips a bit to enliven the performance.
7. People's Square marriage market
This unusual event that takes place on Saturdays at People's Square is jam-packed with parents who have children of marrying age. Their mission: to match-make their unwed offspring. They show off their child's best attributes by writing their details on a placard or piece of paper (a bit like a resume), and pegging it to a branch. It lists their height, weight, interests, education and may include a photo.
"I've got a boy, what do you have?" says a woman.
"I've got a girl," says a man.
"Perfect," the woman says and the match is done.
The next step is to get their children to meet on a blind date in the hope they'll hear wedding bells.
8. Myriad Mao memorabilia
Mao's iconic figure has inspired many odd gifts, from old pocket watches with the Chairman's face behind the hands and porcelain collectible figurines to cigarette tins, lighters and T-shirts. The best place to find 'em? Dongtai Lu "Antique" Market. Although anything with dust here is called an antique, if you're looking for Mao memorabilia this street can't be beat.
9. The town that's tailored to you
Get your favorite, suit, dress, jeans – hell, even your best gown copied here. The tailors at the South Bund Fabric Market (aka The Fabric Market) will make anything you can dream up for a fraction of the designer price. We recommend stall 174 for leather goods, stall 377 for linen goods and stall 282 for a good cashmere winter jacket.
10. Brunch is a way of life
At the Wolong Panda Reserve near Chengdu, visitors either disdain the critters' sloth or enviously wish that they too could loll around eating and drinking the day away. The latter can live out their fantasies at the human panda reserve that is Mr & Mrs Bund where the French Toast is like a creme brulee in the form of bread.
11. In fact, decadent brunch is a way of life
There are several iconic Shanghai experiences, and Brunch at The Stage in the Westin Hotel is one of them. This gluttonous affair offers a two-floor culinary experience with live music and almost any dish imaginable from foie gras to fresh seafood, soup, teppanyaki and traditional Chinese delicacies – all accompanied by Champagne, shots of iced Van Gogh vodka and free-flowing wine. Go ahead and overfill your plate, then go back for more – at this brunch, that's the point.
12. Fabulous cabaret
After a night at the cabaret? The Pearl in Shanghai is a must-visit – it is a historic theater turned nightlife hotspot.
13. Ballroom dancing doesn't need a ballroom
Early in the morning and during weekends all over Shanghai, the city shows off its community spirit. Pensioners gather with a boom box in squares and parks city-wide. Not to battle it out to hip-hop beats, but to gracefully move and turn, ballroom-style. Anyone can get involved and many people just go to watch – and still get pulled in for a dance.
14. Haibao
The mascot for the Shanghai World Expo 2010, this Gumby-esque figure achieved cult-like status and is still very much in evidence despite the mania having subsided.
15. The last place on Earth to truly meander
Although Shanghai moves at a frenetic clip, there are still a few places where it's best to stroll at a more leisurely pace. Start at the corner of Wukang and Hunan and get lost in the quiet tree-lined avenues of the former French Concession. Finish up with a cigar and a drink at Mardi Gras at 372 Xingguo Lu.
16. My Place Ruin Bar
After nightlife institution Bar 88 closed down in 2014, it was like lifting a log on a colony of nightlife loving cockroaches. Fortunately, they have scurried out across Shanghai to set up new colonies. Bars where you can find regulars and can stay all night quaffing beer abound. My Place Ruin Bar has only been open two years but already it's attracting a great ragtag crowd of drinkers on the third floor of an old European-style house.
18. (Oriental) Pearl Tower
Phallic jokes aside (although that is part of the fun), it wouldn't be the Shanghai skyline without the Pearl Tower. Other buildings might come up around and above it, but this was the first building to define the Shanghai cityscape and it's irreplaceable.
19. Di Shui Dong ribs
Not your typical, sweet-and-sour, miniature rib appetizer, these are the meaty, spicy, grab-on-with-both-hands goodness that the Shanghai dining masses can get behind – and do, again and again.
20. City rivalries
Because Shanghai is not Beijing and never will be.
21. The Bund
Deriving its name from Hindi (bet you didn't know that, did you?), the Bund is Shanghai's most famous attraction. We could go on about the history and how, even today, the city's most respected business, loved restaurants and infamous clubs all call the Bund home, but we don't need to. It's The Bund. Enough said.
22. Maglev
This is, hands down, the fastest way to Pudong International airport, and a fun way at that. Go ahead, be a tourist and take a photo as the speedometer hits 431 km/h. If this doesn't give Shanghai bragging rights, we don't know what does.
23. Low-cost late-night cuddling
You can buy giant teddy bears on the street, in the middle of the night. When all the world's asleep – or in bars – racks of giant, almost life-sized bears are wheeled around town by local vendors. Nothing says love like a bear nearly as big as you are.
24. The abolition of "Expat Apartheid"
Shanghai blows Beijing away in style, elegance and nightlife, but our cousins to the north have always held the upper hand in local-expat relations – until now. An unlikely candidate is changing the game. In the heart of Expense Accountville (Xintiandi) lies Brown Sugar. Too real for preening peacocks on the Bund, too slick for crunchy English teachers, this live music venue has something for expats and locals alike, from legitimately good house acts and international guests to a flaming bartender show that puts Tom Cruise's skills in "Cocktail" to shame. Shanghai is back on top.
25. DVDs
Shanghai just might be the DVD capital of the world. Name the movie or the TV series and we're sure you can find it for RMB 7 a disc in one of the hundreds of DVD stores in Shanghai.
27. Shanghainese
There is nothing that defines Shanghai more than Shanghainese. Caught somewhere between the sign of a lost generation and the true pretentiousness of a new generation that wants to make sure everyone knows exactly which world-class city they grew up in, Shanghainese is part of the code that forms this city.
28. Historic Shanghai
Whether it's river cruises down the Huangpu or walks with Historic Shanghai's founders through the French Concession, this city offers historical sights and depths that are mildly addictive. Packed with everything from classical buildings erected by colonists to futuristic neon-lined skyscrapers, Shanghai offers an living history lesson with every step.
29. Jiaozi in all forms: fried
Shanghai is a jiaozi city, but few dumpling vendors have made a name for themselves the way Yang's Fried Dumplings has. These aren't just any old jiaozi; Yang's specializes in the shenjianbao (RMB 4.5 for four) – fried, round dumplings containing a scalding, delicious "soup" along with the meat. Line up at Yang's new store at the Maomin Bei Lu side of Wujiang Lu, inside the mall. Foodie tip: Don't dive into these shenjianbao all at once. Carefully suck out the soup before you dunk the dumpling in vinegar and devour it.
30. Jiaozi in all forms: steamed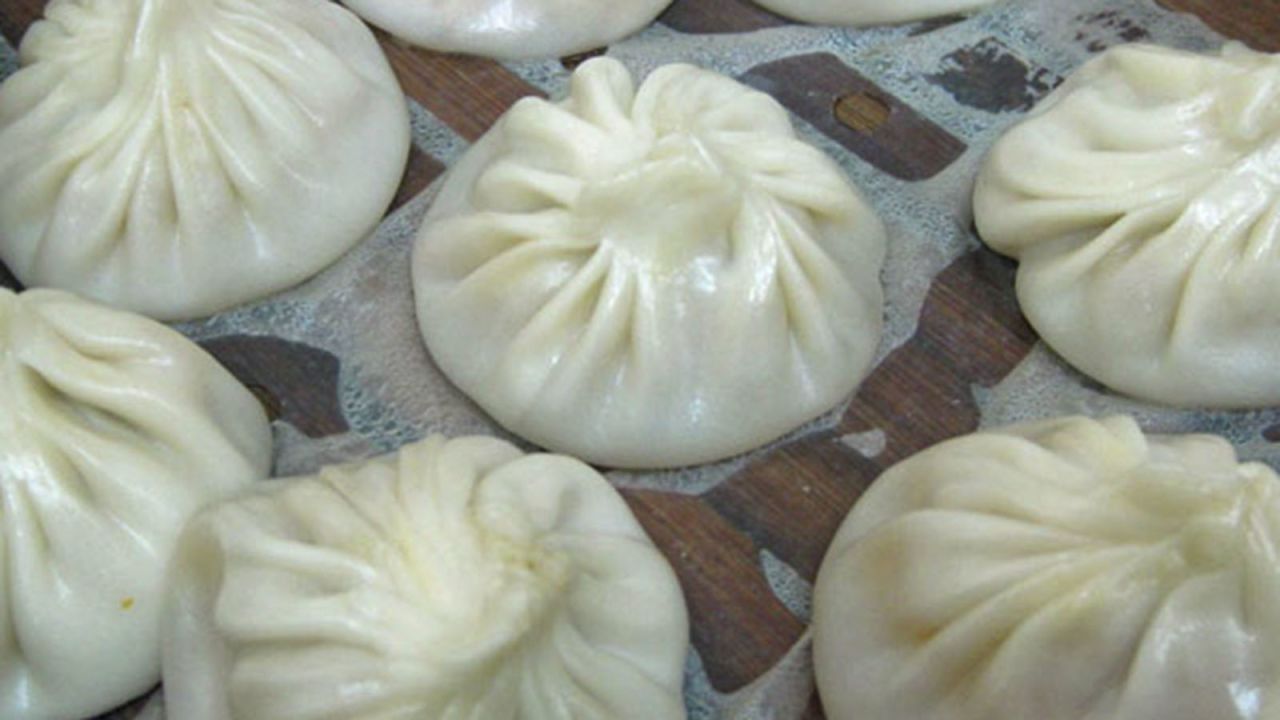 Yang's might have cornered the market on shenjianbao, but Fu Chun reigns supreme when it comes to xiaolongbao (RMB 4 for six dumplings). Somewhere between a restaurant and a hole-in-the-wall, this local staple offers some of the best xialongbao (pork or pork-and-shrimp varieties) in town. Order downstairs for a quick bite or savor them in the upstairs restaurant.
31. Pajama people
Although the government hopes to phase out the practice of wearing PJs in public, we hope it continues. Men and women shop, play cards, drink tea, and chat with neighbors in their nightwear, even in winter. Yes, they have top-and-bottom matching wooly pajamas for that, too.
32. It's one big gym
Anyone can work out for free. With Crayola-colored equipment in many parks and apartment complexes, there's sure to be a gym near you, and at the lowest possible price: free. Most machines are simple, stripped-down versions of what you'd use in a regular gym: ropes and pulleys, chin-up bars, elliptical trainers, leg and ab isolators, all using your own bodyweight for resistance. Twist, push, and pull your way to a taught bod in the great outdoors.
33. Creativity is where you find it (everywhere)
Up-and-coming artists, architects and interior designers are making their respective marks in Shanghai, launching their work here, and redefining Shanghai's public spaces with flair. For example, MoCA has an unforgettable bathroom lined in the beautiful, but controversial, artwork of Zeng Jin Hua.
35. We're always hustling
Shanghai is a city of entrepreneurs. Whether selling new technologies or old crafts, there's always a will and a way. Small shops often specialize in selling one fruit, implements for one trade or tools for one craft. Treasures can be found anywhere, not just in malls and major shopping streets, from the man who makes rocking horses – and only rocking horses – by Suzhou Creek to the guy who sharpens knives outside your neighborhood food market.
36. Bargain back rubs
Why is life so good in Shanghai? Two words: cheap massages. Whether or not you believe in TMC (traditional Chinese medicine), life looks rosier after a massage from experienced hands for less than US$10 in some places. Your qi will never look so good.
37. Look up
Behold the amazing apocalyptic yellow skies that form just before a storm over Shanghai. Sudden summer rains and air pollution may be nuisances, but they're also the reason why the city is prone to yellow hours; several times a year the sky turns the color of maize before rain pours down.
38. A multitude of markets
There's a market for everything in Shanghai, from trophies and hair dye to electronics and retro specs.
39. Tai chi republic
You might walk past people hitting themselves, walking backwards or flailing their arms in many of the parks and grassy areas in Shanghai, but you don't blink because this is quite normal here. It is believed that banging ones arms and legs or rocking against a tree (hitting your back as you do) improves circulation. Walking backwards, it's thought, will turn back the years, and it also improves agility.
40. Green living
Eco-conscious fashion designers are leading the way to a greener future with recycled and organic couture. In Shanghai, you'll find chemical-free undyed baby clothes, bamboo evening gowns softer than silk, and hip purses made from recycled billboard paper.
41. Social consciousness
Social entrepreneurs here are popping up all over the place. For example, D4D (Design for the Disadvantaged) this year opened its collaborative environment, aimed at improving the lives of Shanghai's lower classes. Luminaries from many industries – strategists, architects, designers and more – gather to research and workshop in creating innovative products to make life easier for those who are struggling on low incomes.
43. 山寨 (Shanzhai)
From Shanghai's own Trader Zhou's (pronounced Joe's, as in Trader Joe's) to iPhone minis and much more, the city's shanzai market is alive and kicking. Originally meaning mountain stronghold – areas where bandits used to hide out – the term now refers to all those products operating and being created outside of government regulation, and Shanghai consumers love each of every one of them.
44. The Avocado Lady
To many foreigners shopping in Shanghai, the Avocado Lady is an icon. Her shop at 274 Wulumuqi Lu is one of the only places in the city to buy cheap, fresh avocados, a rare find. Her store looks like nothing special from the outside, but the good import foods at incredibly low prices have made this woman famous. Her business savviness, catering to the globalized market, is both ingenious on its own and representative of the nature of Shanghai as a whole.
45. Bund Tourist tunnel
While many of Shanghai's tourist attractions have gained fame worldwide either for their architectural feats or historic value, few have achieved the infamy of the 647-meter Bund Sightseeing Tunnel. Simply put, the tunnel is (in)famous for leaving riders asking "Huh?" There are few people who have travelled the Bund Sightseeing Tunnel more than once, but it's also rare to find someone who regrets the trip.
46. Fast-moving food fads
Mexican, Italian, crepes, cupcakes and steak – this city has seen more than its fair share of dining trends. New ones keep rolling out before we can even get around to trying all the places that popped up during the last fad. Italian restaurants and wine shops are still on the rise. Keep your eyes peeled. That innocent looking couple renovating the apartment next door to yours might be opening their very own house of pasta or vino.
47. Scrappy live performers
You gotta give credit where it's due when it comes to Shanghai's love of live music. Like the little brothers (and a few sisters) who just won't be shown up by Beijing's music scene, local musicians have kept the riffs coming. Live music shepherds like Lao Sun, Zhang Haisheng and to some extent Soma Records have fought to develop local talent and get them heard – and it's working. We have a live music scene that just won't die, and nothing could make us prouder.
48. Taikang Lu
There's nothing more Shanghai than brand spanking new commerce blooming in old lanes. Taikang Lu is a residential area turned restaurant and retail district with at least a hundred shops that sell silver jewelery, traditional handicrafts, clothes, antiques, art, tea and T-shirts with Chinese iconography. You can easily spend a whole day here, getting lost among the weaving side streets, ducking the photographers who stage regular fashion shoots among the area's quaint old houses.
49. Chinglish
It's everywhere, and we love it. From semi-offensive T-shirts, to nonsensical bank signs indicating that the ATM is a "cash recycling machine," it's impossible to walk very far without enjoying a giggle at yet another idea lost in the translation from Chinese to English.
50. Thank you
Everything says thank you – the taxis, the Maglev, everything that has speakers on it will thank you for using it, usually in amusing Chinglish. Hearing "Thank you for take my taxi" is as common as hearing a phone ring. Who doesn't appreciate being appreciated?
Jade Bremner is a prolific traveler, extreme sports enthusiast and music fanatic.
Editor's note: This article was previously published in 2009. It was reformatted, updated and republished in 2017.