Story highlights
Gephyrophobia: fear of bridges affects countless drivers
Bridge aficionados tour and climb some of the world's longest, highest bridges
China has the world's highest bridge, Colorado has the highest in the U.S.
Giant bridges to be replaced in New York, New Jersey; new California span opens soon
It's called Gephyrophobia: fear of bridges.
The anxiety disorder sends shivers through travelers faced with crossing high bridges that millions of drivers use every day.
National headlines about bridge accidents don't help – like the collapse of Washington's Skagit River Bridge last May and July's collision that sent a driver and her car tumbling off Maryland's Chesapeake Bay Bridge. Bridge disasters feed larger fears about whether the people we trust to inspect, repair and replace our critical infrastructure are doing their jobs.
Related: How safe is that bridge you're driving over?
"I have this dream about a bridge that goes up and never comes down," a driver told CNN Baltimore affiliate WJZ. "My fear is when I start to feel dizzy that I will pass out."
Treatment varies, says psychologist Dr. Joe Bienvenu of Johns Hopkins University School of Medicine, but sometimes patients can overcome the fear by first imagining themselves traveling over a high bridge and eventually working toward being able to do it in real life.
"Sometimes people get over it very, very quickly," says Bienvenu. Many high bridges offer services to have a driver take frightened travelers and their vehicles safely across.
Actually – the bridge from the driver's dream isn't so imaginary. There's a real bridge just like it in Maine.
As you approach the nearly 75-year-old Deer Isle Bridge, the road surface appears to go up … and up … toward giant, looming green towers. Then, the asphalt appears to simply drop out of sight.
Collapsed bridge raises questions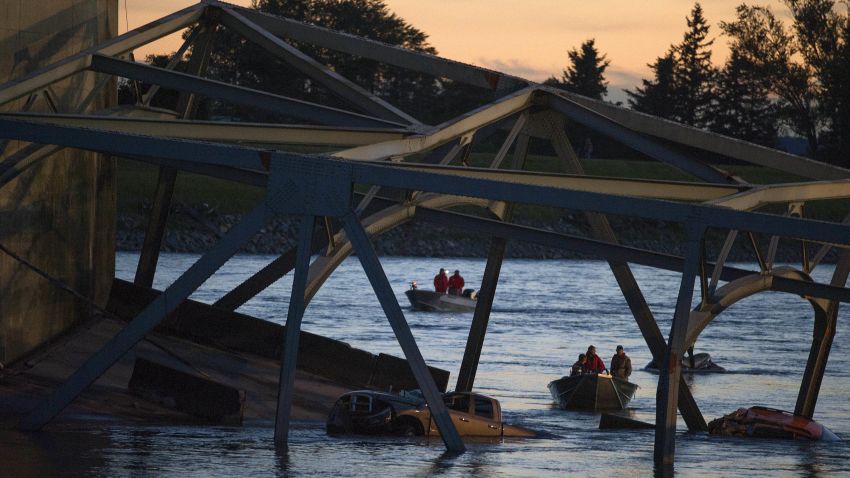 Watch Washington bridge collapse
Problem bridges are everywhere
"It's a mystery. That's why you have that concern, you don't readily see what's in front of you" says bridge aficionado Patrick O'Donnell, who's traveled to hundreds of bridges around the world. "You've gotta take it on faith as far as safely getting to the other side."
The Lancaster County, Pennsylvania, husband, father, and cabinet maker has spent the better part of his adulthood seeking out the thrill and beauty of magnificent bridges.
O'Donnell, 48, and fellow bridge aficionado Eric Sakowski have visited more than 1,000 bridges across North America and China.
And sometimes – when nobody's looking – they start climbing.
"Everyone says I'm nuts, crazy," laughs O'Donnell when asked about why he does it. He says he only climbs if there are no gates or signs prohibiting it. During a trip to Dent Bridge in Northern Idaho, O'Donnell hopped onto the structure's 24-inch diameter suspension cable on the eastern side of the bridge. On either side of him were handrail cables on which he kept a tight grip while he ascended, step-by-step, up the giant steel cable to the top of the bridge's south tower.
Although the cable isn't flat, "it provides a very wide surface to walk on as long as you have the handrail cables," he says. "I see people climbing these sheer rock face walls – hanging by their fingertips – and it's nowhere near as dangerous. But on bridges, if you do slip and fall, the outcome is not going to be good."
It was no more difficult than "climbing monkey bars when you're a kid." Within 10 minutes, he was sitting high above Dworshak Reservoir, with a spectacular view of Idaho's magnificent mountains, including Clearwater National Forest.
He snapped a few photos and paused to wave at fishermen on the smooth lake surface far below. Only a handful of cars passed over the bridge during the half hour O'Donnell spent perched on what he calls "the loneliest suspension bridge in North America."
"I just sat up there and took it all in."
Related: America's most dangerous bridges
But what about the cops? You'd think these bridge explorers would be worried about getting hassled by The Man – especially in China, where Sakowski has been traveling a lot lately. He checked out the world's tallest – the Sidhue River Bridge in Yesanguanzhen, Hubei, China – in 2009.
Access to unfinished bridges, he says, is less regulated than you might expect. "I'll always take advantage of that and try to sneak onto the construction site and climb up the structure, if I can, to take a picture." Security is low, he says. "It's more of a 'hey, if you get hurt, it's your problem,' type of thing in China."
Highest U.S. bridges
Highest U.S. bridges

1. Royal Gorge Bridge, CO: 955 ft.

2. Mike O'Callaghan-Pat Tillman Memorial Bridge, NV: 890 ft.

3. New River Gorge Bridge, WV: 876 ft.

4. Auburn-Foresthill Bridge, CA: 730 ft.

5. Grand Canyon Skywalk, AZ: 720 ft.

Source: highestbridges.com
Several times in the United States, O'Donnell has been accosted by suspicious police driving by in their cruisers. "'Hop in," they'd say, before escorting him back to his car. "Luckily," O'Donnell says, "I've not been arrested."
By his count, O'Donnell has explored 1,103 bridges, including at least two in every state in the union. Although he never followed his boyhood dream of building bridges, he has embraced the subject so much that a conversation with O'Donnell may include terms like "streamlined aero foil deck" or "low-level trestle."
"It's the ability to build these bridges – that's what fascinates me. The curves and the arches and the technological aspects of what's been accomplished over the centuries."
O'Donnell "has visited more suspension bridges than any person alive in the world," says Sakowski, 47.
The economic downturn put O'Donnell's cabinet-making career on pause. He focused on helping others as a paratransit driver – transporting the elderly, shut-ins and the physically, mentally and intellectually challenged from their homes to adult day care, shopping, senior centers, work and the doctor.
As for Sakowski, the Los Angeles-based film and video producer began his bridge obsession as a boy by reading the "Guinness Book of World Records." He eventually focused on tracking the planet's lofty bridges and recording them on his site, highestbridges.com.
In 2010, he made headlines when – armed with a laser-based precision measuring device – he outed owners of the highest bridge in the U.S. – Colorado's Royal Gorge Bridge. The laser measurement proved the bridge wasn't as high as advertised. Since the 1920s it had been billed as being 1,053 feet high. Sakowski marked it at 955. "I kind of shook things up a bit there," Sakowski admitted.
Drivers are required to cruise across the bridge, suspended above a canyon cut by the Arkansas River, at just 5 mph. Even at that speed, "the bridge moves and shakes," Sakowski says. "It's scary because of the wood planks. You get the feeling that one of them might give way and the car will get stuck there."
A wildfire last June burned much of the theme park surrounding the bridge, forcing the park to close for repairs. The bridge survived the fire "relatively unscathed," the parks services says, and it reportedly could reopen later this year, at the soonest.
For other bridge aficionados, mere climbing doesn't cut it. Bigger thrills come from jumping. Mechanical engineer Jason Bell has been BASE jumping off the nation's third-highest bridge – the New River Gorge Bridge near Fayetteville, West Virginia, for 20 years.
An image of the bridge might be in your pocket right now. It's pictured on the back of West Virginia's version of U.S. state quarters.
Parachuting off the 876-foot-high steel structure feels "like a roller coaster – or going over a bump in a fast-moving car," says Bell, 42. "It's a weightless feeling where your stomach is turning and you're flying like a bird."
Each year on the third Saturday in October, tens of thousands of bridge fans travel from around the world to celebrate Bridge Day, when the bridge is closed to traffic and 450 jumpers are allowed to take a giant leap into the New River below.
"I have developed a connection with that bridge," says Bell, who's been helping to organize the event since 2002. "I'm a mechanical engineer so I can appreciate its beauty and the technical know-how that actually went into building the bridge." "I'd be devastated if that bridge were no longer. It seems like it's a part of me, to some degree."
Related: World's 15 highest bungee jump sites
Sakowski is considering bungee jumping from a newly built bridge in Mexico when it officially opens later this year. With its road deck 1,280 feet above the ground, according to Sakowski's measurements, the Baluarte Bicentennial Bridge is the highest bridge in North America. More records are expected to fall soon, Sakowski says, as China is expected to complete two new super-high bridges in 2016 and 2017.
World's highest bridges
World's highest bridges
1. Siduhe River Bridge, China: 1,627 ft.

2. Hegigio Gorge Pipeline Bridge, Papua New Guinea: 1,289 ft.

3. Baluarte Bicentennial Bridge, Mexico: 1,280 ft.

4. Balinghe River Bridge, China: 1,214 ft.

5. Beipanjiang River 2003 Bridge, China: 1,200 ft.


Source: highestbridges.com
The United States has seen a golden age of magnificent bridges built since the 1930s, O'Donnell says, and now the nation will likely focus on maintenance. Transportation and civil engineering groups have been warning for years about the consequences of neglecting U.S. bridges. The average age of all U.S. bridges is 42 years, according to the American Society of Civil Engineers, which says one out of every nine bridges is structurally deficient.
Related: Find deficient bridges near you
One of those bridges is the 85-year-old Goethals Bridge, which connects New Jersey and New York's Staten Island.
Goethals' lanes, Sakowski says, are squeezed so "you're right up against the barrier. You barely have enough room" to drive as the edge of the bridge looms so close, he says. "You kind of get a sense of queasiness." A $1.5 billion replacement for Goethals Bridge is expected to be finished in 2017.
Also slated for replacement is New York state's longest bridge, the three-mile Tappan Zee Bridge, crossing the Hudson River about 13 miles north of New York City. The replacement for the 58-year-old structure is expected to open in 2018. Meantime, the bridge website asks and answers its own question: "Is the bridge safe? Absolutely."
Colorado has taken steps to replace its dangerous bridges by funding a program funded by vehicle registration fees.
And in Northern California, the long and expensive effort to replace the eastern span of the San Francisco-Oakland Bay Bridge appears to be nearly done. After 11 years and billions of dollars, opening of the 2-mile project is finally scheduled for September 3.
Millions of travelers depend upon these truly awesome structures everyday – and for O'Donnell, that's what ranks them among our most important feats of engineering.
"They're the ultimate expression on the achievements of the human race," he says. "Bridges – unlike most buildings – are meant to be used by everyone. Not only do they connect people, but they don't discriminate."