CNN's series often carry sponsorship originating from the countries and regions we profile. However, CNN retains full editorial control over all of its reports. Our sponsorship policy.
Below, the rushing Ganges River cuts through an open canyon and green trees blanket the hillsides. Amid the Himalayan scenery, a slow countdown cuts through the silence.
"3, 2, 1 …"
We're standing at the edge of Jumpin Heights in northern India's Uttarakhand. It's said to be the highest permanent bungee platform in India.
From the 273-foot-high (83 meter) perch, daredevils plunge into the abyss below.
In addition to bungee, this "extreme adventure zone" also features a giant swing that swoops above the tributary and Asia's longest flying fox, a tandem zip line that races up to 87 miles per hour.
"When you are jumping over a river, you have that feeling (of excitement) – and, aesthetically, it becomes more beautiful as well," Colonel Manoj Kumar, co-founder of Jumpin Heights, tells CNN Travel.
"It is a once in a lifetime experience for people who want to push themselves to the boundaries and see if they can make it."
Taking a leap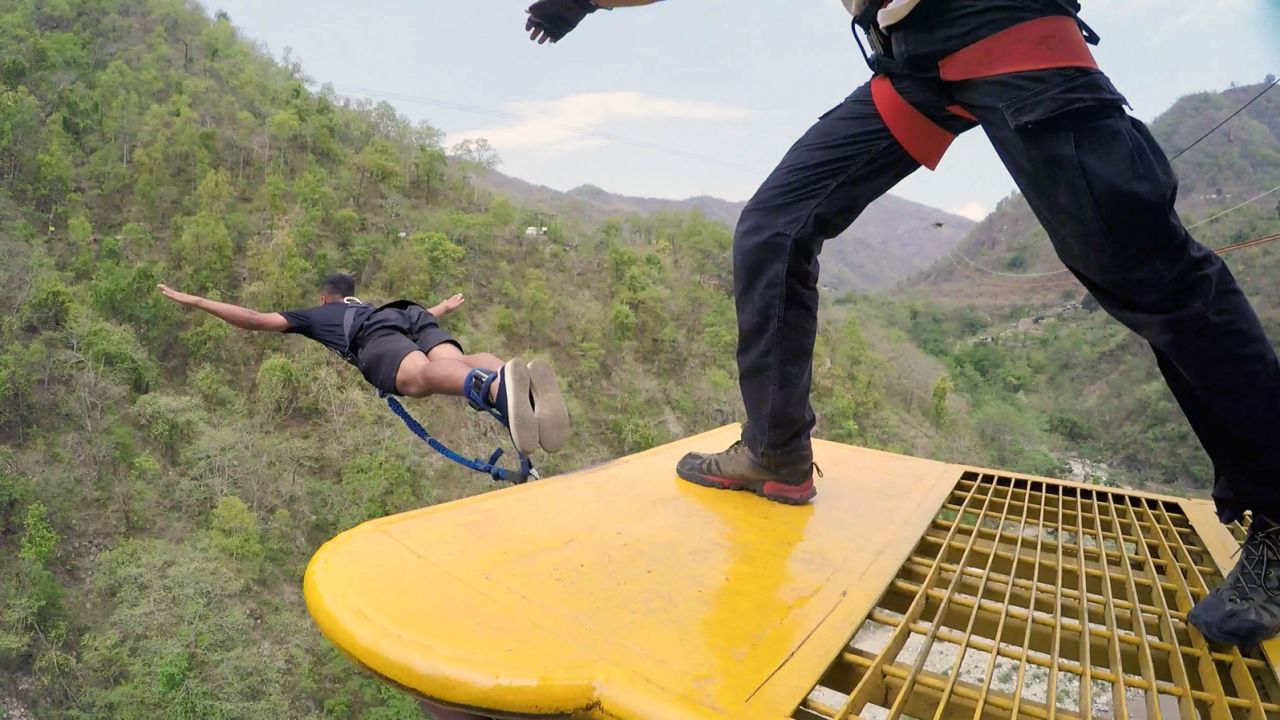 While adventure tourism is well-established in other areas of the Asia-Pacific, India's industry is just starting to take off with an estimated growth rate of 5% to 7% annually, according to industry publication TTG Asia.
Jumpin Heights Rishikesh faced a steep learning curve before it opened in 2006.
Determined to build a world-class facility, Kumar brought in a team of bungee masters from New Zealand. They designed the facilities and continue to manage operations today.
"We wanted to make a place for Indians to try bungee jump safely – we never aimed at foreign clientele," says Kumar. "Now, I can tell you very gladly we rank among the best in the world and people are coming from places like New Zealand and Switzerland."
The team has overseen more than 65,000 jumps from the sky-high platform with zero accidents to date.
A matter of faith
Rishikesh isn't just known as the budding adventure capital of India.
The region has long been considered the country's spiritual and yoga center, partly because the 'Mother Ganges' – the longest and most sacred river in India – originates in the nearby Himalayas.
In addition, there are monks living in the mountains, hills and caves who are said to be revered in Hinduism.
As a result, the area draws pilgrims from all over India – most famously The Beatles – who come to be purified by the waters, join yoga and meditation retreats, or to spend time with Jamaican spiritual teacher Moojibaba.
"(The Ganges) is the lifeline of India," says Kumar. "A lot of people depend on the river, so they worship it. Everyone has a wish that once in a lifetime, they can come to take a dip here."