In Dubai, the new is easily coveted – from skyscrapers to sports cars. So it may come as a surprise that the latest luxury hotel is also its oldest.
In April, the Queen Elizabeth II (QE2), the world's most famous ocean liner from the 1960s, opened its gangways to guests once more. But its cruising days are over – this time around the QE2 is staying put in its new home, the city port of Mina Rashid.
The ship's age gives it an edge in Dubai's hotel market, says Hamza Mustafa, CEO of PCFC Hotels, the government-owned company operating the ship.
"It's a new offering, it's something with a lot of historic value," he tells CNN. "Dubai is a new city and this is one of the oldest things here."
In fact, the ocean liner, launched by the UK's Queen Elizabeth II in 1967, is 4 years older than the formation of the UAE itself.
Preserving the ship's history
The ship's historic value is its selling point when you stay here. There will be no sky-high tennis courts, aquariums or ski slopes, as offered elsewhere in the city.
Instead, its main attractions are firmly grounded in the past: a museum mapping QE2's 39 years of service, a chance to walk the same decks as Nelson Mandela and David Bowie, and for some very special guests – "by invitation only" – there is the opportunity to sleep in the royal suites where Queen Elizabeth II and her mother once rested their heads.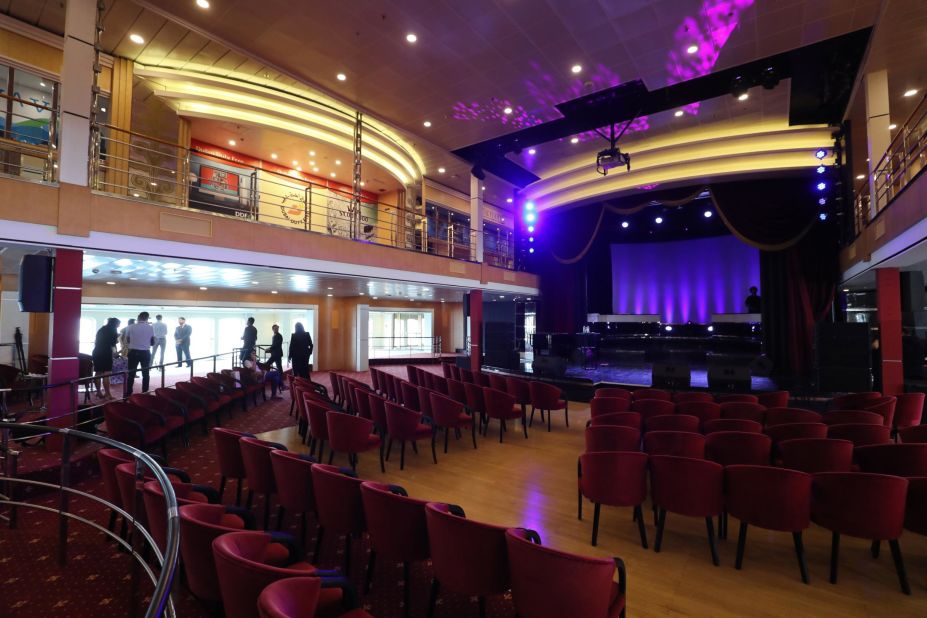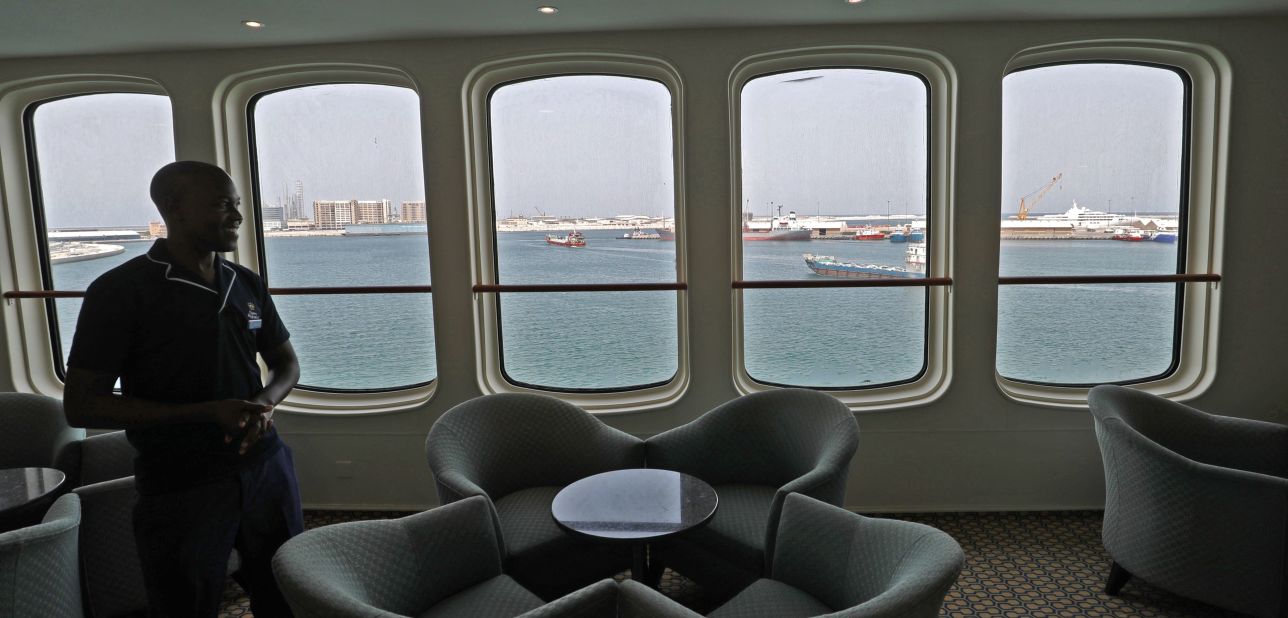 The QE2 relaunches as floating hotel in Dubai
224 rooms are currently open for business – rising to at least 600 by the hotel's grand opening in October – and prices start at $150 per night. The rooms have dark wooden paneling as they did in the sixties, and some still boast the original portholes.
The retro touches don't stop there. Of the 13 restaurant and nightlife venues, the Chartroom Bar will still serve chicken liver mousse and Eton Mess, the Golden Lion pub has beer on tap, and the casino is lined with original slot machines (albeit now purely decorative).
"(The QE2 is) a very famous lady to us, she's one of the most famous ocean liners ever to exist," says Mustafa. "We have glorified her, we have brought her back to her might, we have focused on things that make her famous… For her to be a museum first, and then a hotel."
"When you walk on board you feel like you've stepped into a time capsule – the time is 1969, her maiden voyage," he adds. "You get a sense of the history, of what the ship was."
Traveling through time
The QE2 was born 5,000 miles away from the docks of Dubai in the shipyards of Clydebank, Scotland. For more than 30 years she was Cunard Line's flagship, marking the end of the golden age of ocean liners and the start of today's world of cruising.
When she was sold to Dubai, the 963-ft (293.5m) liner had carried 2.5 million passengers, completed 812 Atlantic crossings and 25 world cruises. She had traveled further than any other ship – almost six million miles, according to Cunard Lines.
Crowds followed the QE2 wherever she went. Over a million watched her sail into Liverpool for the first time in 1990. She drew spectators in ports worldwide, from Australia to Japan, to Singapore and Hong Kong.
Her fame surged following visits from pop icons like the Beatles' Ringo Starr and George Harrison, and film stars such as Elizabeth Taylor and John Travolta.
She even had a spell as a troopship during the Falklands War in 1982, when her decks became dormitories for 3,000 British soldiers.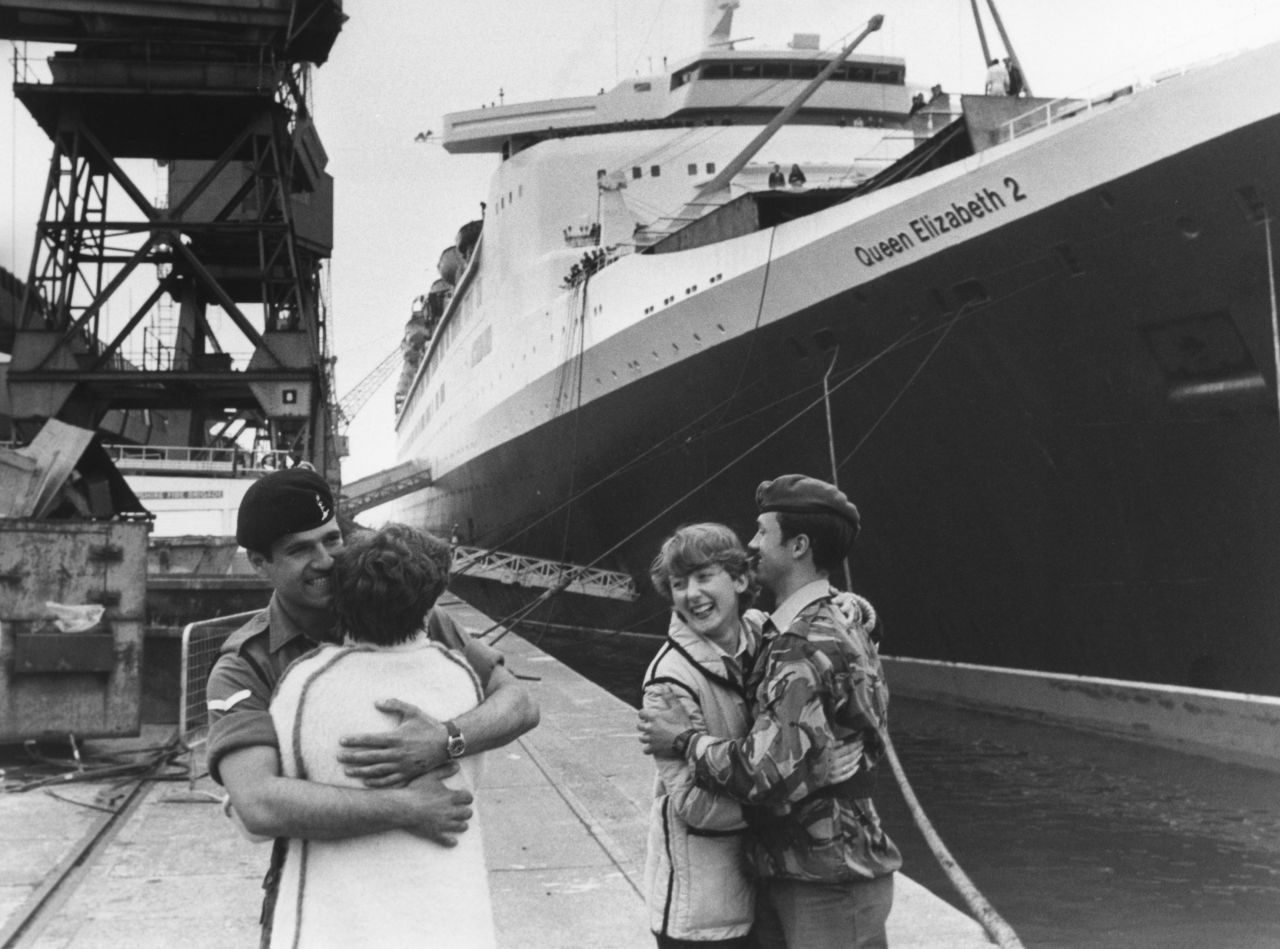 The QE2 became an ambassador for Britain says Eric Flounders, a former press officer for Cunard. This is why it may seem odd that she's ended up in the Persian Gulf.
"The connections to Dubai are zero," says Flounders. But he adds that few other places would have been willing to invest so much in the ship.
"There's the cost of purchasing the ship in the first place, then there's the cost of converting it to a hotel that people want to stay in," he says. "I just don't think the money in the UK would ever have been forthcoming."
A boost for tourism
Dubai has spent a fortune on the ship already. She was originally bought for $100 million, and PCFC's renovation has cost more than that again, requiring a total of 2.7 million man hours.
But the UAE as a whole is more than willing to invest in tourism. After all, according to government figures, total contributions to the travel and tourism sector in the UAE generated $43.3 billion in 2016 – 12.1% of GDP. It also provided 5.4% of the federation's total employment.
Dubai is the main attraction, with close to 16 million tourists visiting in 2017 according to Dubai Department of Tourism and Commerce Marketing. Mustafa believes the QE2 will boost this even further – especially since it will appeal to the British, the third largest source of tourists in Dubai.
"Adding this attraction to Dubai creates another reason why you'd stay one day longer," he says, "and for a city that is so dynamic and focusing on tourism, it's all about attractions and why you'd come here."
For Rob Lightbody, a loyal fan of the QE2 and the founder of a website for QE2 enthusiasts, the lack of a historical connection between the ocean liner and her current residence doesn't phase him. The QE2 still has her allure, and he is itching to get back onboard. "I'll be going as soon as I can afford to," he says.
What matters most to Lightbody is that the ship still looks like it did when he first boarded in 1987, when he was just 14 years old.
"It's still the ship that we recognize," he says, noting with a sigh of relief that the previously mooted plans of a mirrored glass funnel full of penthouse suites didn't come into fruition. "I think all the fans are over the moon."
Maritime historian, Chris Frame, who has written extensively on QE2, agrees. He calls it "a respectful refit," that preserves the essence of the ship, while modernizing the cabins to include the amenities expected today, such as flat-screen TVs, WiFi and coffee machines.
"To see QE2 coming back to life after a decade of layup is wonderful," says Frame. "I hope the ship has a highly successful career as a hotel, she is a global icon and deserves to be preserved for future generations."
Business Traveller: Richard Quest revisits the QE2 after 29 years