The Gulf of Naples is rightly regarded as one of the world's most beguiling destinations: the vast, boisterous city, curled around the base of the dozing volcano, Vesuvius, peppered with the deep green of lemon trees and cooled by the glistening Tyrrhenian Sea.
It could be a metaphor for modern Italy.
Heartbreakingly beautiful, at times chaotic and unruly – pristine, grubby, cherished and neglected in equal measure.
Thousands of years of history grappling with modernity in an endless scrap for supremacy. And all the while, there's the unspoken knowledge that explosive energy bubbles and simmers just below the surface, waiting to erupt.
More than 8.5 million passengers passed through Naples' modern airport in 2017, and many will have headed straight to Positano on the nearby Amalfi coast, the ancient ruins of Pompeii and Herculaneum, the picturesque town of Sorrento or the islands of Capri and Ischia.
A few, though, will have boarded a ferry to a less-heralded destination.
Halfway between Ischia and Naples sits Procida, the smallest island in the bay. Capri, bedecked with luxury villas and upscale boutiques, has catered for tourists since Roman times; Ischia's hot springs see visitors flocking from all over the world for a restorative dip in the sunshine; Procida, however, wears its attraction more lightly.
Just over 2.5 miles square, wrapped by vertiginous cliffs, the little island has remained relatively untouched by progress for centuries. Ferries arrive at a port filled with fishing boats rather than luxury yachts and overlooked by colorful but simple apartment buildings draped with washing lines.
Movie magic
But while you may not have heard of Procida, if you're a cinephile the chances are that you will have seen it. The island features in 1999's Academy Award-nominated thriller, "The Talented Mr Ripley," but its most prominent and feted role is in one of Italian cinema's modern classics, "Il Postino (The Postman)."
Released to worldwide acclaim in 1994, with an Oscar for best original score among its many awards, "Il Postino" is a gently comic, poignant tale of a simple postman and his relationship with the famous Chilean poet, Pablo Neruda, exiled on the quiet island. The eponymous hero is tasked with delivering the poet's mail, and the pair strike up an unlikely friendship.
Several scenes in the movie feature the star, Massimo Troisi, pedaling or pushing his bicycle up and down steep, narrow, dusty lanes.
Getting around the island remains an interesting challenge today. This is not a place for cars. The first signs of this are visible the second you step off the ferry: Almost all the cars have their wing mirrors pushed in; many also have telltale scratches along their doors.
If you think you've seen narrow streets, wait until you see Procida. Drive anything bigger than a Fiat Cinquecento around here and prepare to get stuck. Even small cars leave barely a couple of inches to spare as they squeeze through implausibly tight gaps.
Perhaps sensibly, driving is simply not an option on Procida unless you're a local resident; no one else is allowed to drive a car.
While little cars do buzz around the island, and a narrow local bus winds from one coast to the other, the best way to get about is on two wheels.
Like anywhere in Italy, the scooter is a big feature of life here. But although the iconic Vespa remains ubiquitous, its monopoly is being challenged in an unexpected way.
Procida has pioneered electric bicycles, or e-bikes. Wherever you walk, the swift, almost silent machines breeze past, their riders relaxed and upright, cruising up the kind of hills that would have seen the hero of "Il Postino" give up and walk.
E-bike boom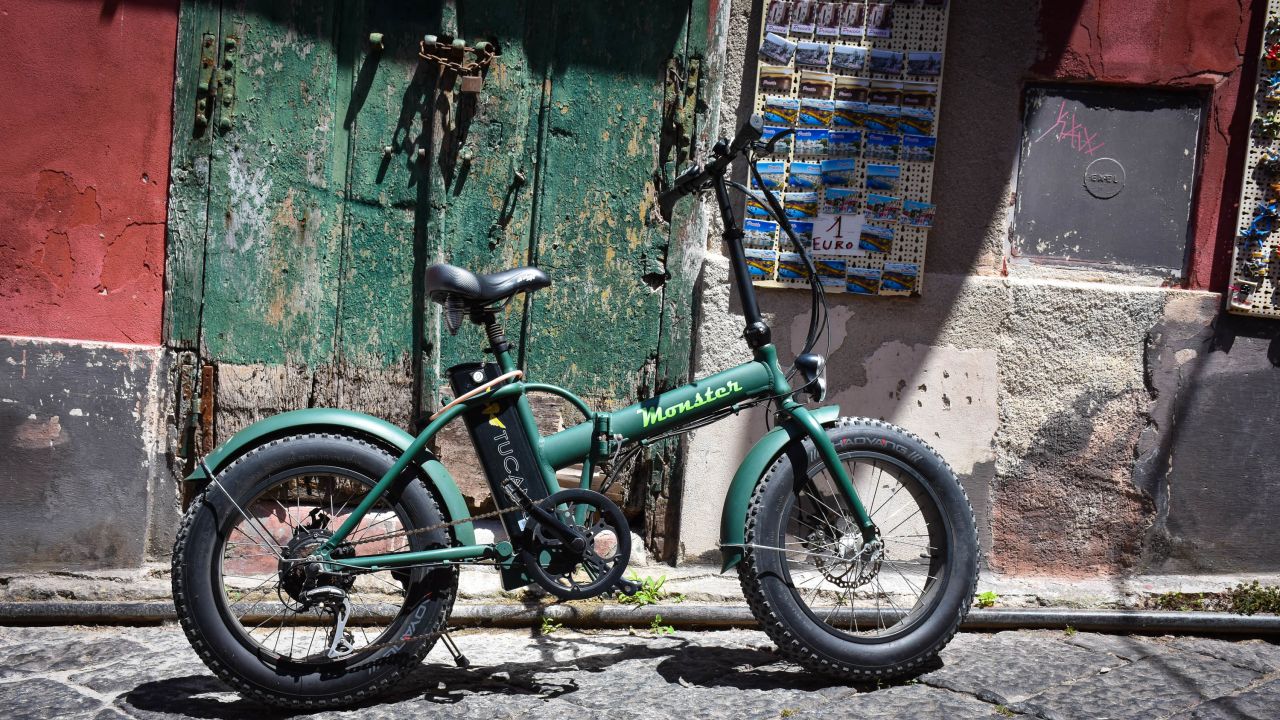 Giuseppe di Comito runs Pit Lane, a store specializing in e-bikes as well as motorcycles. He reckons there are as many as 3,400 e-bikes on the island, among a population of little more than 10,000.
"People from the island use them as an alternative means of transport, just to go shopping, or pick up their kids from school," he explains.
Pit Lane's customers start as young as nine or 10 but extend well into the island's older demographic.
"The oldest I remember is 74," says di Comito. "The bikes are popular among people who don't have a license for a scooter, but for people who are a bit older, like me and my wife, even if we have a scooter, we almost replace it with the e-bike.
"In the summer there are days when you're not allowed to drive any motorized vehicles, so that's another incentive to use one instead of a scooter."
Domenico Ambrosino is a veteran local journalist, renowned on the island for his persistent pursuit of those in authority.
"My nickname is 'Chiodo' ('Nail')," he laughs. Ambrosino is wary of the e-bike boom. "It is becoming a problem, because they are basically motorcycles that look like bicycles, but people still ride them like bicycles."
Di Comito is less concerned.
"Of course, I can understand people feel a bit overwhelmed, so now they are trying to take control of it," he says. "Now e-bikes are more popular across Europe, so there are things like insurance for electric bike riders, but that isn't compulsory.
"The bikes have speed limiters for example. People have to remember to follow the rules of the road, but I don't think it's a big issue."
Away from e-bikes, Ambrosino's bigger concern is the wider impact of tourism on the island's identity.
"There was a period in the 1950s when Procida was a paradise, just the sea, and fields. We were sailors, and there was no reliance on tourism like in Capri or Ischia," he explains. "Now is a difficult time: On the one hand, tourism is slowly developing; but on the other there is nothing to contain and manage the tourists."
Now in his 70s, Ambrosino recalls a meeting with a local official.
"When I was 17, I remember reading that the local president of the Italian tourism association said he was actually against tourism. I went to interview him, and I said, 'excuse me sir, you're the president of the local tourism authority, and you don't want to promote tourism, why?' He told me if tourism arrives, the location is gone. 'I'm for the location, not the tourists', he said."
Natural rhythm
Procida's most iconic spot – and a key location in "Il Postino" – is the harbor village, Corricella. Ambrosino believes the village's stunning bay embodies Procida's dilemma.
"Up until five years ago, Corricella was a paradise, because you could only access it by boat, cars could not reach it. Now, there are maybe 10 restaurants, ice cream parlors; it's becoming a banal place for tourists. It's losing its identity, its charm."
Ambrosino acknowledges that the clock can't be turned back.
"I want a functioning transport system, because people need to get around, but we need to regulate traffic," he says. "We need to maintain our health, our security, and our identity. This used to be a very private, tranquil place, with a natural rhythm."
To city dwellers at least, Procida appears a time capsule of inimitably Italian charm. Nevertheless, it is easy to see why Ambrosino is so passionate about defending its identity.
Il Postino has a tragic backstory: Troisi, who also co-wrote the movie, put off a heart operation to complete filming. The day after it was completed he died suddenly, never to see the rapturous reception it received. It is a desperately sad end to a bittersweet tale.
The movie played a key role in attracting new visitors to Procida; the hope is that its quiet beauty can be saved for future visitors and locals alike.