Purple lightning, psychedelic sunsets, glowing clouds and swirling Northern Lights – when it comes to crazily beautiful natural phenomena, airplane pilots have a front row seat.
For the rest of us wanting a glimpse of what life is like in the cockpit 30,000 feet above the planet, there are the incredible photos taken by Dutch pilot Christiaan van Heijst.
Van Heijst has been documenting the scenes outside his cockpit window since becoming a pilot at the age of 20.
"It's like a peaceful solitude just flying high up in the sky away from the rest of the world and the planet," he tells CNN Travel.
Capturing the moment
Determined to become a pilot since childhood, he got his first job 14 years ago, flying in Africa and Afghanistan.
The pilot brought his camera along to document the experiences. "I needed to capture them because I realized that if I don't take pictures of it, if I don't capture it, it will be gone forever," he says.
Van Heijst quickly realized that photographing from the plane was just as exciting as photographing on the ground.
"It started with documenting these adventures back in Africa and Afghanistan, but I broadened my photography to documenting the whole feeling, the total feeling of being high up in the air – and being in an environment where only a very few people are able to enjoy the views," van Heijst explains.
The spectacle of cockpit panoramas proved to be far more exhilarating than the view from a passenger window.
As van Heijst says: "The whole experience is much more interesting if you have these big windows around you and you're physically controlling the airplane."
Natural phenomena
Now a Senior First Officer on a Boeing 747-8 freighter, van Heijst has photographed the sun rising and setting, moonlight illuminating rivers, dramatic desert landscapes, striking cloud formations and some of the world's most spectacular natural displays.
He says the Northern Lights stand out as the most memorable.
"The Aurora, that's just always beautiful no matter how often I see it, it's just always fantastic," he says, none more so than the first time he witnessed it north of Alaska.
"We were flying, I think, for at least eight hours under a huge dome of Northern Lights," he recalls. "There was just a lot of Arctic ice and all the Northern Lights were being reflected in the ice below. And this was just unbelievable."
While the Aurora can be seen across the world, watching it from the cockpit feels like a private show, he says.
"We were spectators of a massive private show of Northern Lights and this is something that really makes me feel very privileged," van Heijst adds. "And yeah, I have to capture that with my camera."
The photographer also shot an amazing image of St Elmo's Fire – another incredible natural phenomenon that occurs during electrically-charged storms.
"The skin of the airplane starts to grow purple or pink and you can actually see it sometimes around the windows," he says. "And because we're always flying in the clouds when something like this happens, you see just the whole area around the airplane is turning purple, and sometimes you just see the glow around the window edges. And this is really special, this is really beautiful."
The solitude of flying
In nearly a decade and half of flying, he's been perfecting his photographic techniques on the go.
"First of all, flying the airplane has top priority," explains van Heijst. "So I only take pictures when I can."
His striking images are usually long exposure shots. The pilot props his camera up on the glare shield, using a wide angle lens to capture as much of the scene as possible.
"I'm still learning and evolving," he says. "Because there is no room in the cockpit for tripods, I don't use any suction cups, so I just hold the camera there, press it into the corner and just hope for the best."
He also has to battle the unpredictability of turbulence.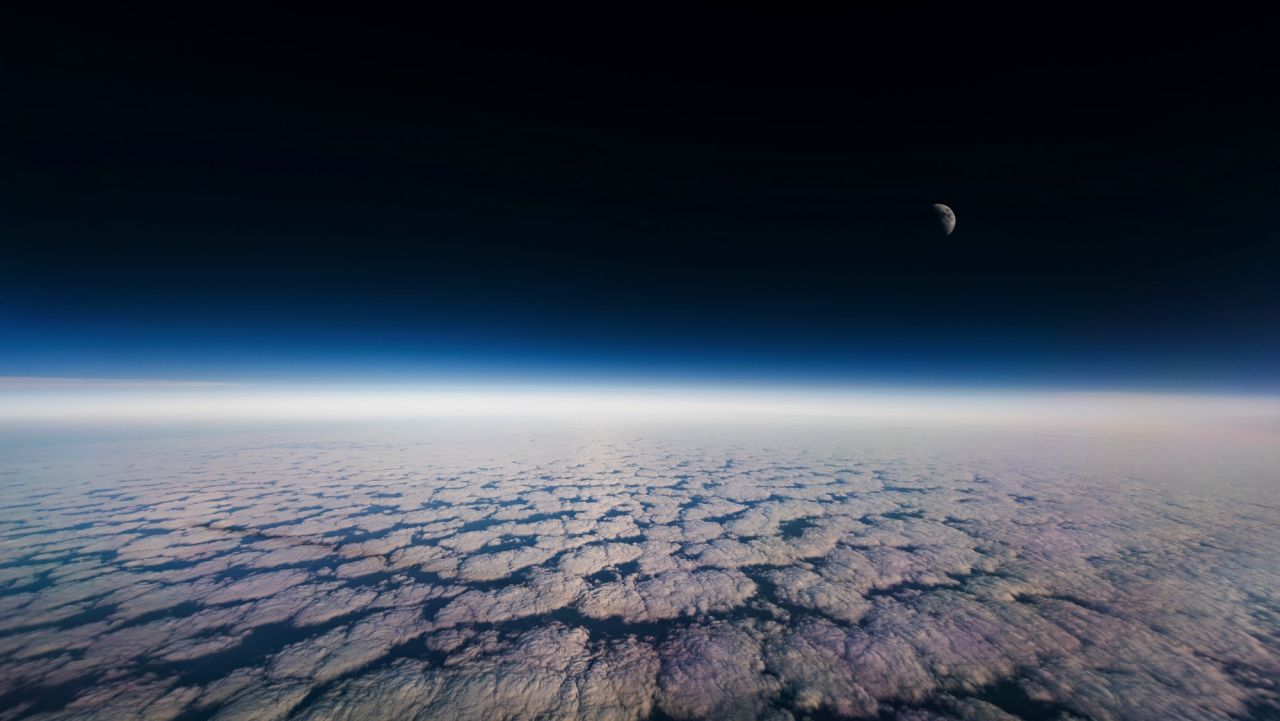 Often the breathtaking views speak for themselves, but occasionally van Heijst makes use of the interior of the cabin to complement the spectacle of the sky outside.
Capturing this contrast on film is a satisfying – and revealing – experience for the pilot.
"These pictures where you see partially the cockpit and partially the outside world, I think this is one of the few ways I can express in a photograph the feeling of solitude," he says.
Unknowable world
"Since 9/11, passengers are not allowed to come into the cockpit anymore," explains van Heijst. "So we as pilots we find it really difficult to convey the beauty of flying, especially with an industry that has its huge downsides, especially on family life etc."
The pilot's colleagues are grateful he can capture their daily experience: "They use these pictures to tell their families what it is like."
Despite his co-pilots being so supportive, van Heijst generally avoids getting them in the shot.
"Even though many of the pilots, they actually don't mind being in the photos, I try to minimize the human elements in the cockpit pictures because sometimes it's just distracting from the actual view," he says.
However, in some photographs, van Heijst chooses to capture a colleague at work – underlying the contrast between "a very technical environment, the cockpit, and the world outside."
Social media takeover
As he continues to share his photographs on his Instagram account and website, van Heijst's work is becoming increasingly popular.
"It's partially people who are pilots themselves, or who love the views we have as pilots," he says.
"But more and more it's also people who just have a love for aviation, or even people who say 'I don't even like airplanes, I don't even like aviation in general.'"
If the good feedback continues, van Heijst hopes he can make photography a second career – although he remains committed to flying.
"I'm now setting up basically my business, because I hope that my photography will become a second job or second career, because I realize that there's so much potential and I realize that so many people, all over the world, are just fascinated by these views," he explains.
Persistence and determination
For fans who might want to follow in his footsteps, either as a pilot or photographer, van Heijst has a universal message:
"If you want to achieve anything in life you always have to work hard, it's super cliché but it's true," he says.
As for photography, van Heijst says it is important to remember it's a learning process – and your images will improve as you practice and develop your style.
"It takes a long breath, a lot of effort, and willingness to fail very often […] you will encounter situations where it's frustrating you couldn't capture it, but persistence, that's the best word to describe it."