Few aspects of travel are as universally enjoyed, discussed and compared as food.
But while it's tempting to call every special experience "unique," most aren't.
We wanted to discover some truly sensational, once-in-a-lifetime meals.
So we asked some of the world's best-traveled eaters.
Here are the rules: Describe one meal that stands out from all others you've experienced in all your years of globetrotting that you know can never be repeated.
And here's what they said:
10 courses of sensory brilliance, Spain
Stefan Chomka, editor, Restaurant magazine
A meal at Etxebarri is all about the senses.
You wind through the verdant Atxondo valley and the foothills of the snow-capped Mount Anboto to reach this beautiful old brick restaurant, and you smell it before you see it.
Everything, from the specialty baby eels to the ice cream, is prepared over a wood grill and has a perfumed lick of smoke to it.
I remember the procession of small dishes: smoky raw chorizo, razor clams with twinkling bright green peas, a single salted anchovy on bread, brackish and bursting with umami.
By course 10 my taste buds were tired from all the dancing but still I wanted more, and so came a hefty chop of aged Galician beef accompanied by the simplest of salads.
It remains the finest steak and the best salad (it was comprised of only lettuce, wafer-thin white onions and a light dressing) I've ever eaten.
Etxebarri's remote location, an hour's winding drive from San Sebastian, means it's unlikely I'll ever make a return pilgrimage, but that once-in-a-lifetime meal is seared onto my food memory as if I'd put my head onto the grill myself.
World's 23 best cities for street food
Tribal, primal barbecue, Samoa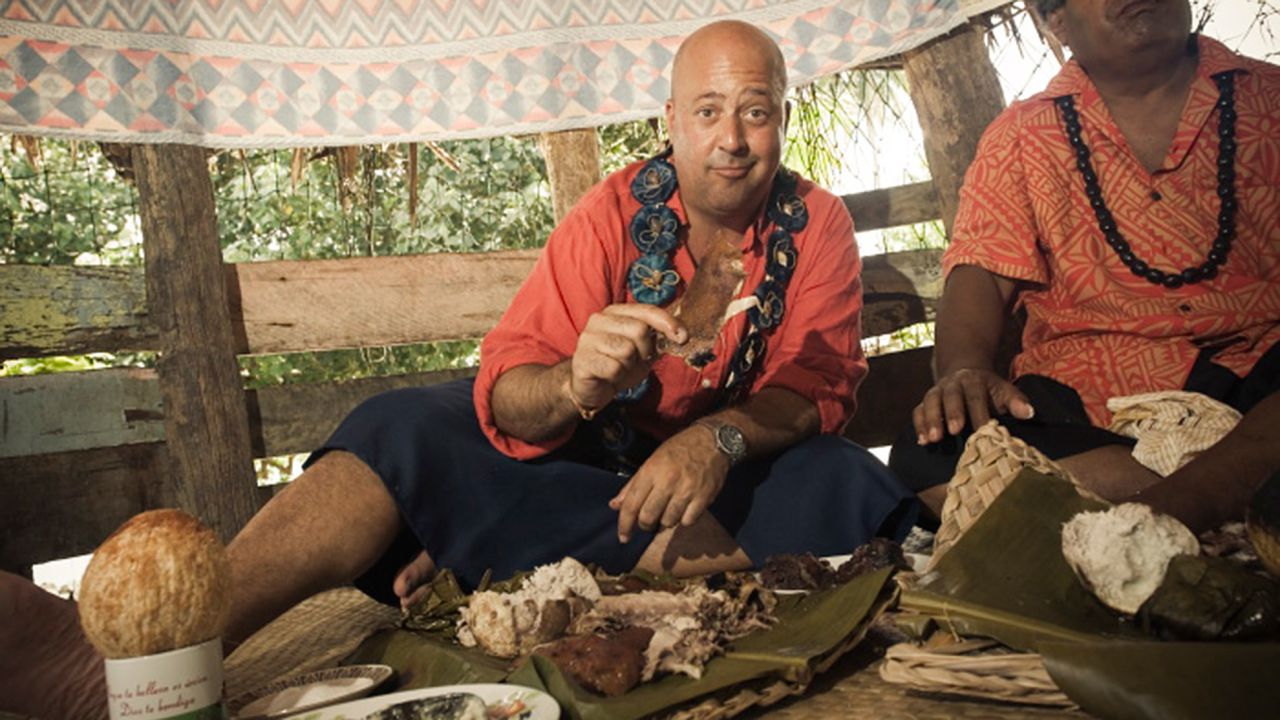 Andrew Zimmern, "Bizarre Foods" host, TV personality, chef, writer, teacher
Asking about "once-in-a-lifetime experiences" is how I like to start every production meeting so this is hard, I'm so privileged to enjoy so many.
But the tribal experiences are irrefutably special, singular and unique.
Dining with Samoan tribespeople on barbecue bushmeat, sea eels cooked in palm leaves on hot rocks buried in the ground seasoned with lime and coconut milk made from the trees above our heads, giant clams the size of basketballs, raw tuna sliced alive in front of us for true poke, chocolate drinks made from freshly harvested cacao…
I would put that meal up against anything I've ever eaten, or anyone else has for that matter.
Smartphone-free serendipity, Spain
Amy Chen, managing editor for travel, LinkedIn
Before we relied on smartphones to tell us where to go or what to eat, my then-boyfriend and I stumbled on a neighborhood tapas joint in Barcelona's L'Eixample district, La Bodegueta Provenca.
It had all the signs of a disaster.
Our seats were wedged by the open door and our ponytailed waiter was in no rush to give us a menu or to serve us – or anyone.
But eventually the small plates started trickling in: crisp patatas bravas with spicy aioli, blistered shishito peppers, pan con tomate (served with tomato halves that we rubbed on perfectly toasted bread).
It was the seared foie gras though – and, it turns out, the charmingly forgetful waiter – that lured us back that week.
I still dream of the foie gras seven years later.
When I ask my now-husband if he still remembers that night, he smiles: "I never saw it coming. I think that's what makes it so unforgettable."
Travelers these days try so hard to "eat like a local" – that meal was one of those rare times when we truly felt we achieved that without anyone first showing the way.
5 ways to decode a TripAdvisor review
Superstar soiree, United States
Susan Ungaro, president, James Beard Foundation
Picture a black-tie evening at the legendary Four Seasons in New York where several of America's best award-winning female chefs cooked up a feast.
These "goddesses of food" included James Beard Award-winning chefs Barbara Lynch, Melissa Kelly and Sherry Yard along with Michelin-starred chef Dominique Crenn and Top Chef winner Kristen Kish.
My table companions – other powerful women like Martha Stewart and Tyra Banks – and I marveled over each artistic and delicious course accompanied by perfect pairings from award-winning winemaker Merry Edwards.
This finale was even sweeter – diners at this James Beard Foundation fundraiser, the Women In Whites Gala, helped raise over $20,000 for aspiring women chefs by bidding on Cronut King Dominique Ansel's Mont Blanc Chestnut Cream cronuts!
Mountain of beans, Nepal
Phoebe Smith, travel writer, author, editor of Wanderlust travel magazine
It wasn't the food that made this meal memorable, more the location.
I was in Everest Base Camp, staying for two nights, after a 12-day hike to get in.
I'd suffered mild altitude sickness, food poisoning and a Khumbu cough (throaty cough from the dry, dusty air) en route and by the time we arrived I didn't feel like eating a thing.
But then the chef cooked me up a plate of baked beans.
And as I sat there looking out at the Himalaya stretching endlessly onwards from my tent – their height so enormous that the climbers on the Khumbu Icefall looked like flotsam on an ocean of ice – sherpas waving as they passed and climbers shouting cheery hellos, I began to eat.
It may have been a simple meal, but one I genuinely will never forget.
Portugal: Europe's best-kept secret with foodies
Lobster time, St. Barts, French Caribbean
Katie Lee, "The Kitchen" and "Beach Bites" host, cookbook author, TV food critic, cook, novelist
For me, memorable meals are less about the food and more about the people.
While filming my show "Beach Bites," I had a dinner party for my crew at a little restaurant called La Langouste in St. Barts.
It's right on the beach and we had the house specialty, grilled lobsters.
It was towards the end of our run and after a month of traveling together we were like a family.
We had a lot of laughs (fueled by a lot of rosé).
I'll never forget what a special moment in time that was for me.
Perfect pre-nups, Philippines
Chris Dwyer, Hong Kong-based freelance food and luxury travel writer, @chrismdwyer
My dining holy trinity of perfect food, atmosphere and company came at Antonio's, a beautiful colonial-style mansion not far from the jaw-dropping lake volcano of Taal in the Philippines.
European flavors combined with produce from their adjoining farm, meaning the slow-roasted suckling pig – lechon de leche – was even more memorable thanks to its rub of local aromatic herbs and spices.
Dark chocolate tart was infused with Jade of Africa tea and served with a sublime poached orange.
Moonlight, my fiancee and the sound of gently running water from their koi carp ponds completed the culinary epiphany.
Whilst we could – and doubtless will – return, the perfect symbiosis of food and company in the heady few months before getting married will never be replicated.
Table-shaker, Chile
Qin Xie, food, wine and travel journalist, qinxie.co.uk
A friend and I were wandering aimlessly around Santiago at twilight, a city neither of us knew, until hunger brought us to a restaurant in Barrio Bellavista – a tiny Peruvian place.
A couple of pisco sours were ordered with the generous seafood.
The addictively tangy leche de tigre that came in a martini glass and begged for everything to be dipped into it was our favorite.
As the owner came over to explain they had only been open for three days, a mini earthquake struck – a little rumble akin to a train passing by.
Out of the many gastronomic experiences I've had, this is the only one where the earth actually moved.
James Durston is a travel writer, editor and digital entrepreneur living in Hong Kong. Follow him @jedurston and read more about his work here: jamesdurston.com.