Plenty of cities, states and countries around the world spend millions of dollars on advertising campaigns encouraging people to travel there.
But not Nebraska.
The central US state is better known for corn production than for must-visit destinations.
Unlike nearby Kansas, it isn't the setting of a famous movie such as "The Wizard of Oz," and unlike Oklahoma, it doesn't have its own Broadway musical. There's no instantly recognizable Mount Rushmore or Gateway Arch to use on postcards.
That's OK, though.
The Cornhusker State's new tourism slogan is actually an anti-slogan: "Honestly, it's not for everyone."
The campaign, which launched in October 2018, went viral overnight – but it was the result of a yearlong campaign by the state's tourism board, designed to educate people about Nebraska while also showing off a sense of humor.
"We knew we had to be innovatively disruptive in order to begin to change perceptions," John Ricks, executive director of the Nebraska Tourism Commission, told CNN Travel. "Being the least likely state in the country for people to visit, we built the campaign by talking to out-of-staters and translating their generally unfavorable perceptions into an admittedly different, yet totally honest, approach."
Before launching the campaign, Ricks and his team polled people in Nebraska and in neighboring states to find out what they associated with tourism in Nebraska.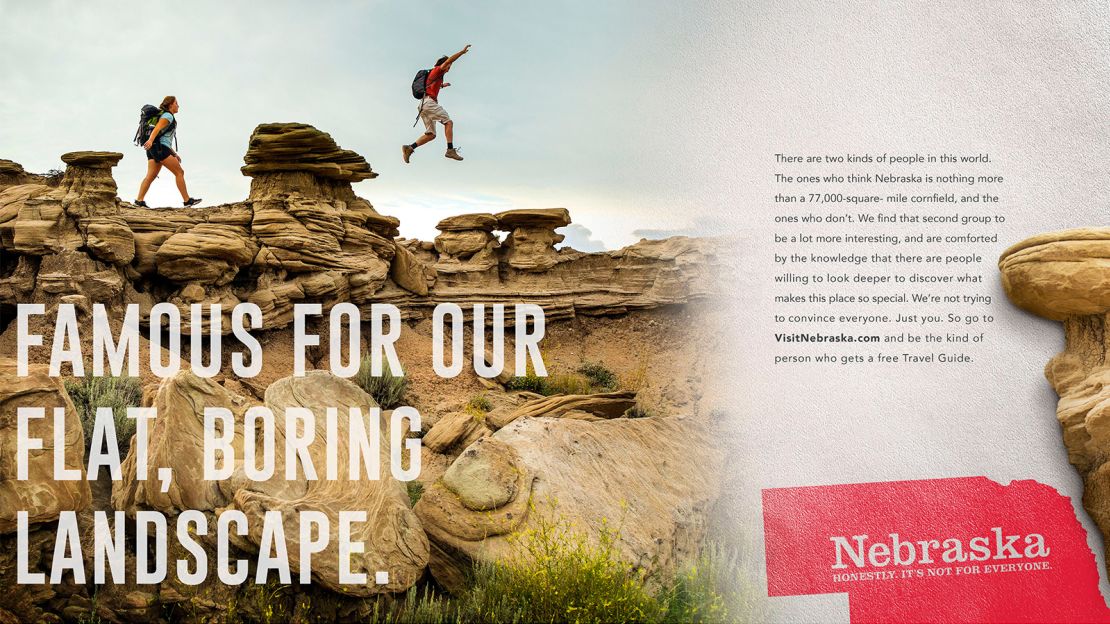 The answer? Somewhat depressing. Even some locals said "there's nothing to do here."
Even more of a downer was the data from a 2017 survey by MMGY which named Nebraska as the least-visited US state.
Rather than get discouraged, though, Nebraska decided to turn the comments into the campaign, injected with a dose of self-effacing humor.
In the ads, slogans like "There's nothing to do here" and "Famous for our flat, boring landscape" are paired with images of Nebraska's waterfalls, rock formations and other decidedly not-flat natural features.
Will this clever, viral campaign help Nebraska to move up in the ranks from No. 50 to No. 49? Maybe. Or maybe not. Whatever.