When walking down the Croisette, Cannes' famous promenade, take a moment to think of the concierges.
During the film festival in France, this cabal of indefatigable problem-fixers will be working in overdrive, handling just about anything the rich and famous can throw at them during their travels. Take the most outlandish request you can imagine. Double it. These guys – and they are mostly men – wouldn't bat an eyelid.
They've seen it all, and they're in the business of making the impossible happen. If they're wearing golden keys pinned to their lapels, especially so.
The golden keys are the insignia of Les Clefs d'Or, an international association of elite concierges. Put simply, they are the best of the best. First formed in 1929, their understated motto "service through friendship" belies the power this organization has.
Between them, this network of nearly 4,000 members from more than 50 countries can fulfill unimaginable requests in most major cities around the world. (Think "The Grand Budapest Hotel" and you'd be on the right track. Les Clefs d'Or were the thinly veiled inspiration behind Wes Anderson's Society of the Crossed Keys.)
"When you're a concierge and a Clefs d'Or, it opens some doors that are usually closed," says Thierry Revel, president of the French branch of Les Clefs d'Or. Every top concierge, their contacts, their resources, are only a phone call away.
With over 100 golden keys, the French Riviera has one of the highest concentrations of Clefs d'Or in the world – perhaps unsurprising, given the organization's history.
It was in the Grand Salon at the Carlton Hotel, that capacious grand dame on the promenade, where concierges from nine European countries – Belgium, Denmark, France, Germany, Ireland, Italy, Spain, Switzerland and Great Britain – came together in 1952 to sign an agreement making Les Clefs d'Or an international entity.
It never looked back.
On the 65th anniversary of the signing, we sat down with Cannes' top Clefs d'Or members at the Carlton, the Martinez and the Majestic to talk outrageous tales and extraordinary careers. All interviews were edited for length and clarity:
Maxime Nerkowski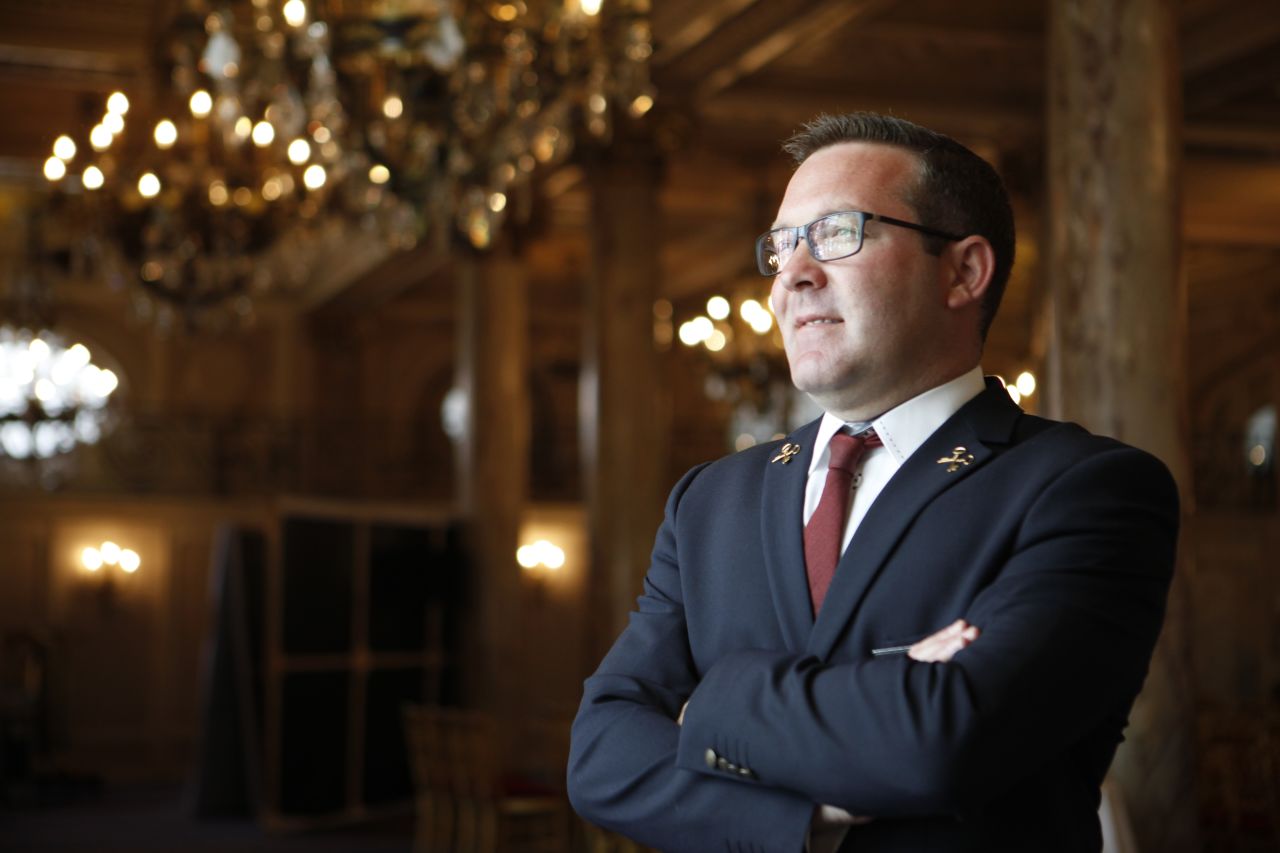 Maxime Nerkowski is head concierge at the InterContinental Carlton Cannes Hotel. He started as a bellboy at the Four Seasons Georges V in Paris. After training in Montreal and interning in Paris, he moved to the Carlton in 2002. In 2017 he became president of the French Riviera association of Les Clefs d'Or.
Why did you want to become a concierge?
First of all I love to serve the people, and to be aware of the city. Every day I'm doing something different. I don't know what I'm going to be doing in the morning. It's a dream to be a concierge, but to be a concierge Clefs d'Or at the Carlton is something.
Why is it useful to be a member of Les Clefs d'Or?
Whether I call a hotel in Italy or in New York, I can ask for the concierge. It works so easily when you speak exactly the same language. You're speaking with a friend.
How does The Carlton prepare for the festival?
It's a big old organization, as you can understand. We start making a lot of space for deliveries 15 days before, at the beginning of May. You can get a film; you can get something valuable. This part is stressful because I don't want to lose anything.
What's your best festival story?
An actor called me from the airport saying he needed a massage.
"Of course," I said, "May I get your last name?" He said, "I am Pierce Brosnan."
I said, "You mean Pierce Brosnan as in James Bond?" He said, "Yes, of course, Pierce Brosnan from James Bond." I said "I'm Maxime and I'm taking care of it."
He arrived at the hotel and asks "Where's Louis?" There's no Louis at the Carlton.
"I spoke with someone here at the concierge desk," he says. I said, "Yes, I'm Maxime, you just spoke with me." 
"I remember you," he says, "You told me that I'm James Bond. So I can tell you that you are Louis."
For the rest of the film festival he called me Louis. It became a game.
At the end of the festival he was shooting a film ("The Love Punch") inside the hotel, and he comes to see me and says, "You know, Maxime, it would be good if you could be in my film." (Mercifully, Nerkowski was allowed to play himself.)
What's the hardest request you've ever fulfilled?
I received a request at 11 p.m. one night to organize a private plane. Not a small private plane, though. It was for more than 100 people, leaving in the morning in eight or nine hour's time. Except it was not from Cannes, but from Morocco to another country.
The request came from a person who was taking care of a big family, a royal family, who was on vacation at The Carlton. It was quite a challenge, as you can understand.
What's the most fulfilling part of your job?
Honestly, it's when I'm challenged. Because it's part of the job.
What's the strangest request you've ever received?
I got a really strange one to buy a bed for a dog. I don't know if in other countries it's normal, but in France it's really, really strange.
When the dog arrived I was like, "OK, I understand now why I just bought a bed for him." It was the size of a small horse.
What's your one tip for surviving the film festival?
Try to sleep. It's challenging. Prepare yourself as you'll be sleeping three hours a night. Also, I'd say ask a Clefs d'Or member for help, because I see so many lost people.
Roberto Cerina
Roberto Cerina is the longest-serving concierge at the Grand Hyatt Cannes Hotel Martinez. Cerina, who trained at the Savoy and the Barclays Hotel in London, first became a concierge at Hotel Du-Cap Eden Roc in 1985 before moving to the Martinez in 1990.
Why did you want to become a concierge?
I came to it by accident, because my education was in industrial chemistry – nothing to do with hospitality.
The first time that I knew I really wanted to become a concierge was when I met a concierge in London at the Barclays Hotel. I realized he was really somebody, "the man" in the hotel.
What do you remember about becoming a Clefs d'Or?
I was quite nervous, because at the time Les Clefs d'Or was much more stiff. Today we must be 3,800 worldwide and about 50 countries. At the time there was 2,000 members and the people who were holding Clefs d'Ors were a bit old-fashioned in their ways.
You're supposed to have two godfathers who present you to a committee, and they explain what kind of person you are. You have to talk a little bit about yourself. I was a young concierge, of course I was impressed by these people who were listening to me. To me, the values of the association are so important.
The main value of the association is as friendship. The purpose is to enrich each other by sharing experiences. I think a concierge has to be a Clefs d'Or.
How does The Martinez prepare for the festival?
This is my 33rd festival. Every festival is different, because everything keeps changing. We receive thousands of items of clothing, for instance. We have big showrooms for Georgio Armani or Roberto Cavalli or Dolce and Gabbana, or L'Oreal with all their top models.
Of course, this is not just jeans and stuff, they're incredibly valuable. We have Chopard, De Grisogono as well. You have to be careful because of the security; you have to make sure that you are very discreet, you don't say things that don't have to be said.
When you really get in to the festival then it's really very speedy. You get loads of requests, the kind of requests for things that the guests need yesterday. It's not always easy but it's quite exciting.
What's your best festival story?
A few years ago a very, very popular film star was in need of two Rolex Daytona watches of a specific color. One for a lady, one for a man. The request came in in the morning, and they were needed for five o'clock that evening.
We found the two watches in Paris. The watch broker was to bring them down, but all the planes were full and it would be too long by car. So we were able to reach the chairman of the board of the airline company, who unlocked a seat for this person. Then we had to pick him up on a motorbike from the airport. We were really working by the minute, but the watches arrived just in time.
The guest was very, very, very happy. He wrote a letter to our manager saying that the concierges were top notch, saying it had become his favorite hotel.
What's the hardest request you've ever fulfilled?
Many years ago we had to find a 100-room boat with five or six days notice. You reserve those boats two years in advance, normally. That was pretty exceptional. I cannot tell you if I would be able to do the same if I got the request this year. 
Roger Bastoni
Roger Bastoni is head concierge at the Majestic Barriere Hotel and honorary president of Les Clefs d'Or International, after serving as president between 2007-2009. Previously he was French national president between 2003-2007. Born in Cannes, he studied at the London Carlton Tower Hotel before moving back in 1976 aged 30, when he started working at the Majestic.
Why did you want to become a concierge?
I started off as a baby in 1960. In those days we were able to start working at 14 years of age. I was fed up of going to the holiday camp where my parents were sending me, so I put myself on to the idea of getting a job, and Cannes is renowned for its beautiful hotels.
I had the option to work a month during the school holidays and discover a little bit, and that was the start of a long career.
At what point did you become involved in Les Clefs d'Or?
I got involved from day one. All the head concierges, all my managers in those days were golden keys. I was immediately taken into their history, which fascinated me.
What are the common misconceptions people have about concierges?
The extent of what we can do for them. People have the tendency of going on electronic devices to help them be better prepared for a visit.
When they come to a concierge, unless they are accustomed to go to a five-star hotel, they might not, or maybe they might not dare, ask everything they can ask of us.
We fully understand when you're in a hotel, you're away from everything that you normally master. You're deprived of a doctor, a dentist, a pharmacy, a restaurant reservation, a trip around the world, a ticket for the opera in Milan at La Scala, whatever.
What's the strangest request you've ever received?
One day during the festival a very well-known person called me. He asked me to go to the shop next door – a very high-end French brand. He needed me to get him a tuxedo, a shirt, socks, the shoes, the tie, the watch, the cufflinks, all in his size.
We did, and we got a tailor who came up to his room when everything was being delivered. Two or three hours later he was able to wear his beautiful tuxedo.
That would be nothing if not for the following day, when at about the same time, the very same question came from the very same person.
I asked if there was anything wrong with yesterday. He said no, it was perfect, but he said it very short and abrupt. We made the arrangements. The day went by, then Sunday arrived. I came on duty at about 7:30 to find a young girl in tears by the desk.
I ask her what's wrong and she says her boss is very difficult. She says, "Well, he wants a tuxedo, a shirt, shoes, socks, the cufflinks, the watch…"
What makes a good concierge?
I told her today is Sunday, it might be a little more difficult. We also found out the person was on a boat in Monte Carlo. He was going to watch the Grand Prix and come back by helicopter.
With the help of the helicopter company we work with, we sent everything to the heliport in Monte Carlo, the concierge at one of the major hotels in Monte Carlo sent one of the pageboys plus a tailor to the helicopter. They picked up the clothes, went on to the boat and delivered the goods. And that was that.
That was easy enough, until I took time to speak to the young girl. I asked her how long she'd worked for her boss. She said about seven months. I said, "Look, I've never met him, but what does he look like?" "I don't know," she said, "I've never met him."
'One day, two days, three days. Three suits, three shirts. What's the story?" I asked.
'Well,' she said, 'Mr — never wears anything twice.'