Gritty, hectic and mischievous, Kowloon is the Mr. Hyde to Hong Kong Island's genteel Dr. Jekyll. But unlike Mr. Hyde, who was a murderous psychopath, Kowloon is actually quite friendly once you get to know it.
First occupied by the British in 1860, Kowloon was home to farming and fishing communities for hundreds of years. Its name, which means "Nine Dragons," supposedly comes from the Song Dynasty's Emperor Bing, who named the area for its eight tallest mountains.
The ninth dragon was, of course, the emperor himself.
In honor of that long-departed egocentric emperor, here are nine ways to spend a day in Kowloon.
1. Take in the view with a drink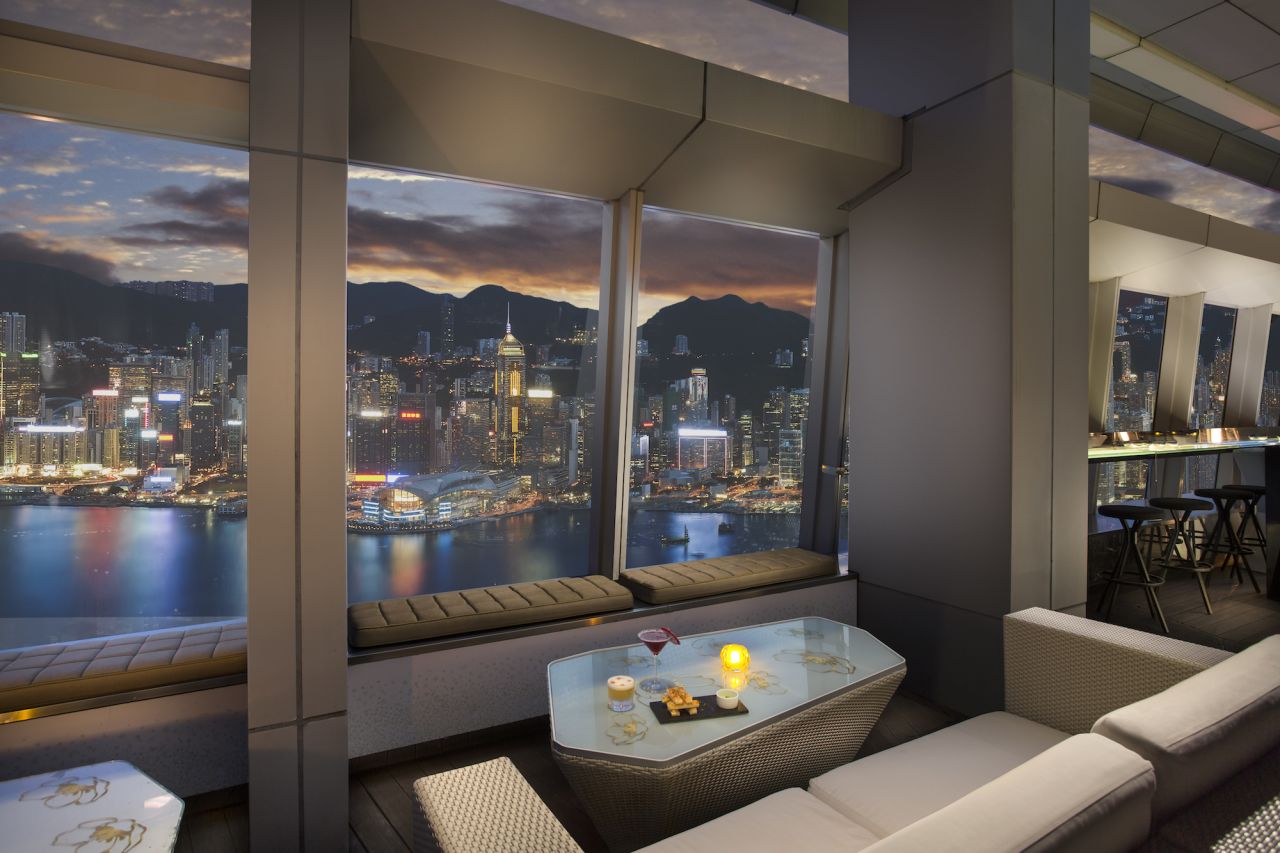 Hong Kong Island might have most of the city's iconic skyscrapers, but the best place to see them is from Kowloon, especially from a new generation of sky-high bars in Tsim Sha Tsui.
The 30th-floor Eyebar mix cocktails with spacious outdoor seating and sweeping harbor views. Reservations are recommended.
For a truly dizzying experience, head up to Ozone Sky Bar on the 118th floor of the International Commerce Centre, where you can see clear over the whole of Hong Kong Island – as long as the sky is clear, which isn't always a given.
If you suffer from vertigo or you like your bar tab a bit closer to earth, Deck 'n' Beer serves up ground-level views from its harborside terrace near the Avenue of Stars.
Eyebar, 30/F, iSquare, 63 Nathan Road, Tsim Sha Tsui, +852 2487 3988
Ozone Sky Bar, 118/F, Ritz-Carlton Hotel, ICC, 1 Austin Road West, Tsim Sha Tsui, +852 2263 2270
Deck 'n' Beer, East Promenade, Salisbury Road, Tsim Sha Tsui, +852 2723 9227
2. Explore Tsim Sha Tsui's mansions
Before Louis Vuitton and luxury malls, Tsim Sha Tsui was known for its "mansions" – enormous buildings packed with shops, restaurants and apartments.
Chungking Mansions and its fraternal twin Mirador Mansions are certainly the most famous of these. Notorious for counterfeit goods and drug smuggling in the 1980s, they have since cleaned up their act and are now the place to go for good Indian food and Bollywood DVDs.
There's even a dirt-cheap Nepali bar in the alley behind Chungking Mansions, where it's easy to strike up a good conversation with the regulars over a cup of whisky. It tastes surprisingly good but don't expect to remember anything the next day.
Not far away, Champagne Court offers a different experience altogether, with a cluster of camera shops on the ground floor and the 1960s-era Star Cafe in the basement, known for its tomato-and-egg noodle soup.
MORE: Inside Hong Kong's Chungking Mansions
Chungking Mansions, 36-44 Nathan Road, Tsim Sha Tsui
Mirador Mansion, 54-64 Nathan Road, Tsim Sha Tsui
Star Cafe, Shop 36, Champagne Court, 16-20 Kimberly Road, Tsim Sha Tsui
3. Take a walk up Hong Kong's most interesting street
Shanghai Street is one of Hong Kong's oldest and most atmospheric street. An afternoon walk from beginning to end is a fascinating glimpse at a cross-section of local life.
The street begins near the north end of Kowloon Park. As you walk north, you will pass by some of Hong Kong's few remaining historic shophouses and decades-old family-run shops selling medicinal oils, wedding clothes, cooking supplies and herbal tea.
Before reaching the street's end at Prince Edward Road, you'll also walk through the heart of the local Nepali community, a red-light district and the shopping mecca of Langham Place – check out the dizzying view from the top of the 10-story atrium.
4. Hang out in Yau Ma Tei
Yau Ma Tei is one of Hong Kong's under-appreciated neighborhoods. Wandering through its narrow streets is a uniquely Hong Kong experience, with several interesting attractions to check out.
Kubrick is an indie-flavored cafe, bookstore and movie emporium attached to the arthouse Broadway Cinematheque. Not far away, another laid-back spot, the 55-year-old Mido Cafe, offers 1950s-style decor, Hong Kong milk tea and great views over the Temple Street night market from its second floor booths.
Another local icon is the Yau Ma Tei Theatre, which has been saved from years of decay and converted into a Cantonese opera house.
Across the street from that is the Gwo Laan, formally known as the Yau Ma Tei Wholesale Fruit Market, a cluster of fruit shops that comes alive in the middle of the night. Visit around midnight for the film noir experience of wandering through its century-old lanes.
Kubrick, Shop H2, Prosperous Garden, 3 Public Square St., Yau Ma Tei, +852 2384 8929
Mido Cafe, 63 Temple St., Yau Ma Tei, +852 2384 6402
Yau Ma Tei Theatre, corner of Waterloo Road and Reclamation Street.
5. Go upstairs in Mong Kok
It can be hard to find places to relax in when in Mong Kok, Hong Kong's most intense neighborhood.
So here's a bit of advice: look up. On the upper floors of buildings is where you'll find bookstores, bars, cafes and even a barbecue joint.
For a soothing respite from the crowds of Sai Yeung Choi Street, head up to Hong Kong Reader, a bilingual bookstore-cafe with a good selection of books on philosophy, cultural studies and social sciences. It also plays host to regular readings and discussions.
Even more relaxation can be had at Full Cup Cafe, a three-story complex with good coffee, smoothies, beer and snacks served in an eclectic atmosphere – the decor varies from floor to floor, but it's always quirky.
Aqua Cafe, which is actually more of a bar, has a surprisingly pleasant third-floor terrace. Equally unexpected is Mongkok BBQ, a rooftop barbecue space that provides you with a grill, plenty of meat and all the drinks you want. Make sure to call ahead to reserve a spot.
Hong Kong Reader, 7/F, 68 Sai Yeung Choi St., Mong Kok, +852 2395 0031
Full Cup Cafe, 4-6/F, Hanwai Commercial Centre, 36 Dundas St., Mong Kok, +852 2771 7775
Aqua Cafe, 3/F, Ho King Commercial Centre, 2-16 Fa Yuen St., Mong Kok, +852 3693 4818
Mongkok BBQ, 9 Soy St., Mong Kok, +852 6693 8700
6. Market crawl in Sham Shui Po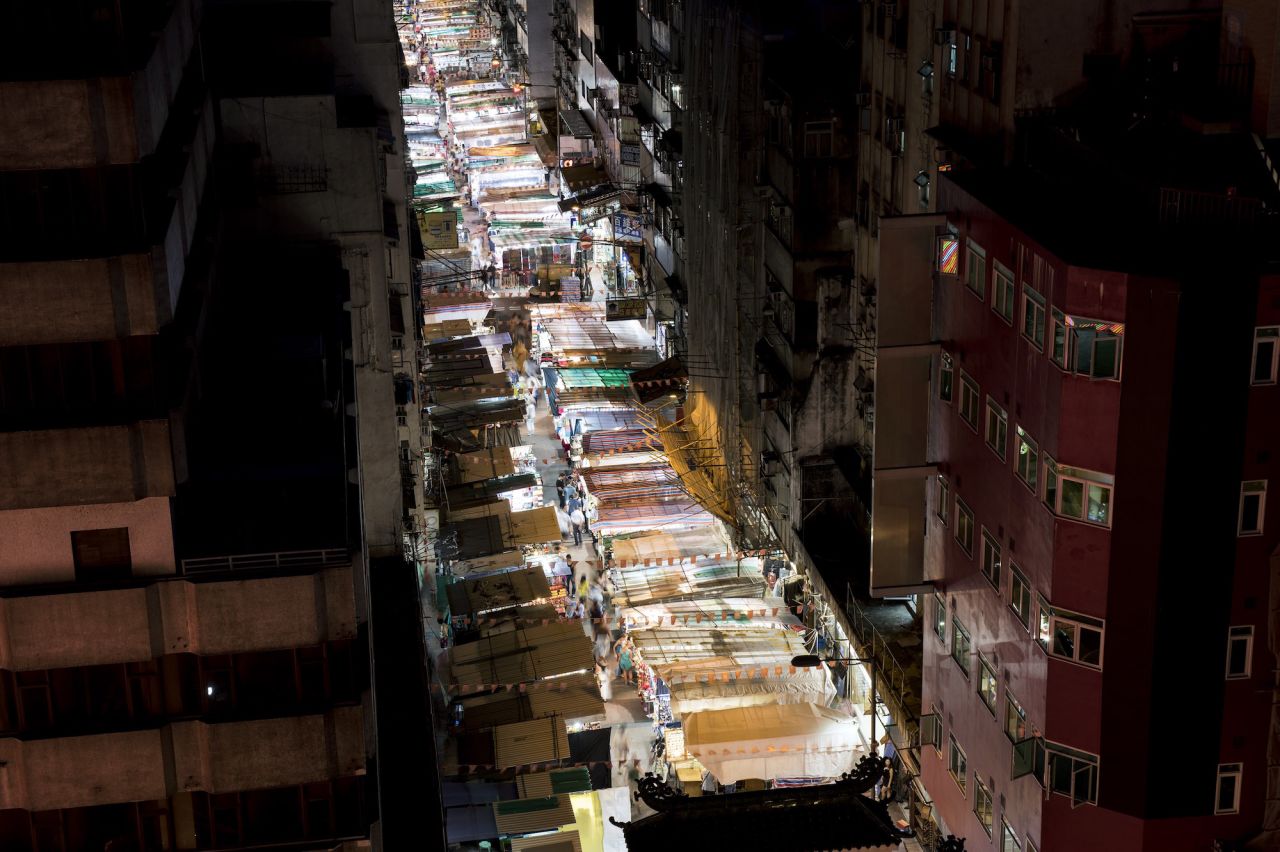 Skip the mass-produced tchotchkes of Ladies' Market and instead find some real treasure in the street markets of Sham Shui Po. Each of the district's many markets has a specialty.
The Golden Computer Centre is the place to go for well-priced electronics and software. The flea markets on Apliu Street and Pei Ho Street are the hub for everything second-hand: cameras, toys, phones, dishes and plenty of things you never knew you needed.
Cheung Sha Wan Road is where to go for wholesale fashion outlets, which usually have astoundingly cheap clothes set aside for retail buyers. It gets even better if you're interested in crafts or sewing, with entire streets dedicated to sewing machines, fabric, buttons and zippers.
MORE: The essential guide to Kowloon, Hong Kong's 'dark' side
7. Spend a day with Kowloon's creative side
Everyone knows about the Hong Kong Museum of Art and the Cultural Centre but for a look at the cutting edge of Hong Kong's art scene, pay a visit to Osage Kwun Tong, Hong Kong's largest contemporary art space. Nearby, Hidden Agenda puts on regular indie music shows in a fun warehouse loft.
The Cattle Depot Artists' Village has been quiet of late, but that is set to change with new management that is allowing resident artists to make creative use of the century-old slaughterhouse's open space. Located within Cattle Depot are 1a Space and Videotage, which regularly host some of Hong Kong's most thought-provoking shows.
Housed in an imaginatively-restored factory building, the Jockey Club Creative Arts Centre contains artists' studios, three art galleries, cafes and a black box theater.
Just down the street, the Savannah College of Art and Design's Moot Gallery features student work.
Some of Kowloon's most unexpected cultural venues can be found in the heart of Mong Kok. C&G Artpartment hosts occasional exhibitions and regular art workshops. The Shanghai Street Artspace, run by local art group Woofer Ten, is a hub for socially-engaged art and activism.
For a glimpse at Hong Kong's growing street performance scene, head to the pedestrianized stretch of Sai Yeung Choi Street, where music and theater groups take over the pavement every evening.
Hong Kong Art Museum, 10 Salisbury Road, Tsim Sha Tsui, +852 2721 0116
Hong Kong Cultural Centre, 10 Salisbury Road, Tsim Sha Tsui, +852 2734 2009
Osage Kwun Tong, 4/F, Union Hing Yip Factory Building, 20 Hing Yip Street, +852 2793 4817
Hidden Agenda, G/F Hung To Industrial Building, 80 Hung To Rd, Kwun Tong, Hong Kong +852 9088 8950
Cattle Depot Artists' Village, 63 Ma Tau Kok Road, To Kwa Wan
Jockey Club Creative Arts Centre, 30 Pak Tin St., Shek Kip Mei
Moot Gallery, Savannah College of Art and Design, 292 Tai Po Road, Sham Shui Po, +852 2253 8000
C&G Artpartment, 3/F, 222 Sai Yeung Choi St South, Mong Kok, +852 2390 9332
8. Explore Hong Kong's Thai community
Colorful, fragrant and definitely off the radar, a handful of blocks in Kowloon City form the heart of Hong Kong's Thai community.
Start your visit with lunch at one of the area's many Thai restaurants. The grilled pork neck, salads and seafood at Amporn Thai Food in the local wet market are always a good bet. For shrimp sashimi and excellent curries, try Chai Rung.
Next, head to South Wall Road, where several Thai grocery stores are well-stocked with tropical fruit, spices and other products you won't find anywhere else in Hong Kong. Be sure to pick up some khanom – Thai sweets – too.
Amporn Thai Food, Shop 9, 3/F, Kowloon City Market, 100 Nga Tsin Wai Road, +852 2716 3689
Chai Rung, 33A Nam Kwok Road, Kowloon City, +852 2718 6588
9. Old-school al fresco eating
Al fresco dining might be all the rage, but Hong Kongers have been dining outdoors since well before the invention of gas heaters and weatherproof lounge chairs.
When the weather finally cools down between October and May, Kowloon has no shortage of open-air eateries. Most tourists pay a visit to one of the Temple Street spicy crab restaurants, like Temple Spice Crabs, and with good reason: the beer is cheap, the seafood fresh and the fried crab is, well, spicy.
But there are far more rewarding options a bit further afield. Sham Shui Po is home to 14 of Hong Kong's few remaining dai pai dong, the street eateries that were once common throughout the city.
Yiu Tung Street is home to a particularly good concentration of stalls that serve noodle soups, seafood and other Hong Kong delicacies. Not far away, the roaring woks of Keung Kee churn out good Cantonese dishes.
Even more off the beaten path are the dai pai dong-style "mushroom hut" restaurants found in public housing estates.
Pay a visit to Lower Wong Tai Sin Estate, near the famous Wong Tai Sin Temple, where a group of mushroom huts has recently been renovated. Among them is 24-hour Chui Wo Lee, where you can grab a beer or wine on the pleasant terrace to accompany excellent seafood – try the fried squid balls.
Temple Spice Crabs, 210 Temple St., Jordan, +852 2487 3688
Yiu Tung Street, near Sham Shui Po MTR, exit B2, and Shek Kip Mei MTR, exit A Keung Kee, 219 Ki Lung St., Sham Shui Po, +852 2487 3688
Chui Wo Lee, Shop 2, Lower Wong Tai Sin Estate, Ching Tak Street, Wong Tai Sin, +852 2323 1703
Editor's note: This article was previously published in 2011. It was reformatted and republished in 2017.