Editor's Note: CNN Insider Guides are thoroughly checked for accuracy. Given the fluid nature of the travel industry, however, some listings may fall out of date before guides can be updated. The best practice is to confirm current information on official websites before making plans to visit any business or attraction.
Many in Canada complain that Torontonians have a center-of-the-universe attitude. True or not, the city can cast a shadow over the rest of the country.
Home to 2.5 million people (5.5 million in the Greater Toronto Area) of more than 200 distinct ethnic origins, Toronto is one of the most multicultural cities in North America.
It's an economic and social powerhouse with a vibrant bar, restaurant and arts scene, not to mention major league sports teams.
It's a city of neighborhoods – Chinatown, Little Italy, Queen West. It's a city of festivals – the Toronto International Film Festival, Caribana, Gay Pride.
But above all, the best of Toronto is a great place to visit, a city full of promise and potential.
Love Canadian cities? Here's your Insider Guide to Vancouver
Hotels
Luxury
Four Seasons Toronto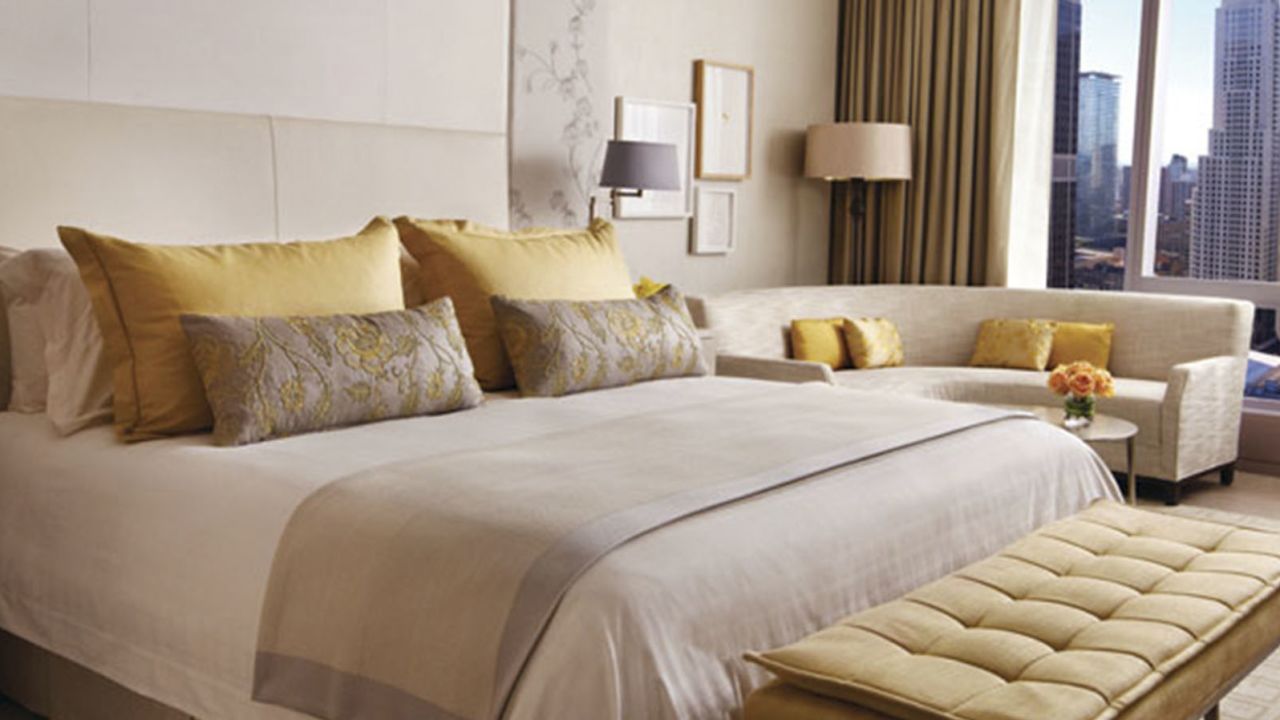 This hotel towers over the city's upscale Yorkville neighborhood, with its high-end shops and reputable restaurants.
The entrance and lobby walls are lined with wood. Decorative metal dividers stretch from floor to soaring ceiling.
Art designed to look like over-sized dandelion seed heads hovers above the check-in desk.
The hotel has 259 guest rooms, including 42 suites, all done up in cool contemporary grays and whites. The spa is one of the best in Toronto, and the pool area is gorgeous.
Guests can congregate in the casual dbar or eat at Café Boulud, with a menu designed by Michelin-starred Chef Daniel Boulud.
There's plenty to savor, like the inventive grapefruit givré, a mixture of sorbet, grapefruit segments and Turkish delight, topped with torched sesame cracker and wisps of halvah.
The Ritz-Carlton, Toronto
With its glossy wood, big brass maple leaves, neutral earth tones and original artwork, the Ritz-Carlton is a luxurious tribute to Canadiana.
The hotel's 263 guest rooms, all at least 41 square meters, provide views of the CN Tower and Lake Ontario.
Rooms on floors 18 to 20 have the views – if you go lower than that, condos partially block the lake.
Bathrooms are decked out in marble, with deep tubs and in-mirror TVs.
One of the Ritz-Carlton's best of Toronto restaurants, TOCA (short for Toronto, Canada), sports a menu filled with dishes made with only local, naturally raised ingredients.
Cutting-edge cocktails mixed at the DEQ Terrace and Lounge draw all sorts of customers, who are encouraged to dabble in mixology.
The Ritz-Carlton also lays out a customized wellness program, with experts who tailor everything from facials to fitness to the needs of each guest.
There are plush loungers in the co-ed Urban Sanctuary sunroom, which has a wide selection of tea and glossy magazines.
The Fairmont Royal York
The Royal York is the Grand Dame of Toronto's hotel scene, an imposing stone and copper-roofed structure that's firmly anchored in a sea of steel and glass.
It's been a star since it officially opened in 1929, a favorite for royalty, celebrities, movie directors and regular folk who want to soak up its Old World charm.
A C$100 million renovation that finished in 1993 helped keep the property in good shape.
Rooms have an elegant, Victorian style, with antique furniture, quilted bed covers and thick curtains and valance.
The Royal York is located across the street from the grand Union Station (and connected to it via underground walkway), Toronto's main train station, which is also built in a neoclassical, Beaux-Arts style.
SoHo Metropolitan
This contemporary hotel in a slick condominium complex is a short walk from the shops and restaurants on King West and Queen West, plus the bars and clubs in the Entertainment District.
SoHo's 92 guest rooms (55 square meters on average) feature ultra-soft Frette linens and towels, natural down duvets and bathrooms with deep tubs and heated floors.
Lights, blinds and the "do not disturb" sign can be manipulated by remote control.
Thick windows block out sound, but guests have the option of opening them.
Big spenders can book the 370-square-meter penthouse suite, which has an in-suite glass elevator, two bedrooms, two fireplaces, a state-of-the-art kitchen, plus a rooftop terrace with a barbecue and an eight-seater hot tub.
The bakery/bar/restaurant Sen5es (get it?) is attached to the hotel, serving up baked goods and a solid menu, including a dinner deal for C$50 that provides one appetizer, one entrée and one dessert.
Boutique
Thompson Toronto
Travelers who have spent a night in a Thompson Hotel in cities such as New York and Chicago will feel at home in this modern property, located in the burgeoning King West Village neighborhood.
The 102 guest rooms (some with balconies) have floor-to-ceiling windows, heated bathroom floors and unique lighting features, along with plasma TVs and iHome docking stations.
Orange and red accents stand out against the dark, hardwood floors.
The hotel's offer attributes include a 24-hour American-style diner, a rooftop bar and infinity pool, a 40-seat theater ideal for private film screenings, and the 1812 Lounge, named in cheeky commemoration of the war between the United States and Britain.
Mid-range
The Grand Hotel & Suites Toronto
One of the best hotels in Toronto, dollar for dollar, the Grand's 177 suites are all done up to strike a tasteful, understated tone.
They come with fully equipped kitchenettes and all the regular features – TVs, CD and DVD players.
Guests can choose lake or city views.
When not soaking in the Grand's rooftop whirlpools, they can unwind in the spa, where prices for treatments are all reasonable.
The property is located in a part of the city that's enjoying better days thanks to the expansion of a university, and is walking distance to theaters, shopping and restaurants.
Budget
Drake Hotel
Here's a home-away-from-home in Toronto's trendy West Queen West neighborhood.
From the tiny Solo room to the extra-large Suite (and not forgetting the Crash Pads, Dens and Salons in between), the Drake Hotel is the perfect place for travelers looking for a more eclectic place to lay their heads.
But getting to bed early will be a challenge once you get a look at everything the Drake has to offer: a cool club for indie bands, DJs and film screenings; a raucous restaurant with a menu heavy on the meat, fruits de mer and comfort food options such as mac 'n cheese; and a chill lounge, with a rotating art collection, culinary cook-offs, trivia and weekend oyster bar.
The best of Toronto rooftop Sky Yard is dubbed an "all-season space" by management (um, in Canada?), where patrons sip cocktails and roast marshmallows.
11 things to know before you go to Quebec
Dining
Canoe
The "Masters of the Universe" from Bay Street (Toronto's Wall Street) love to congregate here for power lunches, surrounded by custom wood and stone, from the carved walnut chandeliers to the soapstone bar.
Canuck celebrities also dine at Canoe (Neil Young, William Shatner).
But it really doesn't matter who you are – if you can afford the C$16-28 starters and the C$32-49 mains, you're in.
The menu is oh-so-Canada, coast-to-coast: Great Lakes pickerel, pan-seared Quebec foie gras, Alberta lamb, a selection of domestic wines.
The atmosphere can feel hip, relaxed or stuffy depending on the day and, perhaps, the company.
The view of Lake Ontario is inspiring, the food even better.
Sassafraz
This restaurant, with its distinctive yellow exterior, has been a staple of the city's Yorkville neighborhood for decades.
Mick Jagger, Ron Wood, Robert De Niro and a host of other celebs have hung out here.
A fire gutted Sassafraz in 2006 and the owners spent millions of dollars rebuilding.
These days, they offer French-inspired Canadian cuisine: Ontario beets, Alberta bison, Nova Scotia Digby scallops, PEI beef.
The wine list shines the spotlight on domestic offerings, but is also heavy on French and Italian varieties. Guests of the nearby Four Seasons are treated to a complimentary glass of bubbly.
Biff's Bistro
The French-bistro feel hits you the minute you walk in the door.
It's the décor. It's the lively atmosphere. It's the escargot, steak tartare, duck confit on the menu.
Biff's gets even livelier in the warmer months, when managers open up the sizable street-side terrace.
The menus are designed to reflect the seasons and are filled with options both common (steak frites, filet mignon) and curious (crispy pig's ears, lamb belly confit).
The after-work crowd usually flocks here to enjoy $1 oysters, which are featured nightly from 5 p.m.
Biff's has a dense wine list, but it's also one of a number of restaurants in Toronto offering a bring-your-own-bottle option (corkage fee is $25 per bottle).
Edulis Restaurant
Edulis (Latin for edible) opened last year and quickly became one of the darlings of the restaurant scene, a place over which both diners and reviewers have been fawning.
"Pleasure bordering on delirium" gushed the Globe and Mail.
"A perfect little place" hailed Toronto Life magazine.
The owners "feed you wonderful food" noted former Gourmet Magazine editor in chief, Ruth Reichl.
The seafood- and vegetable-focused menu changes daily (you'll also find duck, rabbit and other meats), and the kitchen staff work to tailor their five- and seven-course meals to the tastes of each diner, creating iterations of Nunavut wild Arctic char or sunflower hearts or king salmon.
Edulis is booked up weeks in advance, so you need to get your reservation in early.
Momofuku Noodle Bar
Toronto has been gripped by a ramen craze of late, and this downtown eatery is one of the best places in Toronto to get a steaming bowl of these Japanese noodles.
It's a sister restaurant of the establishment of the same name in New York.
Diners balance on tall stools or plunk themselves down on benches to twirl and slurp their way through lunch or dinner.
The list of toppings includes pork belly, fish cake, egg, kale, miso, shiitake and black bean.
Momofuku also offers a large fried chicken meal for groups, complete with scallion pancakes and pickled veggies.
Osteria Ciceri e Tria
This hole-in-the-wall, rustic Italian restaurant is centered on a long communal table, with smaller satellite tables.
The menu is filled with Pugliese food (fare from Italy's "heel of the boot" region) and it changes daily, although the orecchiette con rapini and the orecchiette de farro make regular appearances.
Run by the same group that owns the city's trio of Terroni restaurants, this is best of Toronto Italian done right, comfort food drenched in olive oil.
The Black Hoof
A haven for carnivores and foodies who love snout-to-tail eateries, the staff at The Black Hoof have been winning praise for their self-proclaimed "off-cut meat-centric menu" since 2008 (fish and veggie options also available).
The space is tight and reservations are verboten, so when it's busy, you'll have to wait in line.
Dishes range from beef tongue brioche to spicy horse tartar to roasted bone marrow.
It all gets rave reviews, including, believe it or not, a carrot cake that's topped with seared foie gras.
The owners also run the Hoof Cocktail Bar (923 Dundas St. W.; +1 416 792 7511), which serves custom cocktails (C$9-16), along with wine and cheese plates.
And they've opened Rhum Corner, which offers Haitian cuisine (accra, griot, bananes frites) and plenty of rum-based beverages.
Aunties and Uncles
No big city is complete without a great place to grab breakfast or brunch, and Aunties and Uncles is one a best of Toronto fave.
The former barbershop, anchored in Toronto's Kensington Market/Chinatown neighborhood, is old-school-American-diner meets hip-thrift-store, with Formica tables, vintage posters and action figure dolls.
The cool kids love to come here, and they even line up on weekends for a spot – it's quieter during the week.
The menu is designed to suit sweet or salty tastes, with banana oatmeal pancakes and Belgian waffles sharing top billing with omelets and breakfast tacos.
Best of all, everything is under C$10, with lattes and cappuccinos running C$3.
Aunties and Uncles doesn't take reservations.
Fresh
Fresh started out in the 1990s as a mobile juice bar and has evolved into Toronto's premier vegetarian and vegan restaurant, with four locations to its name.
Fresh's employees still blend up juices – fruit smoothies, power shakes, immune elixirs, you name it – but they also create Asian-inspired salads (Tangled Thai) and rice bowls (Buddha), not to mention a variety of meat-free burgers.
The sweet potato fries are a must.
Ditto the desserts, which are vegan and change daily (you should hope for a carrot cake day – no foie gras here).
Salad King
Cherished by university students and working stiffs, Salad King is a Thai food-lovers paradise.
The layout is cafeteria style, with friends and strangers rubbing elbows at long tables.
The food is fast and fresh.
The menu is simple enough to memorize.
Everyone has their favorite dishes – ours include the green chicken curry and the golden tofu curry.
Word of warning: the spice quotient ranges from mild (a bit spicy) to 20 chilies (could set some stomachs aflame).
Jet Fuel
Locals flock to Jet Fuel for good coffee, fresh pastries and a healthy dose of attitude.
This café, located in the Cabbagetown neighborhood, is a favorite hangout for musicians, actors, dancers and bike couriers.
The music can be loud. The seating can be limited. But the coffee is always strong and reasonably priced.
In Canada's wine country, the Okanagan Valley flows with quirky charm
Nightlife
Product Nightclub
This club in the heart of the entertainment district is located inside an old factory building and offers what the designer calls an "art collector's residence-meets-nightlife."
There's a towering chandelier, a fireplace, outlandish paintings and murals, with the odd mannequin kicking around for good measure (Clockwork Orange tribute).
Product has all the requirements of your standard nightclub: DJs (some famous, some not-so-famous), great sound, frenetic lights, plenty of room to dance, bottle service, and a dress code to keep out those who prefer to wear t-shirts, baseball hats and sneakers. Go late, stay late.
Fly Toronto
Just steps away from Church Street, the backbone of Toronto's gay village, Fly is an institution known for a range of weekly, monthly and special event nights.
Expect a mix of fit urban professionals grinding to Donna Summer numbers alongside an otherwise rather more varied crowd.
Fly Toronto, 8 Gloucester St.; +1 416 410 5426
The Roof Lounge
Showcasing best of Toronto views, the Park Hyatt's iconic Roof Lounge has been luring patrons to its perch above the city for decades.
It's a favorite all year round, but is especially crowded during the Toronto International Film Festival.
Leather chairs, dark suede walls and a fireplace help reinforce the 1940s/1950s feel. Drinks are pricey. Space is limited.
The Horseshoe Tavern
Toronto has a vibrant music scene and the legendary Shoe's been one of the best venues to catch a live show since 1947.
The bar is at the front. The stage is at the back. The decor (old wood, stickers from various bands) feels like an afterthought – the Horseshoe's got too much cred to care.
Some of the best Canadian bands have jammed here. So have The Rolling Stones. It's a can't-miss stop on a music-lover's tour of Toronto.
Victory Cafe
An English-style pub that matches a tasty menu (burgers, fries, curries, pastas) with an even tastier drinks' list, filled with craft beer favorites.
Where else in the city can you get a pint of Flying Monkey Smashbomb Atomic IPA?
Victory Cafe is on a quiet, tree-lined street on the western edge of Toronto's Annex neighborhood.
It's simple, yet warm atmosphere provides the perfect location for friends to get together, catch up and share some laughs.
7 West Cafe
This cafe/restaurant/lounge (open 24 hours a day, seven days a week) has been a funky after-hours staple for 20 years.
Wooden tables, chairs and benches are spread over a few several floors inside a narrow old house that drips with character.
Exposed brick, stained glass, chandeliers and heavy curtains help reinforce the late-night feel, with clouds painted on the ceiling to take the edge off.
The menu is filled with salads, sandwiches, pastas and appetizers, but it's probably most popular for its pies and cakes.
Shopping
Made
The people at Made offer independent Canadian designers a place to sell their creations.
The shop is the place for those interested in custom crafts or anyone on the hunt for an original gift.
Ceramics include porcelain creamers cast to resemble milk cartons and a light fixture formed by a stack of vintage china.
Then there's the felt stool spool, the mouth-blown gray glass shades and the inside-out shadow clock.
The list goes on.
Made, 867 Dundas St. W.; +1 416 607 6384
Eaton Centre
This downtown mall, which occupies two full city blocks, lures 50 million visitors a year.
The more than 230 stores and restaurants are spread out over five floors, including a sprawling basement food court.
Designers modeled the glass dome that runs the length of the center after the Galleria Vittorio Emanuele II arcade in Milan.
A large mobile of Canada geese helps provide a sense of place.
Mall management added a more modern piece of art in 2011. Slipstream is a 135-meter LED installation that changes based on the movement of the sun and meteorological factors.
Eaton Centre is easily accessible by transit (TTC) – streetcars, subways and buses stop here.
It also has an entrance facing Yonge-Dundas Square, the Times Square of Toronto.
Bloor-Yorkville
A short walk north from the Eaton Centre, you'll find one of Toronto's toniest shopping and dining districts.
Bloor-Yorkville has been going through a period of revitalization in recent years, with new buildings going up, parking lots turning into parks and sidewalks being beautified.
Visitors will have no trouble finding their fine fashion favorites, including Prada, Hugo Boss and Chanel, along with lower-cost options such as Banana Republic and Club Monaco.
They can also wander the back streets to discover small boutiques, art dealers, galleries and heritage buildings, stopping along the way to grab a coffee or eat in the many cafés and restaurants.
Bloor-Yorkville BIA (Business Improvement Area), bordered by Bloor Street West, Avenue Road, Davenport Road and Yonge Street; app available on iTunes
Queen West
Hundreds of retail outlets, restaurants, cafés and bars line Queen Street West.
This neighborhood, between Simcoe and Bathurst Streets, once epitomized hip.
It's still a cool place to stroll, shop and eat, but big brands such as H&M and Zara have moved in and changed the landscape.
The smaller boutique and fashion scene has moved west, spawning a neighborhood between Bathurst and Gladstone Avenue called West Queen West (home to one of our hotel picks, the Drake).
Shoppers heading here will stumble on gems such as bag and accessory maker Zane, the recycled vintage fabric fashions of preloved and the mid-century modern furniture and design store Atomic Design.
Kensington Market
The Canadian government designated Kensington Market a National Historic Site in 2006, calling it a "microcosm of Canada's ethnic mosaic."
People of all stripes have been coming to this neighborhood since the first wave of immigrants settled here in the mid-to-late 19th century.
Kensington is filled with eclectic shops, bakeries, restaurants of all flavors (Latin American, Jamaican, French, Thai) and grocery stores selling fruit, veggies, meat and spices.
Shoppers often drop by this neighborhood's vintage clothing stores to try on old jeans, retro T-shirts and the odd fur coat.
Favorite haunts include Courage my Love (14 Kensington Ave.) and Exile (22 Kensington Ave.).
Photos: 20 breathtaking shots of Canadian scenery
Attractions
CN Tower
This 553-meter-high communications and observation tower has been marveled at and mocked since it opened in 1976.
For years, it was the world's tallest freestanding structure (finally bested by the Burj Khalifa in Dubai) and the world's tallest tower (beaten by the Canton Tower in Guangzhou, China).
Its views of Toronto and Lake Ontario are still a draw.
It takes 58 seconds to zip up the 346-meter LookOut level (adults C$23.99, seniors C$21.99, children C$15.99). An extra C$10 will get you to the 447-meter SkyPod.
The CN Tower also gives visitors a chance to walk on the roof of its restaurant, which is 356 meters above the ground.
EdgeWalk tickets cost C$175 and include videos, photos and access to the rest of the tower.
St. Lawrence Market
Part food market, part flea market, the St. Lawrence Market is one of Toronto's most treasured landmarks and institutions.
It opened in 1803 and has evolved from a wooden structure to a brick building, been rebuilt after fire, renovated and re-imagined.
Today, the market consists of three buildings: the South Market, the North Market and St. Lawrence Hall.
More than 120 vendors occupy the main floor and lower level of the South Market, selling fresh produce, meat and cheese, along with baked goods, coffee, clothes, jewelry, accessories and much more.
The North Market hosts a Farmers' Market on Saturday, featuring seasonal produce from Southern Ontario.
On Sunday, more than 80 antique dealers set up shop in the North Market and surrounding plaza.
Sports
Toronto's sports scene is solid, with a number of pro teams.
The Toronto Argonauts have been around the longest, one of eight clubs in the Canadian Football League (CFL).
Their home is the Rogers Centre, which has a retractable roof (the building was formerly called the SkyDome). The CFL season runs from June until November.
The Toronto Blue Jays share the Rogers Centre with the Argos. The former back-to-back World Series champs play their regular Major League Baseball season from April until October.
This being Canada, you'll find most sports fans are more interested in hockey.
The Toronto Maple Leafs have been chasing pucks around since 1917, although they haven't won a Stanley Cup since 1967.
They play at the Air Canada Centre (regular season October-April), sharing the space with the NBA's Toronto Raptors (regular season October-April) and the Toronto Rock lacrosse team (regular season January-May).
The latest addition to the city's sports scene is the Toronto FC, which plays Major League Soccer at the BMO Field (season runs March to October).
Parks
Toronto has lots of green space, from the small to the sprawling.
High Park is the city's largest public park.
It's located on 1873 Bloor St. and easily accessed by subway, streetcar and bus.
Along with trees and trails, it has a pond, sports facilities (tennis, baseball, soccer), picnic areas and a dog run.
During the summer, a Shakespeare play is staged in its amphitheater.
Dufferin Grove Park (Dufferin Street between College and Bloor) feels like a true neighborhood green space and is well loved by locals.
It's easy to spend a day checking out its play structures and wading pool, baking pizza or bread in one of the public wood-fired brick ovens or picking up produce at the farmers' market (Thursday).
Another favorite for outdoor activities are the Toronto Islands in Lake Ontario, a short ferry ride from the harbor front.
Centre Island is the biggest in the chain, boasting the largest urban car-free community in North America.
The Toronto Islands have parks, picnic areas, beaches (Hanlan's Point is clothing-optional), an amusement park and more spread out over some 240 hectares.
Architecture
Toronto's former leaders and officials have taken a lot of flak for allowing developers to do doing away with some of its architectural heritage.
The building boom of the 1950s and '60s led to the destruction of many 19th-century buildings.
In the decades before that, two great fires (1849 and 1904) burned up big chunks of downtown.
In these days of condo creep, city planners are stricter about saving heritage buildings.
They've also approved projects to renovate old sites or allowed new projects to go ahead, leading to yet another building boom.
The Old
Toronto is a relatively young city, so its heritage buildings were constructed in the 1800s and 1900s.
One of the oldest areas is the Fork York National Historic Site. The British built the fort in 1793 and rebuilt it after the Americans torched the place during the War of 1812.
Visitors can tour the fort's eight historic structures, and see musket and music demonstrations (250 Fort York Blvd.; +1 416 392 6907).
Toronto is home to a number of Victorian-style buildings, and many of them can be found in the neighborhood of Cabbagetown.
Residents developed the area in the late 1800s.
You can walk it on your own, or link up with Heritage Toronto for a free walking tour.
You can get to Cabbagetown by taking the TTC 506 streetcar, which leaves College Station and runs along Carlton Street.
The University of Toronto contains a number of historic structures designed in Romanesque or Gothic Revival styles.
University College, Soldiers' Tower and Convocation Hall are three worth checking out.
Wandering amid the buildings and grounds of Trinity College, you may feel like you're at Cambridge or Oxford.
The Trinity College Chapel is considered one of the finest examples of Gothic architecture in North America.
Casa Loma was once considered the most creative buildings on the continent.
Some men want their home to be a castle, and Canadian millionaire Sir Henry Pellatt spent a fortune, and eventually went bust, turning his vision into reality.
Casa Loma merges elements of Norman, Gothic and Romanesque-style architecture.
The City of Toronto owns the property.
17 trips that can change your life
The Restored
The Distillery District started out as the Gooderham & Worts distillery in the 1830s.
It produced millions of gallons of whiskey and spirits in its more than 150-year history, surviving a fire and a brief period of prohibition before shutting down in 1990.
After a stint in the 1990s as the top film location in Canada, developers renovated the complex and reopened it in 2003, giving new life to the largest and best-preserved collection of Victorian industrial architecture in North America.
Its car-free, brick-lined streets and restored buildings are home to galleries, boutiques, cafés, restaurants, dance studios, a craft beer brewery and a sake brewery.
The people who run Steamwhistle Brewery started fermenting their award-winning craft pilsner in 2000 in the historic John Street Roundhouse.
The building, just south of the CN Tower, opened in 1929 as a steam locomotive repair facility.
The environmentally friendly brewery runs tours and hosts events.
The Evergreen Brick Works is Canada's first large-scale community and environmental center.
The development is built on the site of the former Don Valley Brick Works.
National Geographic named the Brick Works one of the top 10 geotourism destinations in the world in 2010.
Visitors flock here to take part in interactive workshops (Bike Repair 101, urban gardening, cooking), tour the farmers' market and watch environmental documentaries.
The New
Toronto's landscape has been transformed over the past decade, with new buildings popping up and older ones getting facelifts.
One of the first buildings to open, in 2004, was the stunning Sharp Centre for Design at the Ontario College of Art and Design, a table-top structure with "black-and-white pixelated skin."
Another addition to the cityscape is the Four Seasons Centre for the Performing Arts, with its sweeping glass-and-brick facade. Inside, more glass and plenty of wood enhance acoustics.
The FSC was built specifically for opera and ballet and is home to the Canadian Opera Company and The National Ballet of Canada.
Two of the world's best architects gave two of Toronto's best-loved museums makeovers in recent years.
Daniel Libeskind re-imagined the exterior of the Royal Ontario Museum, home to dinosaur skeletons, armor, statues and a host of other exhibits.
Libeskind merged the old ROM building with what's called the Michael-Lee Chin Crystal (named after the guy who donated C$30 million to the museum's renaissance project).
The interlocking structure, made of 25% glass and 75% extruded-brushed, aluminum-cladding strips, has transformed the museum and the street corner it occupies.
Not to be outdone, management at the Art Gallery of Ontario hired Toronto-born architect Frank Gehry, the mastermind behind the Guggenheim Museum Bilbao and the Walt Disney Concert Hall in Los Angeles, to redesign their building.
The AGO's new facade is made of gently curving glass and Douglas fir.
Other touches include an impressive sculptural spiral staircase in the new south wing.
The Toronto International Film Festival has been around since 1976, but it only got a home befitting its global stature in 2010.
The TIFF Bell Lightbox is part cinematic culture center and part condo tower, home to five state-of-the-art cinemas, two galleries, three learning studios, retail space and restaurants.
The Toronto Society of Architects runs tours showcasing the TIFF Bell Lightbox, the ROM, the AGO and a number of other buildings in Toronto.