Editor's Note: CNN Insider Guides are thoroughly checked for accuracy. Given the fluid nature of the travel industry, however, some listings may fall out of date before guides can be updated. The best practice is to confirm current information on official websites before making plans to visit any business or attraction.
Asia's Vegas? Not anymore. These days, it's more accurate to call Vegas America's Macau.
After all, it's been five years – 2007, if you're into counting numbers – since the former sleepy fishing port of Macau surpassed Las Vegas as the world leader in gambling revenue.
Still, the former Portuguese colony in southern China doesn't have the glam image of other gambling capitals. To compensate for its somewhat dowdy reputation, Macau has responded in recent years by building ever-bigger, ever-shinier hotels and casinos. But the best of Macau isn't all about risk and renovation.
Like Vegas, Macau has added slick, family-friendly shows to its arsenal of attractions.
Favorites include Cirque du Soleil's "ZAIA," the dancing-acrobatics-special-effects monster "House of Dancing Water" and concerts by the likes of Beyoncé.
While the flashy best of Macau has its appeal, there's a slower side of the city, one of cobblestone lanes, colonial mansions, art deco buildings and tranquil parks, all done in a fusion of Chinese and Portuguese motifs.
The best part for visitors is that the city is compact, making the best of Macau simple to explore.
Just an hour by ferry from Hong Kong, Macau is an easy place for a weekend spin, no matter how you define the term.
Hotels
Luxury
Banyan Tree Macau
You can get the luxury spa experience without leaving your room at the Banyan Tree Macau.
The Spa Suite, Pool Villa and Sanctuary Pool Villa series of rooms at this best of Macau hotel is equipped to pamper.
From suites with personal relaxation pools located right beside the bed, to 950-square-meter villas with private swimming pools.
The Banyan Tree opened in 2011 as part of the Galaxy hotel and casino megacomplex.The massive development includes a manmade beach with meter-high simulated waves.
See more attractions at the Galaxy. Best of all, it's conveniently located in Taipa, a few minutes' walk from the scenic old town.
Grand Coloane Resort Macau (Formerly Westin Resort, Macau)
Ditching the casino swirl is easy at the Westin Resort, about 20 minutes from the city center.
That's a long time to travel in pint-sized Macau and you'll feel the distance, at least psychologically.
Located next to the Macau Golf and Country Club, which hosts the annual Macau Open Golf Tournament, the Westin is popular with golfers and their families.
The hotel has become a little rundown in recent years, but remains Macau's best option for seclusion.
Nearby Hac Sa Beach is great for catching rays. Tanning lotion also required at the Westin's pool, known for being gorgeous and well-maintained. The popular Restaurante Fernando is just down the beach.
Pousada de São Tiago
The Pousada de São Tiago is the heritage hotel in Macau. A converted 17th-century fortress, the grand old structure is now a nicely done-up boutique hotel.
A new addition to the Relais & Châteaux hotels group, the pousada got a recent facelift and an upgraded Spanish restaurant, La Paloma. The hotel's dozen suites each overlook the harbor of Macau, lending an old Europe feel to the place.
The price for the unique Macanese atmosphere is patchy service, but at its best the Pousada de São Tiago is still close to unbeatable.
Mid-range
Pousada de Mong-Há
A converted military barracks, the Pousada de Mong-Há is run by the Institute for Tourism Studies as a training hotel. Students put their lessons into practice, offering impressive service that shames many name-brand, best of Macau hotels.
Hand-painted ceramic tiles in the Portuguese tradition crowd the walls and other surfaces in the boutique hotel's 20 rooms.
Located slightly off the tourist route near Mong-Há Hill Municipal Park, visitors can find respite at this pousada.
Dining
Signature Robuchon
Macau's most impressive and exclusive restaurant remains Joel Robuchon's signature establishment.
The former Robuchon a Galera was renamed Robuchon au Dôme following its recent relocation to the eponymous dome crowning the Grand Lisboa casino.
On the 43rd floor, the restaurant commands one of the best views of Macau. Gone is the Old World décor from the restaurant's third-floor days. The place now has all the polish expected of a best of Macau, Michelin three-star restaurant.
Robuchon's signature modern French food is executed with finesse and served elegantly by a flawless staff. Fresh crab in a sweet and sour turnip ravioli; lavender-encrusted sole with wild spinach; carmelized quail stuffed with foie gras.
"Dining experience" is an overused marketing expression that nonetheless applies here. The restaurant is popular for special occasions. Booking a week in advance is highly recommended for Robuchon au Dôme.
The Eight
Macau's most sumptuous Cantonese establishment, The Eight offers a revved-up take on Canto classics that may strike traditionalists as a tad whimsical. That's why we love it.
Whether it's dim sum made to look like cute hedgehogs, or the chubby goldfish design employed throughout The Eight, we can't stop grinning at this best of Macau Cantonese restaurant.
Chicken and abalone noodles are served with deep-fried noodles curled into balls; Chinese ham is topped with mashed potatoes; the most popular dessert is a wine-soaked fruit pastry made to look like a pear.
Espaco Lisboa
Macau is full of little, intimate Portuguese restaurants, each boasting more authentic flavors and more "Portuguese" atmosphere than the last.
There are three items to order at these places: roast suckling pig, garlic mussels and African chicken.
A couple of glasses of house white plus a basketful of pão (Portuguese table rolls) and that familiar vacation feeling gets going in a hurry.
Espaco Lisboa is just such a place. We like it because finding the near-hidden place requires poking around Coloane's old Chinese village.
The African chicken is coconut-y and served with a creamy potato gratin. Duck rice is also popular, a comfort food hard to find outside Portugal. The best seats in fair weather are on the tiny balcony overlooking historic alleyways.
Restaurante Fernando
The key word at Fernando is "rustic."
Located way out by Hac Sa Beach, this no-fuss Portuguese restaurant is housed in a large farmhouse-like structure (with no air-conditioning). Dishes are homey: char-grilled sardines and roast suckling pig are slapped on plates and served with simple salads.
Vegetables are picked from the restaurant's garden and the oversized pão rolls are house-baked. Fernando has become touristy over the years, as most good things in Macau eventually do.
But local Portuguese have not abandoned it.
They love the al fresco garden seating out back and chatting with Fernando himself, who is happy to offer recommendations from his collection of Portuguese wines. Reservations and credit cards not accepted. Taxis back into the city center are hard to find from Hac Sa Beach at night – the bus that stops right outside Fernando is a good alternative.
Margaret's Café e Nata
Everybody knows Lord Stow's Bakery, where Macau's iconic custard tarts were invented. But Margaret's Café e Nata, opened by Stow's ex-wife, takes the treat to new heights.
The custard filling is creamier, runnier and sweeter here and the cafe's charming location in a back alley near the Grand Lisboa casino makes it one of those secret places to hide from the gambling madness.
Queues often form outside the celebrated café; regulars order custard tarts-to-go by the dozen.
We like to rest our feet at one of Margaret's little outdoor tables with a cup of coffee, on alert for the next batch of tarts to come out of the oven.
Nightlife
Club Cubic
Macau's dance club du jour, Club Cubic is big in size, money and hype. Sprawling nearly 2,800 square meters, Cubic is one of the largest nightclubs in Asia. The interior design reportedly cost HK$100 million to throw together.
Of course, décor is the last thing clubbers focus on when a sound system as massive as this one blasts their faces with house, hip-hop, techno and Korean pop. That's when guest DJs aren't on the decks, such as the fabulous Fabolous.
Five themed karaoke rooms are available by reservation for those who don't feel like throwing their arms in the air like they just don't care.
38 Lounge
Located atop the tallest building on the island of Taipa, 38 Lounge is one of the best of Macau bars-with-a-view.
On the 38th floor of the new Altira Hotel, 38 Lounge has panoramic floor-to-celling windows filled with views of the glittering Macau Tower and bridges (when the weather cooperates).
The menu is a game of numbers, offering 38 cognacs, 38 whiskies and 38 single malts, as well as water pipes and cigars.
The lounge features a house band performing pop, jazz and classic hits from Wednesday to Monday.
The Macallan Whisky Bar & Lounge
It's all darks woods, leather Chesterfield sofas, Jacobean rugs with tartan cloth and really great scotch at Macallan's signature bar and lounge.
"Old boys' club in The Highlands" seems to have been the interior designer's MO.
This is the place to take high-rolling gentlemen with a taste for finer things – or those who aspire to be as much.
The Macallan bar has the widest Macallan whisky selection this side of the Atlantic. The bartenders mix some mean whisky-based cocktails.
The display of special collection whiskies – see the first whisky in the world! – is a conversation starter for dedicated scotch hounds.
Shopping / Attractions
A-Ma Temple
Dating to the 16th century and originally dedicated to Mazu, the goddess of seafarers, A-Ma Temple is older than the city itself.
The temple has gradually expanded throughout the centuries, resulting in a rich mixture of Chinese architectural styles and religious motifs.
A variety of deities now receive worshippers at A-Ma Temple, making it a fascinating place to experience a cross-section of Chinese beliefs.
A-Ma Temple is perennially crowded with worshippers and tourists who fill the place with clouds of smoke billowing from fistfuls of joss sticks.
The busiest time is during the A-Ma Festival (April 2012) when firecrackers, lion dances and Cantonese opera draw crowds.
The SkyJump at Macau Tower
Bungee jumping pegs the crazy meter at the SkyJump at Macau Tower, which claims to be the world's highest plunge at 233 meters. The fall can get up to 200 kilometers per hour. Jumpers take off very close to the building – from below it looks like they'll crash into Macau Tower.
The less daring can choose to strap themselves onto the Decelerator Descent, which lowers more timid thrill seekers in a less drastic way.
UNESCO World Heritage Sites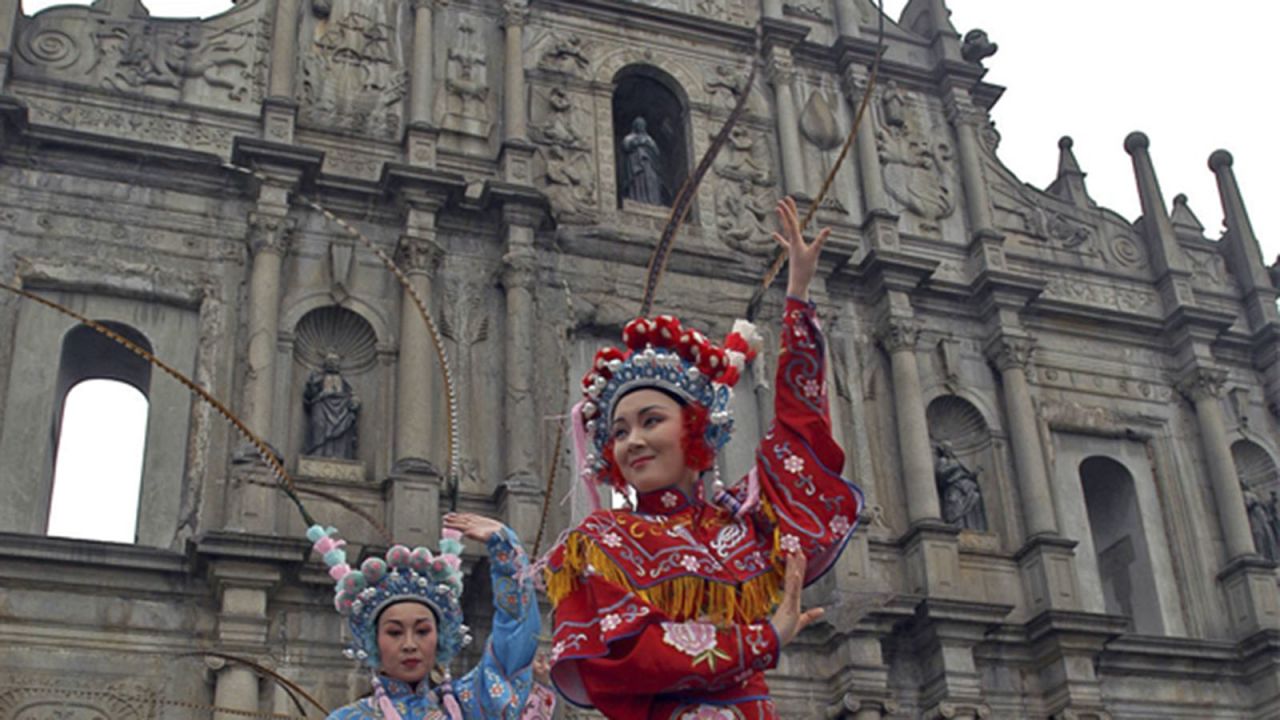 Tiny Macau probably has the world's highest density of UNESCO World Heritage Site features, with attractions packed into The Historic Centre of Macao.
This makes a one- or two-day walking tour of the sites easy and unrushed.
The Historic Centre comprises two zones stretching from the southwestern tip to the central part of the peninsula and a smaller zone on Guia Hill. World Heritage Sites are also located on the islands of Taipa and Coloane.
Macau's tourism board has drafted best of Macau touring routes and mobile apps to make it easy for visitors to find the famous Ruins of St. Paul's, Old City Walls, the Casa Garden and various fortresses, cathedrals, temples and ruins.
One Central
With its stunning architecture and a lineup of luxury brands, One Central Macau strives to be the city's top designer shopping destination.
While the whales frolic at casinos, their wives visit One Central for a one-stop shopping spree.
Even if you're not rich or rich-by-marriage, One Central is an attraction for the Louis Vuitton Espace gallery. Attached to the Louis Vuitton flagship store, the lower two levels showcase all the beloved monogrammed goods.
The top level includes a VIP lounge, rooftop terrace and the gallery that hosted Chinese artist Zhang Huan's celebrated 2010 exhibition.
Koi Kei Bakery
From a street cart selling nutty pastries and sweets to the biggest confectionary chain in Macau, Koi Kei Bakery is now the ambassador of Macau.
Everyone who visits comes back with a sackful of Koi Kei pastries. The bakery offers a wide selection of classic southern Chinese snacks that devotees claim are incomparable to other bakeries in the region.
The variety is staggering.
Walnut cookies, Phoenix egg rolls with seaweed, almond cookies made fresh before your eyes, candied fruits, both chewy and crispy peanut candy and a diversity of pork jerky to boot.
Tastings are available for nearly every product. Just ask.
Casinos
More than four times the size of Las Vegas in terms of gambling revenues, the "special administrative region" of China has been exploding in size and popularity, especially since the 2004 arrival of the first American casino operators.
Now, more than 14 million visitors a year come to Macau from mainland China.
Of the more than 25 gambling facilities (baccarat is the most popular game here), these are the best of Macau casinos.
Here's where you gamble with the pros:
Grand Lisboa Casino
The Grand Lisboa Casino is a 2007 extension of Macau's original glam casino, the Casino Lisboa.
An iconic structure that lights up in bright rainbow colors at night, the games here are spread over four floors.
The gambling area has more than 240 gaming tables. Traditional games are all here – baccarat, sic bo, fan tan, routlette, blackjack and stud poker. Craps and Texas hold 'em have recently been introduced.
The Premium Player area offers insanely high table limits for the best of Macau pros and those with enough disposable coins to pretend they are.
Wynn Macau
Smaller than the Wynn Las Vegas, the Wynn Macau is nevertheless big on spectacles.
The casino puts on fantastic signature shows, such as the Dragon of Fortune that rises 28 feet in the air, with an animated head complete with glowing eyes and billowing smoke from its nostrils. It's covered in 228 square meters of gold leaf – that kind of bling pushes the show above cliché.
Another show, the Tree of Prosperity, features a giant golden tree rising from the ground.
Nearly 19,000 square meters of floor space accommodates about 400 slot machines, an increasingly popular game across Macau. Slot revenues jumped 41 percent at Wynn Macau in 2011.
There are 100 each of poker, roulette and blackjack tables and other traditional Chinese gaming tables.
The Venetian Macau
This theme park of a casino is one of the largest in the world and a hub for all international artists who visit Asia.
The famous canals of Venice are recreated indoors and attractions such as Cirque du Soleil's "ZAIA," a mini-golf course and top-notch dining are on offer.
The Venetian emphasizes recreation and entertainment, but there's no shortage of gambling options.
The casino offers 139 different games of chance, ranging from baccarat and blackjack to pai gow tiles, fan tan, Spanish 21, Caribbean stud and casino war. The high-limit salon has 20 tables for players whose bankrolls are as impressive as their nerve.
Galaxy Macau
Inspired by Asian palaces, the Galaxy cuts a striking figure on the Cotai Strip. Costing nearly HK$2 billion, the combined resort and casino complex opened in 2011.
Housing the spa-hotel Banyan Tree, the Japanese world-class Hotel Okura and the Galaxy Hotel, there's also a ginormous casino that's conveniently fringed by dining facilities and a capacity for 600 tables as well as 1,500 electronic gaming machines.
Gambling options are so abundant and diverse the Galaxy really should issue detailed maps to casino-goers.
Racing
Greyhound racing remains popular among locals, attracting a largely working-class crowd.
The Canidrome has races every day except Wednesday and Friday, usually starting at 7:30 p.m. Check the latest schedule for the most up-to-date race times.
There's also an off-course betting center on the ground floor of the Hotel Lisboa, Jai-Alai Palace and Kam Pek Casino.
As for horse racing, although Hong Kong hosts higher-caliber international races, the Macau Jockey Club is endearing for other reasons.
Membership requirements are lower than at its Hong Kong sibling, and racing doesn't break for the summer. Race days are also more frequent and last longer.