Editor's Note: CNN Insider Guides are thoroughly checked for accuracy. Given the fluid nature of the travel industry, however, some listings may fall out of date before guides can be updated. The best practice is to confirm current information on official websites before making plans to visit any business or attraction.
Surrounded by ocean on three sides, with the landmark Table Mountain soaring 1,000 meters above the packed streets of the City Bowl, Cape Town rightly places high – maybe number one – in any ranking of the most scenic big cities on the planet.
You're never at a loss for what to do in Cape Town.
Powder-white beaches fringe the Atlantic seaboard. Trellised vineyards line historic winelands. A fynbos-covered national park is parked in the heart of the city.
Never heard of a fynbos? You haven't lived. We can fix that.
Home to 3 million Capetonians, the top tourist destination in Africa feels more like a collection of idiosyncratic villages than a one-dimensional metropolis.
There's Miami-glam on the Camps Bay strip, urban grit in up-and-coming Woodstock, genteel wine estates in the horse-centric southern 'burbs and boho-chic in the seaside boutiques of Kalk Bay.
Want to know what to do in South Africa's "Mother City"? Keep reading.
Hotels
Luxury
One&Only Cape Town
This glam "urban resort" was built for name-dropping: Bastien Gonzalez gives mani-pedis in the spa, Nobuyuki Matsuhisa's only eatery in Africa is here and local celeb-chef Reuben Riffel dishes up South African cuisine at the somewhat-cavernous Reuben's.
If your credit card needs a good hiding, book the top-floor penthouse with its four bedrooms, 360-degree views, two swimming pools and baby grand piano.
A bargain at US$12,000 a night.
Mount Nelson Hotel
Located at the foot of Table Mountain, this thoroughly updated historic hotel has been a Cape Town landmark or two centuries.
The extraordinary pink exterior has earned the hotel a number of famous nicknames, "Mount Nelson Pink" and "Pink Lady" among them.
It's also made her a destination for couples and romantic travelers.
Afternoon tea here is a poshy "must" for those pondering what to do in Cape Town.
Mid-range
Steenberg Hotel
Twenty minutes from the central business district (CDB), this relaxed winelands hotel rolls out the vintage welcome mat at rates you'd expect to pay for plonk.
The winelands are what to do in Cape Town and this is the place to make home base.
Vineyards surround the hotel.
There's a winery on site making damn fine bubbly – all just a solid eight-iron from the Steenberg Golf Club, which has one of the best golf courses in the Cape.
Budget
Grand Daddy Hotel, Airstream Trailer Park
The recipe is simple: wade through a mountain of red tape; hoist seven vintage Airstream trailers to a downtown rooftop; tell seven renowned artists to throw rules out the window when designing the interiors; sprinkle with city views …
From all this you get – what else? – the country's (world's?) first rooftop trailer park.
Each Airstream "room" offers the usual hotel mod cons, but if you're partial to baths – or standing up straight – opt for one of the equally arty rooms in the Grand Daddy hotel below.
Restaurants
The Test Kitchen
If you want to know what to do in Cape Town, start with the best.
Voted South Africa's top chef in 2011 by restaurant bible EatOut, chef Luke Dale Roberts likes to challenge palates at his cutting-edge eatery in the trendy Biscuit Mill complex.
A sense of Asian adventure runs through the menu, making this a place for gourmands not comfort-eaters.
The restaurant's retro-industrial decor is gritty, but that doesn't mean you shouldn't throw on your dressier clothes.
The Roundhouse
This historic hunting lodge on the slopes of Table Mountain is the perfect foil for the playful cuisine of chef duo Eric Bulpitt and PJ Vadas.
These kitchen cowboys aren't afraid to experiment.
Expect dishes like artichoke risotto with sweetbreads, or eland carpaccio with cranberries.
You won't leave with much change out of R1,000 (US$132), but the excellent service and world-class cooking make it worth the splurge.
Bizerca Bistro
Located in the unlovely bottom-end of the City Bowl, fully booked tables are a testament to the outstanding French cuisine dished up by chef Laurent Deslandes and his South African wife, Cyrillia.
Laurent's offerings change with the seasons, but regulars would likely threaten violence if he took his signature dish off the menu.
Such is the majesty of the braised pig trotter with seared scallop and drizzle of truffle oil.
Societi Bistro
This neighborhood bistro offers consistently good value, and is booked with locals almost every night of the week, always a good sign when you're considering what to do in Cape Town.
The compact menu changes with the seasons, but look out for specials that traverse France and Italy.
There's a lovely terrace for rare wind-free days, and fireside tables for when the Cape of Storms lives up to its name.
95 Keerom
You can't take two steps in Cape Town without tripping over a Giorgio Nava restaurant, but this is the Italian stallion's home base, where he lovingly folds fresh ravioli, trims the lamb raised on his own farm and presents the menu to diners in his sultry Milanese accent.
Lauded as the best Italian restaurant in the country by EatOut magazine, and we're inclined to agree.
The Kitchen
Even before Michelle Obama stopped in here for lunch, it was almost impossible to get a seat at Karen Dudley's quirky deli in the newly cool Woodstock area.
The impressive salad spread (they concoct a dozen each day) and fresh "love sandwiches" draw in local creatives, while Dudley's gooey chocolate brownies almost literally fly out the door with hipsters in hot pursuit.
Takumi
Hatsushiro Muraoka is grumpy, cantankerous and … the best sushi chef in the city.
He's a local legend whose new eatery – he left the much-loved Minato's a few years back – adds a touch of Japanese glamour to his perfect slivers of piscine produce.
To beef up the raw fish there's also an exciting range of Japanese dishes, including feather-light tempura and perfectly seasoned and cooked udon noodles.
To dine here you'll have to play by Papa-san's most important house rule: "No wise guys."
Nightlife
Planet Bar
If there's a celeb in town, chances are you'll find them draped over a bottle of bubbly at the Planet.
The bar describes its own "stylish celestial decor."
We're not sure what that means but the upscale feel also makes this a perfect date spot, or just the place to start when planning a what to do in Cape Town nighttime itinerary.
The Mount Nelson Hotel may be the grande dame of Cape Town, but her naughty niece downstairs is up to all sorts of classy mischief.
French Toast
You could spend days driving around the Cape winelands – or simply settle into a cozy banquette at this industrial-cool wine bar.
With 80 wines by the glass, and plenty more rarities by the bottle, you'll likely want to get familiar with the tapas menu while choosing what to eat and deciding what to do in Cape Town.
Wine flights of three tasters are ideal if you're the indecisive type.
The Waiting Room
Previously the actual waiting room for the burger joint downstairs, this rooftop watering hole has become one of the city's trendiest hangouts.
Tuesday nights feature up-and-coming bands, while DJs spin tunes Wednesday through Saturday.
Skinny jeans and designer T-shirts optional, but recommended.
Café Caprice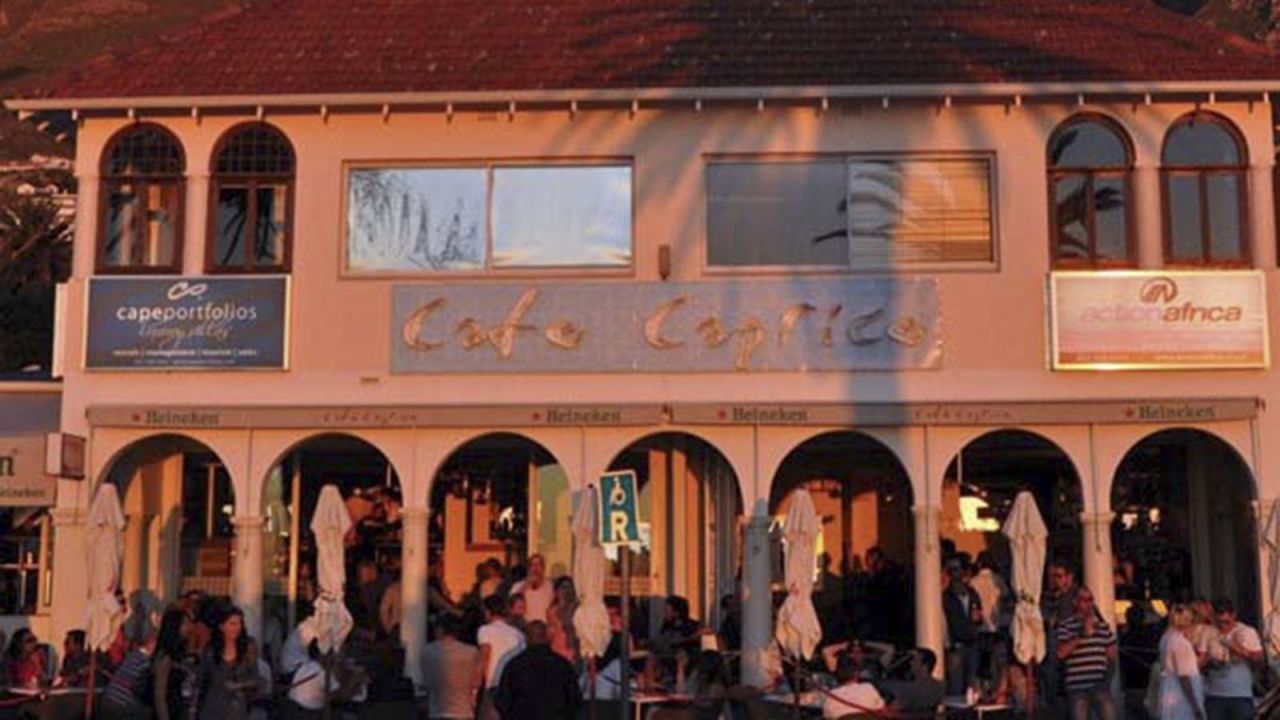 In summer, the Camps Bay strip is the place for hipster watching, and Caprice is the hottest hangout of all.
There's food, but you'll find a far better meal elsewhere in town. This is the place for tall cocktails, short dresses and time on the dance floor.
World's best wine tours and trails
Shopping / Attractions
Pan-African Market
This three-story consumer playground offers a mesmerizing array of curios and crafts from across Africa.
Fertility statues and wedding masks from West Africa are worth seeking out.
The friendly traders are ready for a good haggle, so don't be afraid to bargain.
The Old Biscuit Mill
The gritty Woodstock area is getting a facelift, with this high-end shopping precinct leading the charge.
You'll find art galleries, designer boutiques and coffee roasters, but the highlight is the Saturday morning produce market that's become a weekend ritual for local foodies.
Arrive before 9 a.m. to avoid the crowds.
Constantia winelands
If you want to experience the Cape winelands but are pressed for time, the Constantia Valley is just 20 minutes from the city and boasts some of the country's oldest estates.
Klein Constantia and Steenberg are two of the better wineries.
Table Mountain Aerial Cableway
Yes, it's touristy.
Yes, it can get crowded.
Yes, the incredible views from the top will leave your jaw on the ground and challenge the memory card in your camera.
Apart from slogging to the summit on foot, the cableway is the only way to soak up the panoramic views of the Mother City, so just brave the crowds and go.
Book online and you can go straight to the front of the queue.
If you do nothing else touristy, this is what to do in Cape Town.
Get out of the city
Had enough concrete? When you're in Cape Town, nature is never far away.
The Company's Garden
It's not quite Central Park, but this green lung in the center of town is well worth a visit.
Shady benches offer respite from the heat, and some of the city's best museums and art galleries abut historic gardens.
There's a lovely tearoom, as well.
Hoerikwaggo Trail
Table Mountain National Park dominates Cape Town's skyline, and a new multi-day walking trail lets you wander this World Heritage Site.
The 88-kilometer Hoerikwaggo Trail runs from the city to Cape Point, promising spectacular views and sore legs.
Shorter hiking options are also available.
Contact SA National Parks for accredited guides and operators.
Sea Point promenade
This seafront promenade is where locals head for fresh ocean air.
Jewish grannies, iPod-toting joggers and families all get along famously on this wide waterfront walkway.
Keep an eye out for regular art installations.
Sea Point promenade, Off Beach Road, Sea Point
West Coast National Park
Hit the R27 north of Cape Town and you'll soon wonder how the city disappeared so quickly.
A combination of parklands and mountains, West Coast National Park is one of the country's largest nature preserves.
It's a popular destination for adventure fans, who come for bush walks, canoeing and wild animals.
The best time to visit is in spring, when flowers carpet the hillsides, antelope graze on new shoots and whales cavort in the icy Atlantic.
West Coast National Park, R27, 100 kilometers from Cape Town; +27 22 772 2144