Editor's Note: CNN Insider Guides are thoroughly checked for accuracy. Given the fluid nature of the travel industry, however, some listings may fall out of date before guides can be updated. The best practice is to confirm current information on official websites before making plans to visit any business or attraction.
After years of turmoil, newfound political stability has brought Cambodia roaring back to life and eager to make up for lost time. Cambodia's attractions are many and varied.
Phnom Penh is one of Asia's most authentic capital cities, though it's more reminiscent of a large town than a metropolis. The ruins of Angkor Wat draw crowds of visitors – some pilgrims, some simply rubbernecking. Further afield, the beaches of the south lure sybarites wearied by the commercialism of brasher sun, sand and sea destinations.
Visitors should note that while the Cambodian riel circulates freely, U.S. dollars are commonly used in tourist areas, and are even dispensed by ATMs.
Dive into our insider guide to discover the best of Cambodia:
Phnom Penh
Like Manila, once known as "The Pearl of the Orient," Phnom Penh's wide boulevards, shaded by tamarind and jacaranda trees, now play host to upscale coffee shops, luxurious boutique hotels and cutting-edge clubs, restaurants and bars.
On its romantic riverside, where the mighty Mekong meets the Tonlé Sap and Bassac rivers, there's an irrepressible energy in this city of 1.5 million, due in no small part to the charm, enthusiasm and joie de vivre of the Khmer people. Away from the river, shady villas and little temples nestle together under the palm trees – thoroughly Indochinese in manner.
Elsewhere, shoppers will find plenty to exercise their imagination (and wallets) in the Central and Russian markets. Compact, low-slung and seemingly sleepy in the Cambodian heat, Phnom Penh is, in fact, fired with excitement and optimism: this is a city that feels destined for great things.
Visiting nearby Vietnam? Insiders share their tips there, too
Hotels
Luxury
Raffles Le Royal
The doyenne of Phnom Penh's hotels, this has been here, in one form or another, since the 1920s. Its pride in its history is evident. From the cool tiled halls to the gorgeous swimming pools in the central courtyard, the hotel oozes class and sophistication. The rooms are divine, service is world-class, the restaurants superb and having a drink in Elephant Bar is like stepping back to another era.
Mid-range
The Plantation
Formerly a collection of government offices, The Plantation was recently re-imagined, and opened as a luxurious and competitively priced boutique hotel in 2012. It immediately began winning international awards and accolades, and it's not hard to see why.
Tree-lined passageways lead between pools, ponds and bars, all tucked away behind a high perimeter wall. Lovely rooms, great food and attentive service make this an exceptional hotel in the heart of the city.
Hotel Nine
Close to the Independence Monument – on a street heaving with fruit and vegetable stalls and barbecue stands – passing through Hotel Nine's gateway is like entering a different world.
There's a little jewel of a pool, nicely thought-out and appointed rooms and an exceptional level of care and attention from the dedicated staff; all of which make this a real treasure of Phnom Penh. The restaurant is very good, but staff will be happy to point out the best things to try on the street outside if you want to be more adventurous.
Budget
Kambuja Inn
In a beautiful colonial building in the heart of town, the Kambuja Inn is a delight. Vast wooden shuttered rooms are cool and shady, and little grassy courtyards with trees and quiet pools make this a sensibly priced oasis.
Staff at the family-run Kambuja will go well out of their way to make sure you have everything you need, and an associated travel agency over the (quiet) road can cater to your travel arrangements. Exceptional.
12 stylish boutique hotels in Cambodia
Dining
Malis
Cambodian food isn't nearly as well known as that of its neighbors Thailand and Vietnam, but the owner of Malis, celebrity chef Luu Meng, is trying to change that. He's doing a first-class job. On one of Phnom Penh's grand boulevards, the restaurant is wonderfully atmospheric, with stone Buddhas and reflecting pools.
Most of the ingredients are sourced in Cambodia, and there's a palpable sense of pride in the food. Dishes such as prohok ktis (fermented river fish, pork and coconut milk) and samlor korko (pumpkin soup with pork ribs) are wonderful, and the extensive wine list is impressive.
Romdeng
Run by an NGO that trains street kids as restaurant staff thereby giving them a trade, Romdeng is the best way to eat spectacular Cambodian food and help a worthy cause at the same time.
In a lovely colonial building, with a lap pool to one side (if you feel the urge for a dip in the middle of dinner) the menu features Khmer classics like fish amok and beef loklak, as well as some more unusual fare, like deep-fried tarantula, which isn't as bad as it sounds. This is no charity case – the food is excellent. Absolutely worth a visit.
10 meals every visitor to Cambodia should try
Nightlife
Pontoon
A vast, beautifully executed nightclub, Pontoon was originally on a boat moored on the Tonlé Sap river until it sank in 2008 because of the enthusiasm of the partying on board. Now firmly on dry land, the club provides everything you look for in terms of nightlife.
Visiting international DJs, bands and comedians make for a varied lineup, and the attached restaurant stays open until the wee hours. Truly, they've thought of everything.
Mao's
A newcomer to the Phnom nightlife scene, Mao's has quickly gained a reputation as a top venue for a great night out. Hip without being intimidating, it welcomes regular bands as well as DJs, and attracts a cosmopolitan mix, all ready to party. The upper walkways are the cool place to hang out and watch the action on the dance floor below.
Attractions
National Museum
Not exactly a secret, but unmissable nonetheless, the National Museum is housed in an old Khmer building that avoided the malign attentions of the Khmer Rouge.
The museum is a treasure house of Angkorian and pre-Angkorian artifacts, mainly stone statues of breathtaking beauty and craftsmanship. Built around a lovely, tranquil courtyard, you can spend hours getting lost marveling at the sublime statuary and wondering at Cambodia's astonishing history.
Silk Island
A dozen kilometers and a US$20 taxi ride north of Phnom Penh, Silk Island, or Koh Dach, is home to several little villages where the main source of livelihood is silk weaving.
The super-friendly weavers are more than happy to show you their traditional techniques, as they create quite stunning cloth, which you can buy at extremely reasonable prices. Other handicrafts are available, as is swimming in the mighty river, but the main attraction is spending time in the company of such unassuming and delightful people, and to witness a way of life that may not last too much longer, due to the relentless pressures of modernity.
Siem Reap
Temple Town, as expats call Siem Reap, is hot, dusty and flat, but creative and buzzing with life.
Artists, poets, writers and photographers have flocked here, to be close to the astonishing ruins of Angkor, and the city is flourishing, with new restaurants, bars and hotels opening seemingly every day. The center of town is lovely, with the serene Siem Reap river flowing languidly between vast old trees, especially in the former French Quarter.
The town is now mainly dependent on tourism, and there are innumerable shops selling jewelry and handicrafts – the old market, Phsar Chas, is the most logical place to start browsing – dozens of bars and restaurants catering to every price level. Whatever you're looking for, you'll find it here.
Hotels
Luxury
La Résidence d'Angkor
In the center of town, this classy five-star hotel is a beguiling place to stay, and offers a perfect change of pace to days spent exploring the temples just outside town – the swimming pool is a delightful oasis. The hotel is beautifully designed and thought-out; the staff are excellent, rooms comfortable and luxurious, the restaurants first-rate and the whole package is peaceful, stylish and almost decadent.
Mid-range
Prince D' Angkor Hotel & Spa
Another well-situated hotel, with big, comfortable rooms, a great pool and helpful staff, the Prince D' Angkor is a sensible way to stay in relative luxury in Siem Reap without breaking the bank. The Khmer-style spa offers a range of soothing treatments, and the hotel itself offers packages to suit all budgets.
Dining
Nest Angkor Café Bar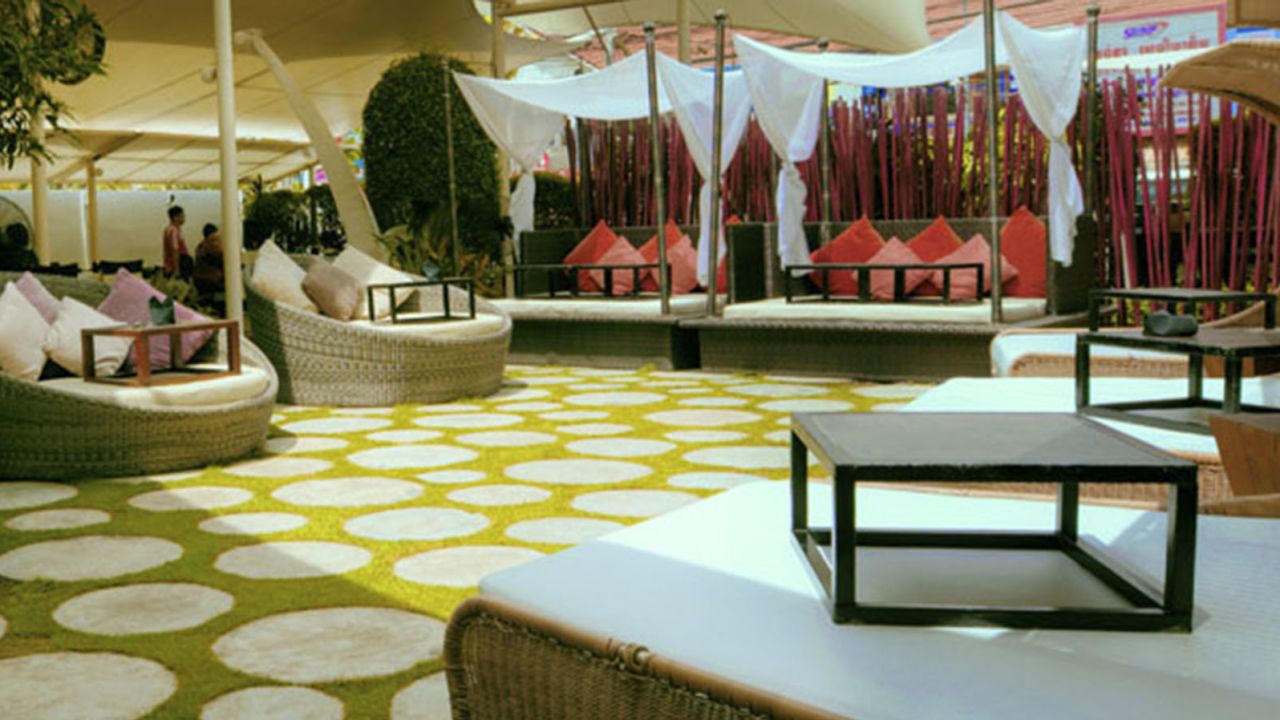 A relative newcomer to Siem Reap, the fabulously stylish Nest has quickly become enormously popular. Nest serves both traditional Khmer cuisine and Western favorites in a hip environment, and the opulent daybeds in the garden are covered by a canvas sail roof. The cocktails are wonderful, the food excellent and the atmosphere cool beyond words.
Nightlife
Miss Wong
Only a couple of minutes' walk from the neon brashness of Pub Street, Siem Reap's main nightlife strip, Miss Wong seems worlds away. Named after a painting by Vladimir Tretchikoff, the tiny bar is dripping in 1930s Shanghai style, with its deep red walls, silk lanterns and dark wooden furniture.
Cocktails and conversation are the order of the day (or night) here, both to be enjoyed in the luxurious booths. The signature Indochine Martini, with vodka, ginger cognac and pineapple juice is a heady and sophisticated pleasure.
Attractions
Banteay Srei
The temples of Angkor are the reason for Siem Reap's existence (the name means "Siam Defeated," in reference to the almost endless historic rivalry between Thailand and Cambodia), and everyone has their favorite jungle temple. Ta Prohm, Bayon and Angkor Wat itself are justly renowned, but Banteay Srei, often referred to as the jewel of Khmer art, is less visited, which can be a big plus point when there are swarms of tourists at better-known monuments.
Much smaller than some of the other temples, the carvings are breathtaking, intricate miracles of the sandstone carver's art. It's absolutely worth getting a guide you trust, probably via your hotel, so as not to miss anything here.
Further afield
Cambodia's coast is developing fast; its gorgeous islands supplying the peace and unspoiled tranquility that was the preserve of southern Thailand 30 years ago. Here are some quick highlights:
Sihanoukville is a mix of backpacker party town and high-end luxury resorts, but is a good jumping-off point for exploring the islands, and now boasts a working airport.
Slightly closer to Phnom Penh, the towns of Kampot and Kep serve up true Cambodian magic.
Kampot, celebrated for its pepper, is located on a sleepy estuary below the Elephant Mountains. It's difficult to say what exactly to do here, but time passes between agreeable breakfasts in charming little cafés and watching the fishing boats head out to sea at sunset.
A popular resort with the French in the 1950s and 1960s, Kep is renowned for its astonishing Modernist mansions, now ruined, which look out over the sea towards Vietnam and the Gulf of Thailand. Its crab market and many restaurants are the best places to end a perfect day gently exploring the surrounding hills and plains, and soaking up the best of Cambodia.