Editor's Note: Sign up for Unlocking the World, CNN Travel's weekly newsletter. Get the latest news in aviation, food and drink, where to stay and other travel developments.
It's one of the main draws that brings visitors to Iceland, for a float in its milky-blue, comfortingly warm waters.
But the world-famous Blue Lagoon geothermal pool has closed for a week because of the current seismic activity around the site.
The site is part of southwest Iceland's Reykjanes Peninsula – a thick finger of land pointing west into the North Atlantic Ocean from capital Reykjavik. As well as the Blue Lagoon, the peninsula is also home to Iceland's main airport, Keflavik International.
Iceland is one of the most active volcanic areas on the planet. Rather than having a central volcano, the Reykjanes Peninsula is dominated by a rift valley, with lava fields and cones.
According to the Icelandic Met Office, around 1,400 earthquakes were measured in the 24 hours leading up to around midday on Thursday November 9, with another 800 in the first 14 hours of Friday. Seven of Thursday's were of a magnitude of four or above – and all of these were on the peninsula, between Eldvörp, near the airport, and Sýlingarfell, a mountain just to the east of the Blue Lagoon.
The most severe quake registered 4.8 west of Þorbjörn, a mountain roughly a mile south of the Blue Lagoon, at just before 1 a.m. on Thursday.
"It is the largest earthquake since the activity began on October 25th," the Met Office wrote in a bulletin on Thursday.
"While the accumulation of magma continues, seismic activity can be expected on the Reykjavík Peninsula because the magma intrusion causes increased tension in the area."
Tremors can be felt from as far away as Reykjavik, a spokesperson for the local tourist board told CNN.
Magma three miles down
In the previous 24 hours, 1,200 earthquakes were measured, mostly in the same area and at the same depth – around five kilometers (three miles) below ground level. "It is likely that seismic activity will continue, and be episodic in intensity, while magma accumulation is ongoing," the wrote on November 8, adding that "uplift continues in the area."
By Friday, the area was still active, with around 800 quakes already measured since midnight, according to a 2 p.m. local time bulletin from the Icelandic Met Office. A "dense swarm" of quakes started at 7 a.m., culminating in a 4.1 magnitude quake near Sýlingarfell shortly before 2 p.m..
However it was also at pains to point out that an eruption isn't necessarily imminent. "The fact that there are now larger earthquakes than before in the area does not necessarily mean an increased rate of magma accumulation," said Thursday's Met Office bulletin.
Friday's bulletin warned that earthquakes of up to 5.5 magnitude "can be expected" as magma accumulation continues below ground. However, they noted, "At this stage, there are no indications that magma is forcing its way to the surface."
An explosive recent past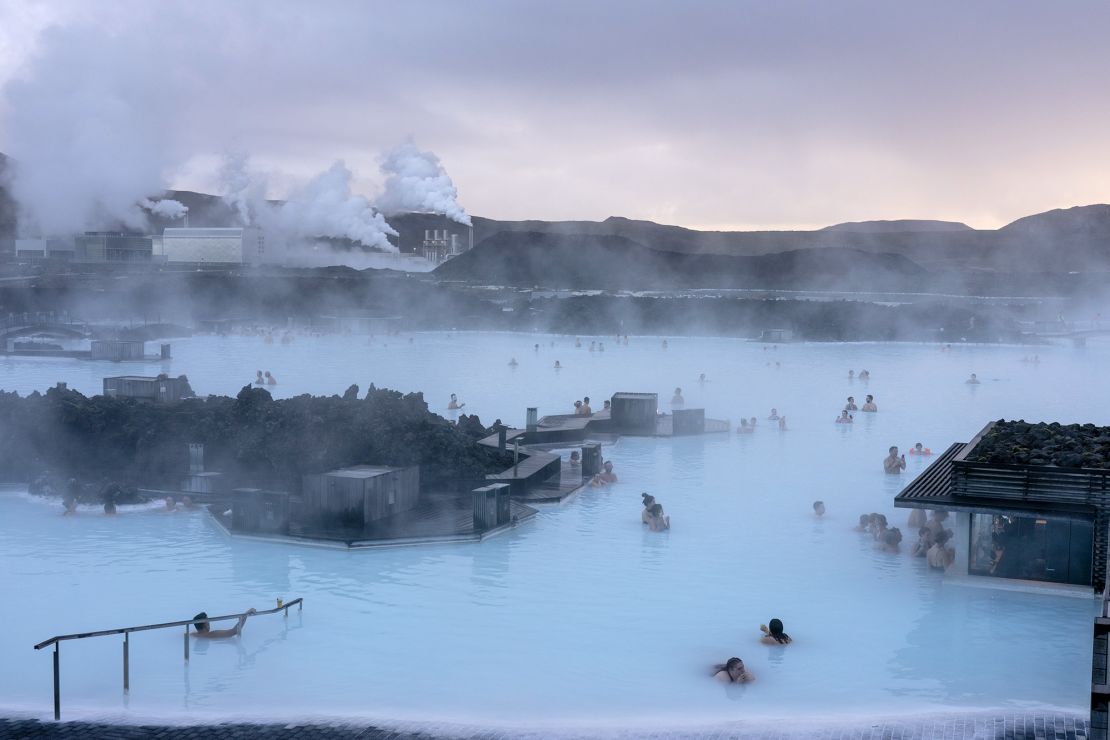 The Reykjanes Peninsula has now been coded yellow – one above the rest of the country's green – for eruption risk.
According to a statement from Visit Reykjanes, the local tourist board, the current activity is similar to that preceding last year's eruption of Fagradalsfjall, around 8.5 miles southwest of the Blue Lagoon. Fagradalsfjall has erupted every year since 2021. The latest eruption took place from July 10 to August 8, 2023. When hiking trails were reopened in August, visitors were warned not to walk on the still "steaming hot" lava.
"There is no way of accurately predicting whether, where, or when this could result in a volcanic eruption or the possible size of such an eruption," Þuríður Aradóttir Braun, manager of Visit Reykjanes, told CNN.
"This continuing course of events is very similar to the lead-up to the three previous eruptions in Reykjanes Peninsula in 2021, 2022, and 2023 but it could also fade away similar to the events we had in 2020.
"On one hand we are witnessing an amazing real-time natural event that might only happen once in a lifetime. On the other, it is a big event in nature that we cannot control. We have to respect it and give it space. Volcanic activity is a fact of life in Iceland, and Icelanders have learned to live with its drawbacks and considerable advantages, such as geothermal energy.
"We have an excellent team around us, monitoring and informing at any given time."