Whoever mused that getting there was half the fun clearly hasn't spent enough time flying commercial, crammed into a coach seat sized for a third-grader, sneezed on by passengers and jostled (sometimes, outright assaulted) by grouchy flight attendants.
No matter how glamorous the destination—or destination spa—the indignities of modern travel are just half the battle. The other half? Fighting the resulting symptoms: sore shoulders, a piercing crick in the neck, or worse, jet lag or altitude sickness.
Long-haul flights that cross several zones cause anarchy for the body's circadian rhythms, and the effects are worse the further you travel.
It's not just swollen ankles and a pounding headache. If you added up all the vacation hours lost to the mental haze, sleep deprivation and exhaustion of jet lag, you'd be able to take another vacation.
While mountaintop vistas look impressive on Instagram, a bout of altitude sickness can sideline anyone regardless of age, physical fitness level or number of followers.
But you don't have to let energy-sapping jet-lag or altitude sickness steal your hard-won vacation time.
Instead, recover in style at these 10 hotel spas, where unique treatments use balancing elements from quartz crystals to therapeutic oils, so you can start your holiday refreshed.
Traveler's Recovery, Spa Bellagio, Las Vegas, Nevada
Moving from a chaotic airport to a smoke-tinged casino with blaring lights and dinging slot machines isn't the best start to a relaxing vacation.
After the synchronized dance of the famous fountains and the massive blown-glass Chihuly sculpture overhead in the lobby, your first stop should be the Bellagio's extravagant 65,000-square-foot spa.
A series of eight essential oils is lightly applied to the back, each one building on the one before: relaxing lavender, balancing woods, purifying tea tree, immunity-protecting cinnamon and clove, comforting cypress and basil, cooling camphor, cleansing wild orange and decongesting peppermint.
A full-body massage follows, dissolving any residual tension.
Bellagio, 3600 S Las Vegas Blvd, Las Vegas, NV, 89109; 702-693-7472
Samay Inka Massage, Spa at Palacio del Inka, Cusco, Peru
Before it was a posh hotel, this Cusco site was the opulent home of Spanish conquistador Francisco Pizarro. Before that, it was part of an Incan temple compound.
Even fearsome warriors fell ill to soroche (altitude sickness), so the hotel kindly offers guests oxygen-enriched rooms.
Still, lethargy can be hard to fight.
The Samay Inka Massage uses indigenous techniques and an Andean coca leaf ritual honoring the Pachamama (Mother Earth) to energize your essence and put your mind and body back in balance.
Palacio del Inka, Plazoleta Santo Domingo 259, Cusco, Peru; (51)(84) 231961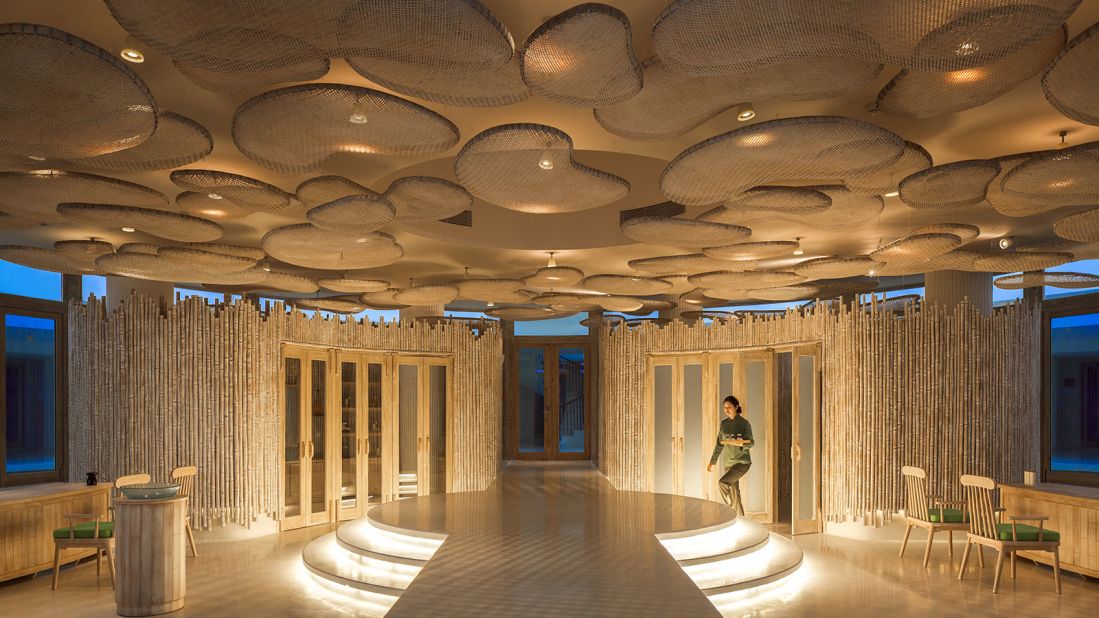 World's best new spas
Cranial Sacral Altitude Sickness Treatment, Spa at Dunton Hot Springs, Dolores, Colorado
Live out a Wild West fantasy in this magical 19th-century ghost town high in the Colorado Rockies.
With refurbished cabins, natural hot springs and a remarkable spa in the original Pony Express building, the former mining camp is authentically rustic.
Start with this niche spa treatment, which relieves the unpleasantness of altitude adjustment.
A therapist gently manipulates the skull and sacrum (base of the spine), soft tissue and the area around the spine to improve respiration and help the room stop spinning, finishing with a classic massage to ease clenched muscles.
Dunton Hot Springs, 52068 Road 38, Dolores, CO, 81323; 970-882-4800
Alpine Glow Body Wrap, The Spa at Stein Eriksen Lodge Deer Valley, Park City, Utah
Experiencing the ambiance of a cozy Scandinavian ski lodge requires traveling only as far as Utah's only five-star resort.
If your seatmate on the flight over spent the trip coughing in your direction or cold mountain air has sucked the life from your skin, get to the spa.
This body treatment offers bee propolis to support healthy immune response and myofascial massage to releases tight muscle and connective tissues.
After moisturizing with drippings from an organic massage candle, you're swaddled for a soothing scalp, neck and shoulder rubdown.
If you've been gasping for air, add a 25-minutes Oxygen Inhalation treatment. (Then, gasp with joy—you get to keep the candle.)
Stein Eriksen Lodge, Park City, UT, 84060; 435-645-6475
Jetlag Recovery, spaQ at QT Sydney, Sydney, Australia
When crossing international date lines, the fog of jet lag can blur the line between fantasy and reality.
At first, the eccentric atmosphere of QT Sydney may add to the confusion. (think arthouse-Deco furnishings and red-wigged staffers with the official job title "Directors of Chaos.")
A stop at apothecary-chic spaQ for the 150-minute Jetlag Recovery treatment will set you straight with a zingy green tea and sea kelp salt scrub, a massage to kick up circulation and a cleansing facial to plump skin and scare off airplane germs.
QT Sydney, 49 Market St., Sydney, New South Wales, 2000, Australia; +61 2 8262 0000
Jet Lag Relief, Monastero Santa Rosa Hotel & Spa, Amalfi Coast, Italy
Who knew 17th-century monks had it so good?
This former monastery, perched atop a dramatic cliff overlooking the sapphire-blue Gulf of Salerno, has 20 elegant rooms, a Pinterest-worthy infinity pool and a spa as divine as its origins.
A new jet lag treatment comes in 40- or 60-minute sessions, comprised of a reviving foot soak in volcanic menthol mineral salts, a dry body brushing to stimulate the senses and an energy-boosting massage on the achy spot of your choice.
(If the flight dried you up like a raisin, add 20 minutes for a hydrating aloe gel mask plus a scalp or foot massage.)
Monastero Santa Rosa Hotel & Spa, Via Roma, 2, 84010 Conca dei Marini, Italy; +39 089 832 1199
Crystal Healing Ritual, The Mulia Spa at The Mulia, Nusa Dua, Bali
With panoramic views of the bright turquoise Indian Ocean and amenities fit for royals–24-hour butler service, private cabanas–feeling ill for even a minute of your stay is unacceptable.
For a cure as otherworldly as your new surroundings, book the spa's signature Crystal Healing Ritual.
Quartz crystals are used to replenish energy drained by modern air travel and balance your chakras.
Balinese and scalp massage, enhanced with warm oil, further melt away muscle soreness and mental anxiety.
Now you're ready for paradise.
The Mulia, Nusa Dua, Bali, Indonesia. Raya Nusa Dua Selatan Kawasan Sawangan, Nusa Dua Bali, Indonesia, 80363; +62 361 301777
Citrus-Herb & Magnesium Energizer Wrap, Golden Door, Escondido, California
This legendary, Japanese ryokan-inspired luxury retreat in the hills of Southern California has been whittling the waistlines and balancing the chakras of Hollywood's elite since the 1950s.
This treatment begins with magnesium gel spiked with organic grapefruit, juniper, rosemary and thyme to relax knotted muscles and boost vigor.
An Olive Cleansing Massage follows, moving oxygen through the body and reducing post-flight swelling.
Golden Door Luxury Resort & Spa, 777 Deer Springs Rd., Escondido, CA, 92069; 800-424-0777
Sleep Enhancer or Jet-Lag Reviver, The Ritz-Carlton, Tokyo
There's no more satisfying view of Tokyo's cityscape than from the 46th floor of Midtown Tower at The Ritz-Carlton Spa.
Jet lag is particularly brutal when traversing time zones eastward, but this sanctuary can gracefully reset your internal clock with ESPA aromatherapy-infused massage.
If you've got to rally, kick up your energy levels with the invigorating Jet-Lag Reviver massage.
Desperate for quality sleep? Book the Sleep Enhancer for calming strokes designed to take you from zen to zzzz.
The Ritz-Carlton, Tokyo, Japan, Tokyo Midtown 9-7-1 Akasaka Minato-ku, Tokyo, 107-6245, Japan; +81334238000
Ayurvedic Renewal Ritual, Carillon Miami Wellness Resort, Miami Beach, Florida
When South Beach feels like one big, overcrowded, salsa-bachata-reggaeton nightclub, head north.
Set on an unblemished 750-foot stretch of private beach, Carillon's wellness hub—formerly Canyon Ranch—is focused on purification, not partying.
Those worn out from travel or too much indulgence can turn to the Ayurvedic Renewal Ritual.
A series of detoxifying oils and herbs, a full-body rubdown and a relaxing Shirodhara scalp treatment are the perfect way to hit the reset button.
Then you can actually enjoy the resort's fitness classes, thermal and hydro spa zones, and mind-body offerings like acupuncture and energy healing.
Carillon Miami Wellness Resort, 6801 Collins Avenue, Miami Beach, FL, 33141; 866-276-2226
Meirav Devash is a writer based in New York covering beauty, style and wellness. Her work has appeared in Allure, The New York Times, Women's Health and more.