Editor's Note: CNN Travel's series often carries sponsorship originating from the countries and regions we profile. However, CNN retains full editorial control over all of its reports. Read the policy.
On the night of June 30, 1997, Hong Kong was preparing to enter a new historic chapter.
Thousands of Chinese troops arrived in Hong Kong, as the British lowered its flag. The occasion? A day later, the United Kingdom returned the territory to Chinese sovereignty after more than 150 years of British rule in what's now known as "the Handover."
Some Hong Kong citizens marched in protest. Others emigrated in fear. Many toasted to a new beginning.
One of the night's biggest parties was at Carnegie's – a late-night institution in Hong Kong that played host to many a wild night, but sadly closed its doors this June after 23 years in business.
Colonial-era restaurants and bars are indeed a rare breed these days, but travelers can still get a sense of British-era Hong Kong at these seven time-honored favorites:
The Peninsula Lobby
Walk into The Peninsula hotel's lobby on any given day of the week, and you'll see lines around the palatial space, as people from all over the world queue up for the famous Afternoon Tea.
It's a long-time tradition at The Peninsula, a colonial hotel that opened in 1928 during British rule – making it the oldest luxury hotel in Hong Kong.
"Life seemed to have a different pace back then," Florian Trento, executive chef at the Peninsula Hong Kong, tells CNN. "No one had mobile phones and people were always talking with each other. People had time to chat over a meal, which was the center of social life."
Trento has worked at The Peninsula since 1987 and remembers working late that rainy handover night, as the hotel prepared special menus to be enjoyed before the July 1 fireworks.
"There was a level of uncertainty that night but, generally, the city was in a somber mood," he says. "Of course things have changed – we're all 20 years older! Life has always been good. It is less quiet now and we have social media, so people interact less, but life is good in Hong Kong."
The Peninsula Hong Kong, Salisbury Rd, Tsim Sha Tsui, Hong Kong; +852 2920 2888
READ: The essential guide to Kowloon, Hong Kong's 'dark' side
The Globe
For city newcomers, The Globe is likely most appreciated for its amazing craft beer selection. But for old-timers, the bar recalls days gone by, when it was Central's favorite neighborhood hangout.
The British pub opened in 1995 along Hollywood Road, conveniently located next to Hong Kong's famous Mid-Levels Escalator. In its heyday, Belgian actor Jean Claude Van Damme paid the bar a visit, as did Aussie tennis star Pat Cash and former English rugby player Jason Leonard.
After nearly 15 years in the original location, the landlord doubled the rent. So The Globe took up a new home, just off Hollywood Road in 2009.
"We tried to bring as much of the old Globe with as we could – the painted Globe map is still on the wall, the old round tables and overly high bar stools are still around," explains Toby Cooper, The Globe's director.
Cooper even salvaged the old floorboards, creating the tables for the booths. Today, the place feels like a proper British gastropub, with picnic tables, dozens of taps and even a lounge for games. The best time to visit? Happy hour, of course, which is pretty much all day – from 10 a.m. to 8 p.m.
The Globe, G/F, Garley Building, 45-53 Graham Street, Central, Hong Kong; +852 2543 1941
Jimmy's Kitchen
If you're looking for old school favorites such as Baked Alaska, British bangers and mash, and "Steak Diane" – juicy steak flambéed tableside – Jimmy's Kitchen is a go-to Hong Kong institution.
The Old World diner opened in 1928 – first in the Wan Chai district – and later moved to Tsim Sha Tsui (now closed) in 1969. In 1975, Jimmy's opened another location on Wyndham Street, which still stands.
Today, the heritage restaurant still oozes with nostalgic charm, from the wood-paneling, velvet furniture and rich red carpets. The menu stays true to its original signatures – think international fare and steaks that are prepared with a high-heat broiler, leaving the exterior nice and crispy.
Jimmy's Kitchen, G/F, South China Building, 1-3 Wyndham Street, Central, Hong Kong; +852 2526 5293
READ: Hong Kong's best hotels for amazing views
The Verandah
Down on the Southside of Hong Kong Island – about 30 minutes from Central – The Verandah restaurant is a posh dining destination, inside the historic Repulse Bay estate.
In its heyday, the building served as a celebrated hotel (from 1920 to 1982) that once welcomed the likes of Ernest Hemingway and Marlon Brando. The building was demolished in 1982, but quickly rebuilt to capture its earlier grandeur.
Now a lofty residential development, The Repulse has all the trappings of the 1920s, complete with black-and-white tile floors, grand staircases and antique wooden fixtures. And visitors can still enjoy afternoon tea or an elegant European meal at The Verandah, which offers views of the South China Sea, a colonial-era atmosphere and live piano music.
Curious about the building's story? There are mini historical exhibits peppered throughout the lobby and restaurants.
The Verandah, The Repulse Bay, 109 Repulse Bay Rd, Hong Kong; +852 2292 2888
The Peak Lookout
On the top of Hong Kong's most famous mountain, The Peak Lookout has stood the test of time – opening back in 1947, first known as the Peak Café. The restaurant is housed inside a renovated Grade II historic building – formerly used as a resting place for "sedan chair" carriers.
Back then, the only way to reach the houses at the top of the mountain was to be carried up like a king, and this was where the sedan carriers would rest between treks. Over the years, the restaurant has earned a reputation for serving excellent oysters and barbecue, Indian and Hainan chicken … a bit of everything, really.
It became the Peak Lookout in 2001 following renovations and an ownership change . The courtyard seating is especially charming, with a garden setting and views over Hong Kong's southern side. Meanwhile, inside, gorgeous arched doorways and stone walls lend a rustic feel and the nostalgic black-and-white photos on the walls will walk you through history.
The Peak Lookout, 121 Peak Rd, The Peak, Hong Kong; +852 2849 1000
READ: On board Hong Kong's 1920s-style tram
La Taverna
Hong Kong's very first Italian restaurant is none other than La Taverna, which emerged on the scene in 1969.
Opened by two Milanese brothers, the restaurant was a social gathering place for the small Italian community, at the time nostalgic for handmade noodles and quality olive oil.
Though La Taverna had half-a-dozen locations at one time, the only one that remains is in Tsim Sha Tsui, where the facade looks as if it's been transported from Milan's cobbled streets. Dating back to 1973, the eatery is cozy and rustic, featuring thick wood beams, antique furniture and vintage copper pots that dangle from the ceiling.
As for the menu? This is the kind of place to order rich and indulgent Italian favorites, such as Milanese osso buco with risotto or wood-fired pizza.
La Taverna, 36-38 Ashley Rd, Tsim Sha Tsui; +852 2376 1945
Captain's Bar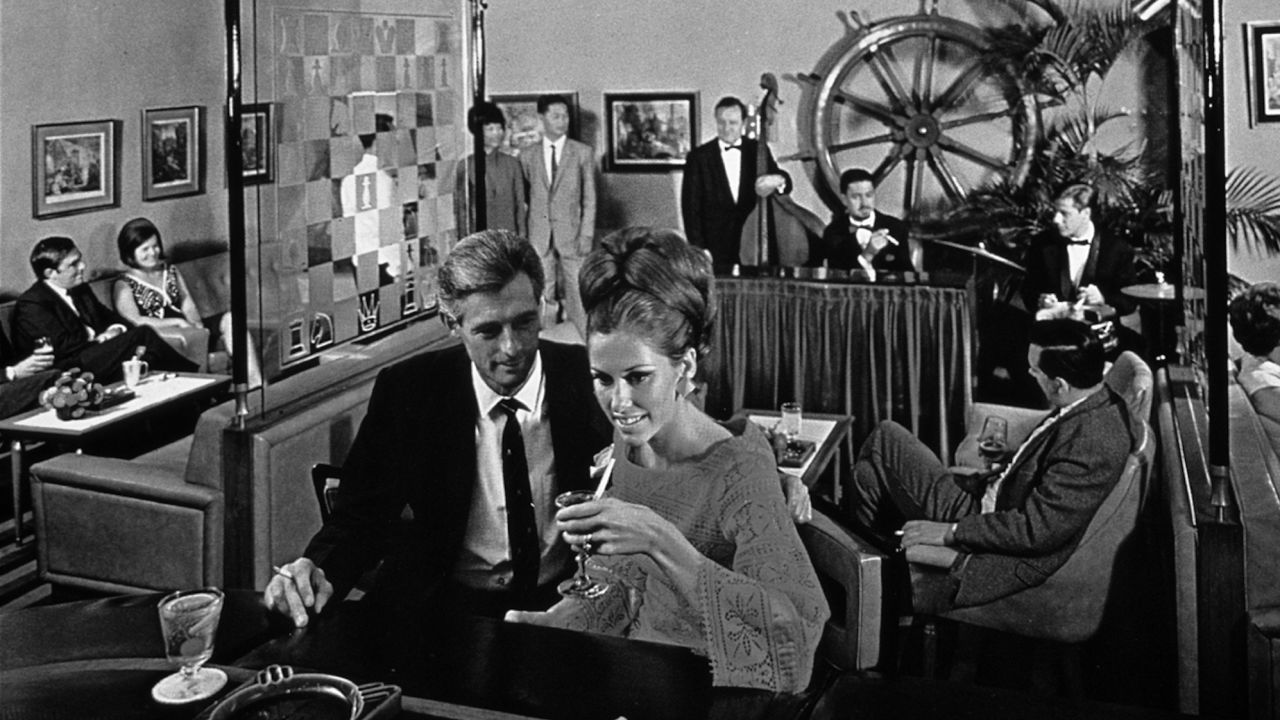 The Mandarin Oriental, Hong Kong is one of the city's most famous hotels and it's not surprising that it's also home to an old-school watering hole.
The Captain's Bar has long drawn a well-heeled after-work crowd, since opening 50 years ago.
The surroundings have been updated for wear and tear, but the place retains a gentleman's club vibe – picture leather booths, red accents and wood fixtures. The best part about drinking here is the signature Captain's Bar Beer. Brewed by local outfit Young Master Brewery, it's served in chilled silver tankards, for a nostalgic flair.
The bar is also known for its excellent Indian food – especially the chicken tikka – and live jazz on weekends.
Captain's Bar, Mandarin Oriental Hong Kong, 5 Connaught Rd Central, Central, Hong Kong; +852 2825 4006
READ: Lantau – Hong Kong's greenest island
The FCC
Housed in a 19-century heritage building in the heart of Hong Kong's Central district, The Foreign Correspondents' Club has been the choice watering hole for journalists since it opened in 1949.
The club has changed locations several times, finally making its way to its current address – a beautiful brick-and-stucco building that was once an "ice house," used to store dairy products before refrigerators were common.
A walk through the main bar, which is generally jam-packed on Friday nights, is like stepping back in time. Iconic magazine covers and emotive war images decorate the walls, a tribute to the work of its brave members. While visitors need to know – or befriend – a member to get inside this popular spot, the next-door Fringe Club shares a bit of the same heritage appeal.
Opened in 1983, the art-gallery-slash-cafe puts on a host of exhibitions and theater performances throughout the year. Or for a low-key evening, head to the rooftop bar.
The Foreign Correspondents' Club, Hong Kong, 2 Lower Albert Rd, Central; +852 2521 1511
Fringe Club, 2 Lower Albert Rd, Central, Hong Kong; +852 2521 7251