Editor's Note: CNN Travel's series often carries sponsorship originating from the countries and regions we profile. However, CNN retains full editorial control over all of its reports. Read the policy.
Story highlights
Restaurateurs and gallerists are combining elements of gastronomy with visual arts
Some venues pair dishes with specific pieces of art
Others combine visual and flavorful ingenuity by letting chefs and curators work with the same theme
If you want to find out what art tastes like, there's no shortage of masterpieces being served up in Hong Kong.
The latest trend to hit the city's booming restaurant and art scene has gallerists and restaurateurs teaming up to combine elements of gastronomy with visual arts.
The result? Diners gain a stronger connection to both the food and the art, say fans.
Here are some of the leading Hong Kong restaurants blurring the boundary between dining and art.
Duddell's
Eating at Duddell's is like attending a dinner party at the home of a renowned art curator who also happens to be a two-star Michelin chef.
"Our diners appreciate the arts – not only the artworks exhibited at the restaurant, but also the art of dining," says Duddell's executive chef, Siu Hin Chi.
Ai Weiwei and London Institute of Contemporary Art executive director Gregor Muir are among guest curators who have put together exhibitions for the restaurant.
Duddell's also works with the Hong Kong Art Committee to bring lectures, talks and screenings to the gallery-like dining venue.
The events, together with special access to Hong Kong art fairs and invitations to boozy parties, are available for those in Duddell's members club.
Siu says his cooking takes inspiration from the color and composition of artworks.
"For example, the Trio of Seafood is one of our most creatively plated dishes – one of the dumplings is in the shape of a goldfish, one has a green-colored rim and the third is wrapped in the shape of Chinese gold ingot," he says.
Although the restaurant's Cantonese cuisine is ambitious and most of the exhibitions are on special loan from international private collectors, Duddell's ambiance is far from pretentious.
It's a stylishly relaxed environment, provoking conversation on all things culture.
"We believe the artworks enhance the dining experience – they provide a treat for your eyes, while the food provides a treat for your taste buds," Siu says.
Popsy Room
Using food as a channel to make visitors "feel" the message of art, Hong Kong artist and Rhode Island School of Design graduate Jennifer Chung founded Popsy Room in 2013.
"I never liked how unapproachable art appears to most people," says Chung.
The dishes on Popsy Room's eight-course tasting menu are each paired with a piece of art on the gallery's walls.
The exhibition changes every third month.
After curating a new exhibition, Jennifer works with her chef to translate the pieces into something edible.
She compares the process to the work of an art director.
"Visual artists are always touched to taste their own art," she adds.
On a recent visit, the first dish we try is an interpretation of Japanese pop-artist Zane Fix's piece "Rainy Day Woman."
Ingredients include crab meat, smooth guacamole and chunks of mango, bringing to mind a soft summer rain.
It's delicious, resembling its counterpart hanging above our table in both taste and appearance.
The tiny space has room for 26 guests and is hidden on Hong Kong's Upper Lascar Row, home to kitschy antique shops and art galleries.
Bibo
Bibo is a bohemian but luxurious dining dungeon, a marriage between French fine dining and street art.
The restaurant's walls are covered in works from 34 contemporary artists including Damien Hirst, Banksy, Jeff Koons, Daniel Arsham, Kaws, Takashi Murakami and Blek Le Rat.
90-sec dance through Hong Kong's glamorous art week
Everything from the cutlery (made by design legend Puiforcat) to glassware (vintage Ralph Lauren) and the floor (French oak, more than 100 years old) are bold design statements.
While the interior design – inspired by French Art Deco and an abandoned tramway company – is intentionally misaligned, the kitchen strives for French culinary perfection.
Truffles and foie gras are among executive chef Mutaro Balde's favorite ingredients.
Of all Hong Kong's art-themed restaurants, Bibo has the bar we like to linger at the longest.
The bubbly atmosphere and flair offered by bar manager Timothy Ching – his gin and tonics are legendary – make for a dangerously good combination.
Dine Art
Italian chef Cosimo Taddei has transformed an old 4,000-square-feet factory building into an open kitchen and art space in the Industrial area of Wong Chuk Hang.
"An empty plate is a blank canvas," he says.
"My job is to fill the canvas and create something special each time."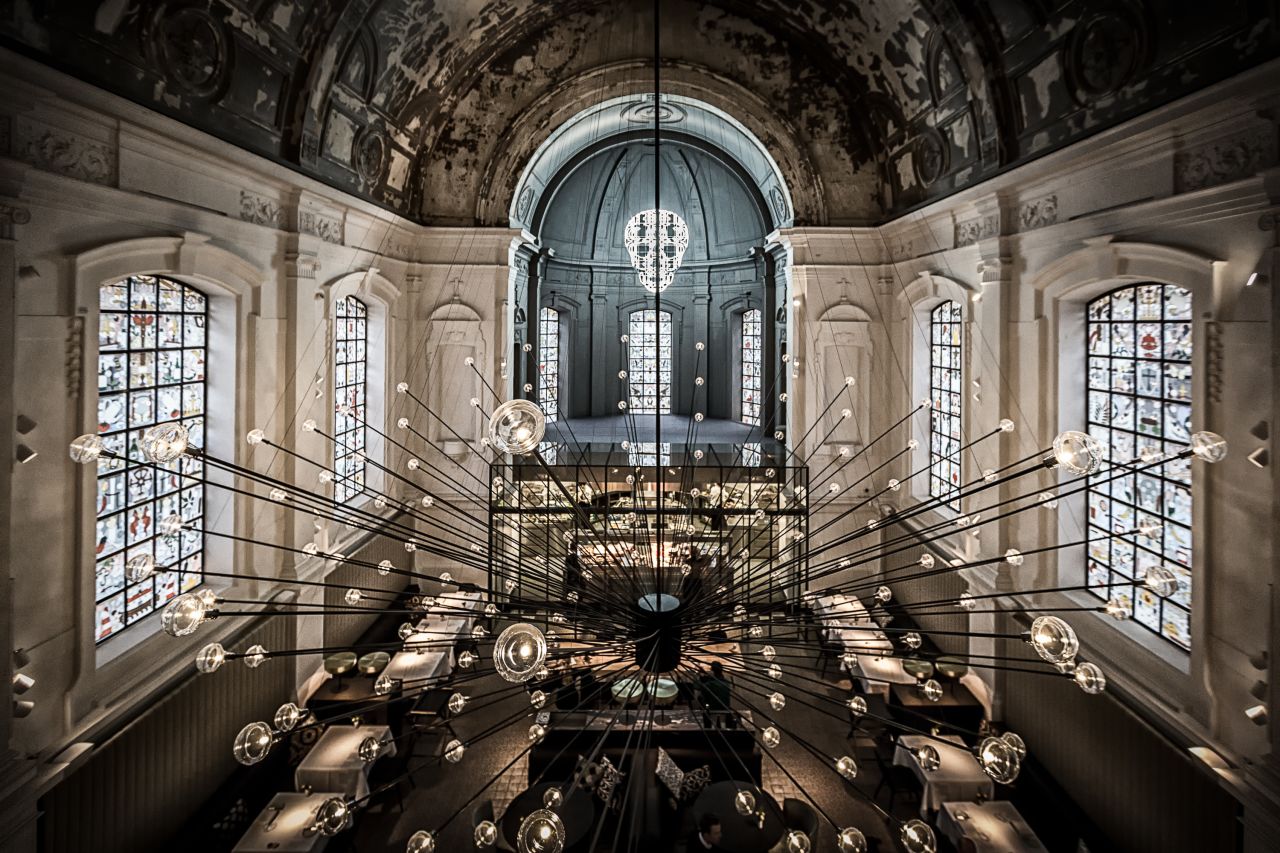 Appetizing designs: Inside 17 of the world's most stunning restaurants
Works by Frederick Ronald Williams – one of the 20th century's major landscape painters – and Zao Wou Ki – a Chinese-French painter and member of Paris' Académie des Beaux-Arts – are on permanent display.
"Chefs are like any artists," says Taddei.
"We have a different medium, our own style, our own signature. Despite the enormous amount of dishes you create, each should carry your own touch."
Dine Art's menu carries dishes such as ravioli stuffed with Sicilian langoustine with ginger and yoghurt foam.
"Cooking brings back happy memories of times with my grandma and the rest of my family," says Taddei.
"Watching them cooking, talking, preparing the table – sharing laughter and tasty meals. Today I cook to recreate this feeling and share it with my guests."