After years of planning and construction, Goodyear's fleet of high-technology Zeppelin airships is complete.
Aviation pioneer Shaesta Waiz smashed a bottle of bubbly across the bow of Wingfoot Three on August 30, during a ceremony at Goodyear's airship base outside Akron, Ohio, marking the beginning of a new era for the tire company's storied airships.
"Wingfoot Three will serve as a beacon for me to continue my work inspiring and celebrating aviation with others," said Waiz, who made history last year as the youngest woman to fly solo around the world in a single-engine plane. Waiz follows pilot Amelia Earhart and astronaut Sally Ride, who also christened Goodyear blimps.
Now practically a sporting event fixture, the company estimates 60 million people every year get a firsthand look at a Goodyear blimp when they travel to games.
Wingfoot Three, which will be based in Akron, follows the Pompano Beach, Florida-based Wingfoot One and the Los Angeles area-based Wingfoot Two – a new breed of Goodyear airships called NTs (for new technology) designed by Germany's famed Zeppelin company. There are no plans to add more airships to the fleet.
The new fleet marks the end of Goodyear's old GZ-20 models, the last one retiring in 2017.
What's new?
As a veteran of four flights aboard Goodyear airships – both the older type and the Zeppelin – I can tell you that upgrading to the NTs was like trading up from a Ford to a Ferrari.
The old blimp had two propeller engines that only pointed to the rear. But the new NTs have three engines that swivel in multiple directions, increasing maneuverability and control.
Remember, these aircraft fly thanks to giant "bags" filled with helium gas, which make them constantly want to rise into the sky. That can be a problem on a windy day. If needed, the NTs' engines can point upward, forcing the airship to stay on the ground, instead of floating up.
Although they don't technically qualify as "blimps" per se – they're semirigid dirigibles – Goodyear still calls them blimps.
Whatever you want to call them, these big boys can carry more than twice as many passengers and offer more creature comforts than the older models. The seats, for example, are much more comfortable.
And this is very important: Unlike the old blimps, these have lavatories.
Speed also is key. The Wingfoot fleet is 23 mph faster than the old blimps, topping out at 73 mph, allowing Goodyear to deploy these floating marketing platforms to more events.
In fact, Goodyear says its airships covered more than 200 sporting events last year. Next year, that number is expected to increase to include community events.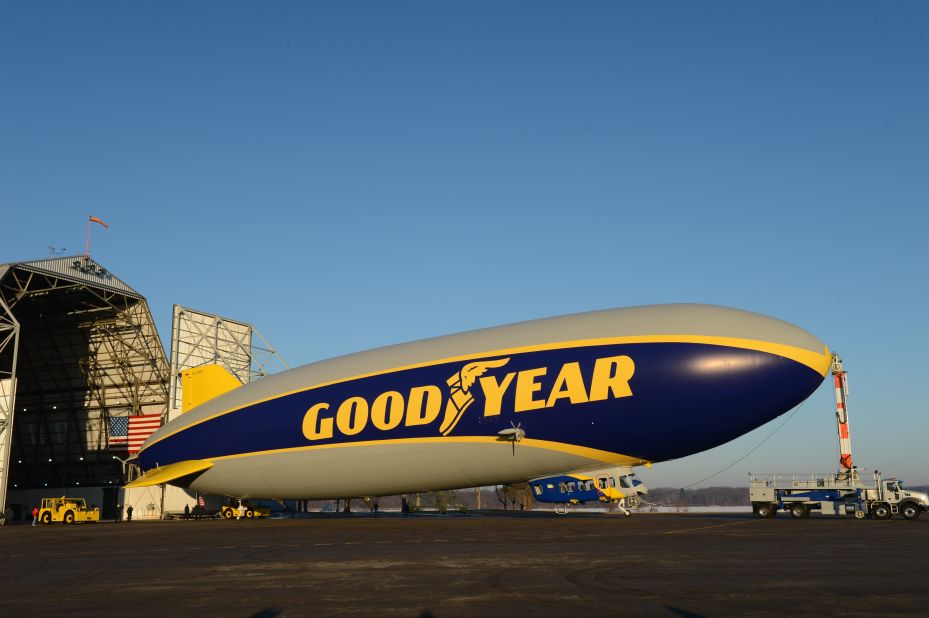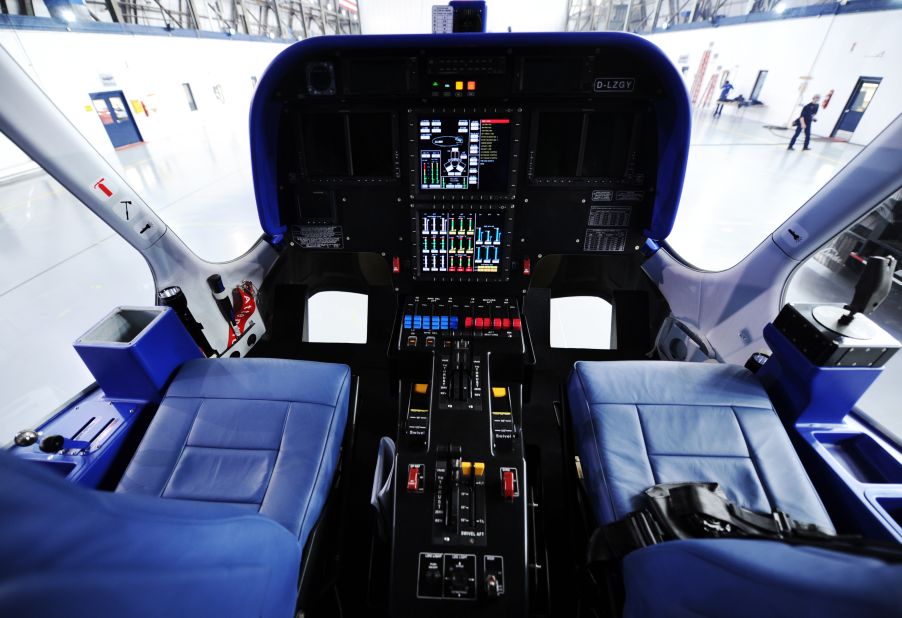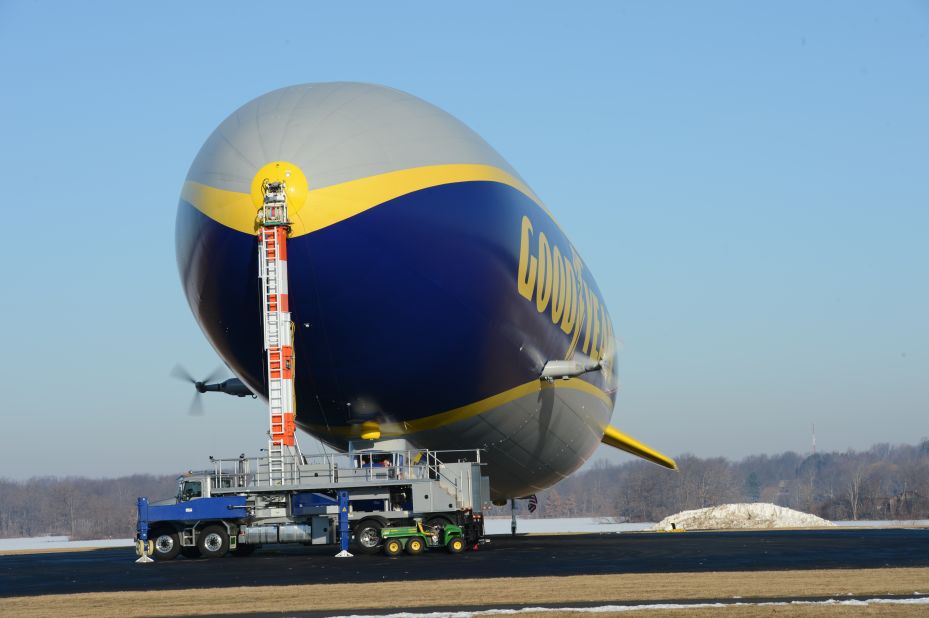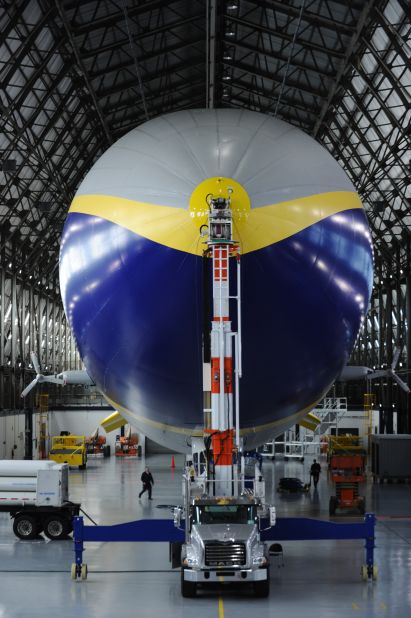 Goodyear goes Zeppelin
Pilots of the newer airships enjoy a well-appointed multiscreen display showing performance of all three engines in real time. Steering is done with a joystick – unlike the old GZ-20s, which were traditionally steered by a vertical wooden wheel between the two front pilot seats.
When I flew on the old-style blimp in 2014, turning the wooden wheel didn't feel as easy as, say, the power steering on a car. This was because the wheel was directly linked to cables that pointed the blimp up and down. On the floor were two pedals linked to cables that turned the blimp left or right.
With these Zeppelins, it's all electric. Everything is wired and controlled electronically by a fly-by-wire system, which disappoints some followers.
"A lot of enthusiasts feel that airships should be flown with a big wheel, still," says airship expert Dan Grossman, founder/editor of airships.net and author of "Zeppelin Hindenburg: An Illustrated History of LZ-129."
A blimp tied to the Empire State Building
But seeing a blimp overhead once in a while is a far cry from the golden age of airships.
During the first half of the 20th century, these floating aircraft – some measuring longer than two football fields – traversed the world's oceans. Talk about luxury: The largest airship – the Hindenburg, had sleeping berths for 72 passengers, dining areas, a lounge, a bar and a promenade. (Compare that comfort to today's airlines.)
When the Hindenburg was flying during the 1930s, people were so sure airships would dominate air travel that the top of New York's then-new Empire State Building was outfitted with a mooring mast where airships could attach.
As Grossman puts it, the mast was a "nonsensical PR stunt" to promote the famous skyscraper. But, according to The New York Times, a Goodyear blimp used the mast briefly to deliver bundles of newspapers.
"Anyone in the industry knew it was absurd," says Grossman, "but the mast was a reaction to the very genuine and legitimate enthusiasm among the public that airships would be the future of air transportation."
Goodyear's new fleet doesn't signal a return to a golden age, but spending millions of dollars on airship technology helps keep it alive.
"It is hugely important, and it is great to see these aircraft operated on a regular basis," Grossman says. "Goodyear's lighter-than-air operation keeps airships in the public mind, and it keeps the knowledge and skills of the people who fly and maintain these aircraft active and current. The best way to keep airship technology alive is to build and operate airships."
Airships live on
The legacy of airships is also preserved in places like the Zeppelin Museum in Friedrichshafen, Germany. Visitors can see artifacts and displays illustrating the Hindenburg and other airships.
"They have a full-size recreation of the Hindenburg's passenger decks that makes the trip worthwhile by itself," Grossman says. "And when you are in Friedrichshafen you can take a flight on a real Zeppelin, so it's the perfect place for airship fans."
Although the infamous crash of the Hindenburg occurred more than 80 years ago, before most people alive today were born, the image of lighter-than-air aircraft continues to be tainted by that disaster.
Despite the fact that modern airships use non-flammable helium to achieve flight, the Hindenburg tragedy made any return to the widespread use of airships for travel unlikely, experts say. That's largely blamed on those famous black and white newsreel images of the airship crashing and burning in New Jersey on that tragic day in 1937.
The disaster "still casts a large shadow over airship travel," Grossman says. It's not surprising when you consider how vivid those images are. "It's a constant obstacle" he says, to the development of the industry.
"Airships are great for sightseeing and 12-14 passenger Zeppelins are currently carrying passengers on short flights over Germany and Switzerland," Grossman says. "But in terms of actual travel, I don't think we will see airships used again for overnight passenger voyages or cruises. As much as I would love to cross the ocean on a large passenger airship, I am afraid the costs would be too high and the demand too low."
The Hindenburg remains the largest object ever to fly. But a new passenger airship called Airlander 10 is currently billed as the world's largest aircraft. It's undergoing flight testing in Britain.
Another new airship – Lockheed Martin's LMH-1 – is about 30 feet shorter than Airlander. It's a hybrid airship designed for commercial or military cargo transport, which, according to Skies Magazine, is expected to be unveiled sometime in 2019.