Editor's Note: The CNN Original Series "Eva Longoria: Searching for Mexico" journeys across the country's many vibrant regions to reveal its unique and colorful cuisines. The series premieres on CNN at 10 p.m. ET/PT Sunday, March 26.
Eva Longoria has taken on many roles, including award-winning actor, producer, activist, entrepreneur — and now TV show host. But throughout her demanding career, she has stayed true to one of her original passions: cooking.
"My love affair with cooking started long ago," Longoria said in her 2011 cookbook, "Eva's Kitchen: Cooking with Love for Family and Friends."
She discovered her passion when, as a hungry 6-year-old, she pulled a chair up to the stove, grabbed a frying pan and cooked up an egg all by herself.
"Of course, the pan was full of eggshell. I didn't use any butter or oil, so the egg stuck everywhere. I can't even remember now what it tasted like, but I can recall the feeling of accomplishment I had after cooking that egg. I found it empowering and energizing."
The Texas native said it was a revelation, and from that point forward she learned everything she could about cooking.
Longoria has come a long way since then. She wrote her cookbook, inspired by her globe-trotting travels. She also frequently shares her favorite dishes on Instagram with her 9 million followers.
"There's nothing like a homemade meal and sharing memories in the kitchen with your loved ones!" she wrote in one post.
Many of her dishes pull from her Mexican heritage — like her tomatillo salsa, tamales, huevos rotos (fried eggs and potatoes) and pan de polvo (Mexican shortbread).
Here are four iconic dishes from Longoria's cookbook, along with her personal notes about each recipe.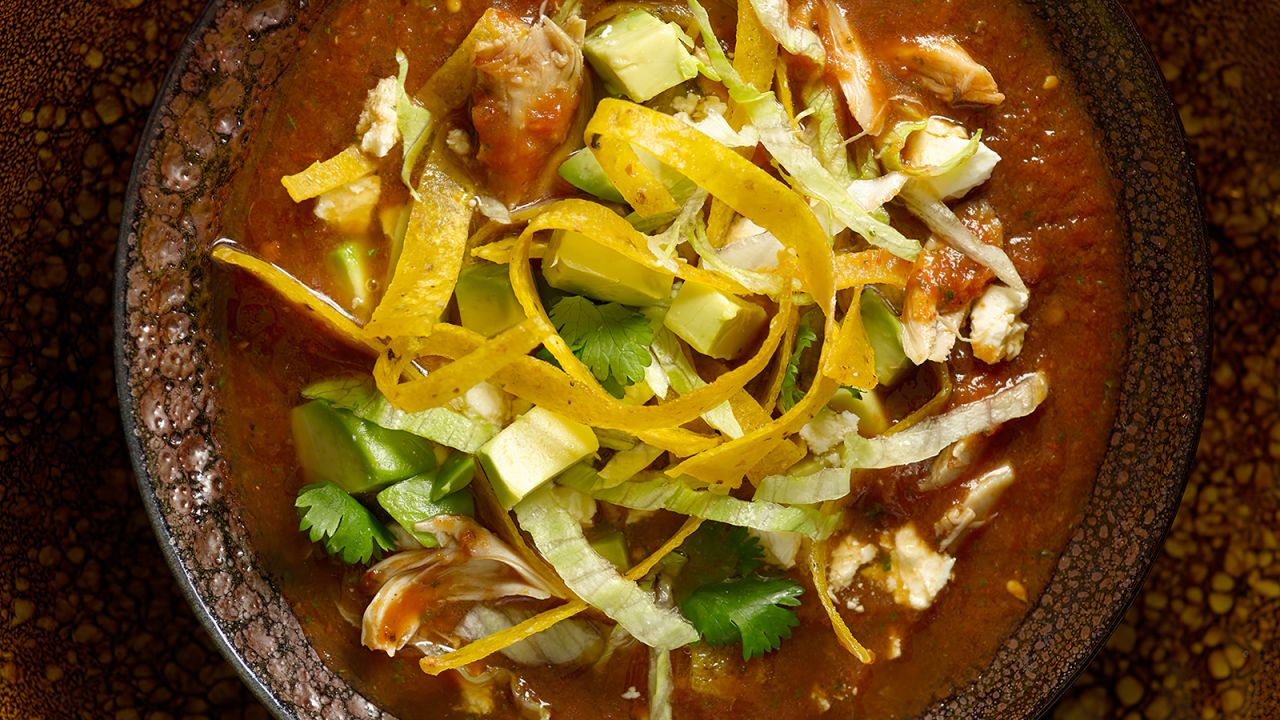 Tortilla Soup
My friends request this recipe more often than any other. I am often asked if it's a family recipe. I take it as a compliment that people always seem so surprised to hear I found it in a magazine when I was about 12 years old. I've made it so many times since then, and it has evolved into what it is today. I think it's so delicious — and popular! — because of its clear but very flavorful broth. So often tortilla soup is heavy, but this one is hearty without being unpleasantly thick. Look for dried pasilla and ancho chiles in the spice aisle of supermarkets or Mexican or Latin grocery stores.
Make 4 to 6 servings
Ingredients
4 pounds | 2 kilograms chicken legs
4 pounds | 2 kilograms chicken thighs
12 cups | 3 liters homemade chicken broth, store-bought low-sodium chicken broth or cold water
4 dried pasilla chiles
4 dried ancho chiles
6 tomatoes, chopped
1 large white onion, diced
6 large garlic cloves, peeled
2 teaspoons | 6 grams kosher salt, or to taste
2 large bunches fresh cilantro, leaves and tender stems chopped
For serving
1 cup | ¼ liter vegetable oil, plus more if needed
36 white or yellow corn tortillas, sliced into ¼-inch-thick (6-millimeter-thick) strips
1 head iceberg lettuce, cored and shredded
6 large avocados, pitted, peeled and diced
3 cups | 366 grams grated or crumbled queso fresco (about 12 ounces)
Instructions
1. In a large stockpot, boil the chicken legs and thighs and the broth over medium-high heat. Reduce the heat and simmer until the chicken is opaque throughout and tender when pierced with a fork, about 30 minutes. Using a slotted spoon, remove the chicken from the pot and set aside to cool. Set aside the stockpot of broth. As soon as the chicken is cool enough to handle, pull off and shred the meat; discard the skin and bones.
2. Meanwhile, place the pasilla and ancho chiles in a medium saucepan and add cold water to cover. Bring the water to a boil over medium heat. Reduce the heat and simmer until the chiles are soft, about 10 minutes. Drain the chiles and remove their stems and veins. If you want a spicier bite, keep the seeds; if not, remove the seeds as well.
3. In the work bowl of a food processor, place the chiles, tomatoes, onion, garlic and 2 teaspoons salt. Process until smooth, adding a ½ cup of the reserved chicken broth to loosen the mixture if it is too thick.
4. Stir the chile puree and half of the cilantro into the broth. Bring to a simmer over low heat and simmer for 20 to 30 minutes. Taste and add salt if needed. Stir in the reserved chicken and the remaining cilantro and remove the pot from the heat.
5. While the broth is simmering, line a baking sheet or large plate with paper towels. In a large skillet, heat 1 cup oil over medium-high heat until hot but not smoking and shimmery. Add a handful or two of tortilla strips — they can be touching but not overlapping — and fry just until lightly browned around the edges, about 45 seconds. Use tongs or a spider strainer to transfer the strips to the baking sheet, tossing and moving them around so they take on squiggly shapes as they cool and harden. Continue in batches until all the tortilla strips are fried, adding more oil to the pan if necessary.
6. When ready to serve, place the lettuce, avocado and queso fresco in separate bowls to make serving easier.
7. For each serving, place a few tortilla strips and a scoop of lettuce in a soup bowl. Ladle the soup into the bowl. Top with a spoonful of avocado, sprinkle some queso fresco on top and serve.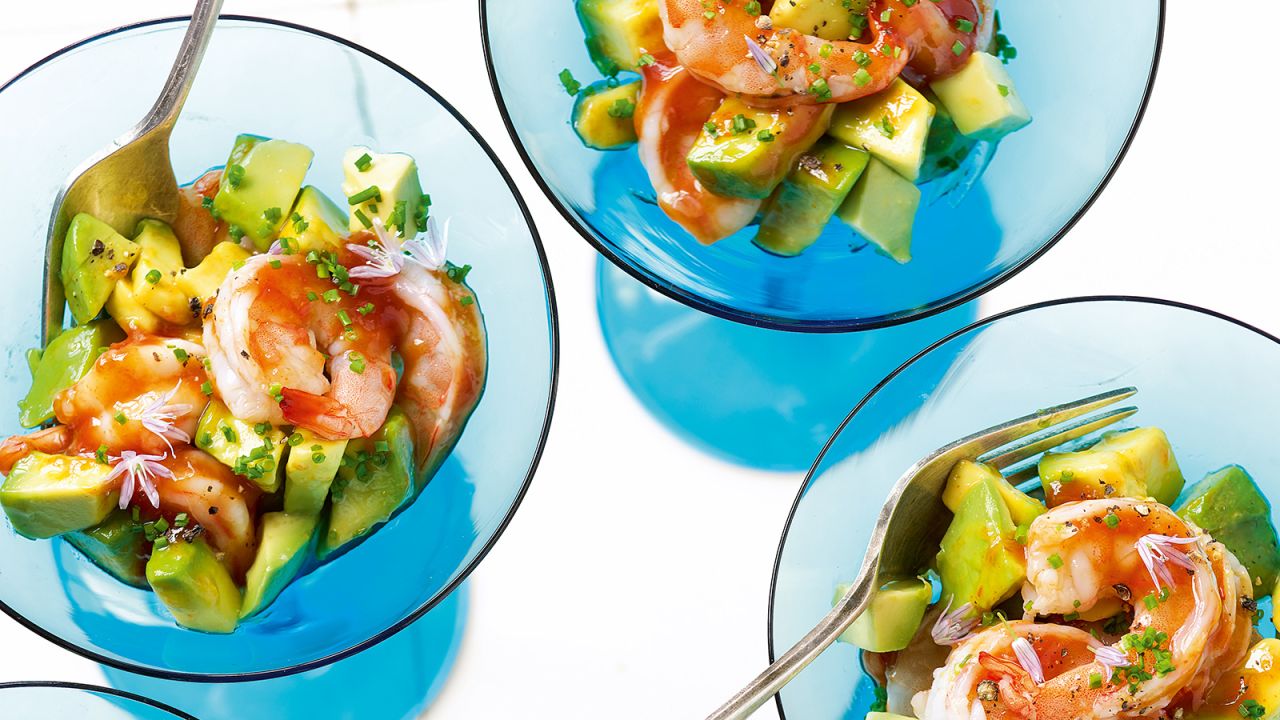 Dad's Shrimp Cocktail
Editor's note: Longoria uses extra-small shrimp seasoned with plenty of cayenne pepper that she sautées for six minutes in butter ahead of time, according to her cookbook.
Makes 4 to 6 servings
Ingredients
1 cup | 240 grams ketchup
Juice of 2 small lemons (about ¼ cup or 59 milliliters)
1 tablespoon |14 grams hot pepper sauce
1 tablespoon | 15 milliliters distilled white vinegar
Freshly ground black pepper to taste
1 pound | ½ kilogram extra small shrimp (61 to 70 per pound), peeled, deveined, cooked and cooled (see headnote for prep info)
4 avocados, pitted, peeled and cubed
Lemon wedges for serving
Instructions
1. In a small bowl, place the ketchup, lemon juice, hot pepper sauce, vinegar, salt and pepper. Stir until the sauce is well blended.
2. In a medium bowl, place the cooked shrimp and avocado. Pour the sauce over and gently toss with a wooden spoon or rubber spatula until the shrimp and avocado are thoroughly coated.
3. Cover and place in the refrigerator for 30 minutes. Divide among 4 to 6 glasses and serve with lemon wedges.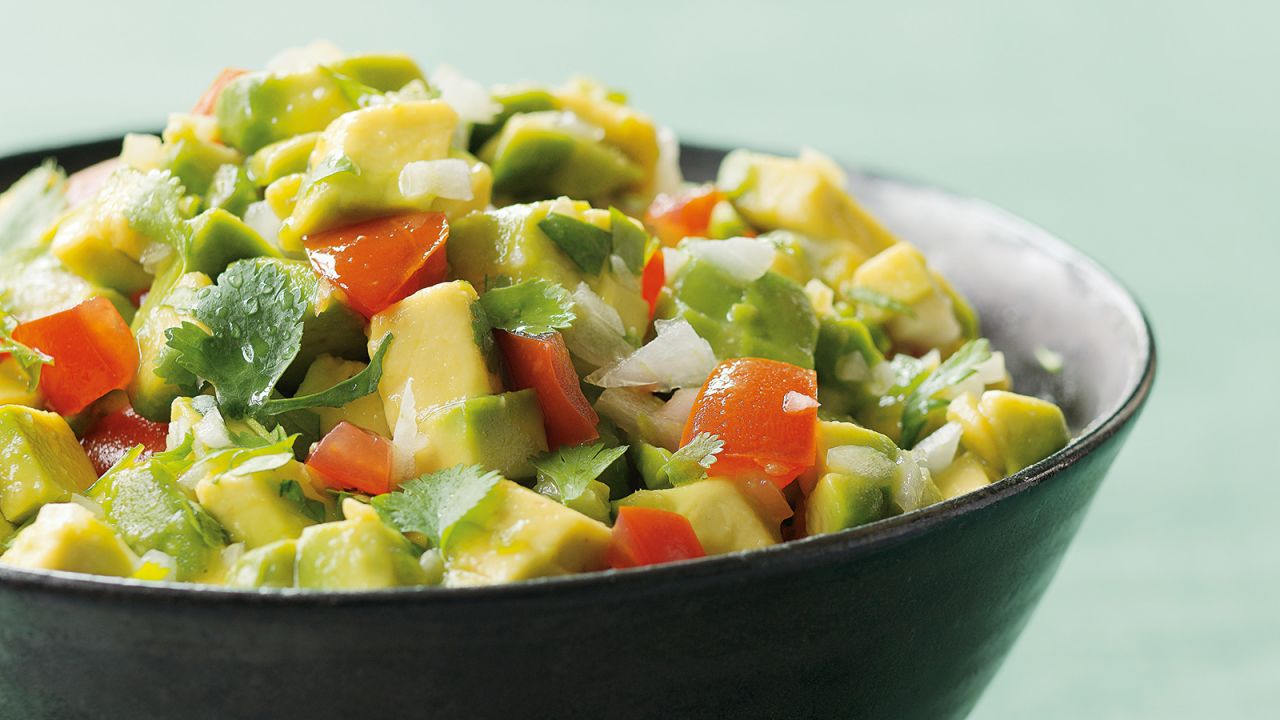 Chunky Guacamole With Serrano Peppers
I have a few tricks that give my guacamole great flavor and texture. First, I use lemon, not lime, juice. Lemon has a little sweetness that brings out all the other flavors. Also, the key is that I never skimp on the lemon or the kosher salt. I basically make a salty lemonade for the avocado and other ingredients to swim in — trust me, it makes all the difference! And finally, never stir as you add each ingredient to the bowl or the guacamole will become too watery.
Makes 8 cups
Ingredients
6 ripe avocados, cut into ½-inch (1¼-centimeter) dice
4 medium ripe tomatoes, cut into ½-inch (1¼-centimeter) dice
1 large white onion, finely chopped
1 serrano pepper, minced
½ bunch fresh cilantro, leaves and tender stems chopped
Juice from 4 small lemons (about ½ cup or 118 milliliters)
2 teaspoons | 6 grams kosher salt or to taste
Instructions
1. Without stirring, place each of the ingredients in a large bowl.
2. Next, stir gently until well combined. Use a light touch to maintain the guacamole's chunky consistency.
3. Transfer to a serving bowl and serve.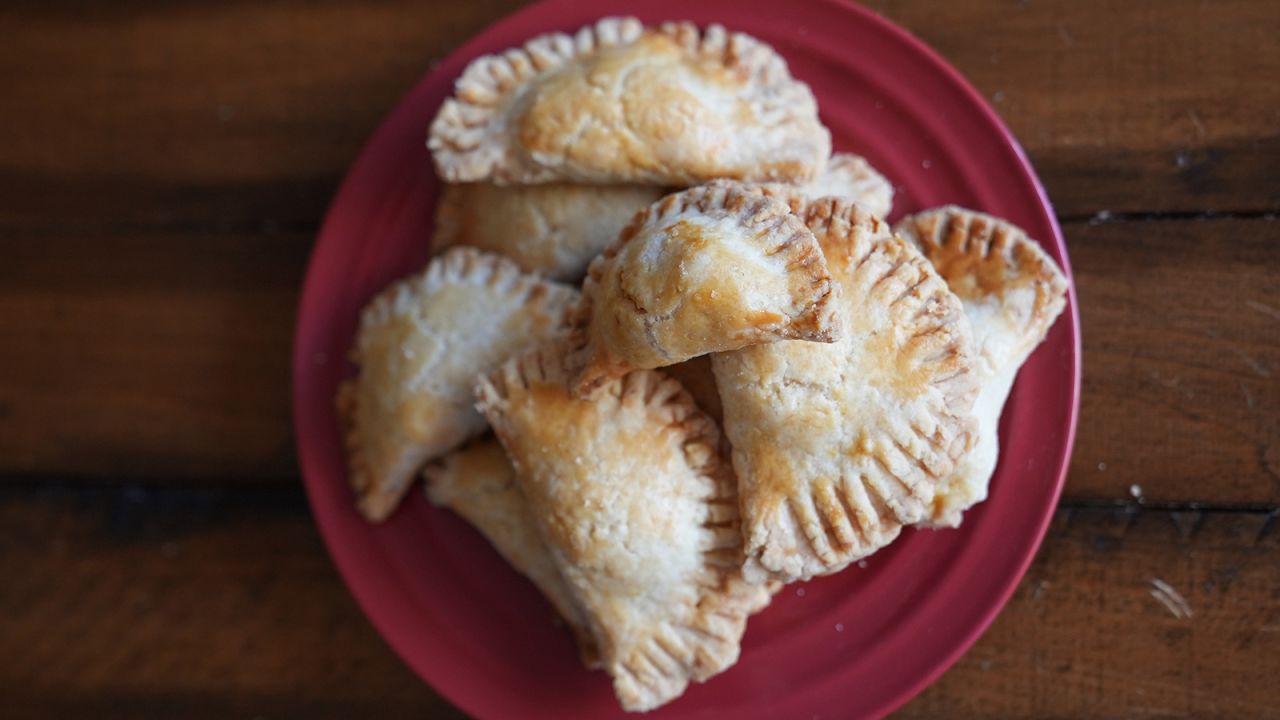 Sweet Potato Empanadas
Empanadas are a quintessential example of what traditional Latin food is made of: rock-solid techniques that can be adapted to accommodate what's available regionally, or in the case of my Aunt Elsa, in her pantry. She could pull together the most delicious ingredient combinations and then fill and fry a few dozen pastry wrappers in a flash. When Thanksgiving rolled around, these tender, flaky and lightly sweet treats were our version of the classic American pumpkin pie. These little "Mexican pumpkin pies" make delicious appetizers, too.
Make 30 empanadas
Ingredients
Dough
4 cups | 120 grams all-purpose flour plus more for surface
¼ cup | 50 grams sugar
1 teaspoon | 6 grams table salt
1¾ cups | 359 grams shortening, at room temperature
1 large egg, lightly beaten
Filling
2 pounds | ½ kilogram sweet potatoes, peeled and coarsely chopped (or 2 15½-ounce or 439-gram cans sweet potatoes)
2 3-inch (7½-centimeter) cinnamon sticks
¼ to ½ cup sugar, or to taste
Instructions
1. For the dough: In a large bowl, place 4 cups (120 grams) flour, sugar and salt and whisk together until well blended. Use your hands to knead the shortening into the flour mixture. It will be crumbly and look like coarse meal, and if you squeeze a handful it will stick together but fall apart again when dropped back into the bowl. Add the egg and ½ cup water, then mix well with a wooden spoon or your hands. Form the dough into a flattened disk, wrap it in plastic wrap and refrigerate for 1 hour.
2. For the filling, option 1: If using fresh sweet potatoes, place them in a large saucepan with the cinnamon sticks and cover with cold water. Simmer, uncovered, until the potatoes are easily pierced with a fork, about 15 minutes. Drain well. Remove and discard the cinnamon sticks. Let stand until cool.
Option 2: If using canned sweet potatoes, place them in a large saucepan with the canning liquid. Add the cinnamon sticks and heat over medium heat for about 10 minutes. Drain well. Remove and discard the cinnamon sticks. Let stand until cool.
3. Transfer the cooled sweet potatoes to the work bowl of a food processor and pulse in 1-second bursts just until the potatoes are mashed; do not puree. If using canned sweet potatoes, they may already be sweetened, so check for sweetness level and adjust sugar measurement as needed. Stir in sugar to taste.
4. Preheat the oven to 350 degrees Fahrenheit (177 degrees Celsius). Line 1 or 2 rimmed baking sheets with parchment paper.
5. Form the dough into 30 golf ball-size balls; keep the balls covered with a damp cloth. On a lightly floured surface, use a rolling pin to roll each ball into a 4-inch (or 10-centimeter) circle. Fill each with a scant tablespoon (or 14 grams) of the mashed sweet potatoes. Fold the dough over the filling to form a half circle and pinch the edges together. Transfer to the prepared baking sheet and cover with a damp cloth. Continue until all the empanadas are formed.
6. Remove the cloth and press the tines of a fork around the edge of each empanada to crimp. Bake until browned, 20 to 25 minutes. Let cool slightly on the baking sheet. Transfer to a platter and serve warm.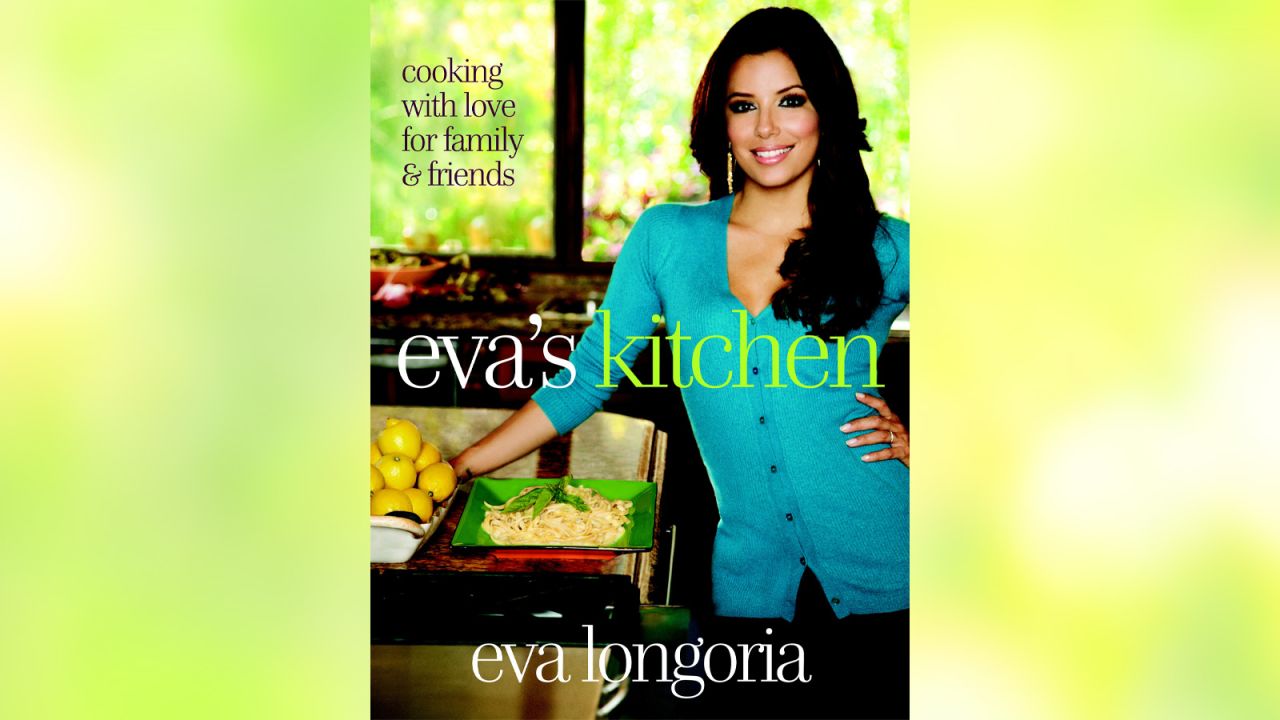 Craving more? Sign up for CNN Travel's Unlocking Mexico newsletter series. The four-part guide curates the choices in a country with a colorful cultural heritage to give you a taste of the superlatives.
Recipes adapted from the book "Eva's Kitchen: Cooking With Love for Family and Friends" by Eva Longoria and Marah Stets. Copyright © 2011 by Eva Longoria. Food photography © 2011 by Ben Fink. Portrait photography © 2011 by Randall Slavin. Published by Clarkson Potter/Publishers, an imprint of Random House, a division of Penguin Random House LLC. All rights reserved