Editor's Note: On this month's episode of Culinary Journeys, we follow chef Kevin Gillespie to Buenos Aires, where he explores the Asado method of grilling meat. Learn more about the show here: www.cnn.com/journeys.
Story highlights
Kevin Gillespie found fame on season 6 of "Top Chef"
He's the culinary force behind Gunshow, an unorthodox Atlanta restaurant
Gillespie's next restaurant, Revival, will serve old-time Southern food
As a veteran of "Top Chef" and the creative force behind Gunshow, his risk-taking Atlanta restaurant, Kevin Gillespie is no stranger to pressure.
But get him talking about his next venture, and he sounds … nervous.
Revival, his restaurant that's scheduled to open in late July in the Atlanta suburb of Decatur, is planned as an homage to the down-home Southern cooking Gillespie grew up on. And for that reason, it feels deeply personal.
"I've never had the guts to just go out and cook – stone cold to tradition, without compromise – the food that I grew up eating," he said. So forgive Gillespie if he's especially sensitive to critical reviews this time around.
"I can deal with someone not liking my very experimental retake on a retake of something," he continued. "But if you don't like the way we make cornbread, and that's a recipe that my family has passed down from generation to generation, I might either cry myself to sleep that night or punch you in the face."
Revival will feature the family-style cooking of his ancestors, who lived in the Appalachian foothills near where Georgia and the Carolinas meet. Think braised chicken or country-fried steak with gravy, cornbread, creamed potatoes and roasted vegetables.
The restaurant will be a tribute of sorts to Gillespie's father's mother, whom he calls the best cook he's ever known.
"My grandmother's breakfast spread on a random Tuesday would be waffles and bacon and sausage and fried pork chops and cold cereal and cakes and fresh tomatoes and biscuits and gravy," he said, recalling the large family meals that were a near-daily staple of his childhood.
"Her food seemed to have more power in one bite that probably anything I've ever done in my whole career," added the Georgia native, 32. "I'm getting older now, and I care more about telling that story of my family."
From MIT to 'Top Chef'
Gillespie's own backstory is no less compelling.
While other kids his age were outside playing, he spent hours in his grandmother's kitchen, watching and learning. At age 7, he told his parents he wanted to be a chef. By 15, he was cooking in casual restaurants.
After high school, though, his life was poised to go in a very different direction. Gillespie was accepted into MIT to study nuclear engineering, and a benefactor offered to pay his whole ride. He would have been the first person in his family to attend college, at one of the most prestigious schools in the country. His parents were extremely proud.
But his dream of becoming a chef would not die, and after a visit to MIT's Cambridge, Massachusetts, campus, he changed his mind at the last minute. It was an agonizing decision, because Gillespie feared he was disappointing his entire family.
"I said, 'If I'm gonna do this thing (cooking) that I know no one else wanted for me, I have to do it to the best of my ability, or I will really have let them down,' " he said. "I've carried that burden of guilt pretty much my whole life. I actually think it's one of the reasons I've fought so desperately to be successful."
After stints at several restaurants, where he learned everything from French to Asian cooking, Gillespie became head chef at the Woodfire Grill, an acclaimed Atlanta restaurant that helped pioneer the city's farm-to-table food scene. But business was slow, so when "Top Chef" called in 2009, he figured he had nothing to lose.
"I had never even seen 'Top Chef.' I didn't know what I was getting into," he said. "I did it out of desperation. Woodfire Grill was struggling to get people in the seats. I've never been good at failure, and so I was willing to do anything."
When season 6 of the hit cooking-competition show aired that fall, Gillespie's aw-shucks demeanor and reluctance to trash rival contestants made him an instant fan favorite. He also found himself falling back on the heartfelt, homey cooking he grew up on.
Competing against 16 other chefs, Gillespie made it to the season finale before losing to Los Angeles restaurateur Michael Voltaggio.
" 'Top Chef' … gave me the last little piece of confidence to just cook the food that was pouring out of my guts. Because that's where my heart was," he said. "And I think that's why it was so successful."
Gunshow
By the time Gillespie ended his run on "Top Chef," Woodfire Grill had become one of the hottest restaurants in the South. For the next three years, diners packed the place every night to try his braised pork belly, garlic-honey glazed quail or pan-seared Carolina trout.
But for its star chef, who gamely posed over and over for pictures with customers, something was missing. For one, his parents never came into the restaurant. So Gillespie had a chat with his mother, and she told him that Woodfire Grill – with its linen tablecloths, tasting menus and daunting wine list – was not the sort of eatery where his working-class dad felt comfortable.
"He just didn't think that Woodfire Grill was the kind of place that would want somebody like him to be there," the chef said, his voice welling with emotion. "It bothered me tremendously. It bothers me to even talk about it today. I couldn't live with the idea of … being part of something that excluded anybody."
The next day, Gillespie went back to the restaurant and signed over his stake in the business to his partners. And in 2013, he opened Gunshow in a no-frills industrial space where customers sit at wooden tables under bright lighting and in plain view of an open kitchen.
The restaurant's service is modeled on Chinese dim sum or Brazilian churrascaria dining. Instead of placing orders, customers wait for chefs to pass through the room with trays, offering dishes they've just prepared. The concept is not for the impatient – you may have to wait an hour for that dish you've been eyeing – but it fosters spontaneity and breaks down the traditional divide between customers and the kitchen.
"Why does a server decide when a guest is ready to eat and when a cook is ready to prepare food? That seems real stupid," Gillespie said. "The only true sense of time that exists in food is the time it takes for something to cook."
From pork-skin risotto to smoked duck legs, the meat-centric menu changes almost every night, making each visit a new adventure. And the restaurant's strange name? It's a tip of the hat to his dad, who used to take him to local gun shows when he was a kid.
Gillespie knows it was a bold move.
"Everyone thought I was crazy when I told them what Gunshow was," he said.
But the place was an instant hit. Bon Appetit, Esquire and GQ all named Gunshow one of America's best new restaurants, and Gillespie was a James Beard nominee this year for best chef in the Southeast. Two years later, it's still booked solid nearly every night.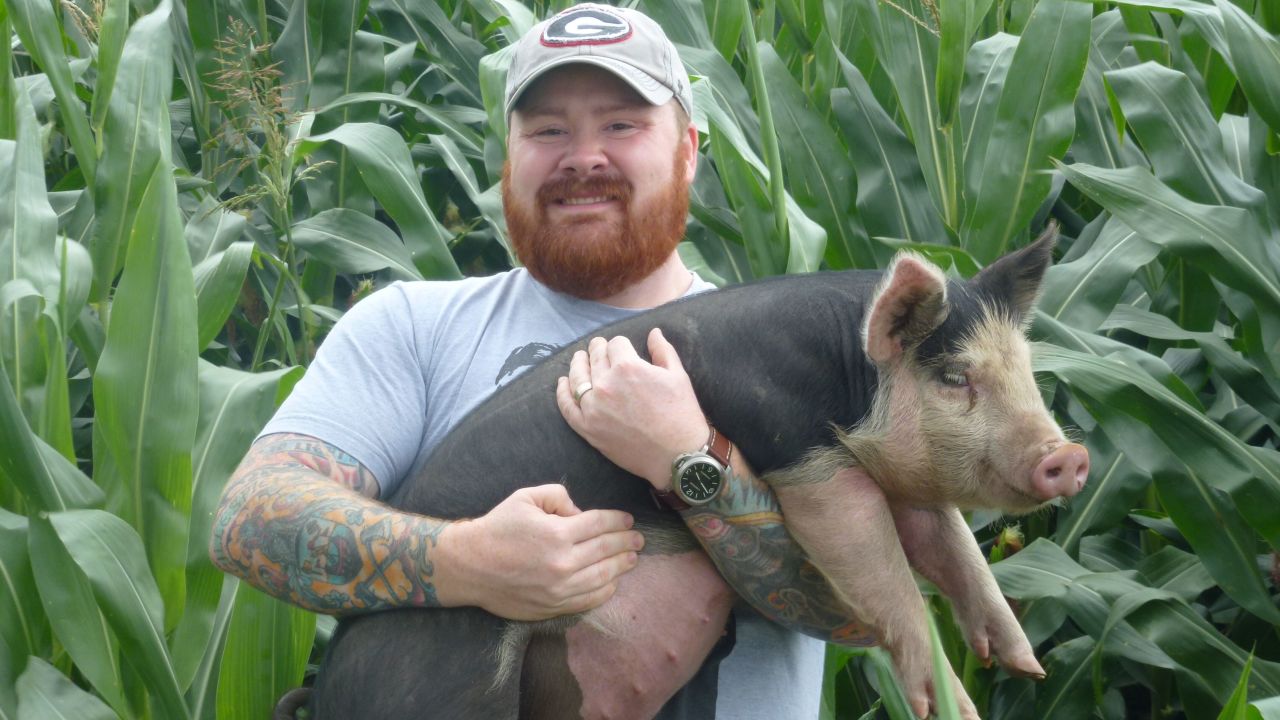 Revival
In person, Gillespie comes across as earnest, witty, down to earth and remarkably humble.
With his heavily tattooed arms, his bushy red beard (which has its own Facebook page), and his good ol' boy drawl, he may not fit the stereotype of an intellectual. But his mind is always churning. And Revival was born from several ideas.
For one, Gillespie thinks that Americans have become so buried in their digital entertainments that they're not spending as much time communing together around the family dinner table. And he feels that Southern chefs, himself included, have grown so enamored with updating old dishes that they've lost touch with their culinary roots.
"I felt that we as Southerners were starting to slowly lose our grasp on the traditional cooking of the South," he said. "Because we put so much emphasis on modernizing (cuisine) … we accidentally forgot to bring our grandma with us. And we need to go back and pick her up."
Guests can expect to see Gillespie at Revival a lot. Unlike some celebrity chefs who lend their name to a restaurant and then vanish after a few weeks, Gillespie is a hands-on leader who makes an effort to get to know everyone in his kitchen. This attitude inspires devotion in his staff, some of whom followed him to Gunshow from Woodfire Grill.
"What got me to work with Kevin, and spend my whole career with him, is his passion," said Andreas Muller, one of Gunshow's chefs. "The food is number one … always. He won't cut anything short."
Gillespie remains anxious about how Revival's food will be received. But he promises that its folksy feel will serve as a counterbalance to Gunshow's boisterous machismo.
"Gunshow is brash and masculine and over the top. And it doesn't care whether you like it in many ways. And it's kind of obnoxious, and it's very much me," he said.
"Revival is much more gracious. It's your grandmother's home, and she's going to do anything she can to make you happy and get you fed."
Got photos of your own Culinary Journeys to share? Tag 'em with #CNNFood for a chance to be featured on our site. For inspiration, we've laid out some of our recent submissions below.