Sign up for Unlocking the World, CNN Travel's weekly newsletter. Get news about destinations opening, inspiration for future adventures, plus the latest in aviation, food and drink, where to stay and other travel developments.
As Virgin Orbit undertook its latest satellite mission this week – the sixth for the space exploration company – the conditions were a little different from its usual US desert setting.
Cosmic Girl, a 747 jumbo jet effectively repurposed as a rocket launcher, took off from the runway of Newquay Airport, towards the far southwest point of the United Kingdom. The airplane then headed out into the Atlantic, south of Ireland, before it launched the rocket, named LauncherOne, dropping it from its left wing.
As we now know, the mission didn't succeed. The rocket went hypersonic and reached space, but failed to make it into orbit. Virgin blamed an "anomaly ending the mission prematurely," but has yet to say what exactly that was.
But there was one clear success of the night: the transformation of this rural English airport into a spaceport.
Cornwall Airport Newquay, to give it its official title, is the 29th busiest airport in the UK (out of the country's 40 largest), according to Civil Aviation Authority statistics from 2021.
Until now, perhaps its biggest plaudit was being judged the UK's fastest growing airport in 2017. It was best known for its beauty – planes sweep off the runway above green fields full of unbothered sheep, and out over Cornwall's spectacular Atlantic coastline.
The airplanes landing here are narrow-body short-haul aircraft at most. There are also prop planes for UK domestic destinations, and tiny puddle-jumpers flying to the Scilly Isles, off the Cornish coast.
In November 2020, it paused operations when it was badly hit by the pandemic. Its owners, Cornwall Council, deemed it "not a viable company at the moment."
Currently, during the 2023 winter season, it operates flights to just five destinations: London Gatwick and Heathrow, Manchester, Dublin and Alicante. For the summer, it will serve 19 destinations.
The airport, whose history dates back to 1934, was a military airfield for decades, with a civil terminal tagged on in 1962. Cornwall Council – who administrate the UK's most southwesterly region – took over operations in 2007.
"When the RAF (Royal Air Force) were about to close down the airport, the council decided to take it over on the understanding that in order to attract economic investment into Cornwall, it needed to be connected – because of the distance that Cornwall is from pretty much everywhere else," says Sam O'Dwyer, managing director of the airport.
With its 422 miles of coastline, Cornwall is one of the most popular vacation destinations in the UK – but a slow train network and no motorway (freeway) means that it is relatively remote.
'This had to be done'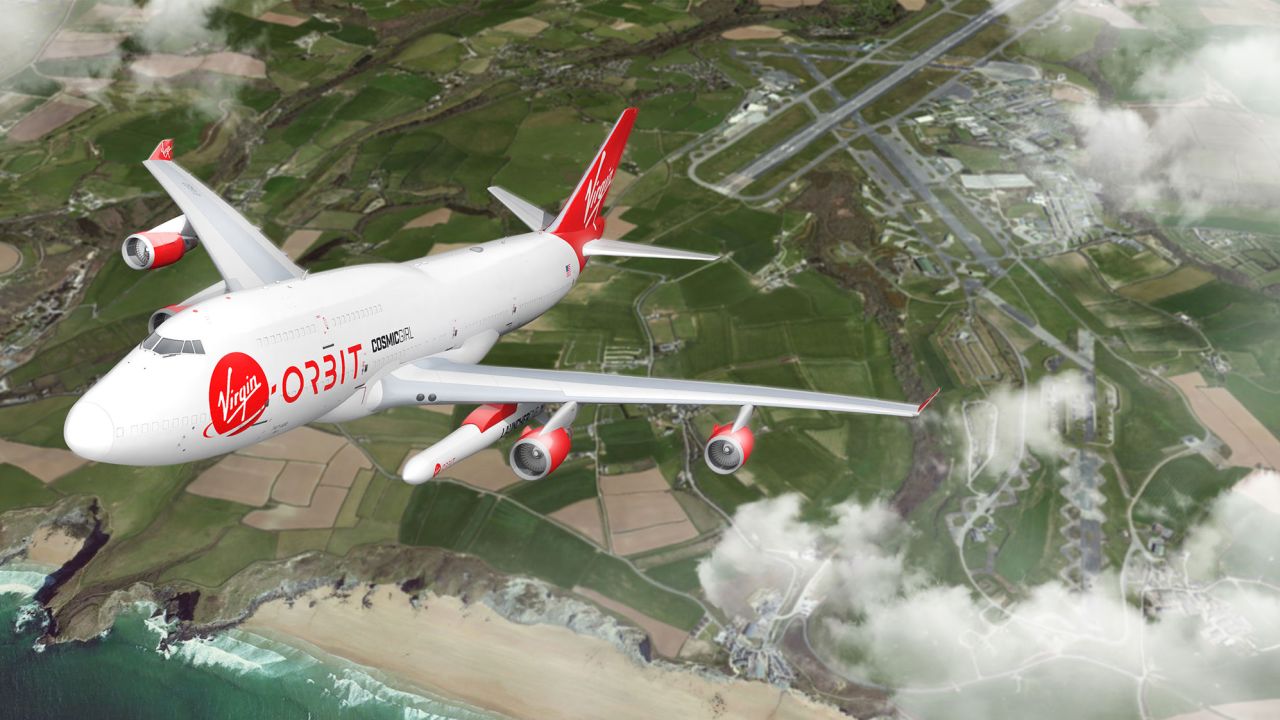 Of course, what makes it a difficult place to live (if you need connectivity with the rest of the UK) makes it the perfect place to launch a rocket into orbit.
In 2014, when the UK government announced it was looking for proposed spaceport locations, the airport saw its chance to shine.
"The site has unique benefits: low population density, uncongested airspace and an extremely long runway that can facilitate a 747," says O'Dwyer. Newquay's runway is one of the longest in the UK and, thanks to its clifftop position, that runway ends at the Atlantic Ocean, meaning aircraft can take off without any housing beneath them.
"They've been absolutely brilliant," says Ian Annett, deputy CEO of the UK Space Agency, of the airport.
"Horizontal launch system has been done before, so it was really a natural progression to think about launching [from an airport]. Cornwall were putting themselves forward in 2014 – they've raised the funding, turned around the infrastructure… they've been doing very advanced thinking."
It wasn't all rosy, says Louis Gardner, local councilor for nearby Newquay and Cornwall Council's cabinet member for the economy.
"There were obviously dissenters – it was a pipe dream eight years ago, no one had done it, and it was a big risk, both financially and politically for a council to take on something like this," he says.
"Even today, I hear that it's not the council's job to put things into space, that we should be spending that money on potholes and transport and bins [trash collection]."
But over the past eight years, councilors have been convinced that "not only could this be done, but it should be done."
"It's our job to make sure that people in Cornwall have jobs, and it's our job to help the economy spread itself wider than just seasonal tourism," he says. Cornwall is one of the poorest regions in the UK, with tourism one of its major incomes.
"We haven't just invested in a spaceport. We've invested in a whole sector of industry that no one in the UK has at the moment."
'Sweating the assets'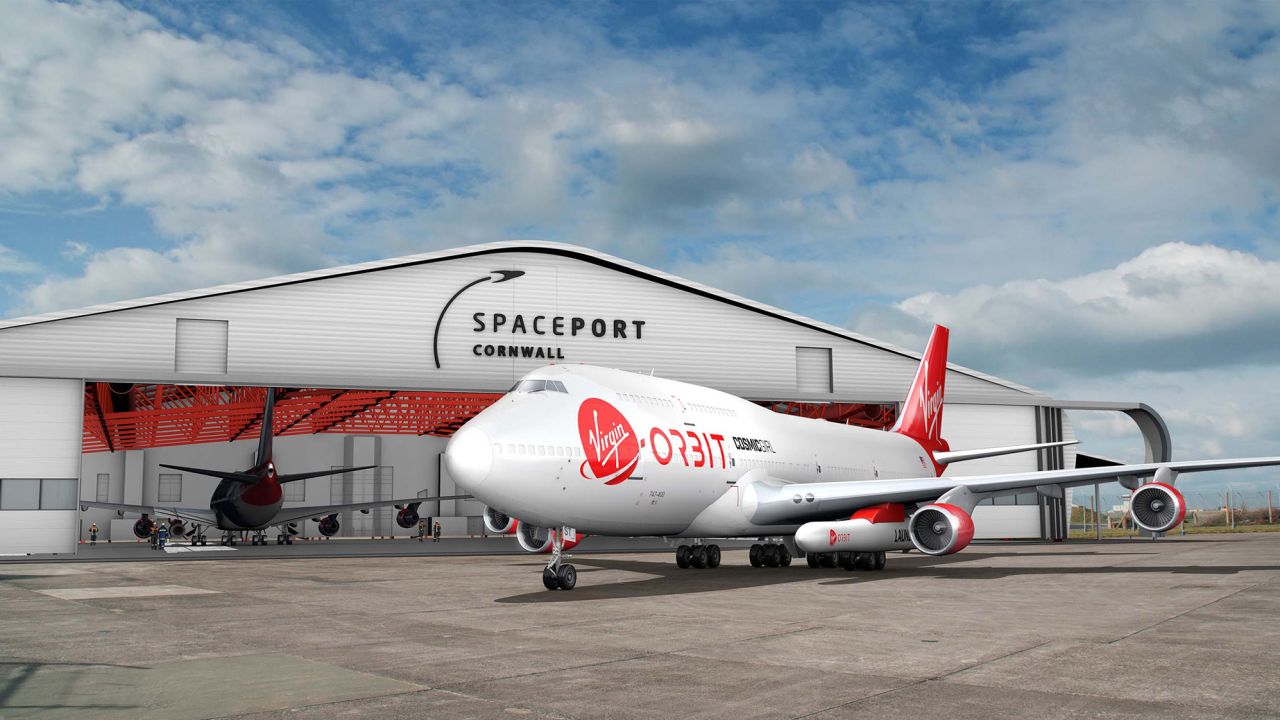 With the climate crisis on everyone's minds, the reuse of infrastructure is playing an important role in reducing emissions from the construction industry. Starting with an airport, it took very little to make a spaceport.
In fact, head of Spaceport Cornwall Melissa Thorpe called what they did "future proofing" rather than construction.
"It was just to make things more efficient – nothing was fundamental to the operations," she says.
The airport had already had to make some updates to hold the G7 conference in Cornwall – held at Watergate Bay, near the airport – in 2021. The runway was "widened and rehabilitated," says O'Dwyer, while aprons and taxiways were reinforced to make them suitable for parking multiple jumbo jets that had arrived bearing visiting dignitaries.
"The runway could already take the weight of a 747, but it couldn't take the weight of 32 long-haul aircraft parked on the ground at once," she adds.
That meant it took very little to upgrade the site for 2022's satellite launch. Thorpe says they extended some taxiways at the end of the runway so that Cosmic Girl could make a "power manoeuver around the end of the runway, rather than a tow."
In fact, the only major work was the construction of the Space Systems Integration Facility – essentially a clinical-grade hangar with space to fit two rockets, integrate payloads into them, and load them onto the 747. The structure, says Annett, is "really impressive."
Starting from an airport means that they can "sweat the assets," as Annett explains – not just the infrastructure, but staffing too. The airport already had air traffic control and emergency response services – 12 firefighters were required for the fueling of Launcher One – so the existing teams turned their attention to rockets. The "aerodrome element" of the airport has been fully involved in the spaceport program, says O'Dwyer. It's only the passenger services staff – check-in personnel for example – who've stuck to airport duties.
Gardner adds that as well as ready-made "expertise in the airport," Newquay had an advantage because of its local authority ownership.
"Because the council already had the airport, we were already half bought into the concept. So although it's unusual [for a council to open a spaceport], it wasn't a massive leap in the dark – it was quite a natural fit."
Paperwork headaches
Instead, the airport focused on getting a space license. There are nine levels of the CAA's aerodrome license system; a spaceport is a category nine, while Newquay as an airport was a category seven.
"It wasn't easy, but obviously we work with the regulator every single day in the airport so that dialogue was already there. We knew about aerospace already, so we just saw this as a dovetail on top of that," says Thorpe.
To get the license, they needed to devise new safety and operating protocols to progress up those two notches. Although they were starting from a good point – "We're right next to the sea, with a low population density around," says Gardner – there was still a way to go.
"We had to develop the safety case for the rockets and the protocols. Really understanding – minute by minute, action by action – how we were going to facilitate the launch," says O'Dwyer.
"A lot was ensuring we had a safety clear zone, because we have a hazardous operation where the rocket is fueled. So we had to ensure nobody would be in that zone," In fact, it was fueled this week on one of the airport taxiways, far from the crowds that had come to watch the momentous moment for the UK.
"Obviously being able to take off and go straight out over the Atlantic is a benefit," she adds.
The total cost of turning an airport into a spaceport? A little under £20 million, or $24.3 million. Most of that was on paperwork to get the license, says Thorpe.
The future for small airports?
One thing that other airports around the world will be watching closely is whether adding spaceport operations can save smaller airports from uncertain futures.
Newquay Airport itself has struggled for years, with government funding helping keep it going as a way of guaranteeing connectivity for the region. In 2021, the UK government pledged £1.8 million over two years in a "public service obligation" agreement. It's not the first time that the government has stepped in.
"It's no secret that all regional commercial airports are struggling," says O'Dwyer. Despite a projected 450,000 passengers passing through in 2023, "we still won't be commercially viable – but Spaceport will make us viable.
"In future, I believe regional airports will need to diversify. And for us, this is our first very important step in that diversification."
As well as staging launches, the airport/spaceport is adapting its 650-acre estate to attract tech companies to its Aerohub Business Park.
Thorpe says the idea is to be a boutique spaceport, rather than one concentrating on quantity.
"We're never going to be like SpaceX, but the beauty of what we are doing here is that we can integrate it to other operations. It's not putting all our eggs in one basket."
Rockets before planes – but not for long
Of course, there are downsides to launching rockets from an airport. Two of the 16 scheduled launch-day flights were canceled in order to have an "increased safety clear zone," says O'Dwyer, who adds that this was a one-off as a first launch, and in future flight cancellations shouldn't be necessary. "We're going to have a commercial airport operating happily alongside a commercial spaceport," she promises.
Their other challenge is a rather blessed one. If rocket launches take place two to four times a year, as is planned, the airport staff won't be able to handle it.
""We'll need to establish a commercial satellite launch facility and increase our resources so that we can accommodate them more easily," says O'Dwyer. In hard-pressed Cornwall, that is welcome news.
As for the future? The UK alone has identified seven sites as suitable for satellite launches, including Glasgow Prestwick Airport.
Launching rockets from a commercial passenger airport has been done before. Although the Cornwall launch was the first from European soil, Northrop Grumman successfully launched its Pegasus rocket from Gran Canaria, in the Canary Islands (part of Spain, but off the coast of Africa), in 1997. They have not staged a second airport launch.
According to O'Dwyer, it's an easy added string to an airport's bow.
"Basically, the difference between an airport operation or a spaceport operation is the fuel for the rocket that's required, and the fact that it's a 747," she says.
"We've got two distinct arms of the operation now, the commercial aerodrome and the spaceport. That's incredible."
Annett admits that a hybrid air-spaceport requires "careful coordination with the commercial side of the airfield," but he insists "We're proving that we can do that. Then you're maximizing your effectiveness of the airport as well as the spaceport. So it becomes good value for money."
If Cornwall can make the hybrid system work, the future of small regional airports may be about to take off.
Correction: An earlier version of this story misstated the length of Newquay's runway compared to others in the UK.