This story complements the Culinary Journeys TV series, airing monthly on CNN International. See more of the show here: www.cnn.com/journeys. Share photos of your own Culinary Journeys on Instagram with the hashtag #CNNFood for a chance to be featured on CNN.
On a wall near the back of San Francisco's Atelier Crenn, a small oil-and-canvas painting tells you everything you need to know about the restaurant.
It's a simple painting, unframed, depicting a pretty scene along northwest France's Brittany Coast.
Beneath a dramatic blue sky with wisps of white clouds receding into space, two gentle arms of land reach in from either side of the frame to embrace a placid bay. A solitary speck of boat bobs on the water, tacking into a gentle breeze with its single white sail.
It's not clear whether the boat is coming or going, but whoever's at the helm is in the middle of a magical moment. The painting is the work of Allain Crenn, a French politician and artist, who died in 1999.
Allain Crenn is the father of Dominique Crenn, widely celebrated in culinary circles as the innovative chef and owner of Atelier Crenn.
Located on a typical San Francisco neighborhood street – a bike shop, salon, chiropractic clinic and dry cleaner are some of the neighbors – Crenn's restaurant represents not only what she calls an homage to her father, but an homage to her childhood.
More broadly, it's a place that aims to recreate an idealized vision of childhood, of vacations by the shore, the company of family, the safety of familiar places, the ubiquitous tang of salt air.
Culinary Journeys from around the world
A menu unlike any you've seen
If that sounds like a precious way to introduce a restaurant, be advised that it helps to bring a poetic sensibility to Atelier Crenn.
Crenn is a chef, after all, who describes her food as "poetic culinaria" and whose menu is an actual poem.
Not one that makes cheeseball alliterative references to the food ("Anybody got a rhyme for celery?"), but one that describes the emotions and sensations the chef plans to convey with her meal.
Visit the menu page on Atelier Crenn's website and instead of the usual rundown of starters, salads and entrees, you'll find 20 or so lines of verse that recall golden memories of days gone by.
Tonight's meal:
I touch the earth and play, in its cool milky light
Noir sur Noir
Where the broad ocean leans against the Spanish land
I remember an oceanic feeling
Strolling along the beach, in its whimsically ebullient innocence …
And so on.
What's for dinner again?
Don't bother asking.
In the way some people tell the stories of their lives or vacations with photo albums, Instagram posts or even good old-fashioned emails, Crenn uses the dinner plate.
Whatever's for dinner it'll tell a story and it'll be delicious, maybe even transcendent.
Kitchen secrets from Italy's best restaurant
"Farmers are the rock stars"
"I use a lot of seafood on my menu," says Crenn, who grew up in Versailles, France, and came to the United States in the 1990s. "A lot of vegetables. There's not a lot of protein on the menu."
Though she's not a vegetarian, Crenn watched a pig being slaughtered when she was six years old – "they struck it in the head with a hammer" – and the trauma left an impression.
There's no chicken on her menu; she shudders at the inhumane treatment birds receive on farms.
Crenn calls herself an autodidact and holds the intellectuals' romantic notion of the agrarian life.
"At the end of the day, it's not the talent of the chef that determines how good a dish tastes," she says. "It's the talent of the farmers.
"Chefs are not the rock stars. Farmers are the rock stars."
John Mellencamp and Willie Nelson might agree, but in case her fans don't, Crenn makes sure the fresh local produce she uses gets superstar treatment.
Tonight's trout marmitako – her spin on the classic Basque stew – includes fish that's been precisely dried for three days, heirloom tomato that's been skinned and dehydrated for 24 hours (to intensify the flavors) and made into compote, dried parsley, kombu and exquisitely thin garlic chips (also dehydrated).
Like so many of today's wonder chefs, Crenn mixes methods and flavors with the precision of a lab tech then uses them to create something that resembles art.
The result tastes like a combination of food and free verse and is often just as impossible to accurately describe.
You have to experience it.
This might be the prettiest food you've ever seen
Feel the dune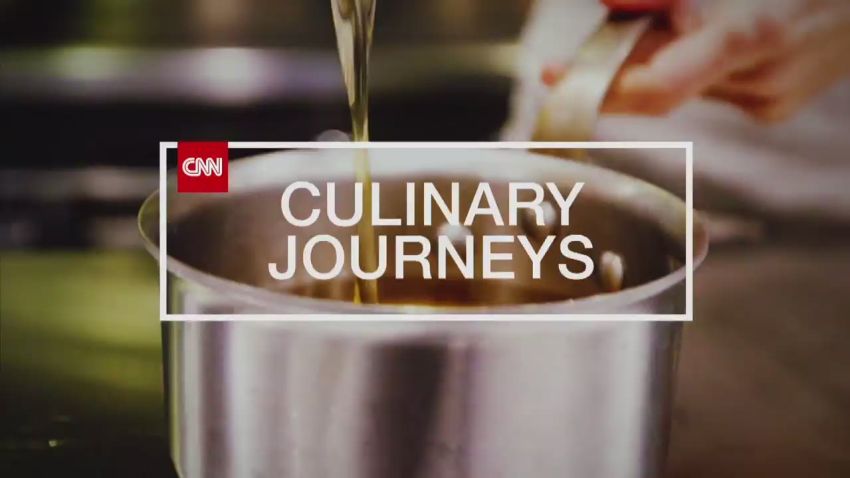 This video is no longer available
00:10
- Source: CNN CREATIVE MARKETING
Crenn says her restaurant's biggest fans are "open-minded people who trust what we do."
"They're people from around the world, or who have traveled the world. They go to Denmark, Sweden, France, Spain, Japan, China, South America, Mexico and they eat."
They're also the types who can appreciate a chef whose disdain for convention – "I never liked writing menus" – is less about thumbing her nose at the establishment than it is the return to a mindset that barely understands what establishment is.
"I had an incredible childhood," she says. "Spending time on the farm in Brittany with my uncle. I knew it was special.
Cruffin mania: Why people are lining up for 'the unicorn of pastries'
"Maybe not consciously, but I conceived of this style (of cooking) early."
In a private dining room in the back of the restaurant – staff eat and prep here before the dinner service begins – you can follow another of Crenn's poems around all four walls of the room, upon which her words are hand-painted:
Sitting on top of the dune, feeling beach sand under my toes, looking so far at the blue sea …
The sun beating fiercely on my raw heart.
I remember we used to sit here together during those memorable summer days listening to your stories and laughing at your jokes …
With a little imagination – and a lot of help from Crenn – you can sit with those people on that faraway dune and experience a perfect feeling of summer.
At some point during the meal you might ask Crenn which dishes she learned to cook from her father.
"Nothing," she will say. "He was a terrible chef."
Did he cook anything well?
"No! He could not cook."
Then she'll laugh at the family joke and cast a glance at the painting of the gentle bay and lonely boat on the back wall before returning to the kitchen to check on the next verse.
Atelier Crenn, 3127 Fillmore St., San Francisco; +1 415 440 0460; Tuesday-Saturday, 5-10 p.m.; reservations required
San Francisco: Insider Travel Guide