Editor's Note: Sign up for Unlocking the World, CNN Travel's weekly newsletter. Get news about destinations opening, inspiration for future adventures, plus the latest in aviation, food and drink, where to stay and other travel developments.
Anyplace can throw up a few lights and call it a holiday celebration, but travelers who really adore Christmas want more.
In 2022, many places are returning to a livelier holiday season after two years of subdued or canceled festivities because of the Covid-19 pandemic.
From England to the Philippines, these 15 destinations around the world traditionally offer up some of the best holiday atmosphere for a Christmas-drenched vacation:
Rovaniemi, Lapland, Finland
While popular lore would have us believe the North Pole as the official home of Santa Claus and his jolly missus, the Finns would have us believe otherwise.
For them, Rovaniemi is Christmas HQ, located just north of the Arctic Circle in Lapland. Children here make gingerbread cookies with Mrs. Claus, enroll in Elf School or take a calligraphy class and compose their Christmas wish lists with a traditional quill.
You may also want to visit the Ranua Wildlife Park, home to baby polar bears, wolverines and moose.
The Arktikum is a science center where the mystery of the northern lights is revealed.
Those in search of a truly frosty experience can stay in the Arctic Snow Hotel, made entirely of snow and ice, but equipped with saunas and hot tubs in which to thaw.
Bethlehem, Pennsylvania
Close to Philadelphia and New York City, Bethlehem offers a smaller-city Christmas escape.
Settled in the 1700s by Moravian colonists, Bethlehem is justifiably proud of its Live Advent Calendar, which can be enjoyed starting at 5:30 p.m. from December 1 to 23.
It is a free, family-friendly event in which a town crier rings a bell up and down Main Street to call visitors to the Goundie House (the oldest house on Main Street). A child from the crowd is invited to come knock three times, and then a local business comes out with a surprise for everyone.
"The Christmas City" also has added new decorations, including a giant LED star, life-sized toy soldiers and thousands of lights strung up all over the place.
Bath, England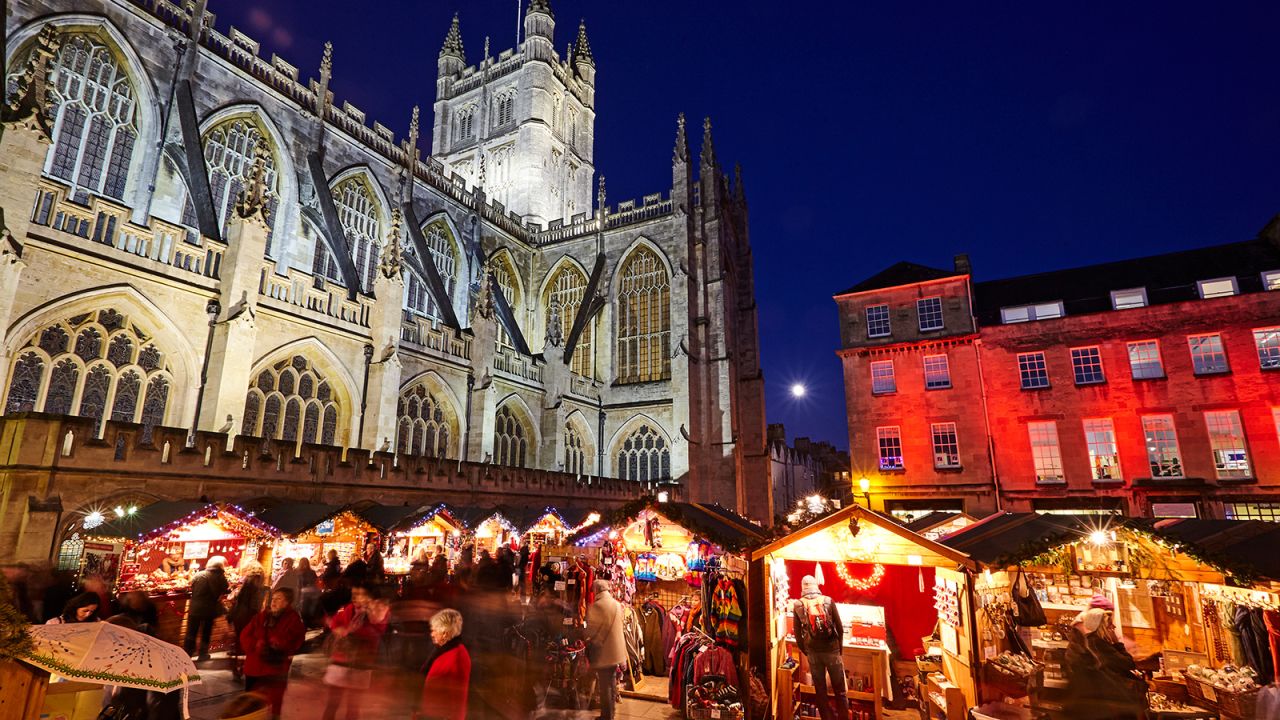 This historic city in southwest England celebrates both the birth of Jesus and the birth of Jane Austen with plenty of fanfare.
The Jane Austen Centre – and on-site Regency Tearoom – is the best place to learn about the city's most famous resident.
The Theatre Royal, which Austen mentions in "Northanger Abbey" and "Persuasion," has a varied program of holiday drama, musicals, opera and concerts.
The Bath Christmas Market has a multitude of wooden chalets selling distinctively British handmade crafts in a quaint Georgian setting. Straddled between the imposing Bath Abbey and the venerable Roman Baths, the market offers a festive way to discover the character of this historic city.
Bath on Ice is a great excuse to bundle up and lace up skates.
San Fernando, Philippines
If Asia were to have a Christmas capital, San Fernando in the heavily Roman Catholic Philippines would be a top nomination.
The city, northwest of Manila, is renowned for its Giant Lantern Festival, which starts on December 17 and ends January 1. San Fernando's lantern-making tradition dates back to the late 18th century.
The highlight of a visit here is the parol, a colorful, electric Christmas lantern that symbolizes the Star of Bethlehem. The parols recall psychedelic kaleidoscopes, brilliant stained glass windows, prismatic pinwheels or oversized snowflakes.
Barcelona, Spain
Anyone who can manage to extend their holiday until the 12th day of Christmas – aka Three Kings Day or Epiphany – can catch up with Melchior, Gaspar and Balthazar in Barcelona.
On the evening of January 5, the kings (also known as the "three wise men") arrive in bearded and velvet-robed splendor at the city's port on the Santa Eulalia, their very own ship.
Cannons are fired, fireworks are set off, and as the mayor hands them the keys to the city, the magic of the Magi officially commences.
They parade through the streets in a magnificent cavalcade of floats that includes camels, elephants, giraffes and dazzling costumes.
New York City