Editor's Note: Sign up for Unlocking the World, CNN Travel's weekly newsletter. Get the latest news in aviation, food and drink, where to stay and other travel developments.
Even in a land known for gargantuan, record-breaking infrastructure, this project is turning heads.
At 15 miles long (24 kilometers), eight lanes wide and featuring artificial islands and an undersea tunnel, China's $6.7 billion Shenzhen-Zhongshan Bridge is nothing if not ambitious.
To much fanfare in the country's state media, the bridge's builders recently claimed a new world record by paving in a single day more than 243,200 square feet (22,600 square meters) of asphalt, the equivalent of more than 50 basketball courts.
Yet strange as it may sound, this is not the world's longest sea bridge. That honor belongs to its 34-mile long neighbor, the Hong Kong-Zhuhai-Macao Bridge – just 20 miles away.
To some observers, the building of these giant bridges in such close proximity is testament both to China's growing ambitions on the global stage and the problems it faces in realizing them.
Like its sister bridge in Hong Kong, when the Shenzhen-Zhongshan Bridge opens to traffic next year after eight years of construction, it will form a central plank in China's master plan to develop its Greater Bay Area, one of the world's largest and most populated urban areas, into an economic and technological hub that can rival San Francisco, New York or Tokyo.
It's an ambition that, like the bridges themselves, is simply massive in scale. The Greater Bay Area is home to 68 million people, covers 21,800 square miles and encompasses 11 cities: Hong Kong, Macao and nine others including Zhongshan and Shenzhen. Shenzhen alone is home to more than 12 million people, not to mention scores of multibillion-dollar firms such as drone-maker DJI and social media company Tencent that have helped to earn it the moniker of "China's Silicon Valley."
Beijing hopes that the bridges can help bring together the cities in this huge and diverse area both physically and conceptually. Travel times between Zhongshan and the Shenzhen Bao'an International Airport – mainland China's third busiest, which hosted over 37 million passengers in 2019 – are expected to be cut from two hours (using current roads) to 20 minutes.
But many observers believe the bridges are also meant to serve another, more political purpose, by subsuming what are at present quite disparate regions – Hong Kong is a former British colony, Macao a former Portuguese one – into a single Chinese identity. And, according to some critics, the scale of this undertaking dwarfs even that of the bridges.
Making a statement
Austin Strange, who specializes in Chinese foreign policy at the University of Hong Kong, said the new bridge would no doubt bring "real economic value" by drastically reducing commute times between the cities while also cutting traffic.
But he said there was a secondary dimension, too, likening it to China's efforts with its Belt and Road Initiative, in which Beijing is spending billions on funding infrastructure projects like ports and roads in countries across the world.
That project is widely seen as an effort by China to boost its economic and political clout on the world stage, with some critics accusing it of gaining leverage over smaller countries by extending loans they cannot hope to repay.
While no such debt concerns exist with the bridges, which are being built on Chinese territory, observers say the scale of the project sends a message nonetheless.
"China's government is clearly advertising the bridge as a world-class accomplishment," Strange said. "Infrastructure is a core part of China's reputation in global development, and is also a key link between how China approaches domestic and international development."
Still, how profound an impression the bridge will make on the rest of the world will depend in part not only on its size, but how successful and popular with travelers it ultimately proves.
Otherwise, it risks opening itself to a criticism often leveled at some of the more grandiose Belt and Road projects – that is an expensive white elephant.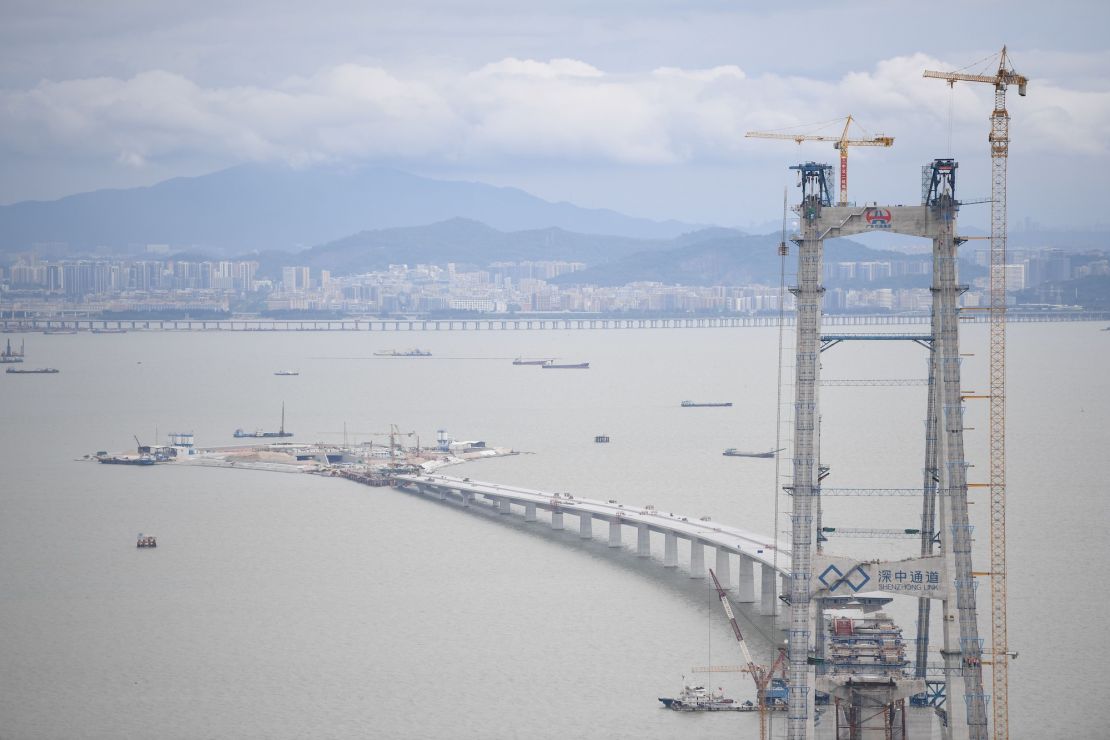 Finance professor He Zhiguo from University of Chicago said that, just like the bridges that link up the coasts of the San Francisco Bay, the Chinese mega project was likely to slash travel times.
However, he said only local citizens in Zhongshan were likely to emerge as winners, with the laid-back city, known neither as a business hub nor tourist hotspot, providing few incentives for others to visit.
He also said estimates about the effect on travel times and costs should be taken with a pinch of salt as projects could easily get bloated. "That's my worry. But without knowing more, I think it's not a bad idea," he said.
Bridges over troubled water
Ambitious though Beijing's vision of the Greater Bay Area is, there have already been plenty of bumps in the road.
The idea was first raised in 2009, but experts say development has been hampered because of the disparate nature of, and barriers between, some of the cities involved.
The region incorporates three borders – with the Chinese mainland and the former colonies of Hong Kong and Macao, which are now semi-autonomous Special Administrative Regions of China, each maintaining separate immigration systems, separate legal systems and even separate currencies.
Additionally, residents carry three different passports and identity cards, and speak two different forms of Chinese (Cantonese and Mandarin).
They even drive on different sides of the road, all of which means there are plenty of obstacles to those hoping for a carefree road trip between them.
Critics say some of these problems were in evidence when the Shenzhen-Zhongshan Bridge's sister project, the $20 billion Hong Kong–Zhuhai–Macao Bridge, opened in 2018.
That bridge connects the mainland Chinese city of Zhuhai with gambling hub Macao and leading financial center Hong Kong.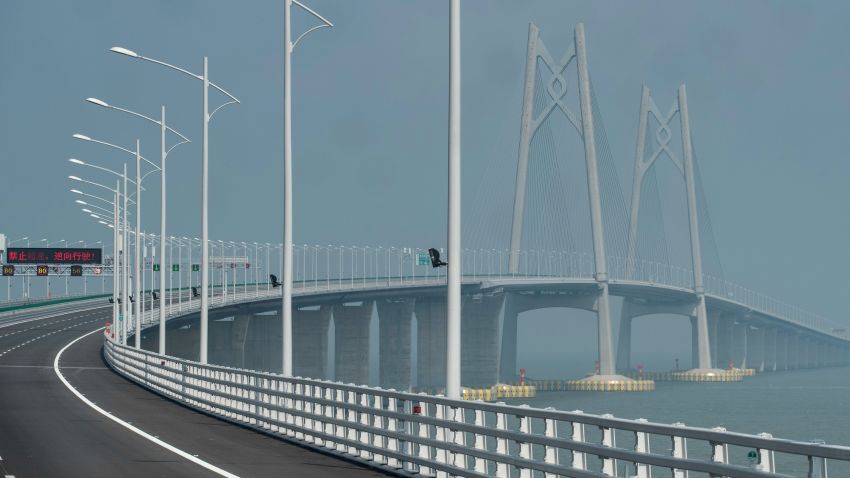 See the world's longest sea-crossing bridge
Even by 2019, a year after its launch, it was still struggling to draw in traffic, logging just 4,000 trips per day, according to Hong Kong's Transport Department. (By comparison, the Channel Tunnel in Europe, which connects France and Britain, drew more than 8,000 vehicles on average per day in March this year, according to its website.)
Experts put the lukewarm response down to the need for travelers to obtain different visas and vehicle registrations to travel between the three places – especially because high-speed ferries already crisscross the three cities on a daily basis, leaving from central terminals that are often more accessible than the border areas where the bridges begin.
Traffic