Hotel guests in China might no longer have to worry about figuring out the air-con control panels or waiting in line to check in.
Two major international hotel groups have just announced they're rolling out some high-tech upgrades at properties throughout the country.
Firstly, InterContinental Hotels Group has teamed up with Baidu, a Chinese tech company specializing in Internet search services and artificial intelligence, to introduce artificial intelligence-supported Smart Rooms in China.
Kicking off in two of the major business capitals in the country – InterContinental Beijing Sanlitun and InterContinental Guangzhou Exhibition Centre – a total of 100 AI-powered suites will be introduced at various China-based hotels in 2018.
The high-tech suites will "fully embrace voice control technology to deliver a more natural human-computer interactive experience," says a statement released by the company.
"For instance, guests will be able to freely switch settings between work and leisure modes, and enjoy a more convenient and seamless room service experience."
It's hoped that the new Smart Rooms will appeal to millennial travelers.
"The AI Smart Room will undoubtedly be extremely attractive for them, paving the way for a new level of modernization and consumer satisfaction," says Lin Wang, vice president of marketing of IHG Greater China.
Facial recognition check-in technology
Meanwhile, Hangzhou Marriott Hotel Qianjiang and Sanya Marriott Hotel Dadonghai Bay will be the first of that brand's international properties to introduce facial recognition technology for check-in.
"We are testing in both a city and resort environment to understand how leisure and business guests react to this new check-in process. Expansion will be based on hotel and guest feedback," Peggy Fang Roe, chief sales and marketing officer of Marriott International's Asia Pacific region, tells CNN Travel.
Guests can scan their IDs, take a photo and input contact details using a machine to check themselves in.
The device will then dispense a room key card after the information is verified.
The process will take less than a minute, according to the company. Targeting only Chinese travelers for now, the new service will be gradually expanded globally.
Wallet-free check-out
Chinese travel boom: The game-changers
The new facial recognition check-in service is the product of Marriott's partnership with China's mammoth e-commerce and tech giant Alibaba Group.
The hotel brand has introduced a few new features aimed at tech-savvy travelers since the pair teamed up in in August 2017.
Earlier this year, it rolled out Alibaba Group's "Post Post Pay" functionality – a wallet-free, express check-out service – for Chinese travelers across 1,000 Marriott hotels.
"Chinese consumers widely embrace technology solutions that make life more efficient – the rapid growth of mobile usage and mobile payment adoption demonstrate this," says Roe.
"According to market research results by consulting firm Ipsos, Chinese travelers have shown a strong interest in new technologies in hotels with over 60% showing their preference for facial recognition technology."
China's first fully automated hotel
These aren't the only hotels in China to introduce high-tech amenities.
Smart LYZ, a Shenzhen-based company focused on developing AI technology and smart hotels, opened the first ever fully automated hotel in Chengdu, Sichuan, back in January.
The company has since added two more automated hotels in Shenzhen and it plans to build 50 more within this year.
Guests don't have to interact with a single human member of staff if they don't want to.
Travelers can book a room through Smart LYZ's Wechat website, check in through a facial recognition machine, unlock the door with a given passcode or through its mobile app and finally, check out by pressing a button on the app.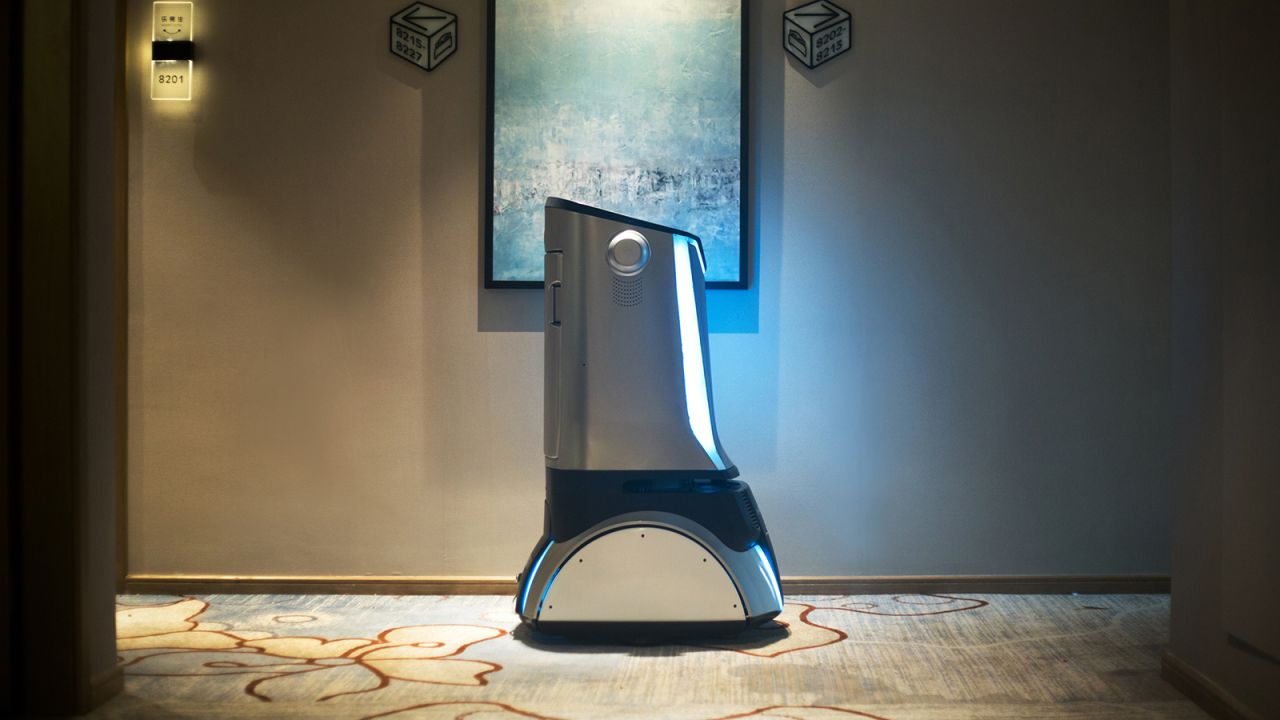 A robot will guide lost guests to their rooms, which are equipped with motion sensors.
"Most of the requests from our guests can be fulfilled by our 24-hour online customer service," Than Li, the chief operating officer of Le Yi Zhu, tells CNN Travel.
"When the guests have special needs, like when they're feeling unwell or other unexpected scenarios, they can request manual assistance, too."