Editor's Note: The CNN Original Series "Eva Longoria: Searching for Mexico" journeys across the country's vibrant regions to reveal its colorful cuisines. The series airs at 9 p.m. ET/PT Sundays.
Vanilla is frequently added to desserts, but in Mexico, where the plant originates, uses for the spice are limitless — working its way into savory main dishes.
Norma Gaya's family has been harvesting vanilla for a long time. The Gaya Vai-Mex vanilla plantation in Gutiérrez Zamora, in the eastern state of Veracruz, is the oldest in the region.
Indigenous people first harvested the beans from Vanilla planifolia, a tropical orchid native to Veracruz, along the Gulf of Mexico. When Aztecs conquered the region, they taxed the Totonacs in the form of the prized vanilla. Following the Spanish invasion in 1519, vanilla was imported to Europe and became one of the most sought-after spices.
Growing the pods is labor-intensive, making vanilla second only to saffron when it comes to the priciest spices.
Gaya is the first woman to take charge of her family's vanilla business, which was established in 1873.
"The first day, I had to drink a lot with the vanilla producers, so they would accept me," Gaya told Budget Travel in 2007.
In her kitchen, Gaya adds surprisingly versatile vanilla to everything, enhancing the flavor of salad dressing, coffee, pasta — and even chicken.
Gaya's great-grandfather created the family's signature vanilla chicken recipe, which calls for a creamy, buttery sauce.
She made the heirloom dish for actor, producer and TV host Eva Longoria, who calls herself "probably the biggest fan of vanilla," in an episode of the CNN Original Series "Eva Longoria: Searching for Mexico."
In this specialty, the chicken is cooked in a sauce that contains 4 tablespoons — that's an entire ¼ cup — of pure vanilla extract. Then, the meat is topped with black vanilla seeds scraped from the vanilla bean.
"It's like caviar — you've gotta be very sparing with it," Longoria said of the vanilla seeds.
Gaya calls it black gold.
"I've never had chicken with vanilla," Longoria said as she helped Gaya prepare the meal.
"Oh, my God. Everybody has to eat this when we're done (shooting)," Longoria told the crew as she tried the vanilla chicken for the first time.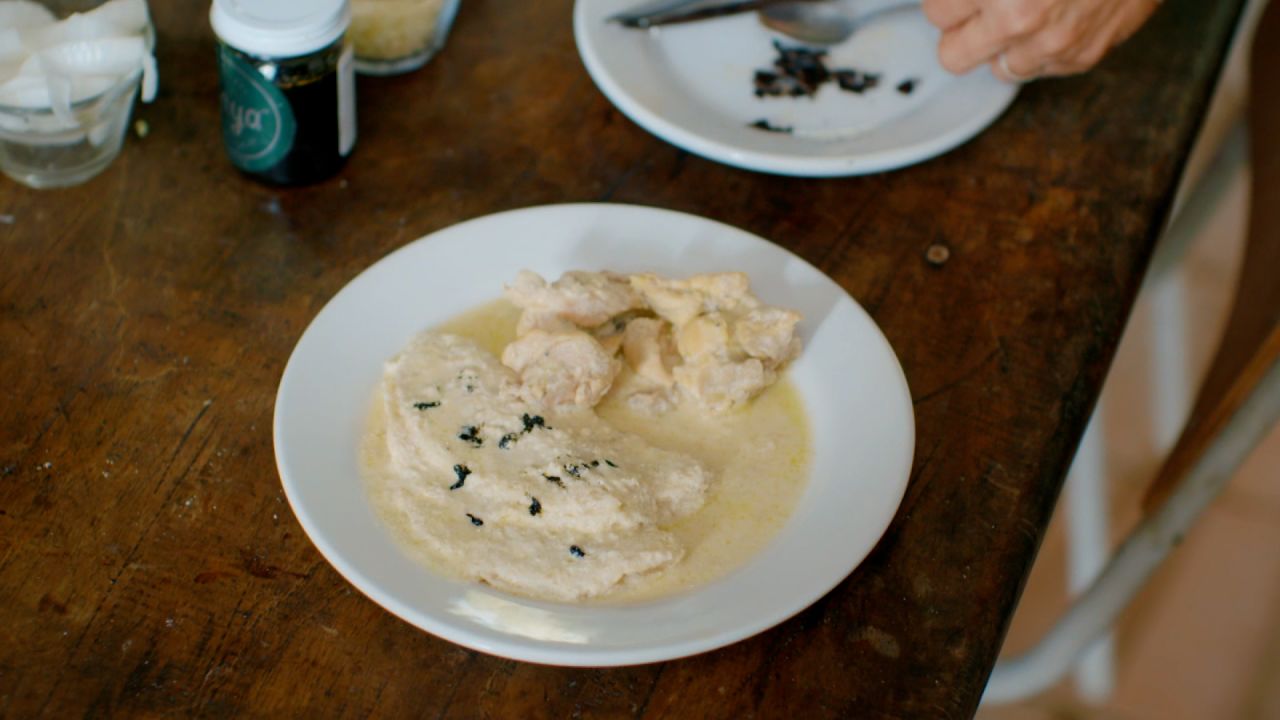 Chicken With Vanilla-Allspice Cream Sauce
Whole vanilla beans can be found online and at specialty grocery stores.
Makes 4 to 6 servings
Ingredients
2.2 pounds I 1 kilogram boneless, skinless chicken thighs and legs, chopped into large pieces
½ cup | 118 milliliters apple cider vinegar
Salt and freshly ground pepper to taste
6½ tablespoons I 90 grams unsalted butter, divided
2½ cups | 125 grams white onion, diced
2 cups | 473 milliliters heavy whipping cream
2 cups | 473 milliliters whole milk
¼ cup | 60 milliliters vanilla extract
1½ tablespoons | 10 grams ground allspice
Vanilla bean (optional)
Warm tortillas for serving
Instructions
1. Combine the chicken and apple cider vinegar in a bowl and season with salt and pepper.
2. Melt 3½ tablespoons (or 50 grams) butter in a saucepan over low heat for 2 minutes. Add onions and cook, stirring frequently, until translucent, about 10 minutes. Remove from heat and transfer onions and melted butter to a blender. Add the cream, milk and vanilla extract. Blend well until smooth.
3. In a saucepan, sauté the chicken over medium heat with remaining scant 3 tablespoons (or 40 grams) butter and add the creamy onion mixture and allspice. Simmer chicken until cooked through, about 30 minutes. (The internal meat temperature should be 165 degrees Fahrenheit or 74 degrees Celsius).
4. Divide chicken and sauce among individual plates and serve with warm tortillas. If desired, scrape the black vanilla seeds from inside the vanilla bean pod and sprinkle over the dish.
Craving more? Sign up for CNN Travel's Unlocking Mexico newsletter series. The four-part guide curates the choices in a country with a rich cultural heritage to give you a taste of the superlatives. ¿Quieres leer esta serie en español? Suscríbete aquí.
This recipe is courtesy of Norma Gaya of Gaya Vai-Mex.