Patricia Salazar first saw Aaron Toro running along the breathtaking Peekaboo Trail in Bryce Canyon National Park in Utah.
Patricia was also tackling the trail, alongside two friendly women she'd just met. The July sun was blazing down and the surrounding copper rocks were bathed in a warm light.
The Peekaboo Trail is one of the most strenuous in Bryce Canyon. Patricia's a hardcore runner and extreme sports enthusiast, but even she was finding it tough-going – so the fact that Aaron was running up the mountain like it was nothing was pretty impressive. Patricia couldn't help but comment on his speed.
"Are you trying to be the fastest on the trail?" Patricia shouted at the stranger as he whizzed past.
Aaron stopped running, caught his breath, and smiled at Patricia. He brushed off the compliment, said a friendly hello, and offered to take a photo of Patricia and her new friends. The women thanked him, then he was off again, running into the distance. Patricia watched him go.
"I'm like, 'Oh my God, he looks like a Hemsworth brother.' He was tan and buff, with blond hair. And so I was like, 'Gosh, what a hunk. That'll be a good story for later.'"
Patricia assumed she'd never see the runner again. But then, mere minutes later, she spotted him on another bend in the trail.
"The girls were like, 'Oh, my God, there he is, there he is.' And again, I had nothing to lose, nothing to gain – at least so I thought. And so I just hollered at him, 'Hey, are you single?'"
Aaron stopped, turned around, and grinned.
"Yeah," he said. "Single as a one dollar bill."
"At that point, in my mind I was like, 'Oh, no, what's my follow-up?'" recalls Patricia.
"Do you want my number?" Patricia asked Aaron, spontaneously.
"Are you from here?" said Aaron in response.
"No," replied Patricia. "Does it matter?"
"No, I guess not," shrugged Aaron.
And so they exchanged names and numbers. Patricia told Aaron she was from California, and in town for a vacation. Aaron said he was based in Virginia at the time.
Patricia saved Aaron in her cell phone as "Trail Aaron."
"I said, 'Okay, I'll text you,'" recalls Patricia. "Never thinking that I would hear from him or we would connect. And he went on his merry way and kept running."
A spontaneous invite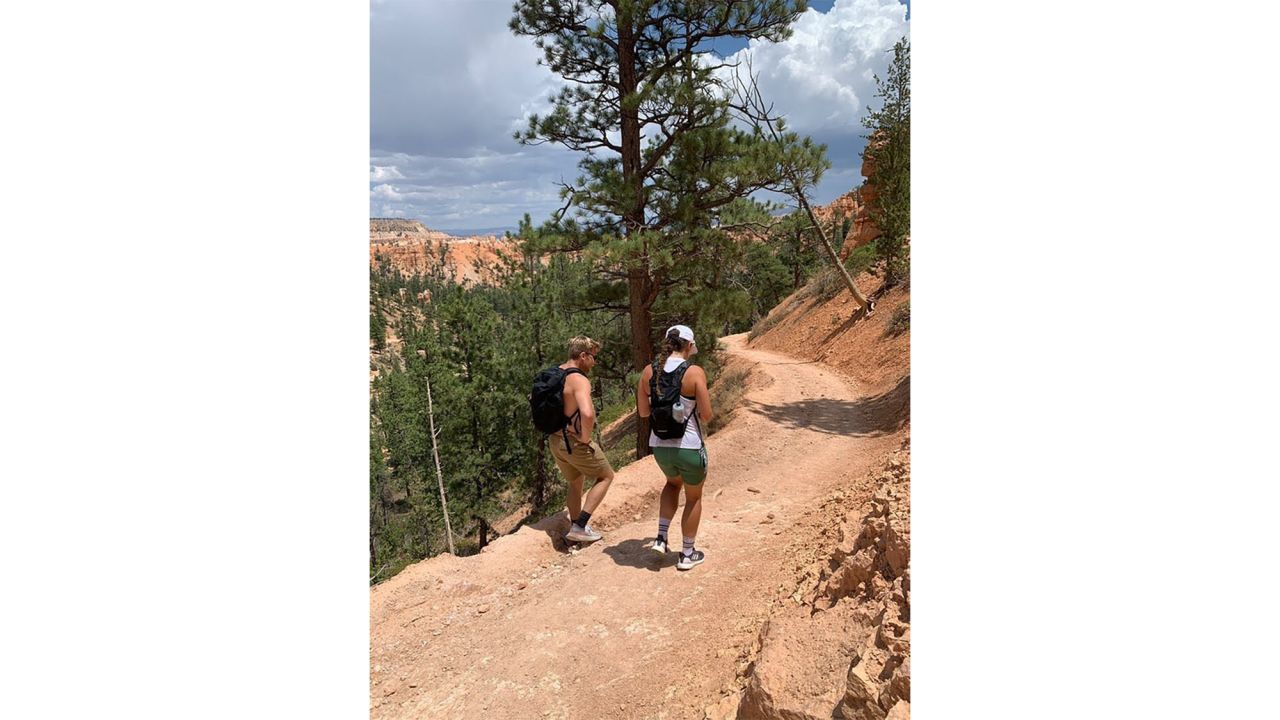 It was the summer of 2021. Patricia was 31 and enjoying what felt like a gradual return to "normal" following the height of the Covid-19 pandemic.
"I was single, living by myself, and I had been an endurance athlete for a few years," Patricia tells CNN Travel today.
Patricia had never had much luck with dating apps. And meeting people in person in the Covid era felt pretty much impossible. That summer, she was feeling excited about the future and the opportunity to pursue her goals and dreams alone.
"I was just going to be the single endurance athlete. I loved cycling, I loved running, and that was just going to fulfill me enough, and that was great," she says.
Patricia had also made a pact with herself: Each year, she'd take a solo trip somewhere to escape from the pressures of work and indulge her hobbies and passions. In summer 2021, with international travel still largely off the table, Patricia picked Utah as her destination. The state was home to some beautiful national parks, perfect for trail running. That July, Patricia drove to Utah from her home in California.
"That's kind of where I was in life, just exploring on my own and being so happy to be in the driver's seat – not only of my road trip, but of my life," she says.
When he met Patricia, Aaron was in his late twenties. Like Patricia, Aaron was in a place in his life where he was focusing on himself, rather than dating. He was in the middle of a contract with the US Navy and had found being active-duty military didn't lend itself to meeting prospective partners.
"We're constantly traveling and moving and you're all over the place all the time," says Aaron.
He spent his down time enjoying endurance sports.
"I started training really hard. And I would devote all my time, essentially, to that – and I was okay with that," he recalls.
In July 2021, Aaron was in his home state of Utah to catch up with his parents and sisters and to enjoy some quality time with loved ones before he started his next deployment.
"Going out to Utah, a week before I leave the country for six months – the last thing on my mind was meeting someone," he says.
But Aaron was smitten with Patricia from the moment she'd unexpectedly hollered at him on the trail. He was delighted when she asked for his number.
"I left thinking, 'Wow, she's spectacular. Probably never hear from her ever again in my life.' Because, you know, stuff like this doesn't happen. So I'm like, 'Oh, well, that was nice of her. But she's probably just goofing with her friends. And I'll probably never see her again.'"
Aaron kept running around Bryce Canyon, and eventually reunited with his family, who'd opted for a more leisurely hike. But as the group were leaving the park, Aaron saw Patricia again – now on her own, having bid farewell to the women she met earlier. Patricia said hi to Aaron and his family as she ran past.
"One sec, I'll catch up with you," Aaron told his parents, and, without really thinking, he decided to try to speak with Patricia again.
When he caught up with her – not easy, says Aaron, she's super fast – Aaron asked if Patricia would like to walk the last half-mile together.
"We started talking," recalls Aaron, "And it was a really good conversation. We both happened to be training for similar races at the same time. Obviously, she seems really cool. She's way out of my league, so I was pretty surprised she was talking to me."
Over the course of the conversation, Patricia and Aaron discovered they were both keen to run one of Bryce Canyon's most famous trails – the beautiful Fairyland Loop – and agreed to meet the following morning to give it a go together.
"I felt like he could really be the adventure buddy I never thought I needed, but after meeting him, knew I wanted," says Patricia.
From there, Patricia and Aaron went their separate ways. Patricia cycled back to her Airbnb, where she showered, put her feet up, and was just wondering where she could go for a drink and a bite to eat, when a text from "Trail Aaron" popped up on her phone.
Aaron and his family were hanging out at his uncle's house that evening. He wondering if Patricia fancied joining for brisket?
"At that point, I'd eaten bar food and Clif bars for about a week and a half on the roads, I was like, 'Oh, yeah, home-cooked meal, for sure," recalls Patricia.
"That actually sounds amazing," Patricia typed in response. "Count me in!"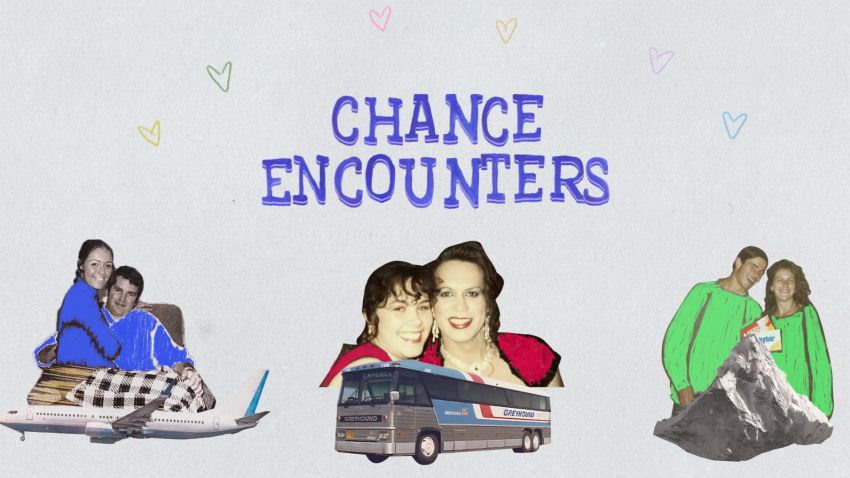 Meet the couples who fell in love while traveling
When Aaron sent the invite, he just figured he had "nothing to lose." He really liked Patricia, and when she said she was up for coming round, he was thrilled.
He put down his phone and tracked down his family, who were preparing food in his uncle's kitchen.
"Hey guys, so you know that girl in the green shorts that ran by earlier? Well, she's coming over," he said.
"Wait, do you even know her?" asked his family, confused.
But Patricia fit in right away. It was like she and Aaron had known one another for years, not for mere hours.
"I spent the whole night just meeting his family and playing pickleball and cornhole," says Patricia. "I think his family was a little shocked, but it was an awesome night."
"They're great people," says Aaron. "So they were more than welcoming."
"When I got to the house and started talking to his family, I was like, 'Oh, man, he checks all the dream boxes – comes from an amazing family, is in between two girls, has two sisters, his mom is his best friend, loves to hike, loves to bike…'" says Patricia.
Hours later, Patricia and Aaron were sitting out in the backyard together, chatting.
"He reached over and he held my hand," recalls Patricia. "The moment he held my hand, I knew I was going to fall in love with him."
Aaron felt the same way.
"There's just something about her, she was so gorgeous. We had so much fun just hanging out, we connected on so many levels and we were just best friends right off the bat," he says.
"And I don't know why, but something just clicked in my brain that day and that night where it was like – she's worth the risk. Seeing how she interacted with my family… Like I said, it was just like, 'Wow, there's something special here.'"
Whirlwind romance